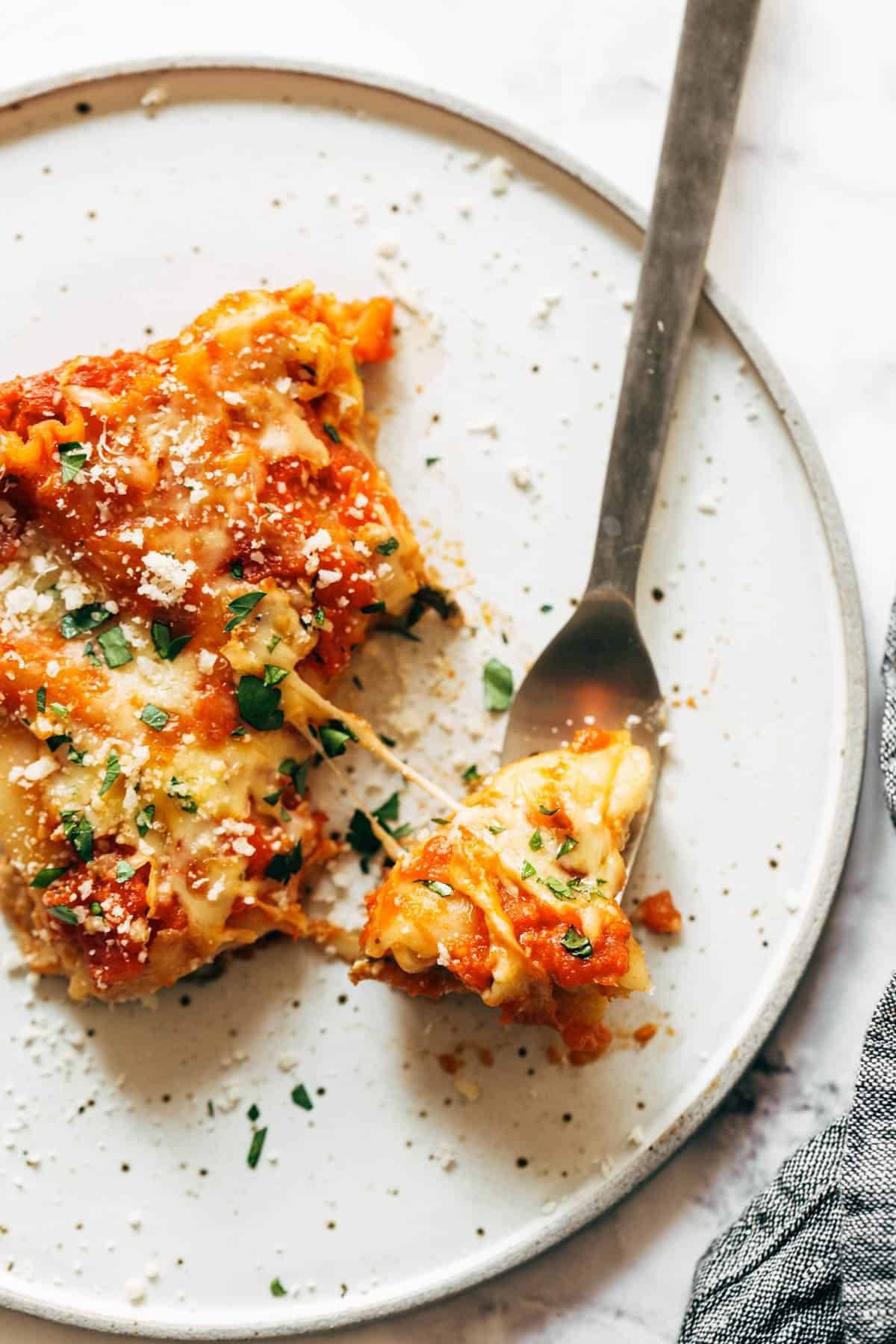 Get your face right in there.
You're like, wait, though, isn't that too close? PUH-LEEZ. You and I both know that a person can never be too close to those browned lasagna edges that are the perfect amount of chewy, and that's exactly why we like to hang out together and get wild about all the foods. That's this lasagna florentine.
Like a Big Cozy Hug
This creamy tomato lasagna florentine is layer upon layer of saucy tomato tang and garlic sauteed spinach nestled into a creamy blanket over the sauce, soaked up on all sides by thick and chewy lasagna noodles for a perfectly clean slice of comfort food.
And it is giving our whole selves a hug these days. Like, pan after pan after pan, hot out of the oven for dinner, leftovers reheated in the oven because it's the only way I'm satisfied with the reheating of a piece of lasagna (cold lasagna centers. WHY.), and deliciously thick and pasta-sticky right out of the pan in the fridge a few hours after dinner. I'm usually not grossly in love with lasagna, but new lines have been drawn with this one.
Saucy + Messy = Best
I like to call this lasagna Super Saucy, which honestly I love. What I learned through the endless rounds of making it, is that if you don't need your lasagna to hold together with awesome sliceability. And if you're more the kind of person who is okay with scooping it out with a spoon and straight into your mouth, then you are in for a real lasagna treat when you make it the Super Saucy Way.
This pan of hot melted cheese I MEAN LASAGNA, while not at all clean and tidy like lasagna is supposed to be, was actually my favorite – it was so saucy, so soupy at first, but absolute lasagna perfection the next day with just the right amount of moisture and a clean(er) sliceability once it was completely cooled.
More Lasagna Love
Okay. Your turn! Go get out your 9×13 and get yourself cozy with a bubbly pan of creamy, tomato-saucy, vegetarian comfort food.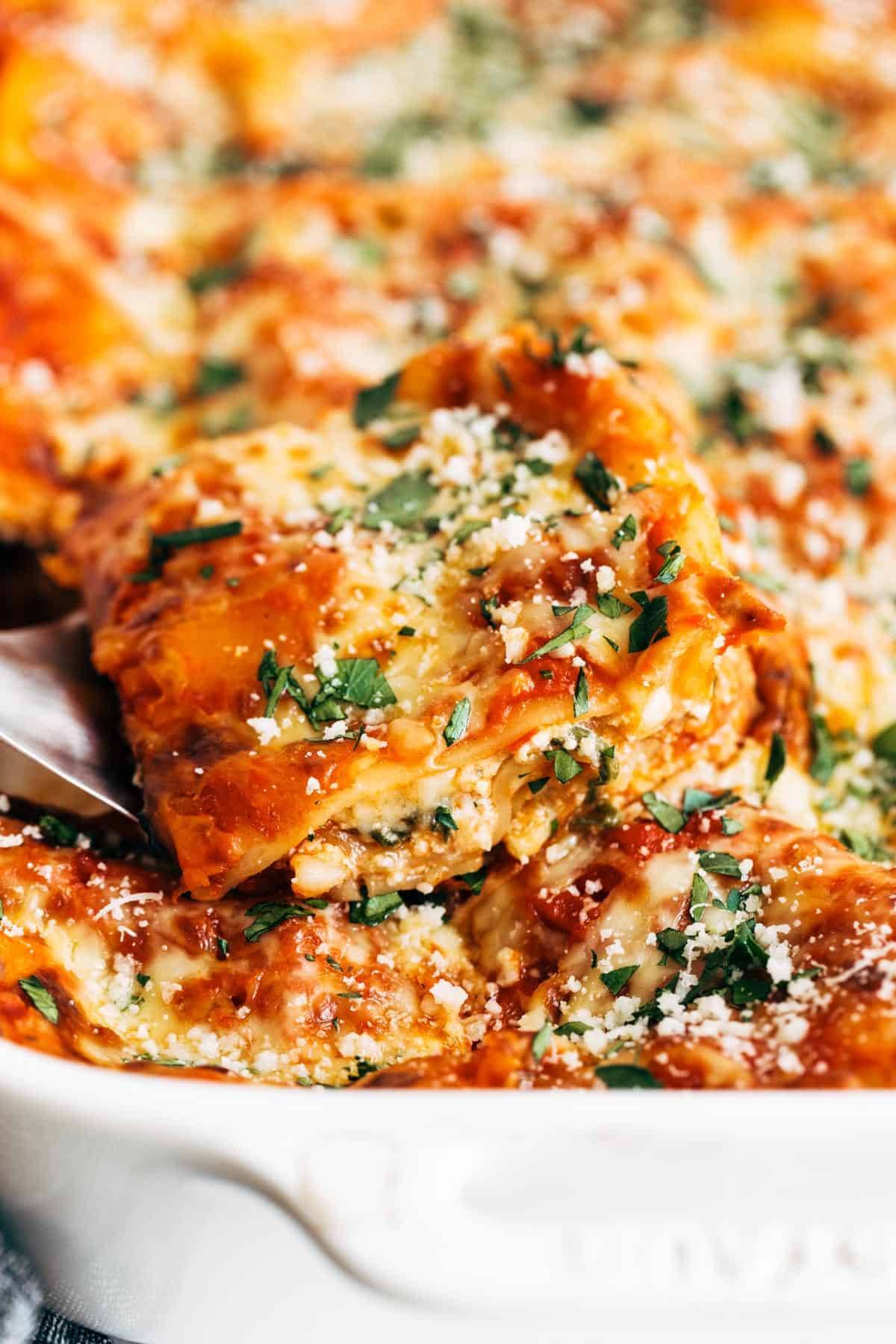 Watch How To Make This Recipe:
Common Questions About Lasagna Florentine
Do I need to add the flaxmeal to this recipe?
The flaxmeal adds a nice texture/flavor and helps the lasagna hold together, but it's not essential to the recipe.
Does this recipe work well as a freezer meal?
Definitely! You can check out our freezer meal version of this recipe here.
Can I substitute ricotta cheese for the cottage cheese?
You sure can!
Can I add meat to this?
Yes! We think ground beef or turkey would be great here.
Print
Creamy Tomato Lasagna Florentine
---
Description
This Creamy Tomato Lasagna Florentine is so deliciously comforting and simple. Noodles, tomato sauce, and a creamy spinach layer!
---
1 tablespoon

olive oil

2

–

3

cloves garlic, minced

4

–

5

cups fresh spinach

2 cups

4% cottage cheese

2

eggs

1/4 cup

ground flaxmeal (optional, see FAQs)

1 teaspoon

oregano

1 teaspoon

Italian seasoning (mine was salty – if you're using a non-salted variety, add an additional

1/4

–

1/2

teaspoon salt)
a very tiny dusting of nutmeg
a squeeze of lemon juice

1/2 cup

Parmesan cheese

4 cups

tomato sauce

12

no-boil or oven ready lasagna noodles

3

–

4

cups shredded Mozzarella cheese
Chopped fresh parsley and grated Parmesan cheese for serving
---
Preheat the oven to 350 degrees. Heat the olive oil in a medium pan over medium high heat. Add the garlic and saute for 1-2 minutes. Add the spinach and stir around until just barely wilted. Remove from heat and set aside.

Blend the cottage cheese in a food processor or blender until mostly smooth and creamy. Transfer to a bowl and mix with eggs, flaxmeal, oregano, Italian seasoning, nutmeg, lemon juice, and Parmesan cheese. Stir in the spinach and set aside.

To assemble lasagna, spray a 9×13 baking dish with nonstick spray and spread a few spoonfuls of sauce around in the bottom of the pan. Arrange 3 noodles, top with about 1 cup sauce, 1 cup creamy spinach mixture, and 3/4 cup Mozzarella cheese. Repeat for three complete layers. Top it all off with the last three lasagna noodles, 1 cup sauce, and 1 cup Mozzarella cheese. Cover with greased foil so the cheese doesn't stick and bake for 40 minutes.

Remove foil and bake for another 10 to brown the cheese (or turn on your broiler to get it browned). Remove from oven and let stand for 15 minutes before slicing and serving.

Equipment
The equipment section may contain affiliate links to products we know and love.
Prep Time:

15 mins

Cook Time:

50 mins

Category:

Dinner

Method:

Bake

Cuisine:

Italian
Keywords: lasagna florentine, tomato lasagna, vegetarian lasagna recipe
Recipe Card powered by

---
One More Thing!
This recipe is part of our coziest comfort food recipes page. Check it out!
The post Creamy Tomato Lasagna Florentine appeared first on Pinch of Yum.