Ohhh my lentils. I just love me somma them beans. Especially when they're in a big crockpot full of red curry lentils.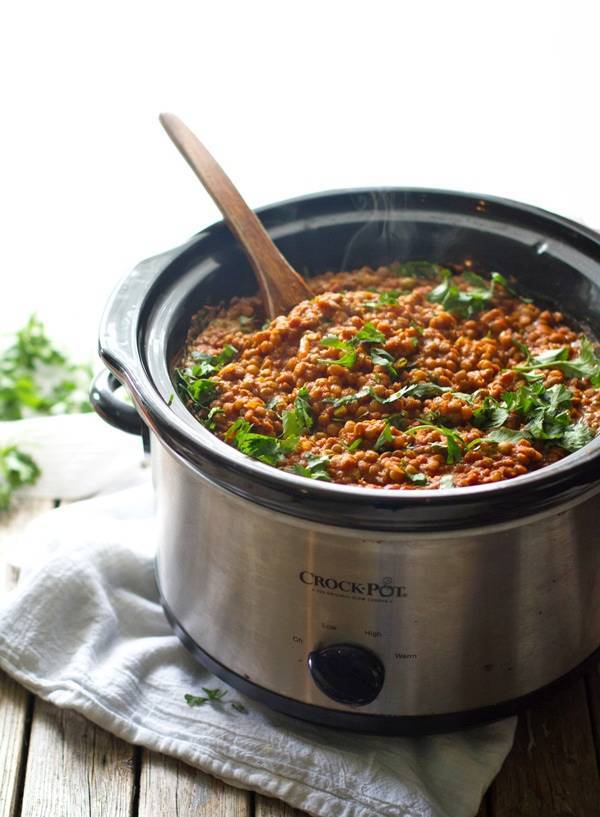 This week I went to a Filipino grocery store and bought 2 giant bags of lentils. Yep, you're right. Definitely not Filipino, and totally still a good purchase.
One bag is brown/green and it's called masoor. Just try saying that out loud once. You'll feel fancy. The other one is cute, little, and red. It's called dal and it's delicious. I'm just warning you right now. If you don't like lentils, you might want to go ahead and click that little red x in the corner. With these two bags of lentils burning a hole in my kitchen counter, these next few weeks are going to be lentil mania.
HOW TO MAKE OUR RED LENTIL CURRY: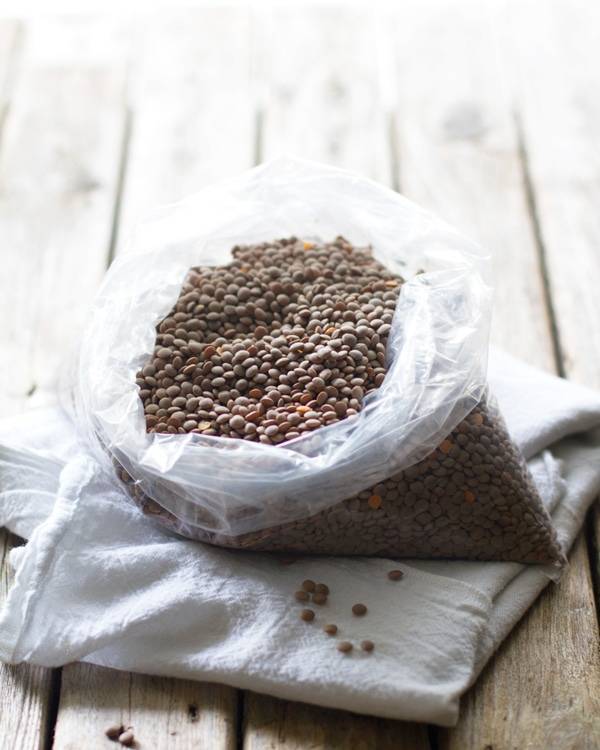 To be fair, there are cookies coming, too, so… just… stick around, wouldya? Maybe I can get you to like lentils along the way.
Sometimes people ask my what my favorite recipe of all time is, and even though I know I've made other things that I've also reallyreally liked, it's like everything else fades away in that moment and all I can think of are those saucy, spicy, perfect-as-leftovers, healthy, cheap, and easy Red Curry Lentils from way back when. <– That one over there.
So when my mom suggested that I bring some lentil something to the cabin for our annual family vacation (eee!), I got an amazing idea: Red Curry Lentils, for my whole family, in the crockpot. Because I'm now making lentils in mass quantity and forcing my bean love on others. They WILL like it. They will.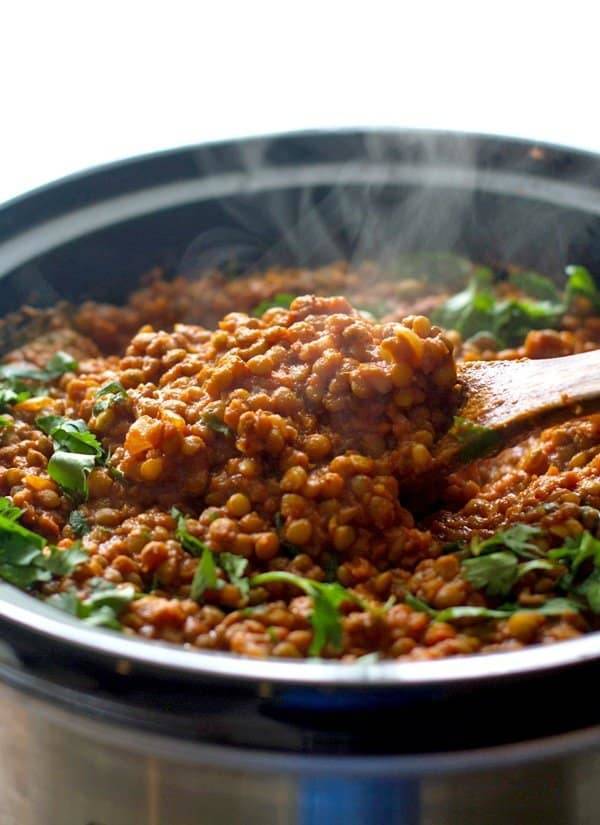 Is it weird that my original name for the Red Curry Lentils is sort of backwards? because who really calls them "Red Curry Lentils?" It would be a lot more normal to call it a Red Lentil Curry. Right? Or am I just totally confused here? Yes to both.
I basically took everything that I loved about the beloved backwards-named Red Curry Lentils and made them into forwards Red Lentil Curry, lazy girl style. Er, I mean crockpot style. Same ingredients, same red curry taste, same beautiful saucy-thick-lentil-loaded texture, extra turmeric because I'm getting more brave and I like the color. Annnd more free time for me to make 3 batches of chocolate chip cookies, which is honestly what I did. Food cookin' in the crockpot means I have more time to make food. Foodie food food. Forever.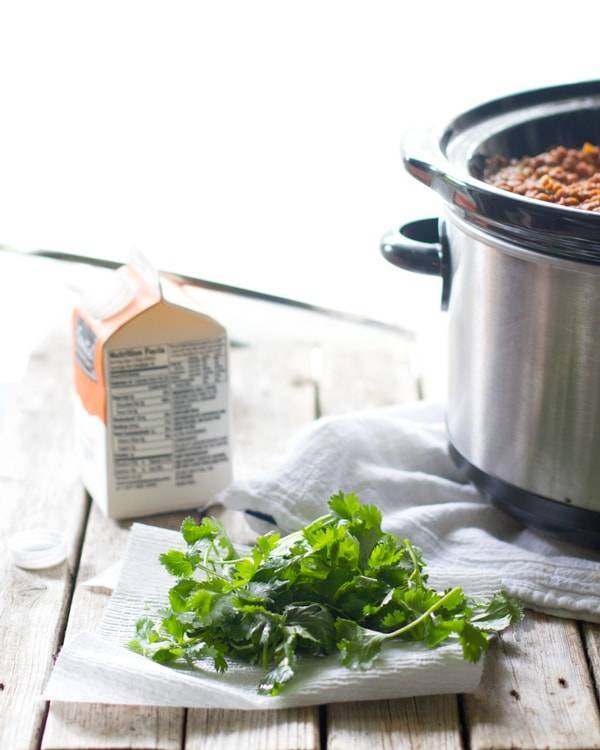 I hope you have a crowd to feed or else you reeeally like red lentil curry. Cause this never runs out.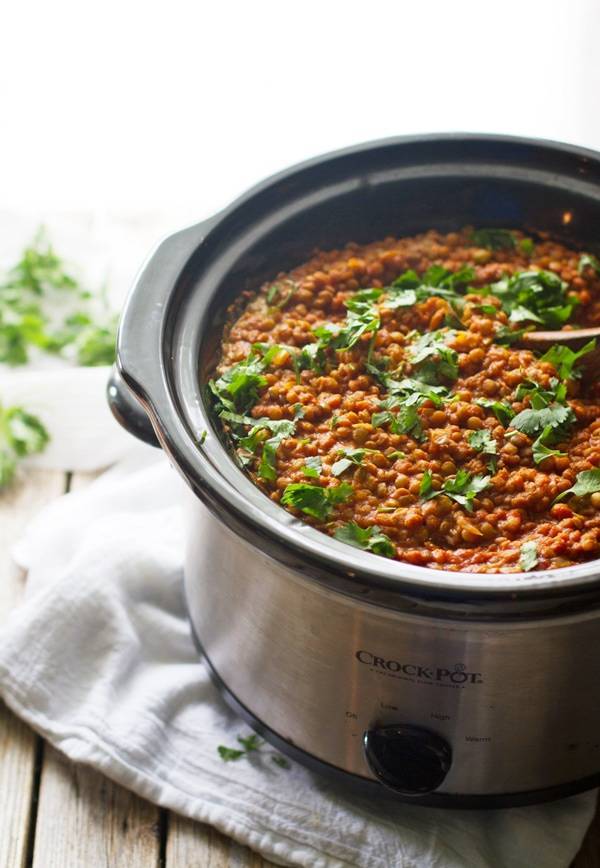 Print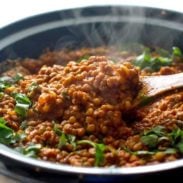 Crockpot Red Curry Lentils
---
Author:

Pinch of Yum
Total Time:

8 hours 20 minutes

Yield:

16
Description
Red curry lentils is one of my favorites! This version is so simple – just toss everything in the crockpot. Easy, healthy, and full of flavor.
---
4 cups

regular brown lentils (I used maasor lentils this time)

2

onions, diced

4

cloves garlic, minced

1 tablespoon

minced ginger

4 tablespoons

butter (optional)

5 tablespoons

red curry paste

1 tablespoon

garam masala

1 1/2 teaspoon

turmeric

2 teaspoon

sugar
a few good shakes of cayenne pepper

2

cans tomato puree (

29 ounces

each)

1 teaspoon

salt plus more to taste

1/2 cup

coconut milk or cream
cilantro for garnishing
rice for serving
---
Instructions
Rinse the lentils and place them in a large crockpot. Add the diced onions, garlic, ginger, butter, curry paste, garam masala, turmeric, sugar, and cayenne. Stir to combine.
Pour just 1 can of tomato puree over the lentils. Re-fill the can with water twice and add to the crockpot. Stir to make sure that the lentils are covered with liquid. Cover and cook on high for 4-5 hours or low for 7-8 hours.
Check once or twice during cooking to add more water or tomato puree if the lentils are soaking up all the liquid. The amount of water or tomato puree you add depends on how soupy your want your lentils to be. For me, 1 1/2 cans of tomato puree plus the two cans of water was perfect. Taste and season with salt. Lentils will be soft when they are done cooking.
Stir in the coconut milk and sprinkle with cilantro just before serving. Serve over rice or naan bread.
Prep Time:

20 mins

Cook Time:

8 hours

Category:

Dinner

Cuisine:

Indian
Keywords: red curry lentils, crockpot curry, crockpot lentil curry
Recipe Card powered by
---
One More Thing!
This recipe is part of our all-star slow cooker recipes page. Check it out!
The post Crockpot Red Curry Lentils appeared first on Pinch of Yum.