I have a new obsession and YOU ARE LOOKING AT IT.
Its name is a crunchwrap and it's all wrapped up in a huge soft flour tortilla and pan-fried until it's crispy on the outside and gooey-delicious on the inside.
The thing about a crunchwrap is that it doesn't need to be bossy in the flavor department. I found the basic-taco-salad-ness of the flavors to be deliciously nostalgic and yummy, and besides, the main event here is the way it's all structured. Its form. Its layers. Its texture. That is what will have you daydreaming at 3pm. The juicy drips, the gooey-ness, the crunch. Feels like peak humanity, tastes like sheer joy.
In This Post: Everything You Need For Crunchwrap Supremes
Prefer To Watch Instead Of Read?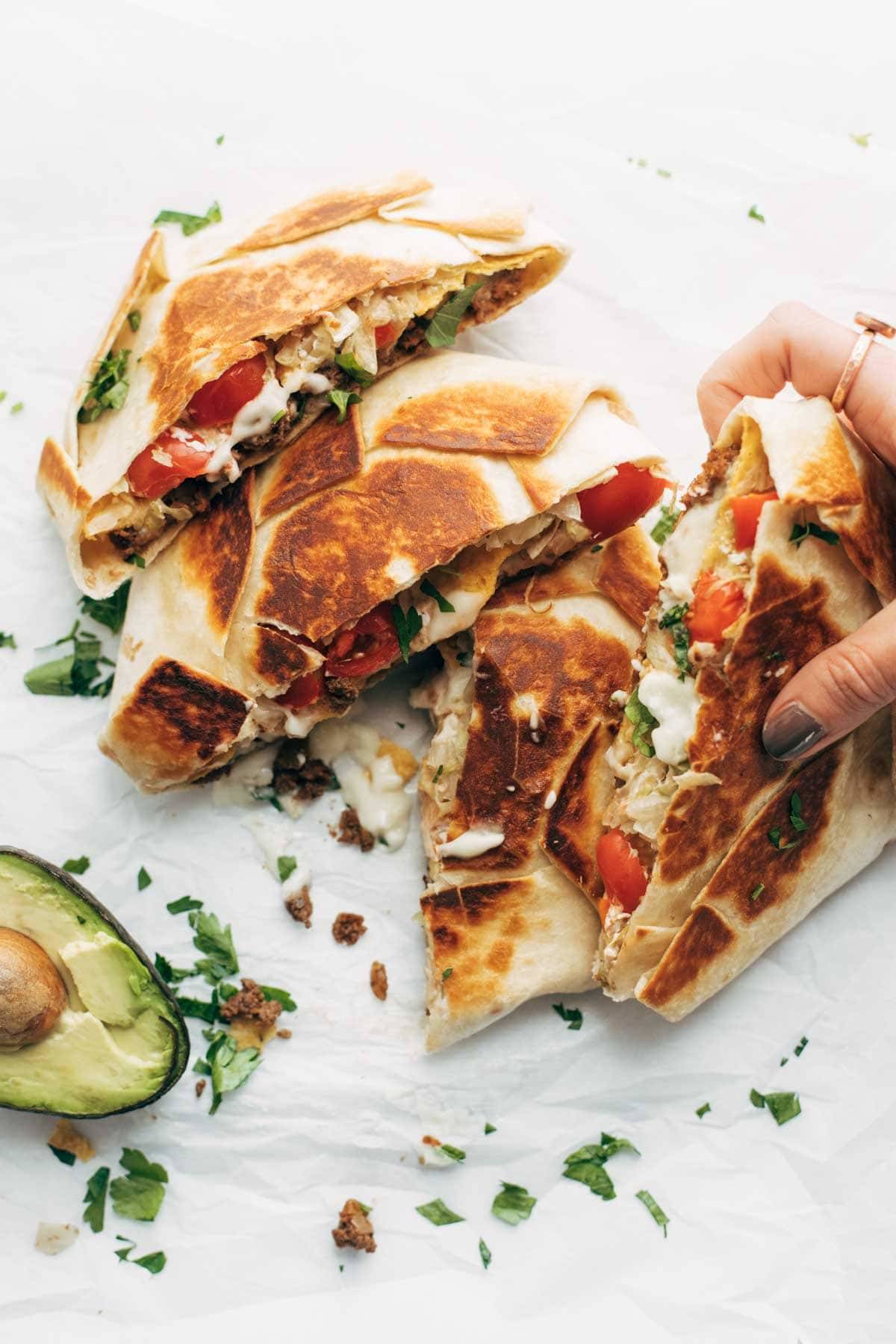 Ingredients In This Crunchwrap Supreme
Let us convince you of how delicious this is going to be. Here's what's going inside a crispy tostada:
taco meat
YOUR OWN HOMEMADE pepperjack queso
lettuce
tomato
salsa
sour cream
hot sauce
How To Make Homemade Crunchwrap Supremes
Sauté up your beef with the onions, garlic, and seasoning.
Make your homemade queso by whisking together the butter, flour, milk, and cheese in a small pan.
LAYER TIME! Layer your beef, queso, crunchy fillings, sour cream, hot sauce, other veg fillings in the tortilla. Fold the tortilla edges in. Cook for a few minutes in a hot skillet, flip the crunchwrap, and remove it from the skillet once it's a beautiful golden brown.
That's it! Top with a thwap of guacamole and live your life!
Crunchwrap has become a verb in my life. "Should we Crunchwrap that?" is a real sentence that I say. I have Crunchwrapped sweet potato, black beans, taco meat, queso, Hot Cheetos (do it), tortilla chips, avocado, and more. I am proudly becoming a Crunchwrap Master.
Anything you would put in a taco salad? Crunchwrap the heck outta that.
How This Crunchy Goodness Compares To The Taco Bell Crunchwrap Supreme
We should probably pay tribute to the fact that the Crunchwrap is a Taco Bell thing, right?
Okay, in all honesty, I've only eaten at Taco Bell once, and since it was past midnight, I don't remember much, and really, isn't that everyone's Taco Bell experience? So in full disclosure, I've never eaten a true Taco Bell Crunchwrap which, it's just, I know. I have a late night Bell run in my very near future.
I'm more of a Taco John's girl myself (Potato Oles all tha wayyyy) but today we need to focus on what really matters.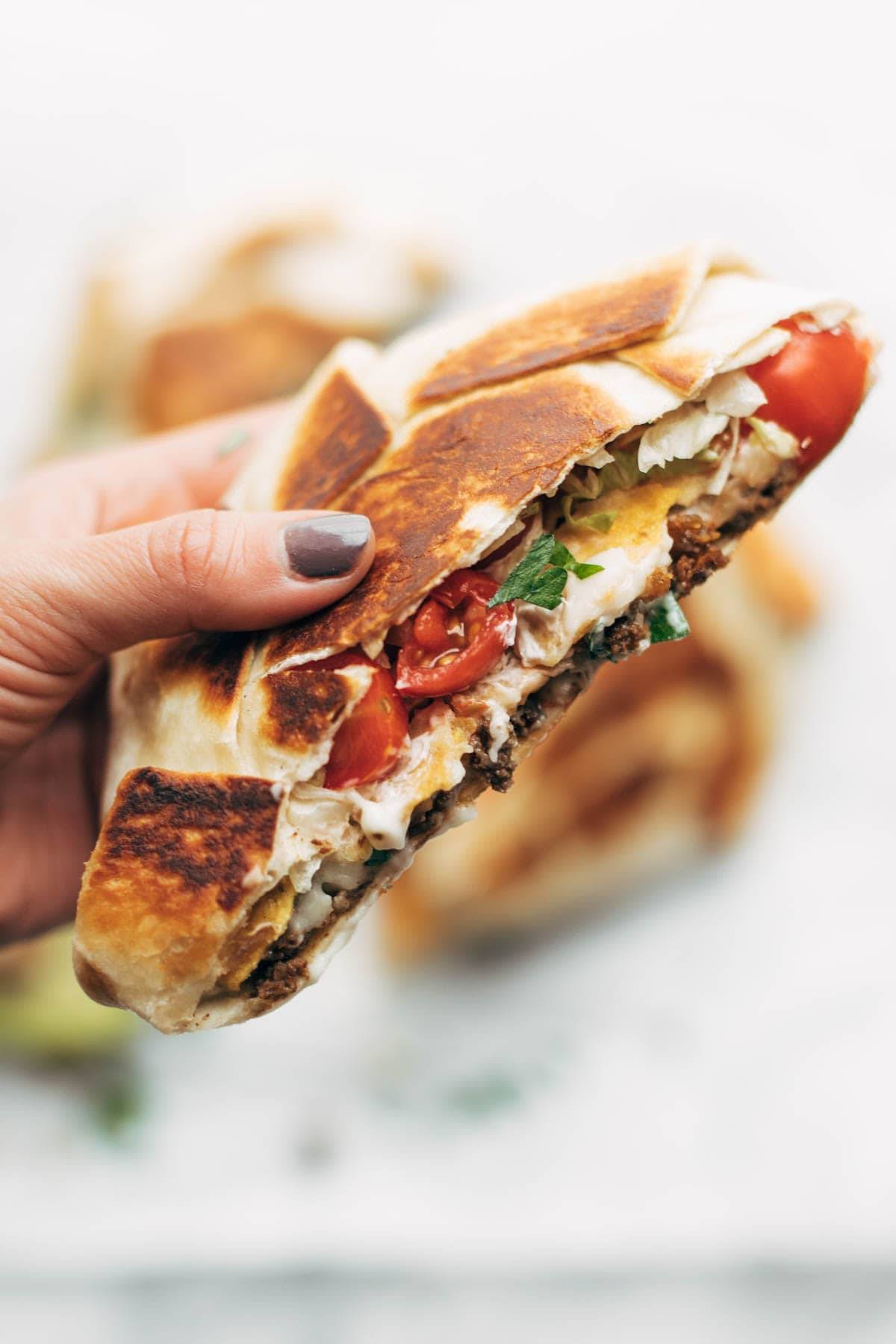 You. Dinnertime. The Crunchwrap. The drippy, cheesy, hangry-face Crunchwrap.
Crunchwrap Supreme: Frequently Asked Questions
How much filling should I add for a regular size crunchwrap?
Keep your filling amounts minimal. It is very common to run into the issue of overflow, in which case, you can a) reduce filling amounts, b) fold it up as-is and hope for the best – I found even half-closed crunchwraps still grilled up nicely, c) break your tostadas into smaller pieces to allow you more space, or d) make a MEGA CRUNCHWRAP. See next FAQ.
How should I prepare a mega crunchwrap?
Cut a few of the large flour tortillas so they are the same size as your tostadas. Then, once you've layered all ingredients, just place a small flour cutout tortilla on top and fold edges over that. This should buy you a little extra space for filling.
Print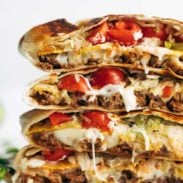 Crunchwrap Supreme
---
Author:

Lindsay
Total Time:

35 minutes

Yield:

should be enough filling for 6-8 crunchwraps
Description
Just like the Crunchwrap Supreme from Taco Bell – layers of taco meat, pepper jack queso, tostada, lettuce, tomato, sour cream, salsa, and hot sauce. SO YUM.
---
Spicy Ground Beef
1 tablespoon

olive oil

half an

onion, minced

3

cloves garlic, minced

1

lb

. ground beef

2 tablespoons

taco seasoning (add about

1 teaspoon

salt if it's unsalted)
Pepperjack Cheese Sauce:
4 tablespoons

butter

4 tablespoons

flour

1

cup

milk

8

ounces

shredded Pepperjack cheese
Crunchwrap Extras (customize to your heart's desire):
large flour "burrito" tortillas
something crunchy: tostadas work really well, but tortilla chips or, dare I say, Doritos (!!) would work, too
lettuce, tomato, cilantro
sour cream
salsa
---
Instructions
Spicy Ground Beef: Heat the oil over medium heat in a large nonstick skillet. Add onion, garlic, and beef. Cook / break apart until the beef is browned all the way through. Add taco seasoning and salt.
Queso: Melt the butter in a small saucepan. Add the flour and whisk until smooth. Let the flour cook for a minute or two, then slowly add in the milk, whisking after each addition. When the sauce is smooth, remove from heat. Stir in the cheese. Season to taste.
Crunch Wrap Time: Lay a large tortilla on a flat surface. Layer: beef, queso, crunchy stuff, sour cream, salsa / hot sauce, tomato, lettuce, cilantro. Fold the edges of the tortilla in. Place in a hot oiled skillet. Cook for a few minutes on each side until the exterior is firm, crunchy, and golden brown. Cut and serve! I like a little mashed avocado and hot sauce on top.
Prep Time:

10 minutes

Cook Time:

25 minutes

Category:

Dinner

Cuisine:

Tex Mex
Keywords: crunchwrap, beef crunchwrap, crunchwrap supreme
Recipe Card powered by
More Taco Goodness
---
One More Thing!
This recipe is part of our easy Mexican-inspired recipes page. Check it out!
The post Crunchwrap Supreme appeared first on Pinch of Yum.