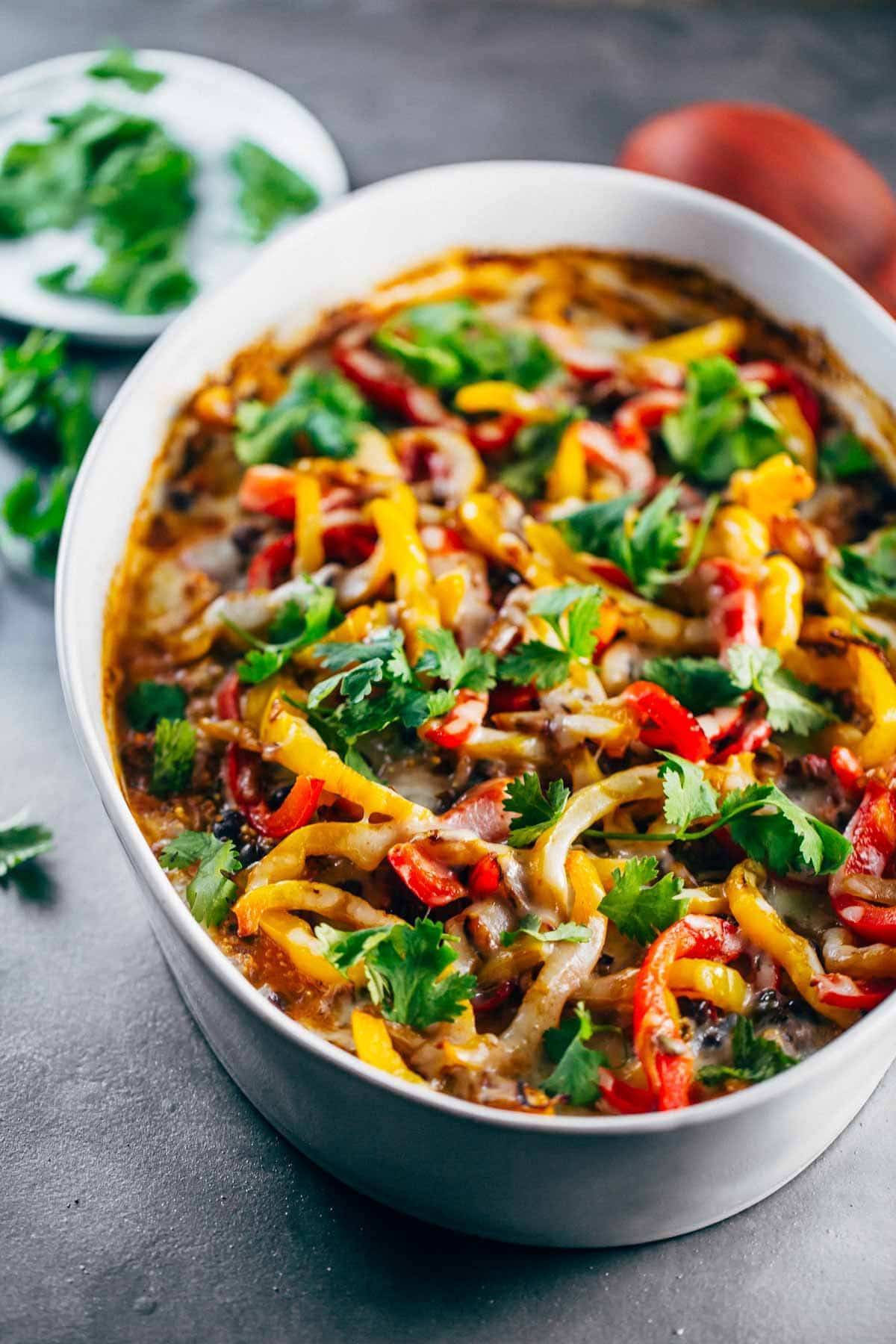 Hi there Wednesday!
Can I interest you in a mid-week pick me up of Mexican Chicken Quinoa Casserole involving a pan piled high with blistered peppers, salsa-ified quinoa, black beans, spicy chicken, and Pepperjack cheese? Suhhhweeeeet, that's what I thought.
Bjork and I have a major interest in this casserole these days because it allows us the freedom to cook once and eat five hundred times. Er, back up for a second – "us" in reference to cooking might be a tiny bit of a stretch, kind of like "us" in reference to mowing the lawn or taking out the recycling. But basically what I'm saying is this Mexican Quinoa Chicken Casserole fills our dinner plates with colorful veggies, lots of protein, and stringy, melty cheese — and then, best of all, it fills our fridge with delicious leftovers that might taste even better the next day.
More importantly, it gives Bjork something really quick, easy, and healthy to grab on his way out the door to the office when he conveniently notices my subtle neon blue note taped just above the door handle, with an ALL CAPS MESSAGE: WAIT! DO YOU HAVE A LUNCH?
You guys, the fact that a person even has to be reminded to think about food is just beyond my realm of understanding.
Like, what is that kind of life even like?
How To Make Our Quinoa Casserole (1 MIN 5 SEC):
This recipe was actually going to be something else altogether. It was going to be a throwback to this Southwestern Quinoa Casserole that I made when we lived in the Philippines, which, obviously, is the perfect time to make a Southwestern Quinoa Casserole. Right? SMH.
(PS. Is that the right way to use SMH? I'll come clean and say that I've never actually used it before this moment. Just trying to stay hip on this here bloggg.)
No, but seriously. I've had this idea that I'm going to go back through some old posts this summer and re-do the pictures and update the recipes and such, but I always have the same problem with all of the recipes – I start working on it, and I love it so much, and yet I absolutely can't hold myself back from changing the recipe in some way, shape, or form. Adding this, taking out that, and topping everything with more cheese. I've obviously changed for the better over the years.
Take, for example, this Mexican Chicken Quinoa Casserole. I make it with the intent of re-photographing it for the original Southwestern Quinoa Casserole, but I also added chicken, changed how I prepared the peppers, and baked it all in a different sauce.
AHH! Self! Stop it.
The Curse of The Food Blogger is upon me – I honestly can't just leave a recipe be, even when it's my own recipe. It's a very sad curse to live with.
Except that then I get to eat this for days, which isn't sad at all.
I made this a few times, and this picture (scroll down) of me digging my chips into the bowl of casserole was from a previous test run with the casserole that included more liquid for the sauce and more cheese for the sauce. Both of which I find are almost always a good thing, but in the case of this Mexican Chicken Quinoa Casserole, my rogue recipe tweaks needed some adjusting.
The true, final version as it's written in the recipe here doesn't have that much liquid for the sauce OR that much cheese in it. It was just too runny for me.
But I mention this because if you're look at that picture of what is essentially a cheesy quinoa chicken dip (again, scroll down) which is too runny for a casserole but highly delicious and a great excuse to bring chips into your life, and you simply MUST HAVE IT that way, might I suggest that you just make the recipe as written but add a little extra water or broth to the sauce? Keep an eye on it as it's baking and add more or adjust as needed.
Confession: I might actually love when casseroles just become full 9×13 pans of cheesy chicken dip to feed my chip obsession.
But I also love when casseroles are just casseroles, sticky and cheesy and packed with lots of YUMMY THINGS, meant to be passed around the table and enjoyed at least 48 more times as leftovers. I especially love when they are loaded with color, flavor, and nutritious ingredients like dis one.
GET IT!
Print
Easy Mexican Chicken Quinoa Casserole
---
Description
Easy Mexican Chicken Quinoa Casserole! Piled high with blistered peppers, salsa-ified quinoa, black beans, spicy chicken, and Pepperjack cheese.
---
1 1/2

cups

uncooked quinoa
1

14

ounce

can cooked black beans, rinsed and drained

1 1/2

cups

salsa

1 1/2

cups

chicken broth (plus 1/2 cup more if needed)

1/2 teaspoon

salt

1

–

2

cloves minced garlic (optional)

1 1/2

cups

shredded cheese, divided

1 tablespoon

oil

1

jalapeno, minced

1

onion, sliced

4

bell peppers, sliced

1 1/4

lb

. boneless skinless chicken breasts, cut into small pieces

1 tablespoon

taco seasoning (I just use a mix of chili powder, onion powder, cumin, salt)
---
Instructions
Preheat the oven to 375. Mix the quinoa, black beans, salsa, chicken broth, salt, garlic, and 1/2 cup of the shredded cheese in a large bowl. Transfer to a well-greased casserole dish (something close to 9×13). Bake for 30 minutes.
While the quinoa is baking, heat the oil in a large skillet. Add the jalapeño, onion, and peppers. Sauté until golden brown and tender-crisp, like you would for fajitas. Remove from heat and set aside.
Toss the raw chicken with the taco seasoning. When the quinoa is done with the first 30 minutes of baking, stir it up really well and add the raw chicken. Stir the chicken into the mixture to get the chicken mostly covered by the mixture, and return to the oven for another 30 minutes of baking. If you notice there are a few uncooked quinoa pieces on top, just give it a stir and bake it a little longer (a few readers also commented that it helped them to add a little extra broth at this point). It's usually fully cooked on the bottom but those top pieces sometimes need a little extra love.
When the quinoa is done, top with the peppers and remaining cheese – bake another 5-10 minutes or until the cheese is melted to your liking.
Equipment
The equipment section may contain affiliate links to products we know and love.
Prep Time:

15 mins

Cook Time:

1 hour 10 mins

Category:

Dinner

Cuisine:

Mexican
Keywords: mexican casserole, chicken casserole, chicken and quinoa, easy casserole
Recipe Card powered by
---
One More Thing!
This recipe is part of our best healthy chicken recipes page. Check it out!
The post Easy Mexican Chicken Quinoa Casserole appeared first on Pinch of Yum.