Kicking off our holiday series with this staple that just got an upgrade and we're here for it. The fresh blanched beans are bright and toothsome and tender but not mush. The sauce is silky and rich, speckled with gruyere and shallot and umami, but not heavy or thick. There is deep rich flavor without any mushrooms involved. And, of course, there are still crispy onions on top because we are not monsters. They are a must.
Okay, maybe green bean casserole hits the holiday table every year and you are like YES PLEASE, PASS IT HERE. Or maybe you see it and you're like, hmm, mushy green beans and kinda gloppy gravy bits, NO THANKS (harsh, but we get it). Or maybe you're not from the Midwest and you're reading this like, I'm sorry, whaaa??
No matter where you're at, please forget everything you know (or don't know) about green bean casserole and get ready for this savory, creamy veg gem.
---
In This Post: Everything You Need For Green Bean Casserole
---
Green Bean Casserole From Scratch – Nothing Canned!
Though the "Green Bean Bake" was originally developed in the test kitchens at Campbell's by a woman named Dorcas Reilly, and we are forever prayer hands emoji grateful to her for this treasure, there is a fresher path to glory.
First, we are dealing with fresh green beans. They are quick-blanched to help hold their texture and color. That's right! You will see actual bright slivers of green in your casserole and not the well…green-brown that a canned bean brings to the table. We were able to pretty consistently find a package of pre-cut french green beans which was a real bonus and timesaver but, of course, any fresh green bean will do.
Sauce For Green Bean Casserole
And the sauce? Please don't be mad Dorcas but, we ditched the cream of mushroom soup here. Do not haunt our holiday tables! We wanted to see if we could start from scratch and go mushroom-less. (Though, you KNOW we do truly love those mushrooms, just not here).
We wanted it to be silky and ready to coat each beautiful bean, but not something so thick that your plate is taken up mostly by sauce. We still wanted it to feel like a vegetable! Something more balanced for your dinner plate. Something bright to tuck next to your mashed potatoes and your sweet corn casserole (coming soon!). You'll start slow and steady with making a roux, peppered with onion and shallot. You'll kick that up with some white wine (so good!) and broth, and then a splash of soy sauce to keep that umami flavor. Did we mention we sprinkled some gruyere cheese in that sauce as well? Cuz we did. We sure did. And the result is magnificent.
Creamy, savory, just the right amount of sauciness to make the whole thing feel special. It is a holiday after all.
Prefer To Watch Instead Of Read?
Ingredients To Make Green Bean Casserole
If you're doing any other holiday food prep, many of the ingredients are probably already on your lists or in your pantry but here's some of the extras you need to make this dreamy side dish (or whole meal, we don't judge) happen.
green beans (we used pre-cut french green beans for convenience, but any fresh green bean will do)
shallots and garlic
white wine, whole milk, and veg broth for the liquids
soy sauce
shredded gruyere
crispy french-fried onions (again, we're not monsters)
How To Make Green Bean Casserole
Even without the added conveniences of canned soup and vegetables, this is still a pretty easy dish to throw together and toss in your oven, probably with an intricately layered oven rack map and precise time schedule…we get how holidays go.
Blanch your beans. You might have to work in batches, toss them in the boiling water for 1-2 minutes until they're bright green and just barely tender and then plop them in your baking dish.
Make your sauce. You'll start with butter and thinly sliced shallot to build your roux. You'll get your whisk game on while slowly adding the wine, broth, milk and soy sauce each separately. Once it's come together creamy smooth, you can stir in the garlic and gruyere cheese and try not to just drink it all straight from the pan.
Bake it all up. Pour the sauce over the green beans, cover and bake. You'll pull it out, give it a quick stir to fully coat and then top it with those crispy fried onions because you are a darn champion and bake just a bit more.
If it's not already a holiday favorite of yours, we hope you find a new menu staple here. Rich and special and deeply cozy, but still a vegetable that feels like a vegetable, so you can keep passing it round and round your table.
Green Bean Casserole Recipe: Frequently Asked Questions
How can I prep this ahead of time?
Here's how we'd do it. A day before you're going to be cooking, prep the casserole through step 3 but don't bake it yet. Just store it in the fridge before you're ready to bake and it'll go right into the oven!
Can I freeze this ahead of time to prep?
Yes! Prep the casserole through step 3, cover with foil, and freeze. When you're ready to bake, set your oven to 350 and bake as instructed, but for 45 minutes. Prepped casserole will keep in the freeze for two weeks.
Can I use frozen green beans?
We prefer fresh green beans in this, but frozen can work in a pinch! Just thaw and drain the beans to remove excess water.
How can I make this gluten-free?
Use a gluten-free flour blend and tamari in place of soy sauce. Easy!
Print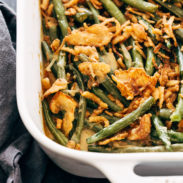 Green Bean Casserole
---
Description
This Green Bean Casserole is a Thanksgiving classic! Fresh blanched beans in a silky, rich sauce speckled with gruyere and shallots – plus crispy onions on top to boot! 
---
2

pounds

green beans

2 tablespoons

butter

1

shallot, thinly sliced

2 tablespoons

all-purpose flour

1/4

cup

white wine

3/4

cup

whole milk

1

cup

vegetable broth

2 teaspoons

soy sauce

1

garlic clove

, grated

1/2

cup

shredded gruyere

1 teaspoon

salt

1

cup

crispy fried onions
---
Preheat the oven to 375 degrees. Bring a large pot of water to a boil. Working in two batches, blanch the green beans until they're bright green and tender-crisp, about 1-2 minutes. Drain the green beans and transfer them to a casserole dish. 

Melt the butter in a saucepan over medium heat. Add in the shallot, cooking for a couple minutes until tender. Whisk in the flour, and cook for a couple minutes until the mixture is golden brown. Slowly add in the wine, broth, soy sauce, and milk – separately, whisking after each addition (you're building the sauce here so it's good to pause and let things thicken before the next addition). For the final thickening of the sauce, bring to a simmer for a few minutes and continue to whisk until the mixture thickens enough to easily coat the back of a spoon. Remove from heat and stir in the garlic, salt, and gruyere cheese. 

Pour the sauce over the green beans. Cover with foil and bake for 25 minutes. Uncover, and bake for another 15 minutes. Give the green beans a quick toss to get them nice and coated in the sauce. Wipe down the edges of the casserole dish. Then, top with fried onions and bake for another 5 minutes. Let stand for 5-10 minutes to let the sauce settle into all its silky-smooth glory.

Prep Time:

5 minutes

Cook Time:

1 hour

Category:

Side Dish

Method:

Bake

Cuisine:

American
Keywords: green bean recipe, green bean casserole, casserole
Recipe Card powered by
Other Thanksgiving Classics
One More Thing!
This recipe is part of our cozy casserole recipes. Check it out!
The post Green Bean Casserole appeared first on Pinch of Yum.