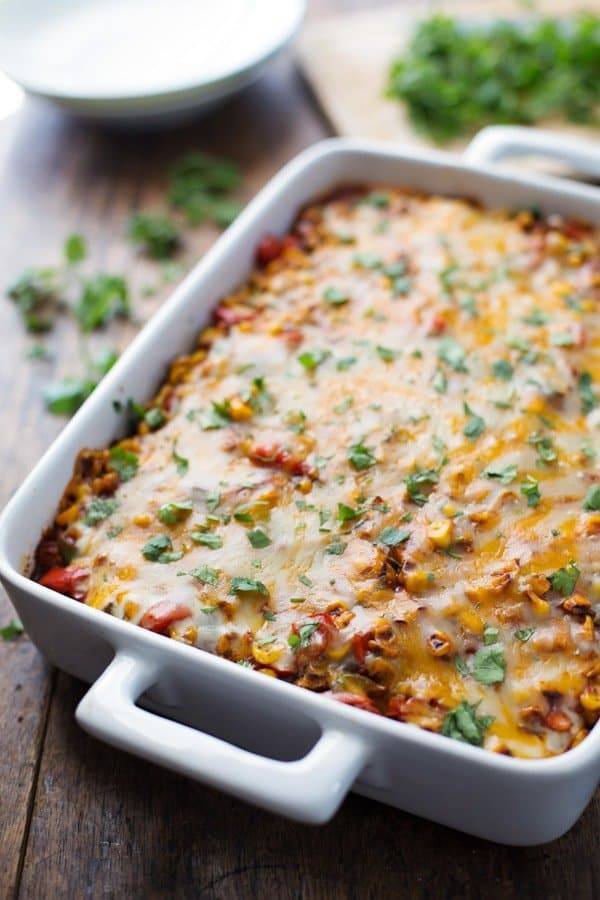 A Mexican casserole that's both healthy AND delicious? Filled with roasted corn and peppers? Yesss.
So, memes?
The weird pictures with the snarky, random text captions right on the photo? I am that person who tries to act smart and professional when using social media but is secretly obsessed with memes.
I mean, we're talking meme LOVE. I don't know what it is about them, because if I try to read them out loud and/or explain them to Bjork, they fall flat and I feel like a crazy person. But it's like the magic has to happen in your head because when I see a good meme, especially involving animals, extra-especially involving kittens or baby animals or crazed dogs, there is an out-of-control laugh track going off in my brain. Er, in my face.
So naturally, this post is dedicated to all the meme greats of the world. You make us laugh uncontrollably and make social media 300% more fun; we salute you.
Prefer To Watch Instead Of Read?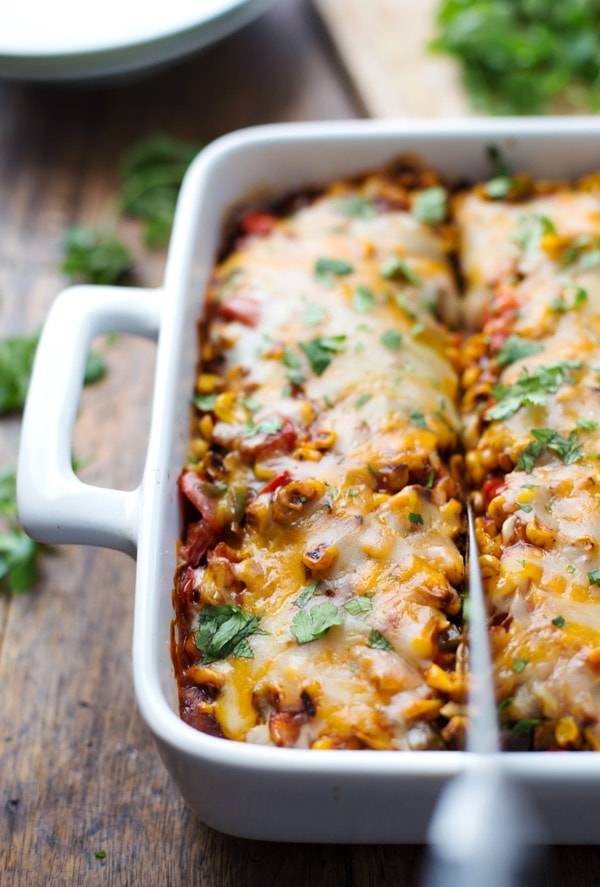 Like, for example, Grumpy Cat. I assume you know Grumpy Cat memes because I assume you are fellow time wasters who know spend the hours of your day looking and laughing at cat photos. But now I'm realizing maybe you're people who use time appropriately and therefore don't know Grumpy Cat?
Dang.
I don't want to boss you around but Googling that right now might be THE MOST important part of your day. Become acquainted and enjoy.
Another example that will represent my meme love: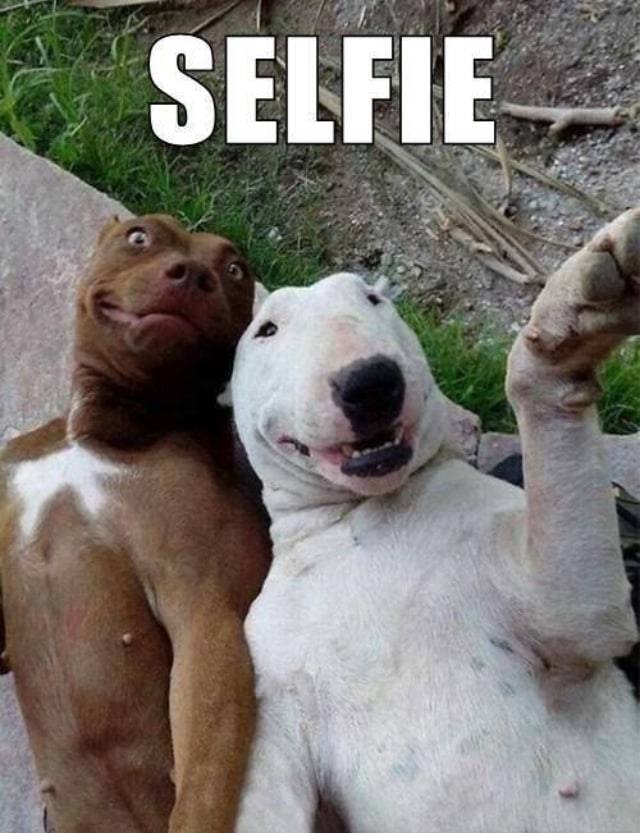 And just one more: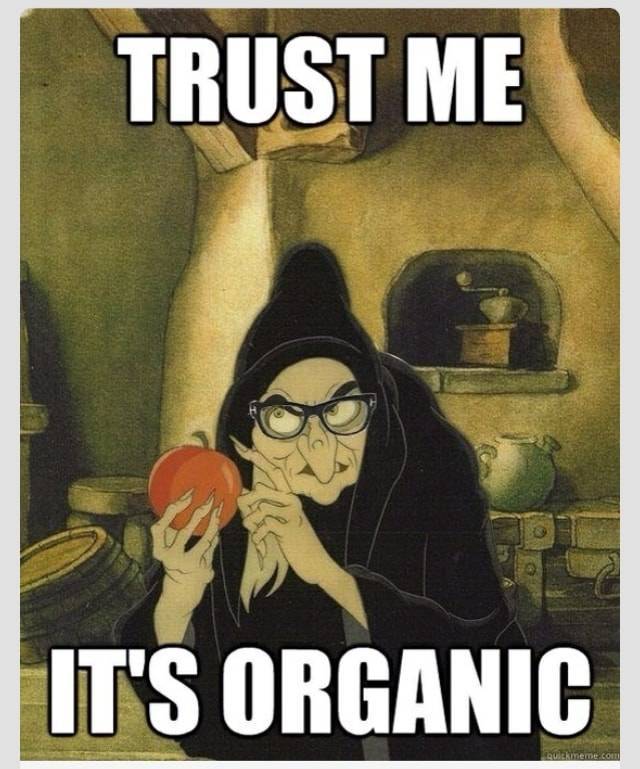 Okayfinelastone: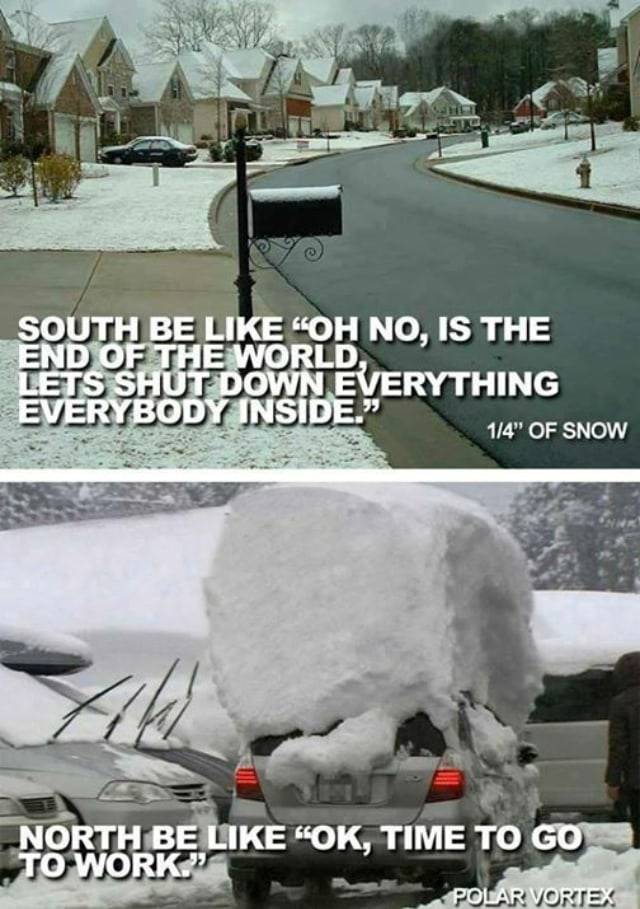 LOLZ! I love them so much.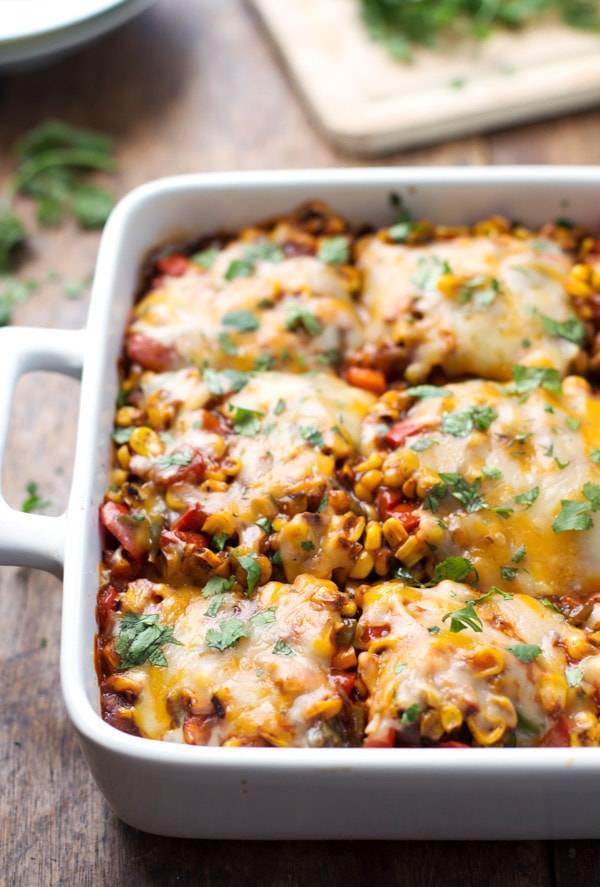 So for today's post I made one of my food photos into a meme.
NOT. That would have been weird.
More like I made this delicious casserole of vegetarian, naturally gluten-free Mexican goodness that has less than 250 calories per serving because it's loaded with veggies and beans and those are things that are good to have in your life.
This was inspired by one of my favorite meals of all time, a frozen dinner by Amy's Organic brand. Yeah, yeah, whatever. Judge me for loving frozen food. And memes. But I can't deny the truth which is that those Amy's Organic Mexican Bowls are delicious and a gift to my life when I don't have time to make dinner (read: when I don't have time to make dinner because I'm pages deep in the world's best memes).
How To Make This Healthy Mexican Casserole
So the layers go like so: corn tortillas, refried beans, roasted peppers and roasted corn, enchilada sauce, cheese, and repeat. Sort of. It gets pretty full even if you're using your biggest pan, which I was, so I really only got 1.5 layers jammed in there and baked up to cheesy, veggie perfection.
You might be raising your eyebrows at the mention of the corn tortillas in there, but they actually end up being delicious when completely soaked with enchilada sauce. It just works. If Amy's can do it, we can, too. Bjork loved this, I loved this, our friend who took some leftovers home loved this, and I super-loved that we all loved it.
Hey you guys? Just remember. Memes for life.
Now bake until bubbly, scoop onto plate, top with guac, and devour.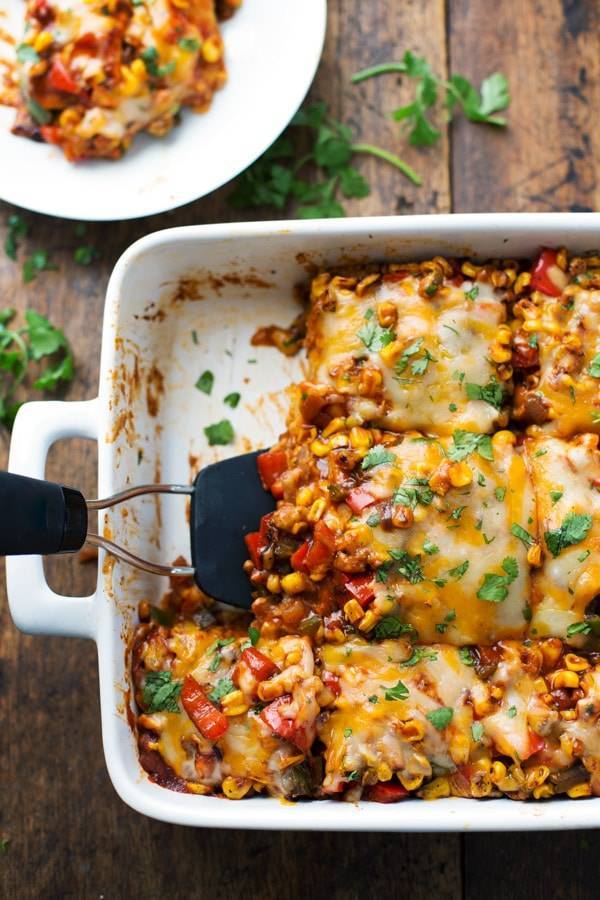 Oh and hey. Guacamole on top is not optional. You must you must you must.
Healthy Mexican Casserole: FAQs
Can I make my own enchilada sauce?
Yes, and that would be soooo good! We have a recipe here.
Can I freeze this and bring it to a friend?
Awww, love this idea! This totally works – just tell them to thaw before baking. If you need more freezer meal ideas to send to a friend, check out this post.
Is this spicy with the peppers in it?
The bell peppers don't add any spice, and you'll get a very minimal kick of heat from the jalapeño. You can always remove the ribs and seeds from the jalapeño if you want to take down the heat more.
Print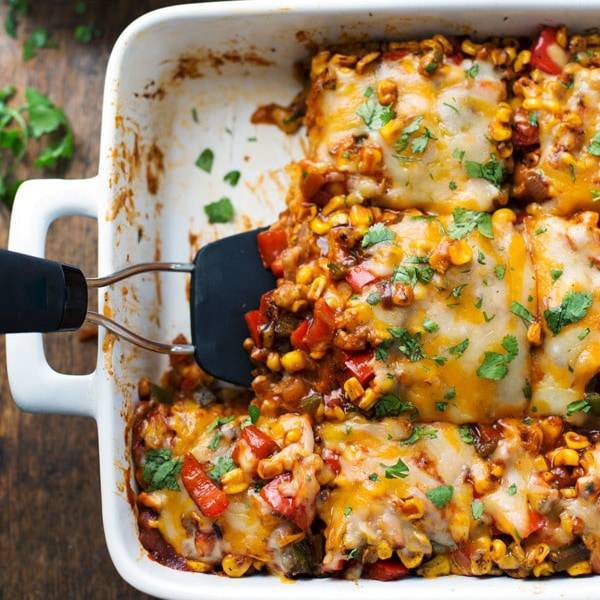 Healthy Mexican Casserole with Roasted Corn and Peppers
---
Author:

Pinch of Yum
Total Time:

1 hour 30 minutes

Yield:

12 servings
Description
This Healthy Mexican Casserole has roasted corn, roasted bell peppers, cheese, enchilada sauce, and corn tortillas. Perfect leftovers for lunches!
---
2

red bell peppers

2

green bell peppers

1

jalapeno or 2 chipotle peppers (optional – just for more kick)

1/2

red onion

2

cups

frozen corn

2 teaspoons

chili powder

2 teaspoon

cumin

1 teaspoon

salt, to taste

2

cups

Mexican cheese (mine was a Sargento blend)

18

–

20

corn tortillas

1

can refried beans

2

cups

red enchilada sauce
cilantro, guacamole, or sour cream for topping
---
Instructions
Pan-roast the veggies: Dice the peppers and mince the onions. Heat a large nonstick skillet with a little bit of oil over high heat (**note – I used to recommend using no oil, because that's what worked best for my with my Swiss Diamond nonstick pan, but several readers have ruined their own pans doing that so I am no longer recommending that!). Add the onion and peppers, sprinkle with chili and cumin, and stir, rest, stir, rest until you get a nice browning on the outside of the peppers. Remove and set aside. Repeat the roasting process with the corn, sprinkling with chili and cumin, removing from the heat when browned and roasted on the outside. Sprinkle the roasted veggies with a little bit of salt and toss to coat.
Prep the ingredients: Grease a 9×13 inch baking pan and preheat the oven to 400 degrees. Cut the tortillas into thin strips. Put the refried beans in a bowl and mix with a little bit of water to make them easier to spread.
Assemble: Spread a little bit of sauce on the bottom of the pan. Layer in order: half of the tortilla strips, ALL the beans, half of the veggies, half of the sauce, half of the cheese. Cover with the other half of the tortilla strips, veggies, sauce, and cheese.
Bake: Cover with foil (I usually spray mine with cooking spray) and bake for 15-20 minutes, until the sauce is bubbling and the cheese is melted. Serve with guacamole, fresh cilantro, sour cream, or anything in the world that you want.
Prep Time:

30 minutes

Cook Time:

1 hour

Category:

Dinner

Method:

Bake

Cuisine:

Mexican
Keywords: mexican casserole, healthy casserole, veggie casserole, vegetarian recipe
Recipe Card powered by
More Casseroles To Love
The post Healthy Mexican Casserole with Roasted Corn and Peppers appeared first on Pinch of Yum.