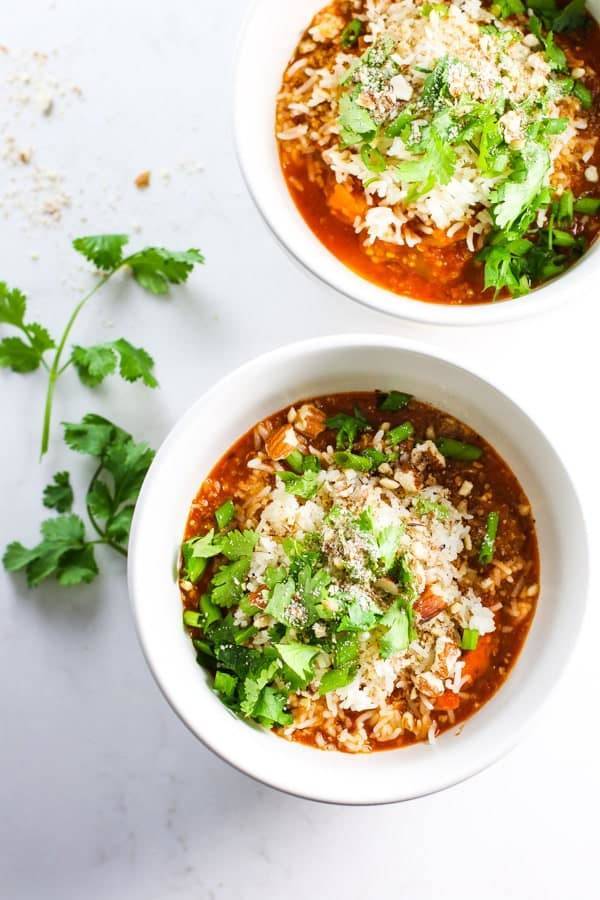 And so it begins!
This recipe was lovingly cooked, photographed, and snarfed down in .3 seconds from the very new, very bright, and very extra delicious Pinch of Yum kitchen! WELCOME FRIENDS. ♡
In honor of the awesomeness of bright colors popping out of our bowls right up in the face of old man winter – POW! – can we branch out today and do the Healthy Quinoa Chicken Curry Bowls thing together? Because these quinoa chicken curry bowls are not only colorful and healthy and delicious to the core (veggies! spices! hurrah!), but they also come together quickly, which is basically a must-have in my life these days as any and all of my spare minutes are spent geeking out on Instagram instead of moving boxes of stuff up into the new kitchen. Very super important.
I'm just so good at life right now.
I also need need NEED these quinoa chicken curry bowls today because, I'm going to say it in three, two, one: I am getting tired of Thanksgiving food. NO! I don't mean it. But I sort of do don't hate me don't hate me don't hate meeeee.
I know, I get it, all the Real Bloggers have to make things in advance of holidays in order to give recipe-searchers enough time to find them before the big day. Yes, okay, pats on the backs for all the Real Bloggers of the world — including myself, sort of, because I had a rah-rah start with a few Thanksgiving recipes that were actually "on time" this year. Hey! Party!
But at this point, I've actually eaten so many crockpots full of garlic mashed potatoes in the last few weeks that I might — *might* — be ready for a break, which is saying A LOT because hello: garlic mashed potatoes.
So even though I can never get too much of the stuffing-and-mashed-potatoes-and-gravy combo, today is a good day for a rest. This mini-break involves bowls piled high with veggie freshness, filling power foods quinoa + chicken, and the warm spicyness of curry, and you guys. I am so there. Front row, edge of chair, fork in hand, go time.
And about the new kitchen?
Yeah, I LOVE IT. Mostly what I love is that now I get to do my food thing while Bjork sits and does his techno-thing at the counter and I don't feel like I'm hibernating in a closet in the back of the house all by myself. I mean, there just used to be a big fat wall there, and now there's two computers and a bar stool and Bjork's face.
Also, I love having an oven that is normal. I love having a stove that is SUPER high powered to the point where I get a little scared every time I use it. I love having a FULL SIZE fridge, and dishes that don't have layers and layers of dust on them. And lights! I love having lights. And taking these pictures right on our new countertops? Yeah. I can't even.
Right now as I type this the floor guys are finishing the final flooring something (what are they even doing? should I know? sometimes I just take a second to sit back and be thankful that I have nothing to do with the actual WORK of this remodel) and we are also waiting on appliance panels and a backsplash. When that's all set, you can expect a blast of words, pictures, and videos in a Kitchen Tour post! I am literally smiling, alone, to no one right now. It just makes me that happy to think about virtually inviting you into the new space.
Until then, curry bowls! I used tomato and eggplant again because the combo of those two lovers in the Spanish Chicken and Potatoes was whoa good, and once again, even for the non-eggplanters in the house, the veggies delivered.
Make them curry bowls as spicy as you want, top them with everything, and enjoy eating well.
Print
Healthy Quinoa Chicken Curry Bowls
---
Description
These Quinoa Chicken Curry Bowls are vibrant, fresh, and come together in a snap. Full of nutritious ingredients like quinoa, chicken, and veggies.
---
1 tablespoons

olive oil

1 cup

diced onions

1

lbs. boneless skinless chicken thighs (breasts are also good)

2 tablespoons

curry paste

2 teaspoons

garam masala (cumin or roasted coriander are also good)

1 tablespoon

ginger paste

3

cloves garlic

2 cups

tomato puree

2 cups

chicken broth

3 cups

diced eggplant (peel removed)

3 cups

diced fresh tomatoes

1 cup

uncooked quinoa
toppings: crushed almonds, rice, noodles, cilantro, green onions, almond butter
---
Instructions
Heat the olive oil in a deep pan over medium high heat. Add the onions and saute for 2-3 minutes until soft and fragrant. Add the chicken, curry paste, garam masala, ginger, and garlic. Stir fry for another 3-5 minutes to get the chicken pieces browned.
Add the tomato puree, broth, eggplant, tomatoes, and quinoa. Cover and smmer for 15-20 minutes (check the quinoa package for cook time – mine was a sprouted quinoa that cooked in 15 minutes). When it's done, it will look like the picture above – sort of like a stew.
When the chicken and quinoa are both cooked through, serve in big bowls topped with ALL THE THINGS. We like rice, cilantro, green onions, and crushed almonds for crunch.
Notes
Slow cooker variation: dump everything in the slow cooker and cook on high for 4 hours or low for 6-8. Also delicious!
Prep Time:

10 mins

Cook Time:

30 mins

Category:

Dinner

Cuisine:

American
Keywords: healthy quinoa curry bowls, curry bowls, quinoa bowls
Recipe Card powered by
The post Healthy Quinoa Chicken Curry Bowls appeared first on Pinch of Yum.