Throw it all together and call it dinner? Alrighty then, I will.
You know this kinda thing, I know you do. Is it even a recipe? Meh. Who cares.
It's classic craving food that's easily adaptable depending on whatever you have on hand. Which, if you're like me, is usually things like yucky varieties of beans that I've been avoiding (I've been giving the stink eye to one dusty old can of kidney beans for at least 6 months), condiments that I'm afraid of (ahem, fish sauce), and a half opened box of cake mix that was supposed to become some kind of Christmas treat. BEFORE Christmas. Woops. Pantry stocking is not my strength.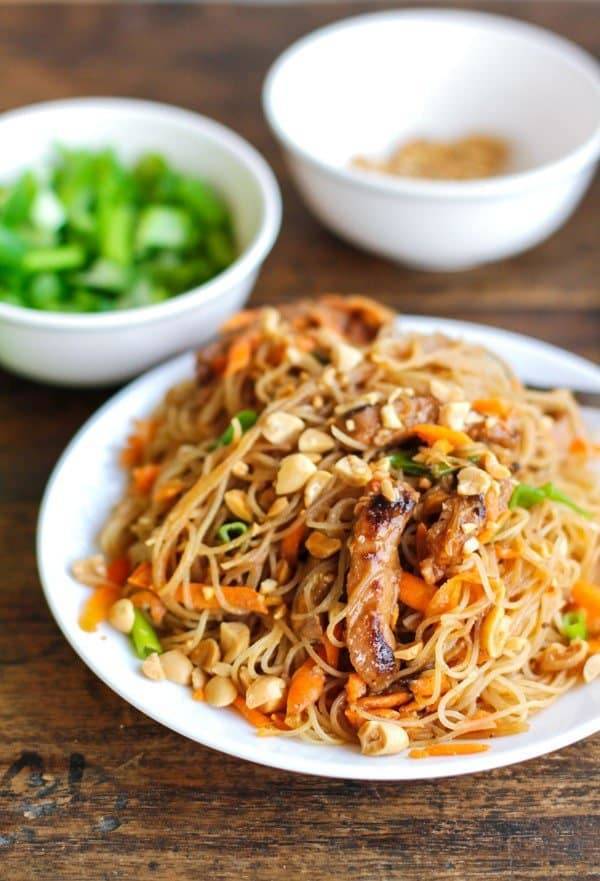 But even if this means a quick trip to the store, it's worth it. Because this one is all about YOU. It's like a noodle buffet for your very own face right in your very own house. And that hoisin pork: YUM.
You get to choose everything! Like your favorite veggies. Your opinion on whether or not you want peanut butter in your sauce. Your preferred style of noodles. Except can I interject with a quick recommendation for rice noodles? It's weirdly fun to shovel a forkful of those super-thin-and-delicate little things into your mouth.
And if you have picky family members, no big deal. It's a buffet, remember? Build your own deliciousness, kiddos. And I just thought of something: rice noodles are gluten free! Hey-o!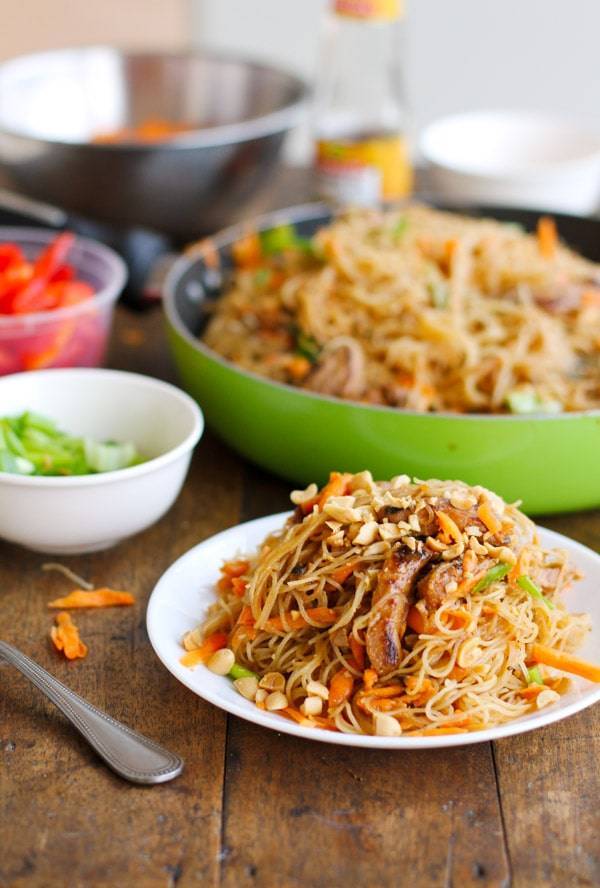 Sometimes I eat a big bowl of these noodles at 4:25pm just because I feel like it.
And that is the perfect truth.
Imagine the fork. Loaded with noodles. The juicy pork. The sauce. Maybe extra sauce. The flavor. The garlic. It was made for craving. Isn't that usually how noodles and saucy Asian pork goes?
Print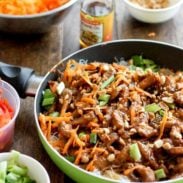 Hoisin Pork with Rice Noodles
---
Description
This hoisin pork with rice noodles recipe is like a giant stir fry that includes delicate rice noodles. Lots of veggies and tons of flavor.
---
1/3 cup

soy sauce

1/4 cup

water

3.5 tablespoons

sesame oil or canola oil

2 tablespoons

honey +

1 tablespoon

sugar

1

dash fish sauce

3 tablespoons

vinegar + a squeeze of lime if you have it

5

cloves finely minced garlic

1

piece fresh grated ginger (

1

–

2

tablespoons)

1

minced hot pepper (i.e. jalapeno, chili pepper, etc)

3 tablespoons

hoisin sauce

3 tablespoons

peanut butter (optional)

1 1/2

lbs. pork cut into thin strips (mine was called "pork stroganoff")

9 oz

. rice noodles
grated carrots, chopped scallions, chopped peanuts, cilantro
---
Instructions
Whisk all the sauce ingredients together (soy sauce, water, oil, honey, sugar, fish sauce, vinegar, garlic, ginger, peppers, hoisin, and peanut butter). You could also puree the sauce in a food processor to get the garlic, peppers, and ginger smooth.
Marinate the pork in the sauce overnight or for at least a few hours. I did mine overnight and then some, about 15 hours.
Heat a nonstick skillet over medium high heat and stir-fry the pork until browned on the outside. I found that there wasn't a whole lot of extra sauce after marinating, but I discarded the little bit that was left.
Cook your rice noodles according to package directions. Keep a little bit of liquid with the noodles to make sure it doesn't dry out. Top with pork, carrots, scallions, peanuts, cilantro, and extra sauce of choice (more hoisin sauce, soy sauce, sweet chili garlic sauce, sesame oil, etc). This is definitely a build-your-own kind of thing – just throw whatever you like in there with the noodles.
Notes
If you are a sauce person, make extra sauce and set it aside just for tossing with the finished dish. The noodles tend to soak up all the sauce and can get dry without a little something extra.
Prep Time:

15 mins

Cook Time:

15 mins

Category:

Dinner

Cuisine:

Asian-Inspired
Keywords: hoisin pork with rice noodles, rice noodles, hoisin pork
Recipe Card powered by
Guess what? Less than one week to go till Food Blogger Pro!!!!!!!!!!!!!! <– That was totally neurotic and unprofessional, and also necessary.
I'm just a little bit pumped up about it.
ME? Emotionally eating bowls of noodles to calm my nerves before the launch? Nope. No way.
The post Hoisin Pork with Rice Noodles appeared first on Pinch of Yum.