Waell, looks like we're going to have to stuff our faces with favorite game day foods two posts in a row. Hmm. Darn.
When it comes to party food game food snack food etc, I have a deep and borderline inappropriate love for cheesy dips bubbling away inside of little mini Crockpots. And my ultimate weakness is almost always some variation of a Chili Cheese Dip which I regret to say is  almost always is made with V to the elveeta. Just one question: WHY? Why have I never even thought to just make my own YUMMIER real cheese sauce?
So enter Homemade Cheesy Chili Dip: it starts with a made-from-scratch super quick chili with spicy sausage and black beans that is so deliciously Tex-Mex flavored because I must have all the spice in my mouth right now, and it's stirred all up to the happy place of dip land with a creamy *real food* cheese sauce involving butter, flour, milk, and cheese AS CHEESE SAUCE SHOULD. It's like spicy, mouth-hugging chili meets comforting, soul-melting cheese fondue. Grab a handful of chips (sweet potato chips! that's a thing! Costco!) because things about to get crazy with the cheesy chili dip in the most homemade, real food, made-from-scratch way possible.

I had actually not really wanted to post this recipe today (too much game food all at once = annoying) but I've been really trying to make some awesome desserty-type things this week and the bottom line is that they have not been awesome and therefore they cannot be posted today. Sorry not sorry – you reeeeally would not be loving my dessert my recipes this week.
For example. I worked on at least 25 variations of a homemade pumpkin spice latte, and then I liked it but I didn't love love LOVE it because you can never get the gritty part of the pumpkin to go away and it drives me bazonkers – seriously, how do you do it? and then everyone else in the world posted a recipe for it, so I stopped with the PSLs and everyone round these parts just breathed a sigh of relief. There have been, um, let me count – 183 batches of sugar-friendly healthier chocolate oat bars that have come and gone through the kitchen this week, all of which have basically been reminiscent of horse food. I don't even know what horse food is except that I'm 99% sure that these bars are it. I feel like a horse chewing on whole grains from the field when I try to eat them and it's SO not okay.
All that to say: sometimes food bloggers *points to self* cannot get their act together enough to mix up the recipes and you end up with two game day snack recipes in a row.
So, uh…. are you mad at me?
Wanna eat chips and cheesy chili dip with me as a peace offering?
I knew you would.
Unlike my many attempts at the dessertier things in life lately, this homemade cheesy chili dip is a little something that I whipped up on a whim last Sunday when my in-laws were coming over to watch football with Bjork. Here's the kicker (get it? football? ki– yeah, I'm clever like that) – I wasn't even home during the game to go completely hog wild on this dip. I honestly just take my role as Chief Snack Maker so seriously that even if I know I'm not going to be sitting down and watching the game gorging on potato skins and cheesy chili dip, I still feel that it is my duty as ultimate food lover to make sure that the football game experience is completed with the most deliciously cheesy, flavor-loaded, rock-your-mouth-off snacks.
We didn't know that his family was coming over until after I had gone grocery shopping, so my on-the-spot food brain scanned the kitchen and landed on a few staples: salsa, sausage, black beans, taco seasoning, cheese, milk, chips. And just like that, without any trip to the grocery store (my life loves when that happens), my favorite dip of all time was re-invented in the most REAL FOOD way. No need for Velvy up in this mini Crockpot. Homemade cheesy chili dip all the way.
It was seriously so good, so spicy and warm in that mouth-sizzle way with the creaminess of the cheese sauce to mellow it out and make you feel all college food and stuff. I made it again the very next day because why NOT keep a mini crockpot of cheesy chili dip in your fridge at all times? Bjork would eat bowls of this stuff like it was actual chili, like with a full blown spoon, and I would laugh at him because babe! it's a DIP, not a bowl of chili. I probably shouldn't tell you that, though. Forget it right now.
I'll keep working on making those healthier desserts, and you keep working on loading up on this homemade cheesy chili dip with a handful of your fave chippers. Deal?
Deal.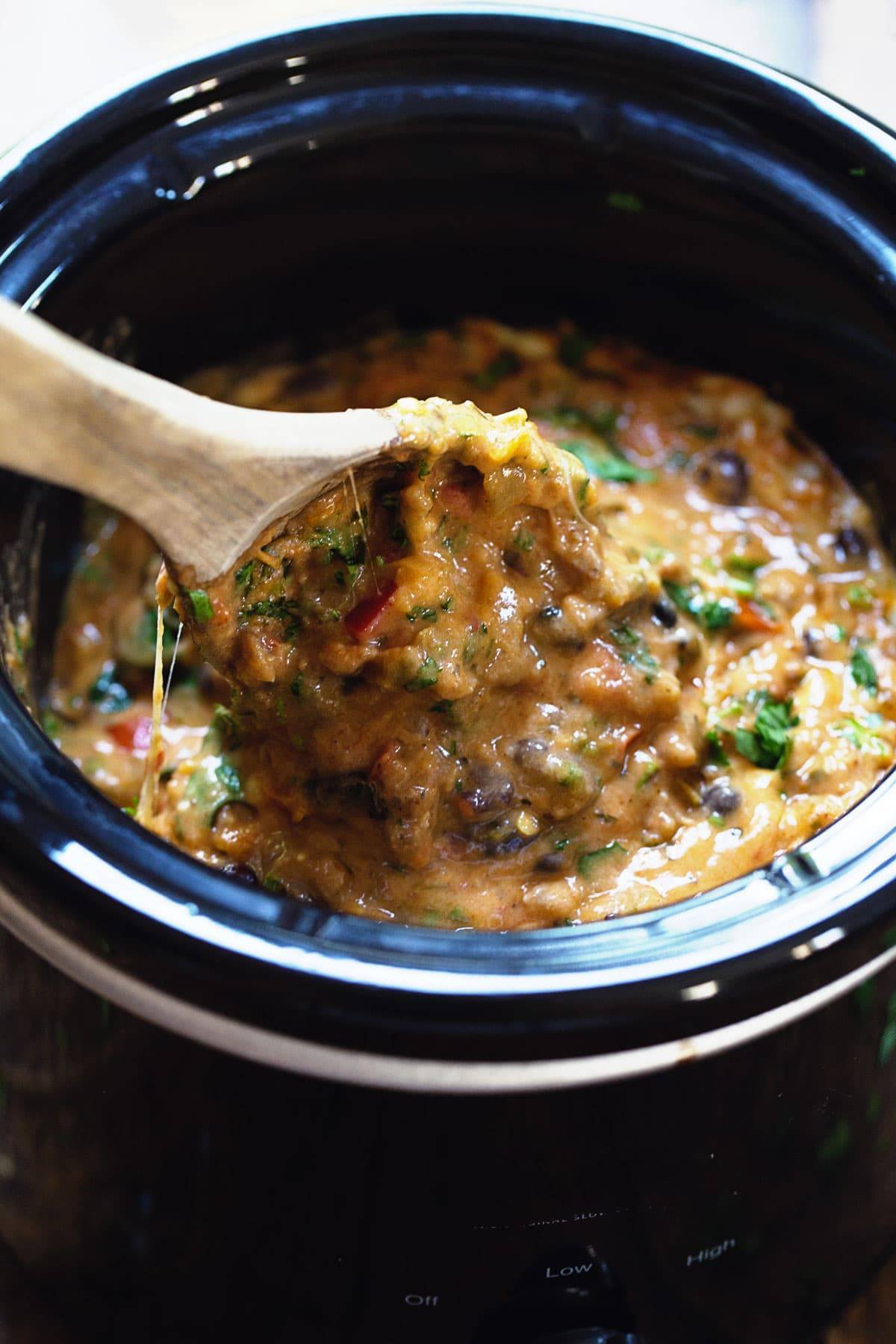 Print
Homemade Cheesy Chili Dip
---
Author:

Pinch of Yum
Total Time:

25 minutes

Yield:

makes about 6 cups – about 12 half cup servings
Description
This Homemade Cheesy Chili Dip is made without the processed cheese! Just homemade spicy chili and creamy cheese sauce. Deeeelish!
---
1

lb. ground pork sausage

1

heaping tablespoon taco seasoning*

1/4 teaspoon

cayenne

1

14-ounce can black beans, rinsed

1 1/2 cups

salsa

1/2 cup

water

2 tablespoons

butter

3 tablespoons

flour

1 3/4 cups

milk

1 cup

shredded cheese
fresh cilantro and/or green onions
---
Instructions
In a large skillet, brown the sausage until golden brown and crumbled into small pieces. Drain off excess oil. Add the taco seasoning, cayenne, black beans, salsa, and water if it seems like it needs a little more liquid (this will depend on what kind of salsa you use). The consistency should be like a very thick chili.
Melt the butter in a small saucepan over medium high heat. Add the flour and stir to form a paste. Slowly stream the milk in a little bit at a time, whisking a little bit after each addition. The sauce should thicken up gradually – continue to whisk in the liquid in small amounts and simmer until the sauce is thick enough to stick to the back of the spoon. Stir in the cheese until melted. Add the cheese sauce to the chili in the skillet from step one. Mix until well combined – stir in cilantro or green onions to taste.
Transfer to a mini slow cooker (perfect for parties!) or a serving dish. Or just keep it on the stove so it stays warm. This can also be made a day or two in advance – the flavors just keep on getting better.
Notes
*I used a taco seasoning from a local spice shop (Penzey's) and I've also used this taco spice mix in the past and loved it as well! Nothing funky – just good spicy taco flavor.
I also used a fresh store-bought salsa (Sabra brand) and it was really good – I think it would be fine with jarred salsa, but if you can get fresh, go for it!
If you find that the consistency is too runny, make a little extra of the cheese base (flour, milk, butter, cheese) and stir it in to the dip. It also thickens up as it cools, so don't keep it SUPER hot – just warm.
Prep Time:

10 mins

Cook Time:

15 mins

Category:

Dip

Cuisine:

Tex Mex
Keywords: cheese chili dip, chili dip, homemade chili dip
Recipe Card powered by
---
One More Thing!
This recipe is part of our collection of best dip recipes. Check it out!
The post Homemade Cheesy Chili Dip appeared first on Pinch of Yum.