Get ready to ditch the retro cans of condensed soup and make your very own cream of chicken soup at home!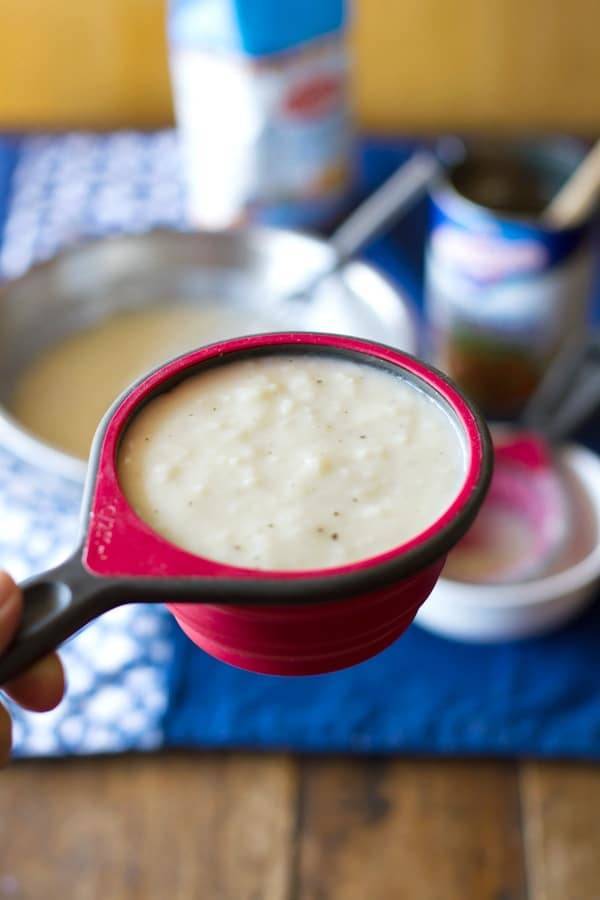 If you've ever ventured down to Casserole Town, you are probably very familiar with the ingredient "cream of chicken soup." And what that means is the goopy gloppy condensed stuff that usually comes in a can because it is magically useful in all sorts of down-home comforting casseroles, soups, and hot dishes.
To be clear, we have no problem occasionally using the canned condensed soup! It's easy, it's nostalgic, and it absolutely works.
But the thing is, it is SO EASY TO MAKE YOURSELF. Sure there may still be goops and glops because that is its truest wonderful form, but with very little time and with things you probably already have on hand, you can have a lovely little homemade version on hand to toss into any pan of comfort food you have cooking and you will know every single ingredient in it.
No can-mysteries here. 
In This Post: Everything You Need For Homemade Cream Of Chicken Soup
Prefer To Watch Instead Of Read?
Grab Your Ingredients For Cream Of Chicken Soup
The ingredient list here is beautifully short and chances are, you don't even have to head to the grocery store. Always a win in our book!
chicken broth 
milk
flour
seasoning mix (onion powder, garlic powder, parsley, salt & pepper)
You read that correctly. That is literally it. And now you need to have an easy peasy little wholesome version at the ready. You could also certainly change up those seasonings for whatever you might be making, but that's our fave combo.
Let's Start Simmering Cream Of Chicken Soup
Making this cream of chicken business is almost as quick as the ingredient list. 
Simmer. Combine the chicken broth and 1/2 cup of the milk in a saucepan and bring it to a low boil. 
Season. While that's coming to a boil, whisk the flour and seasonings of choice into the remaining milk until a smooth mixture forms, like a roux. Add that to the saucepan and continue to whisk over heat until everything is smooth and thick.
That's pretty much it! The mixture will continue to thicken a bit as it cools as well so you will be all set to plonk it into any old recipe to up that decadence factor a notch or two.
How To Use Homemade Cream Of Chicken Soup
Again, this isn't so much a soup you would eat straight up, (though you could certainly use it as a base, add some veg and chicken and more broth and whip yourself up a creamy little soup bowl), but rather as that magical little something to add into casseroles and other bakes. Baked hashbrowns, mac & cheese, sausage gravies…so many options for this little guy! And, if you're a tried and true Minnesotan, this might just up your tater tot hot dish game forever. 
It's just a simple, lovely way to keep all the ingredients a little more wholesome without too many added steps. Yes please and thank you.
Homemade Cream Of Chicken Soup: Frequently Asked Questions
What's in the seasoning mix for this soup?
The seasoning possibilities are really open-ended. I change the spices I use every time I make this depending on what I'm going to use the soup for. 1/2 tsp. onion powder, 1/2 tsp. garlic powder, 1/2 tsp. black pepper, 1 tsp. salt, and 1/2 tsp. parsley is my fave combo. 
My soup got chunky and lumpy. Is that right?
The texture can get lumpy really quickly so I suggest keeping the heat as low as possible and whisking continuously for a more smooth consistency.
Do I eat this plain?
This is similar to the condensed canned soup you'd buy in the store, but homemade obviously and so much better! It's best used as a base for casseroles rather than enjoyed plain.
I want to make this instead of buying condensed soup at the store. How many cans is this equivalent to?
2 cans!
Print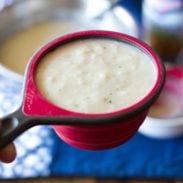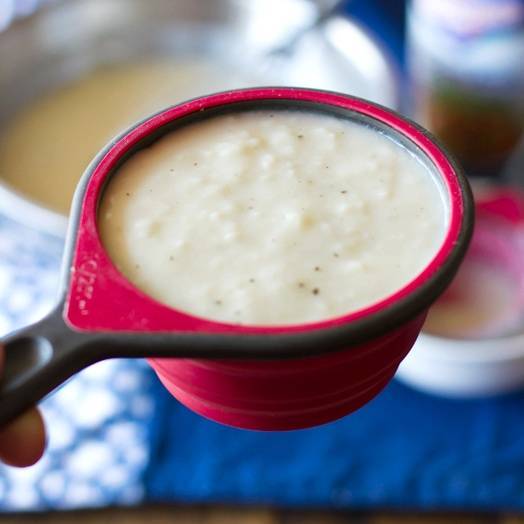 Homemade Cream of Chicken Soup
---
Description
This is a super easy recipe for making your own homemade cream of chicken soup. Just four ingredients and so delicious!
---
2 1/2

cups

chicken broth (I used 2 cans)

1 1/2

cups

milk

3/4

cup

flour

1 tablespoon

seasoning mix
---
Instructions
Combine the chicken broth and 1/2 cup of the milk in a large saucepan. Bring to a low boil.
Meanwhile, in a small bowl, whisk the flour and seasonings into the remaining 1 cup milk until a smooth, thick mixture forms.
Pour the flour and milk mixture into the saucepan with the broth mixture over low heat and stir continuously, whisking as the mixture simmers. Continue to simmer and stir/whisk until the mixture is smooth and thick, 5-10 minutes. The mixture will thicken a bit as it cools.
Prep Time:

5 minutes

Cook Time:

10 minutes

Category:

Dinner

Method:

Stovetop

Cuisine:

American
Keywords: homemade cream of chicken soup, cream of chicken soup, condensed cream of chicken
Recipe Card powered by
More Creamy Soups To Make Right Now
The post Homemade Cream of Chicken Soup appeared first on Pinch of Yum.