Just ate this. Five minutes ago. Can't stop. So good.
It's Monday and it's back to blog go-time! Today I'm being a vegetarian with this Honey Ginger Tofu and Veggie Stir Fry and HELLO WORLD it tastes really superyummy. All last week I was vacationing on the most beautiful beach (pictures? tomorrow? same time same place? see you there.), and now that it's Monday I have to be a real person again. Sad face. But being a real person does have some perks, and right now those perks include being in my own little snuggly kitchen again and eating things like honey, ginger, tofu, asparagus, carrots, and all the other veggie stir fry things without having to share and without any tofu mockery from my family.
Because let's be real – my family's favorite food does not equal tofu.
How To Make Our Tofu and Veggie Stir Fry:
This dish is a vegetarian wonder. Your plate starts with a bed of fluffy grains, like white rice or brown rice or farro (adventure!) and then gets covered with some sauteed veggies and some golden brown tofu and an extra measure of that homemade honey ginger garlic sauce that I am still licking off my fingers. The combination of colors and textures and flavors is my favorite. Plus the healthiness. Plus the good leftovers. All of it. Favorite.
So tofu is one of those foods that makes me wince a little bit every time I hear it. Ahh, eeh, ugh! vegetarian food! weird and scary!
But brace yourself: I've really come to like tofu. And I finally figured out how to make it.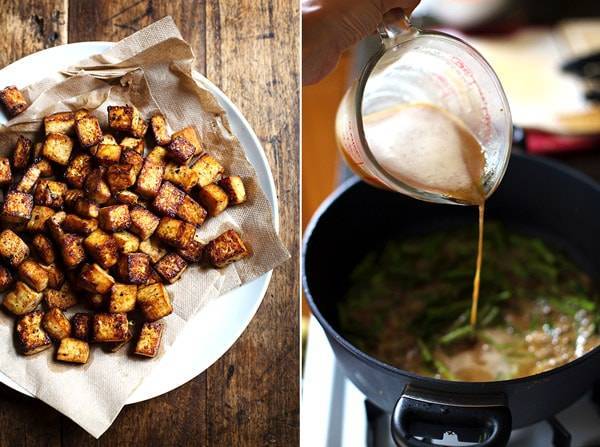 This has probably been coming for a while now. I've always preferred my takeout Pad Thai with veggies and tofu, and I occasionally order tofu at restaurants when soaked or fried in things like creamy, spicy, salty, wonderful sauces. Then I went and made a reeeeally yummo Sweet Chili Garlic Tofu recipe and my eyes were re-opened to cooking with tofu MYSELF, in my very own kitchen, like a real vegetarian (which I am not but which I act like from time to time). These rural Minnesota tastebuds are spreading and flying, you guys. Even Bjork – and if that's not the most non-tofu-eating-person name ever – is on board with this honey ginger tofu and veggie stir fry biz-nas.
Be tofu-brave, friends!
And if you're not tofu-brave, just use chicken instead. I will pretend that that would be just as good and we can still be friends on the outside.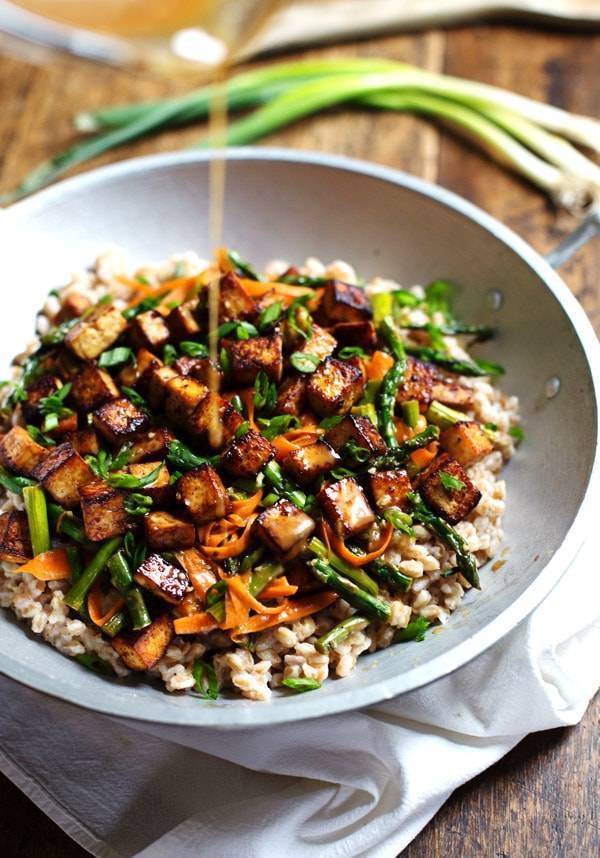 A few final tips for your veggie stir fry: I'm really into this new trick that involves peeling my carrots instead of grating them. I don't mean just peeling the skin off, I mean peeling the skin off and then using the peeler to peel the carrots themselves into long curly strips almost like noodles. They are long and bendy and more fun to eat than the old box-grater variety.
And side note – do I need to buy a spiralizer in order to continue my life as a food blogger? Because I'm starting to wonder about those zoodles. Please advise.
Another tip: try using farro. I still don't know how to pronounce that (pharaoh? or farr-oh) but I do know that I used it as a nice comfy bed for my honey ginger tofu and veggie stir fry and it was a really good thing. Nutty, fluffy, filling, and delicious. Plus I think it's healthy or whatever you call it.
My final tip is to double this. I mean, don't, because it serves 6 people already. But if you're generally hungry and you like lunch leftovers (me! me! me!) then make as much of this as you can store in your fridge. The flavors will soak their magic into everything and YUM. I am sosososo excited for lunches this week.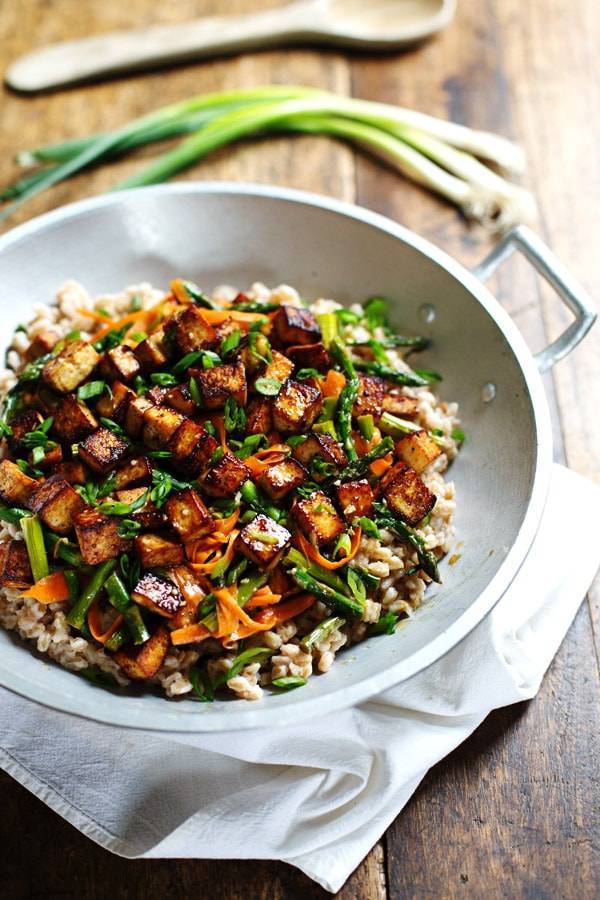 Now go and make something awesome, you honey ginger tofu and veggie stir fry lovers!
Print
Honey Ginger Tofu and Veggie Stir Fry
---
Description
This Honey Ginger Tofu and Veggie Stir Fry is SO delicious! Served with a simple homemade honey ginger soy stir fry sauce.
---
For the stir fry
1 1/2 cup

uncooked brown rice or farro

2 tablespoons

canola oil

14 ounces

extra firm tofu

2 cups

chopped asparagus

2 cups

shredded carrots

3

green onions, minced
For the garlic ginger stir fry sauce
3

cloves garlic

2 tablespoons

fresh ginger

2 tablespoons

honey (more to taste)

1/2 cup

low sodium soy sauce

1/4 cup

water

1/4 cup

rice wine vinegar

1/4 cup

canola oil
---
Instructions
Sauce: Puree all the sauce ingredients together in a food processor until smooth. Set aside.
Tofu: Cook the rice or farro according to package directions. Cut the tofu into slices and press with a paper towel to remove excess moisture. Wait a few minutes and press again – there's lotsa water in there! Cut the tofu slices into small cubes. Heat the oil in a large nonstick skillet over medium heat. When the oil is shiny, add the tofu and about 1/4 cup of the stir fry sauce (watch out because the sauce and oil will spatter a tiny bit – have a cover ready or just skip the sauce at this point). Pan-fry the tofu until golden brown. Remove from the pan and drain on paper towel lined plates.
Veggies: Return the pan to the heat and add the asparagus with 1/4 cup stir fry sauce. When the asparagus is bright green and tender crisp, add the carrots and toss together. Arrange the veggies and tofu over the cooked rice or farro, and cover with more sauce to taste. Sprinkle with the green onions.
Equipment
The equipment section may contain affiliate links to products we know and love.
Notes
To make this gluten free, make sure your soy sauce and your tofu are both certified gluten free brands. To make this vegan, use an alternative sweetener in place of honey. You can find tofu in the produce section of most grocery stores. I sprinkled mine with the tiniest amount of chili powder right in the frying pan to bump up the golden color. I like to peel the carrots into long strips instead of grating. For a completely sugar free version of this recipe, use white distilled vinegar.
Prep Time:

15 mins

Cook Time:

25 mins

Category:

Dinner

Method:

Sauté

Cuisine:

Asian-Inspired
Keywords: tofu recipe, veggie stir fry, farro, vegetarian recipe, tofu stir fry
Recipe Card powered by
---
One More Thing!
This recipe is part of our collection of easy tofu recipes. Check it out!
The post Honey Ginger Tofu and Veggie Stir Fry appeared first on Pinch of Yum.