How to Cut and Peel a Kabocha Squash
Today we're going to do squash.
Take it from its large, awkward natural state to a nice ready-to-cook state.
This is not revolutionary, I know. But that's ok because I've never really claimed to be a food revolutionary. More like I'm always late to the food trend game and I like taking the easy way out when it comes to food prep.
So this post is for those of you who are like me and typically avoid things like peeling and cutting your own squash. Also, this is a head start for those of you who want to be ready for tomorrow's homemade squash curry sauce. Helloooo.
Guess what? In the last 6 months, I've become regular squash peeler. Like, weekly. I actually keep a little plastic container of cut-up squash in our fridge just for moments like these.
How To Cut and Peel a Kabocha Squash
I cut it in half with a huge knife. These suckers can be big. But I just stick the knife in the middle and work around the outside until I get that big guy into two parts.
Then I scoop out the goop and seeds. Is there a more technical word than goop? Just get rid of it.
Then I cut the halves into 4-5 wedges. I take each piece, lay it on its flat side, and cut the peel off. Usually I have to do this in a few pieces – it doesn't all come off in one piece.
Then I dice, cut, chop, whatever you wanna call it.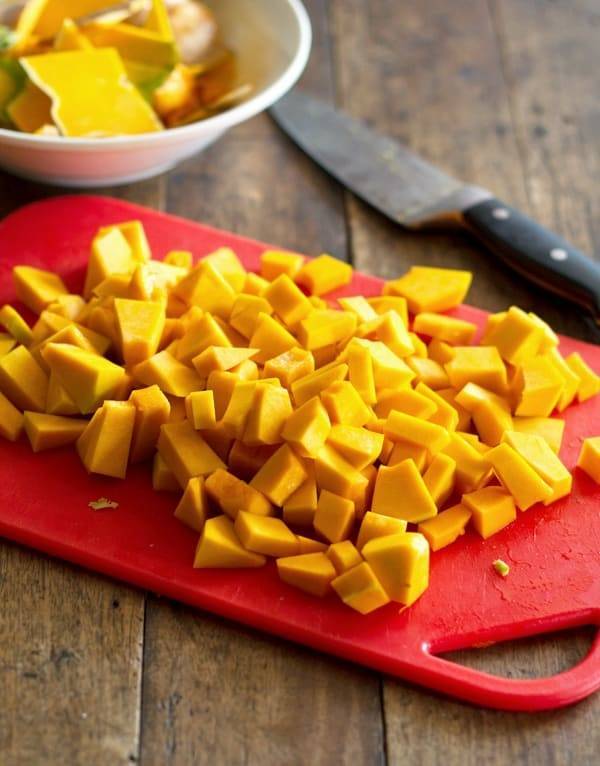 The sky's the limit here. Stir frying. Roasting. Souping. Salading. And my favorite, making creamy sauces.
Go love yourself some squash.
The post How to Cut and Peel a Kabocha Squash appeared first on Pinch of Yum.