Everybody's Favorite Corn Casserole
Bursty bites of cream-style corn and sweet corn plus garlic, bacon, and cheese throughout – so you know it's really, really good!
corn, cream-style corn, bacon, sour cream, cornmeal, cheddar cheese
Summery Chipotle Corn Chowder
This Chipotle Corn Chowder is creamy, just a little spicy, and chock-full of summer vegetables, including corn, zucchini, and basil.
sweet corn kernels, zucchini, almond milk, chipotle peppers, fresh basil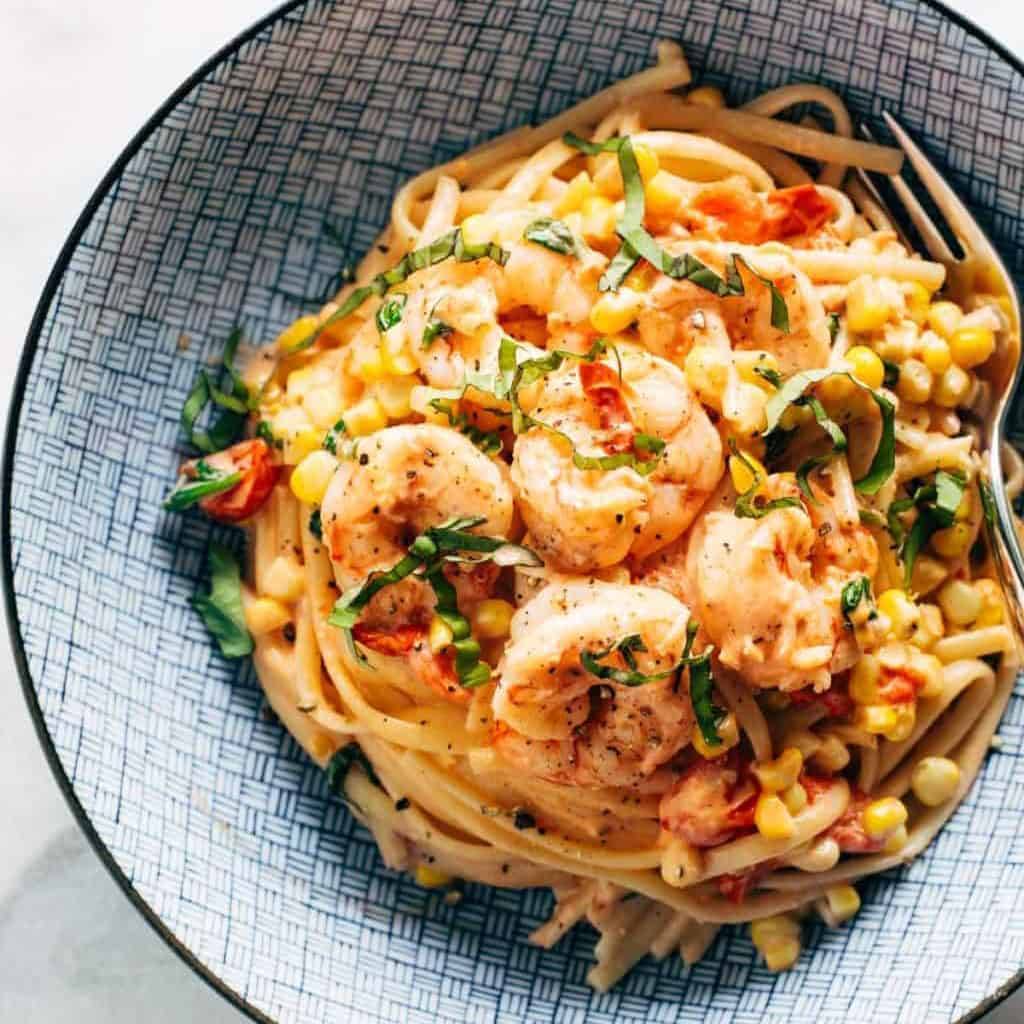 Creamy Shrimp Pasta with Corn and Tomatoes
A seriously delicious fresh summer pasta. Creamy, silky noodles, garlicky shrimp, and a punch of fresh corn, cherry tomatoes, and basil.
shrimp, linguine, cherry tomatoes, heavy cream, corn, spinach
Queso Chicken Chili with Roasted Corn and Jalapeño
Creamy, spicy, and so easy. Made with roasted corn, jalapeño, and creamy Pepper Jack cheese. Super easy dinner!
chicken breasts, salsa, bell peppers, corn, jalapeño, black beans, cream cheese
Corn, Avocado, and Quinoa Salad with Marinated Tomatoes
The perfect summery quinoa salad – fresh corn, buttery avocado, nutty quinoa, juicy marinated tomatoes, and tons of fresh herbs.
quinoa, corn, tomatoes, shallot, avocados, lime
Sopa Tarasca (Pinto Bean Soup) with Jalapeño Corn Fritters
A creamy, silky Mexican-inspired soup made with pinto beans, warm chili spices, and whole tomatoes. And you NEED a big pile of the jalapeño corn fritters on top. Drooling over this one! 
pinto beans, canned tomatoes, corn, cotija cheese, jalapeño, spices
Glowing Grilled Summer Detox Salad
SUPER healthy meets OMG yummy! with grilled romaine, lime, tomato, cucumber, avocado, corn, shrimp, and cilantro dressing.
corn, romaine lettuce, shrimp, tomatoes, cucumbers, yellow bell pepper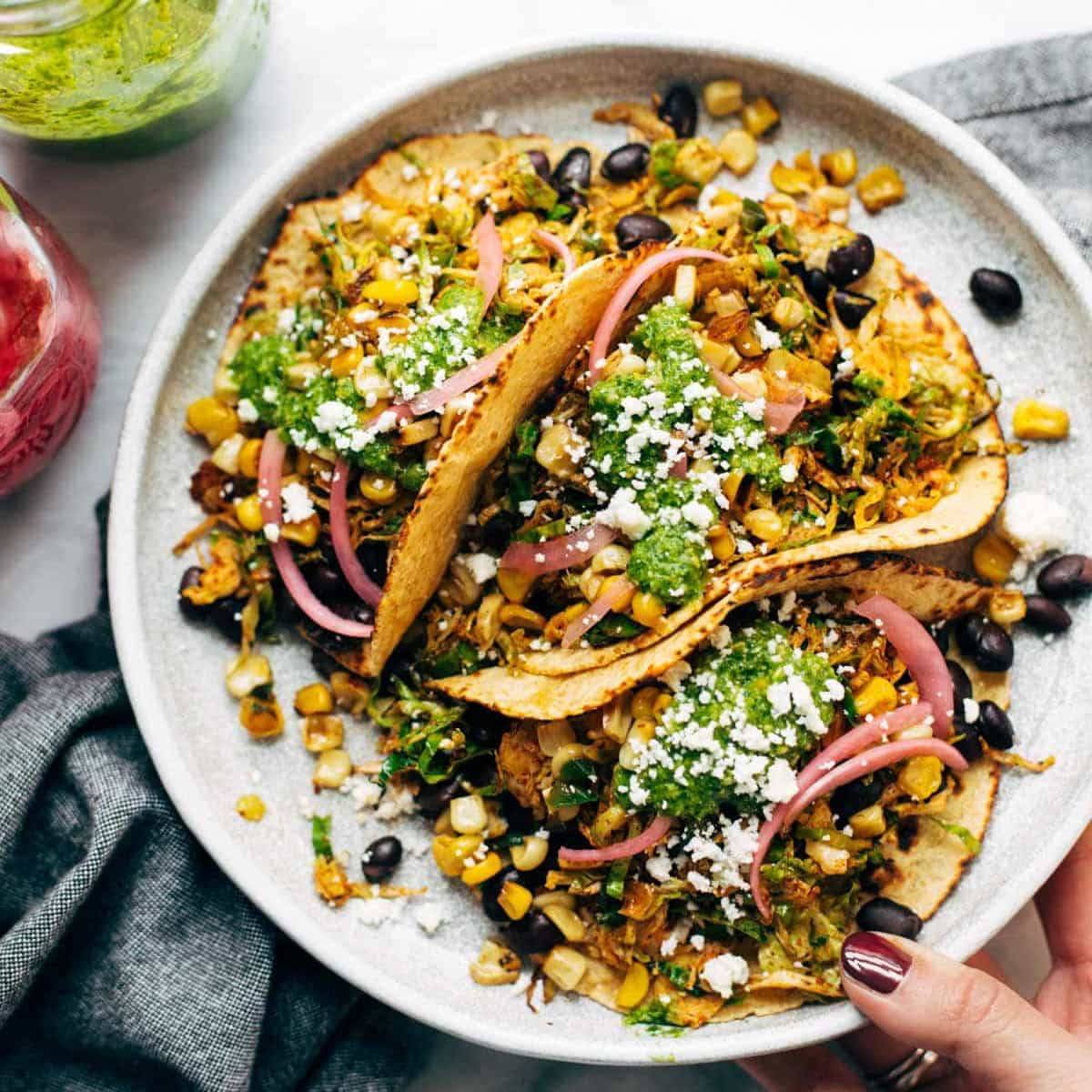 Brussels Sprouts Tacos
Savory sauteed shredded brussels sprouts tucked into charred tortillas with roasted corn, jalapeño, black bean, and cilantro chimichurri. WHOA. Yes. Inspired by the Chloe Flavor cookbook.
brussels sprouts, black beans, corn, jalapeño, cilantro, cashews, limes
Garlic Butter Shrimp Boil
Can you handle this? We're talking butter-drizzled juicy shrimp, steamy corn and potatoes, and luscious little side dishes of garlic butter for extra dunking. YUM!
shrimp, kielbasa sausage, corn, potatoes, butter, seasonings
Southwest Sweet Potato Tater Tot Hotdish
This sweet potato tater tot hotdish is a spicy twist on the original – loaded with peppers, corn, black beans, homemade queso sauce, and tots! YUM!
bell peppers, poblano peppers, corn, black beans, pepperjack cheese, mushrooms
Next Level Zoodles with Creamy Corn Sauce
Just a few ingredients needed to make this epic savory-sweet corn sauce that will blow your mind.
zucchini, corn, onion, garlic, broth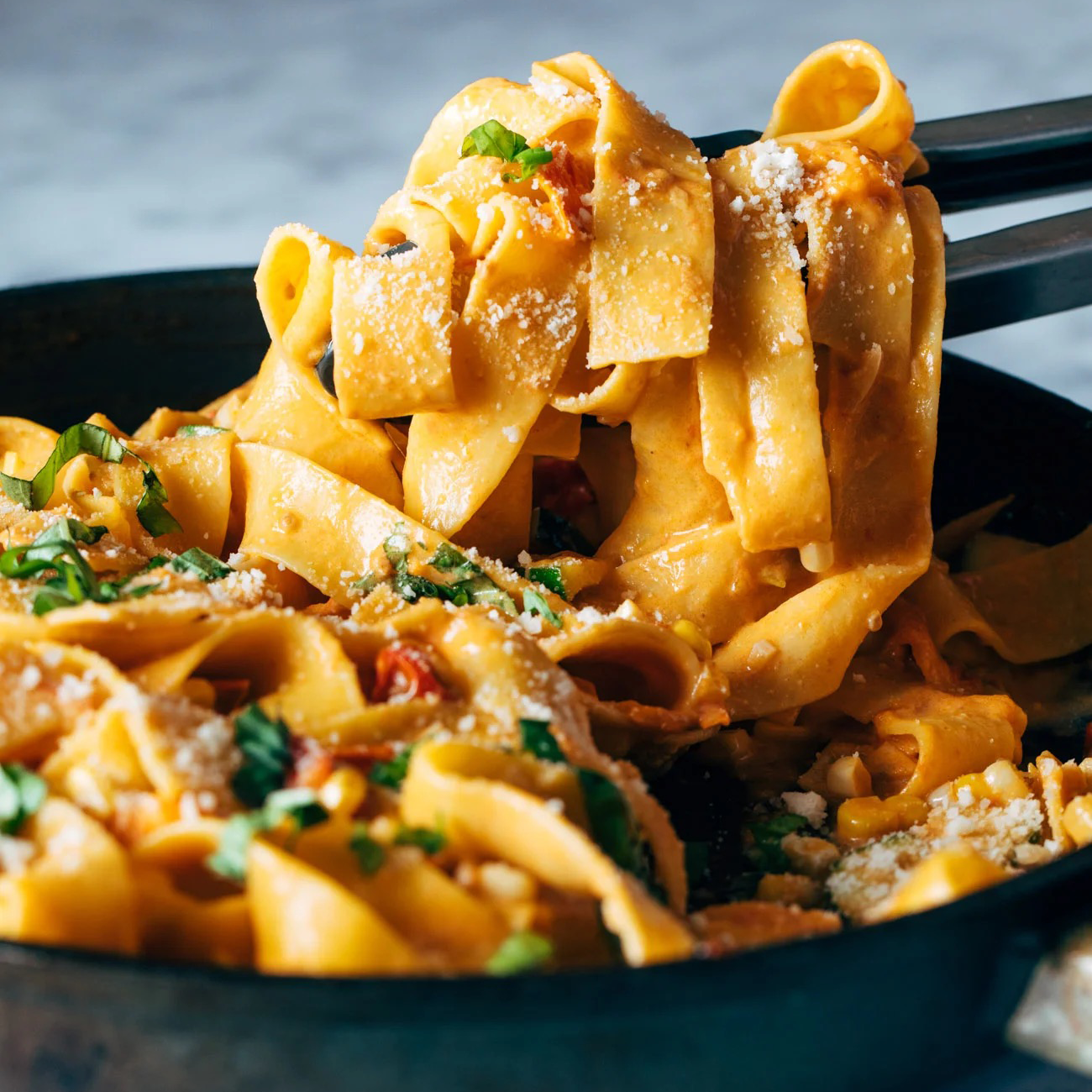 Burst Tomato Pappardelle with Zucchini, Sweet Corn, and Pan-Fried Chicken
Meet your next fave summertime pasta! Egg pappardelle tossed in a luscious cream sauce with fresh, bursty summer veg and the best crispy pan-fried chicken. Here we goooo!
pappardelle, chicken breasts, zucchini, cream, cherry tomatoes, sweet corn
Chipotle Sweet Potato Noodle Salad with Roasted Corn
SUPER good real food salad with a short ingredient list! Cilantro, sweet potato, roasted corn, pepitas, and a homemade chipotle garlic dressing. 
sweet potatoes, corn, cilantro, fresh greens, pepitas, chipotle peppers in adobo sauce
Sweet Corn and Zucchini Pie
This crustless pie is so incredibly simple to make and is the perfect way to enjoy summer produce!
zucchini, mushrooms, onion, shredded cheese, corn
One More Thing!
Looking for even more ways to use summer produce? Check out a list of all of our tomato recipes!
The post 14 Incredible Corn Recipes appeared first on Pinch of Yum.