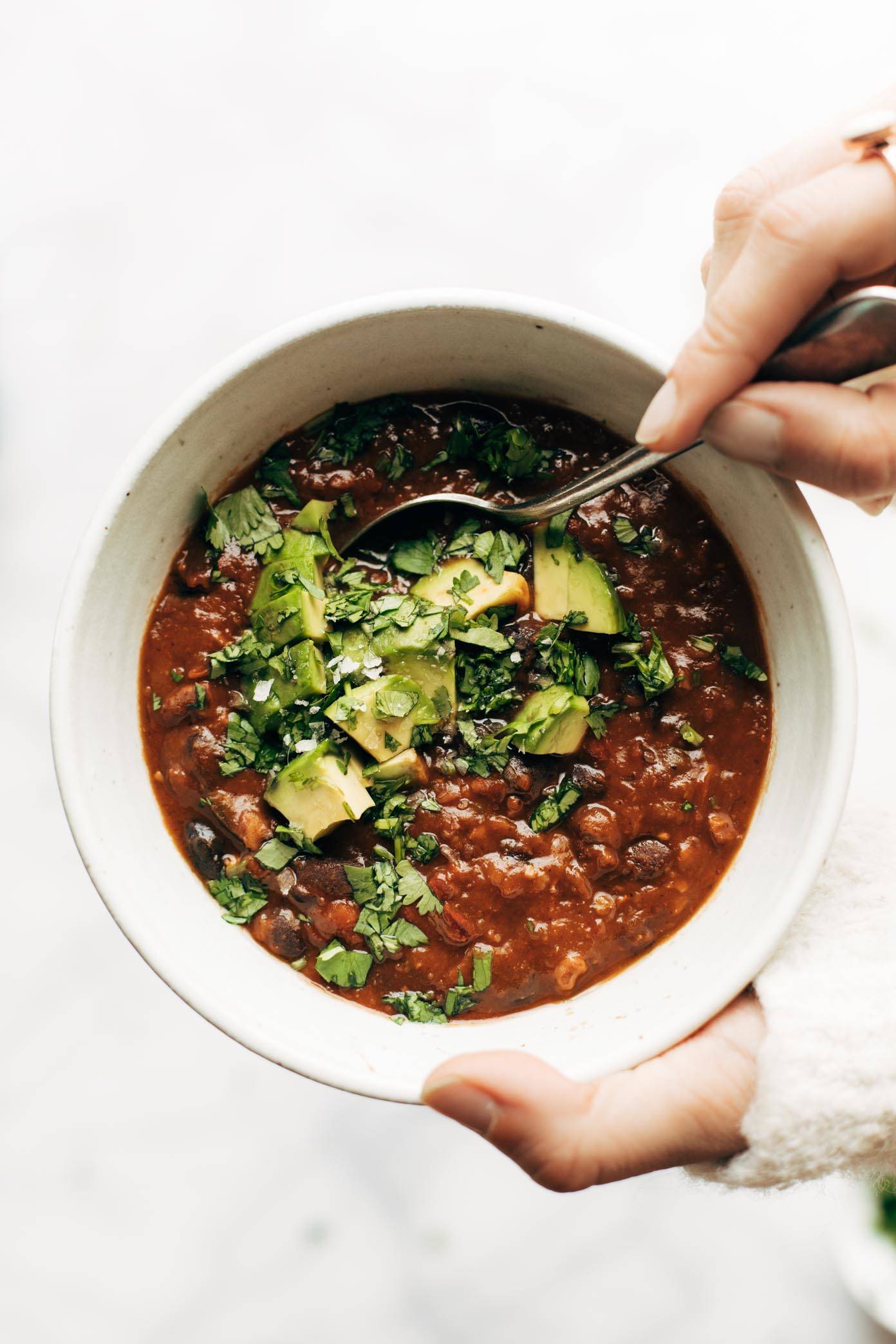 Hellooo friends! Soup season is in full swing here at our house, and the studio, and in my food heart. Here it is – the chili recipe I've been talking up on my Instagram stories.
And being that we're in the middle of our series, it's Instant Pot Chili! Whee!
Also hey forgot to mention that it's Pumpkin Walnut Chili! Wheee!
I know. Go ahead and get your lols out. Are you kind of having a hard time believing you *actually* might let me convince you to make a chili that is loaded with – that's right – pumpkin and walnuts? Here's the ingredient line-up. Give me five seconds to see if I can get you on board.
Tomatoes
Red lentils
Bulgur again – I'm on a kick
Black beans
Pumpkin
Walnuts
Chipotle peppers, poblano peppers, bell peppers… kinda whatever peppers you want
Chili powder, garlic, onion
Avocado and cilantro and maybe some green onions for topping – you know, the usual suspects.
How To Make Our Instant Pot Chili (1 MIN):
Walnut in chili isn't exactly a super obvious choice, but we DID make that cauliflower walnut taco meat a few months ago, and it WAS really good, so when I made a pumpkin chili that needed a little something extra? Walnuts resurfaced.
Here's the weird thing. You're going to want to chop up the walnuts nice and small so they kind of resemble the texture of ground meat, and when you cook them in the Instant Pot (affiliate link) with the other chili ingredients, they get really texturally amazing – somewhere between straight crunchy and totally soft. I love love love the texture of these walnuts. I also love the taste. I tried a version that added them at the end but I didn't like it as much. Raw walnut flavor wasn't what I was going for here. Buy a big bag of walnuts, hold your breath, and pop em in the Instant Pot with your chili. Please report back because I think you'll love it.
Which reminds me: the pumpkin in this recipe is almost, almost, optional. I really do love the pumpkin texture and flavor, plus, hello, FALL, but if you were to be totally weirded out by such chili foolery, you could hypothetically leave it out and it would still be super delicious.
So, PS. What's going on with you guys this fall? Are you busy? Loving fall? Stressed? Is October feeling… well, what is it feeling?
For me, it's feeling a lot of things, whiiich is probably best saved for another post. But on a serious-cheesy note, I want you to know that when I develop these recipes, even in the fog of all the feelings (good + bad) of the month of October, I am doing it for you, and your kids, and your friends, and your families, and your dogs and kitties who eat the scraps, because I want you to make and love these recipes, too. I am doing it to bring you a lil October joy. (AND ME TOO because I'm clearly addicted to this chili.)
When you leave comments and let me know that you tried my chocolate chip cookies, or when you send me an Instagram story of your green curry, or when you tag me in a photo of your cashew coffee? That is the full POY Joy Circle.
I hope I will be seeing a lot of this pumpkin walnut chili coming from your kitchens in the near future – I mean, we're basically all hipsters now, so let's at least hit up the gram with this.
XO to you, and your coziest bowl of Instant Pot chili! I just think you guys (and pumpkin and walnuts) are the best.
More Chili Love
Print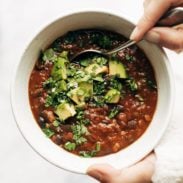 Instant Pot Pumpkin Walnut Chili
---
Author:

Lindsay
Total Time:

1 hour 15 minutes

Yield:

12 cups (!!!) half-batches are good, too.
Description
Yummy vegan instant pot chili featuring red lentils, fire-roasted tomatoes, walnuts, black beans, pumpkin, chipotles, and all the good toppings. I LOVE THIS ONE.
---
Pumpkin Chili Ingredients:
1

28-ounce can fire-roasted tomatoes

half an

onion, minced

3

cloves garlic, minced

2

poblano peppers, chopped

2

–

3

 chipotle peppers, chopped

2 cups

 walnuts, chopped

1 cup

red lentils

1 cup

bulgur

2 tablespoons

chili powder

1 tablespoons

smoked paprika

1 tablespoon

 salt

6 cups

water or broth (refill the tomato can about 2x)
Add at the end:
1

14-ounce can pumpkin puree

2

or

3

14-ounce cans black beans, rinsed and drained
---
Instructions
To Start: Place all the chili ingredients in the Instant Pot (affiliate link) and set to soup mode (30 minutes).
To Finish: Release the steam, stir in the pumpkin and black beans, and season with more salt, more spice, etc. Serve with avocado, lime wedges, cilantro, tortilla chips, rice, cornbread… whatever you like with your chili! If it's too thick, you can always thin it out with additional water or broth.
Notes
Stovetop: Saute the onions and garlic and peppers and spices. Simmer the broth and tomatoes with the lentils and bulgur and walnuts until lentils are cooked and walnuts are a little bit soft. Add the pumpkin and black beans last.
Slow Cooker: Same as Instant Pot directions, except low heat for 6-8 hours. If it's not thickening, keep it in a little longer. You'll know it's done when the lentils have softened and absorbed.
Peppers: What peppers you choose kind of depends on what you want to happen with the flavor. Red and green bell peppers would add some mild flavor and sweetness, while adding a few jalapeños, roasted poblanos, chipotles, etc. would give you heat and a more smoky flavor.
Beans: 2-3 cans of black beans is up to you – just depends on how bean-y you want the chili. Other beans (like chili beans) would work, too.
Leftovers: Half batch would be a good idea if you are a one or two person household. Making the FULL batch and freezing half might be even better.  You will need to add water to your leftovers because it gets super thick!
Prep Time:

15 minutes

Cook Time:

1 hour

Category:

Dinner

Cuisine:

American
Keywords: instant pot chili, instant pot vegan chili, pumpkin walnut chili
Recipe Card powered by
---
One More Thing!
This recipe is part of our collection of best healthy soups. Check it out!
The post Instant Pot Pumpkin Walnut Chili appeared first on Pinch of Yum.