Oh just LOOK AT IT. I am hereby in love with this Instant Pot Wild Rice Soup.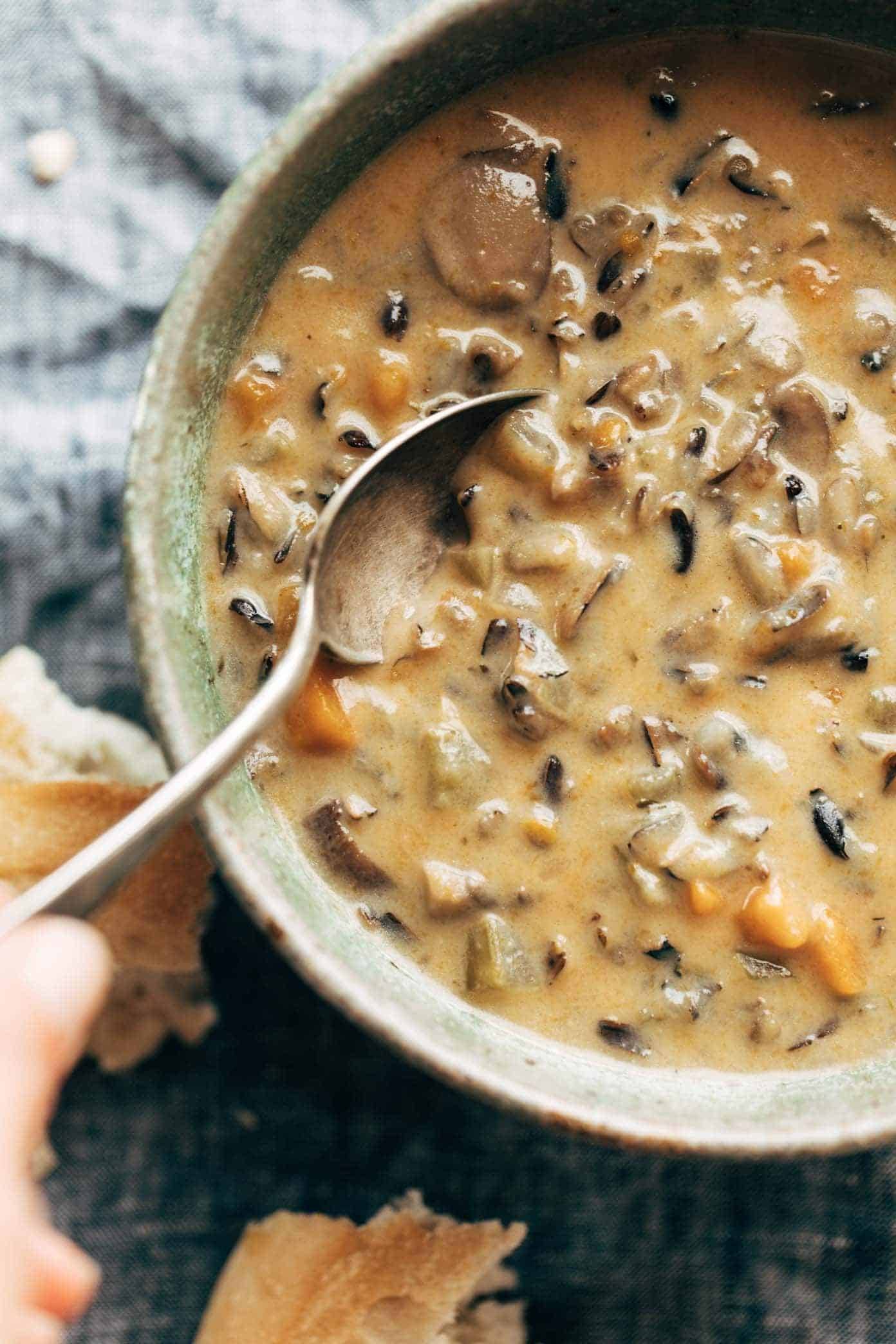 This is a fan favorite recipe that's part of our Fall 2022 SOS Series! View the full series.
---
Me? Wild Rice Soup? Obsessed? Pshhh.
Okay fine, I might be a little obsessed. There might be something like three variations of wild rice soup already on this blog. I don't know. It's not a problem, okay? It's just… a love.
---
In This Post: Everything You Need For Wild Rice Soup
---
Prefer To Watch Instead Of Read?
Variations Of This Wild Rice Soup
It might be helpful to do a quick recap of my wild rice soup journey over the course of my life.
My Mom's Wild Rice Soup. I grew up in / still live in Minnesota. Wild rice soup was the food of my childhood. My mom still makes it every year for Christmas Eve dinner. It's dark by 5pm and the evergreen trees are covered with snow and the soup has been simmering all day and the whole house smells like bacon and wild rice soup. And really, there is just nothing better. No electric appliances. Nothing being plugged in. It's a purist version. In case you were wondering, I think the recipe comes from our church cookbook because obviously. This is how it gets done. God bless Minnesota, and mom, and the wild rice soup that raised me.
Crockpot Chicken Wild Rice Soup: Then came my need to make wild rice soup on the reg. I wanted to take it from Christmas dinner to an easier-to-make version of the classic. Like, crockpot level easy. This recipe was born and it became one of the most popular recipes on Pinch of Yum. It is also one of my personally most-made recipes in life. And that's saying a lot, because I'm making new recipes ALL THE TIME. This became an excellent back-pocket recipe for making a quick dinner, having friends over last-minute, or bringing a meal to a friend. And now this
Instant Pot Wild Rice Soup (with mushrooms oh my gosh): This brings us to today. Yet another iteration of the wild rice soup that I so know and love. This time I ditched the chicken (although, to be fair, you can absolutely keep it around), added mushrooms, and put it in the Instant Pot (affiliate link). I know you want to hate me. But you do not hate me because this is going to blowyamind. The flavor of this soup, thanks to the mushrooms, I think, was so, so, so, so good. The prep and cook is SOS-level easy. And think about how much wild rice soup I've had in my lifetime. I feel very qualified to tell you that this right here is how it's done. This is yummy, earthy, middle-of-winter wild rice soup.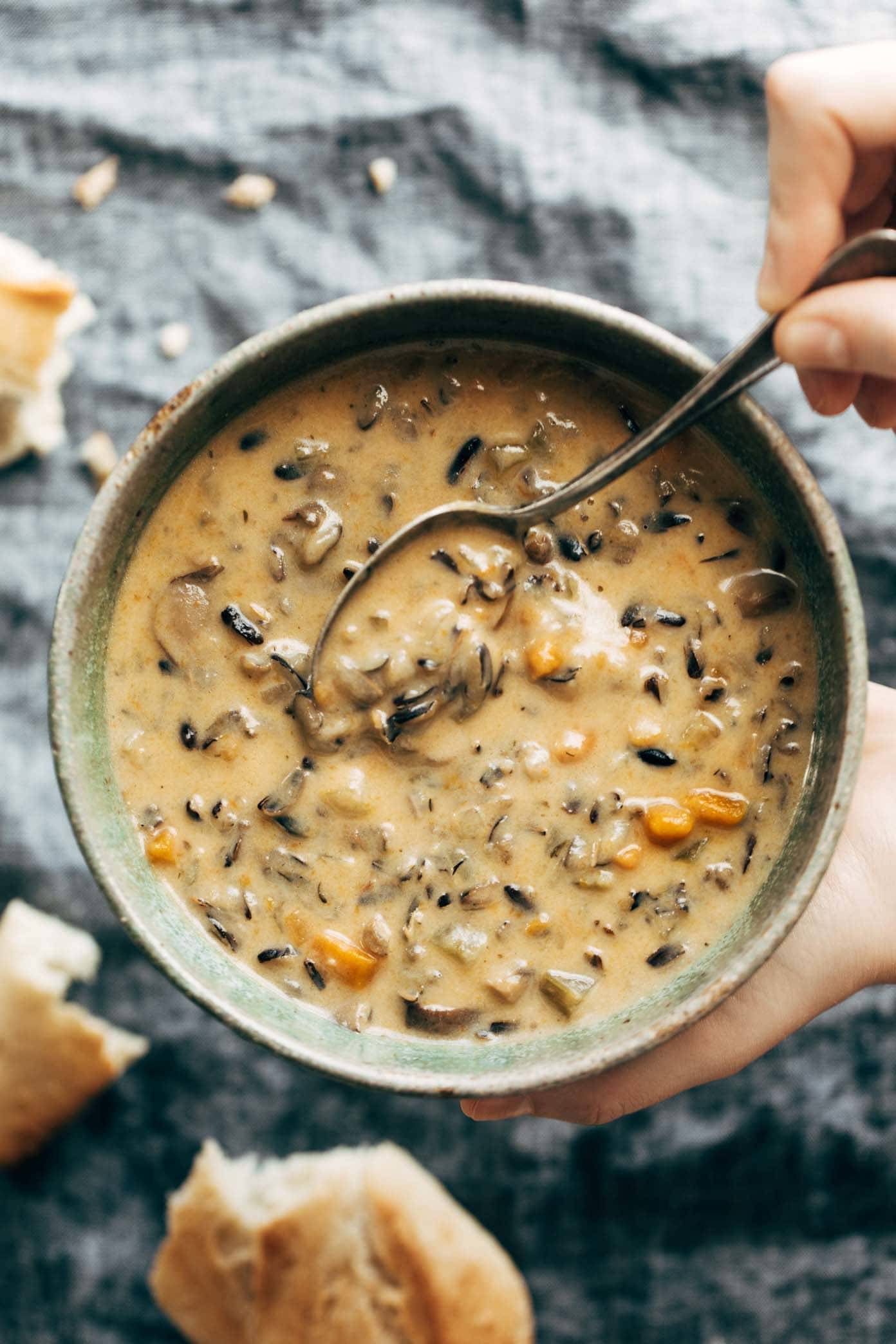 How to Make This Wild Rice Soup
This is a dump and cook situation. It's mostly hands-off (except for a short little step at the end to get that creaminess). And it's weeknight and freezer-friendly. Let's get to it!
Add all ingredients to the Instant Pot. As I said, this your time to set it and forget it – add your wild rice, broth, seasonings, mushrooms, and veggies.
Set it to cook on high pressure while you walk away to do something more fun.
Make your creamy little roux when the soup is finishing up. Melt your butter, add your flour, whisk in your milk.
Add that delicious creaminess to the finished soup, right in the pot. Stir, breathe in all the coziness, and ladle into bowls.
What To Serve With This Soup
You will obviously need some extras to go with your wild rice soup.
If it's just an average Sunday soup day, you better be making a loaf of crusty No Knead Bread.
If it's Christmas (who else makes wild rice soup for Christmas except my family? I literally know zero people), you better have a fancy salad to round out the meal. May I recommend the Bacon and Brussels Sprouts Salad of years past? It never gets old, does it? Or my family's latest favorite, a Simple Green Salad.
How To Add Chicken
If you don't like mushrooms for sure, don't bother. Just use chicken. I have a recipe for that right here. Or if you want to make it work with this recipe, you should able to add the chicken in easily with minor changes – if you're not doing the mushrooms, the swap should be seamless. If you're keeping the mushrooms too, just add a little more liquid to be safe.
If you kind of don't like mushrooms but you *might* like them sometimes, can I recommend that you give it a whirl? Cut up the mushrooms really small so you get the flavor without the texture bothering you as much. I think you're going to fall hard and fast.
And my friends who are already on team mushroom? A) Good for you, and B) GET. AFTER. IT. This recipe has been elevated to my new favorite version of wild rice soup which is a major big deal. Warm, creamy, cold-weather mushrooms and wild rice for the eternal win.
Instant Pot Wild Rice Soup: Frequently Asked Questions
Bah! I'm short on time, but I really want to make this.
If you're short on time, 30 minutes should do the trick as well!
Can I sub a different kind of rice or a wild rice blend?
Not really, no. Please use actual wild rice! (affiliate link) I know it's on the expensive side, and hard to find, and I'm normally all about the substitutions, but in this case, it is not the same. Don't use brown rice, don't use white rice, and don't use a wild rice blend, which is just white or brown rice with a few flecks of wild rice. Use straight WILD RICE.
Can I add chicken to this?
Yep! Chicken can be added – just pop it in the instant pot with everything else and shred it when it's done. To be safe, you could add a touch more liquid to account for the extra ingredient.
What does poultry seasoning consist of?
Poultry seasoning is usually a mix of thyme, sage, garlic, onion, etc. I used a u0022chicken grilling spiceu0022 in one of my test batches and it tasted great. Anything with those earthy spices – thyme, sage, maybe even rosemary – will work nicely. 
Can I make this Wild Rice Soup dairy-free?
Yep! Just use your favorite dairy-free butter and milk, and it should work like a charm.
Print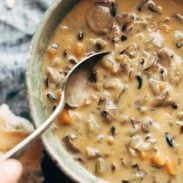 Instant Pot Wild Rice Soup
---
Author:

Lindsay
Total Time:

1 hour

Yield:

6 servings (1 1/2 cups per serving)
Description
We're making cozy Instant Pot Wild Rice Soup and it's everything! Packed with mushrooms, carrots, celery, wild rice, cream, and seasonings. It's so creamy, so cozy, and perfect for a night in.
---
For the Instant Pot:
5

medium carrots, chopped

5

stalks celery, chopped

half of an

onion, chopped

3

cloves garlic, minced

1

cup

uncooked wild rice (see notes)

8

ounces

fresh mushrooms, sliced

4

cups

vegetable or chicken broth

1 teaspoon

salt

1 teaspoon

poultry seasoning (see notes)

1/2 teaspoon

dried thyme
For the Stovetop:
6 tablespoons

butter

1/2

cup

flour

1 1/2

cups

milk (I used 2%)
---
Instant Pot: Put all the ingredients in the first list into the Instant Pot (affiliate link). Cook for 45 minutes (manual, high pressure). Release steam using the valve on top.

Stovetop: When the soup is done, melt the butter in a saucepan. Whisk in the flour. Let the mixture cook for a minute or two to remove the floury taste. Whisk the milk, a little bit at a time, until you have a smooth, thickened sauce. Throw a little salt in there for good measure.

Together: Mix the creamy sauce with the soup in the instant pot. Voila! Mushroom Wild Rice Soup.

Equipment
The equipment section may contain affiliate links to products we know and love.
Notes
A note about wild rice: Please use actual wild rice! (affiliate link) I know it's on the expensive side, and hard to find, and I'm normally all about the substitutions, but in this case, it is not the same. Don't use brown rice, don't use white rice, and don't use a wild rice blend, which is just white or brown rice with a few flecks of wild rice. Use straight WILD RICE.
Crockpot version: Check out this recipe. Stovetop version: Saute carrots, celery, onion, garlic, and mushrooms with oil. Add wild rice, broth, and salt. Simmer until wild rice is cooked (1-2 hours). Make the roux and mix it in.
Freezer Meal Version
Freeze Together:
3 cups mirepoix, fresh or frozen
8 ounces mushrooms, fresh or frozen
3 cloves garlic, minced
1 cup uncooked wild rice
4 cups vegetable or chicken broth
1 teaspoon salt
1 teaspoon poultry seasoning
1 lb. chicken breasts (optional)
Instant Pot Instructions: High pressure 30 mins + 10 mins natural release
Slow Cooker Instructions: High setting 4 hours (thaw first if using chicken)
Final Step: Melt 6 tbsp butter in a pan, whisk in 1/2 cup flour, whisk in 1 1/2 cups milk until creamy and thick. Add to the soup.
Check out our full freezer meal posts with all recipes and instructions here!
Prep Time:

15 minutes

Cook Time:

45 minutes

Category:

Dinner

Method:

Instant Pot

Cuisine:

American
Keywords: instant pot wild rice soup, wild rice soup, vegetarian wild rice soup, wild rice, mushroom wild rice soup
Recipe Card powered by
View the freezer meal version of this recipe here.
You might also like our full freezer meals post.

More Instant Pot Soup Recipes To Love
---
Time To Show You Off!
Tag @pinchofyum on Instagram for a chance to be featured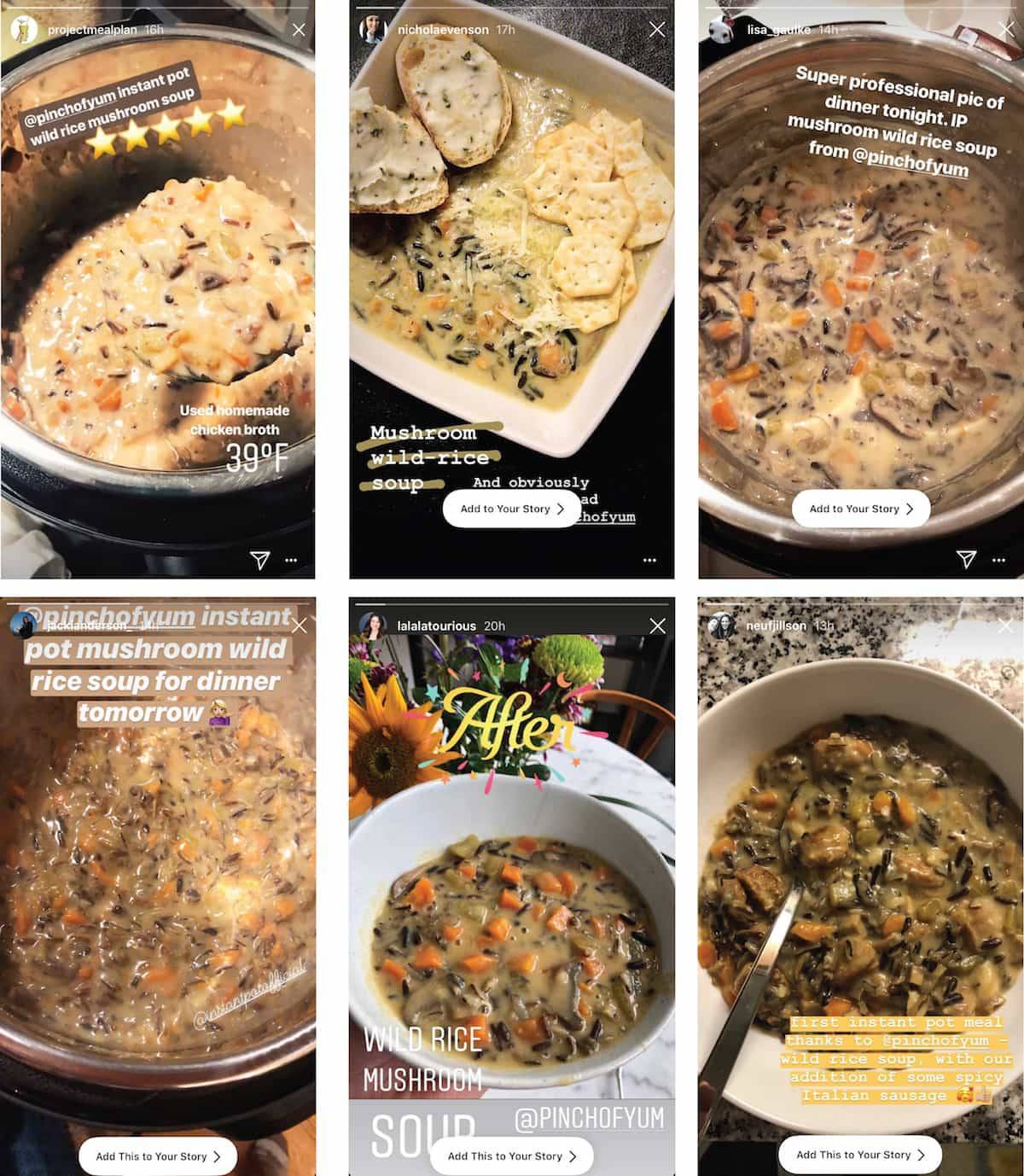 ---
One More Thing!
This recipe is part of our best Instant Pot recipes page. Check it out!
The post Instant Pot Wild Rice Soup appeared first on Pinch of Yum.