January Meal Plan: Week 3
How are you feeling, you meal prep champ? Is your brain so excited to once again scroll through and just check off the decisions it doesn't have to make for the week? Hooray, here they are, decisions made for you! Check and check.
And what a checklist it is, pals. A super thick, chewy, saucy udon noodle dish? Spicy punchy tacos with charred tortillas and crunchy cool slaw? Warm, cozy, tastes-like-all-day-but-only-took-an-hour soup? Oh man, yes yes yes ma'am.
Noodles AND tacos in the same week, you say. Lordy-loo, is it everyone's birthday?! What a treat.
Recipes This Week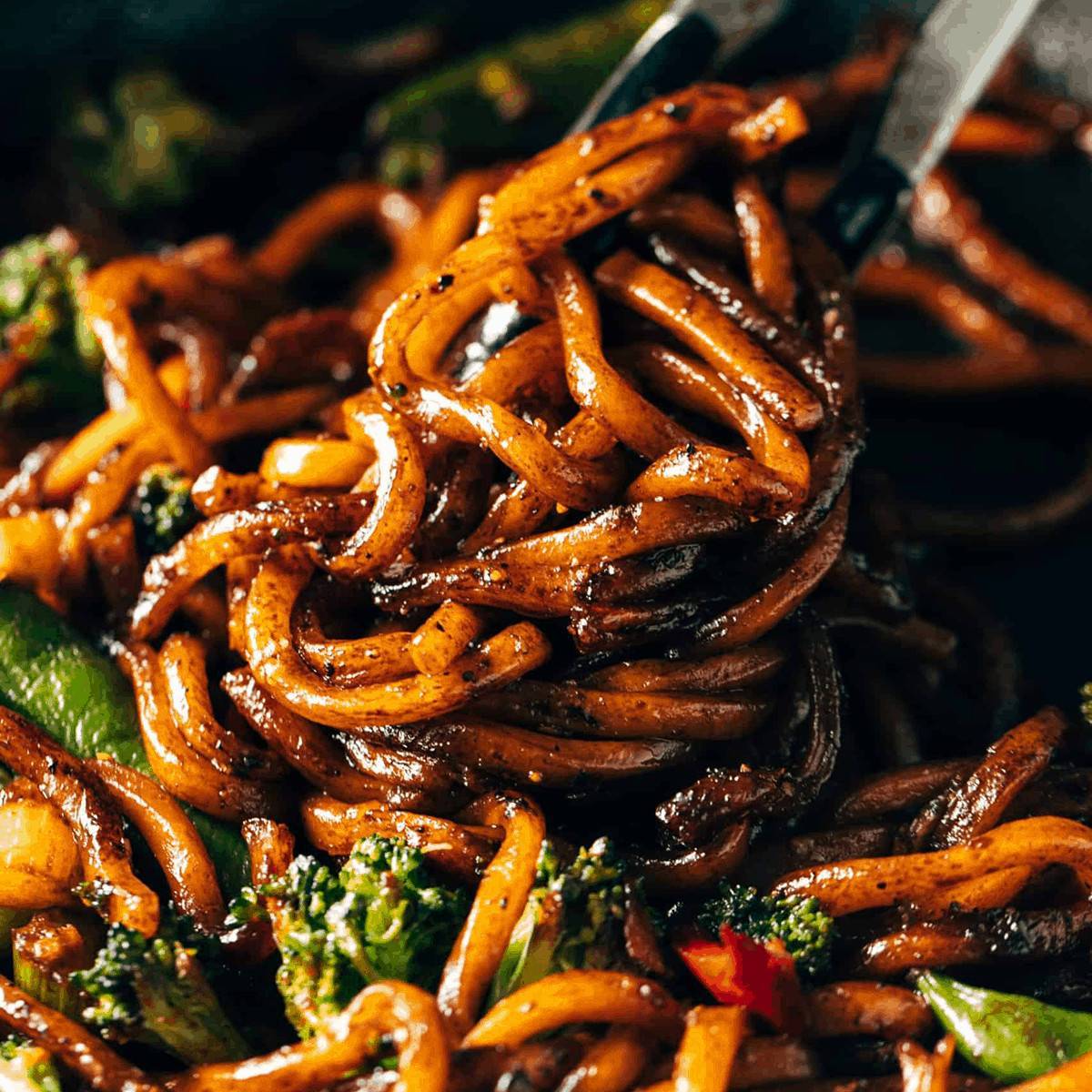 Meal 1: Black Pepper Stir Fried Udon
Listen, you are not going to be able to get enough of these noodles! It's pretty much obsessive at this point over here on our end, so good luck. Yaki Udon is the Japanese name for these stir fried noodles that have stolen our takeout hearts, so we did our best to come up with a very weeknight dinner-friendly (thank you pre-cooked udon and frozen stir fry veg!), homemade version of these beautifully chewy, sticky, saucy, peppery, caramelizey, twirl-and-chomp-forever noodles.
Add protein! Some crispy tofu or pan-fried shrimp would be perfect.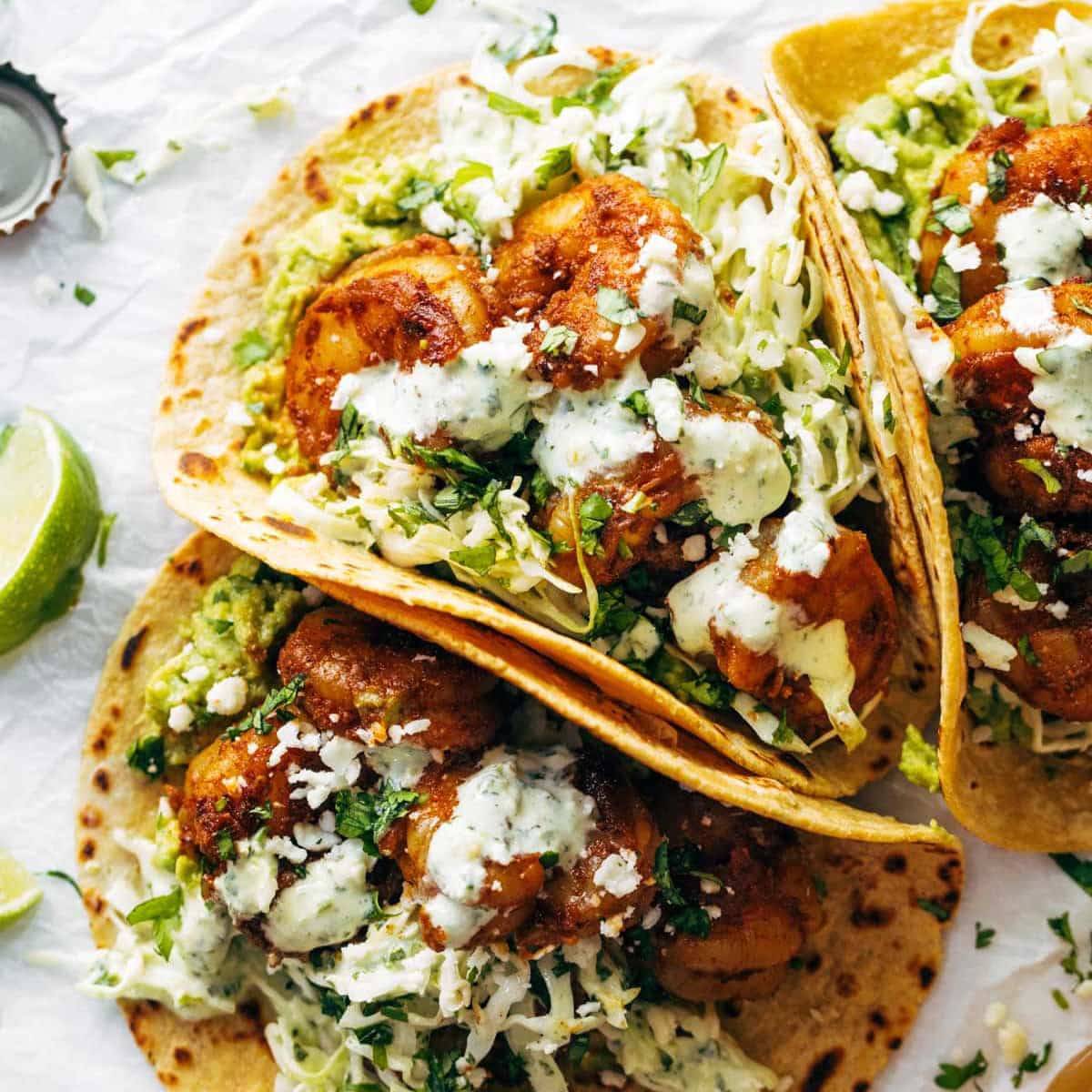 Meal 2: Spicy Shrimp Tacos with Garlic Cilantro Lime Slaw
No such thing as an unhealthy obsession with tacos in our book! Especially spicy shrimp tacos because, come on, warm corn tortillas stuffed with heavily spiced skillet shrimp tucked up in some smashed avocado and a creamy cilantro lime slaw? Oh sorry, did someone say salty cotija cheese, a lime squeezer, and oh no, of course, more sauce on top?! HOW CAN YOU NOT BE IN LOVE.
Make it little-kid friendly! Go a bit lighter on the spice seasoning depending on what your kiddo(s) can handle. Serving the tacos deconstructed can also be a nice way for littles to try each part of this separately.
Meal 3: Instant Pot Wild Rice Soup
It's like a moral obligation once the temperatures are so very bitter cold here in Minnesota that we remind you, "Oh hey, we love wild rice soup and you should too!". And this version is no exception so we're popping it in the meal plan. We ditched the chicken and swapped for mushrooms (please just trust and cut them real small if you're ishy about them). Simple, warm, creamy, earthy, and ready in an hour.
If you prep the fresh mushrooms as directed in the prep guide, be sure to use these veggies up within the first few days so the mushrooms stay fresh! They should last 2 days in the fridge if they are dried and cleaned well (not overly wet). Alternatively, you can throw in a bag of frozen mushrooms and skip the mushroom prep altogether.
Add protein! Some shredded chicken would be a very excellent decision.
Snack / Breakfast: Pecan Pie Energy Bites
Excited to whip up another batch of energy bites for this week's brekkies and snackers again? Yay us tooo! We have absolutely fallen in love and so we're excited for you to spend some time with this current heartthrob. A little snacker ball with all the best flavors of pecan pie and all wholesome goodness of dates and oats and flax and maple syrup. Chewy, sweet, so easy to put together…they really are such a special little treat.
Vegetable / Side: Simple Green Salad
Our favorite gal coming in to save the days again. We keep coming back to the ease and deliciousness of this simply dressed pile of spring greens. She's always ready to be dolled up with extra protein/croutons/veggies, whatever you have time for, but also totally great as plain and simple and happy-making as she is.
We Have a Full Meal Prep Guide Ready For You!
We've made things easy peasy for you and created an incredibly valuable meal plan and grocery list to help keep you organized.
This series includes FREE printable meal plans for every week that not only include what you need to make these delicious meals, but how to make them happen in an easy, fun, and efficient way through the meal planning system I've used and loved. It's real-life tested and real-life approved.
Here's what's included:
A meal plan with the selected recipes for the week;
A full grocery list;
A prep guide that outlines a 60 to 90 minute blitz for prepping your meals for the week. THIS TOOL IS CRITICAL and this is what differentiates this resource from just a list of recipe links. I already did the work to pull out the steps that work well to prep ahead, and I made them into a really nice and easy guide for you.
All you have to do is sign up below to get started.
Chop, Chop! Let's Get You In The Kitchen!
Set aside your hour this weekend so we can get sauces ready, veg chopped and snacks prepared so that we can peacefully enter into a new week knowing that weeknight dinnertime self is going to be so grateful to weekend self for making fresh, delicious meals feel so very low-stress and manageable. High-fives all around, selves.
The post January Meal Plan: Week 3 appeared first on Pinch of Yum.