Heyya! Bjork here. I'm checking in for my monthly traffic and income report on Pinch of Yum. If you're new to Pinch of Yum I wanted to fill you in on what these posts are all about.
Here's the dealio – back in 2011 I read an article online that said it was practically impossible to make money with a food blog. I had trouble believing that. I asked Lindsay if I could experiment with Pinch of Yum to see if we could create an income from it. On September 5th, 2011 I published a post titled The Food Blog Money Making Experiment.
Total income? $21.97.
I was a little embarrassed to publish the post. I started to think that the article might have been right. Twenty dollars is technically an income, but it's nothing to write home about (or write a blog post about). I questioned whether it would be worth it to move forward with publishing the posts, but Lindsay and I decided we'd stick with it even if we didn't earn much. Our hope was that it might help people that were just getting started, even if it was telling people what wasn't working well.
"We thought it would be fun and maybe even helpful if we gave everyone a sneak peek into the earnings coming from Pinch of Yum. The plan is to post total earnings once a month."
As mentioned in that very first post, the plan was to publish an update every month. We've stuck with that plan, and every month since September 2011 I've published a behind-the-scenes Pinch of Yum post. This is post #23 in The Food Blog Money Making Experiment. Thus ends our short Pinch of Yum history lesson.
Let's jump into the numbers.

Income
Total Income:: $10,238.88
Expenses
Total Expenses:: $1,565.61
Net Profit: $8,673.27
P.S. If you're interested in learning more about some of the ways that you can monetize a food blog, we encourage you to download this free ebook, "16 Ways to Monetize Your Food Blog," from our sister site, Food Blogger Pro!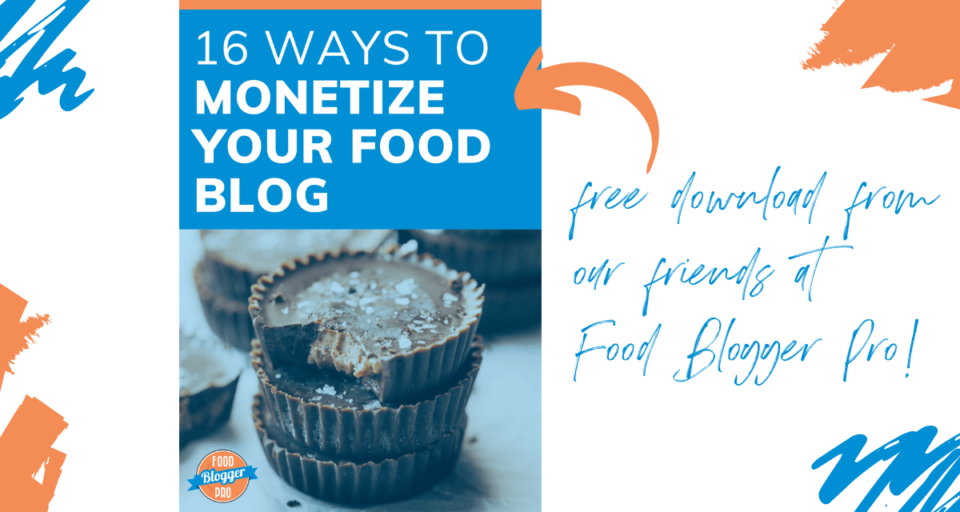 Thoughts On Income
Enjoyable, but not easy
One of the things that Lindsay and I want to make sure to communicate in these posts is that creating an income from a blog is not an easy thing. We both work hard on Pinch of Yum and put lots of time into it. We don't want to create the illusion of quick success or pretend to know any secrets of blogging. Lindsay has put in over three years of daily work – cooking, baking, photographing, editing and writing. I've spent the past 4-5 years learning about web design, web development, online business, and the psychology of buying online. We both love doing it, but it's been a long road of repeated daily effort.
"Success is the sum of small efforts, repeated day in and day out."

Robert Collier
Income streams
Pinch of Yum creates income from three primary revenue streams: traditional advertising, affiliate marketing, and selling our own products. One thing that has become apparent over time is the fact that an increasing percentage of our revenue comes from traditional advertising.
Here's what the percentages of those revenue streams look like in a pie chart:
The yellow section, which represents freelancing and creating your products, is the type of income that I believe holds the most potential for bloggers. This also happens to be the smallest percentage of the income that we create from Pinch of Yum. The largest section, traditional advertising, is the most volatile area and the one that we have the least control over. My hope is to even out the graph percentages by building up income that is created from selling our own products.
Here's my challenge to you – this week, take the first step in picking yourself and creating something that you can sell (or give) to others. Maybe it's writing a book, creating a cooking course online, hosting a live blog-talk event, or seeking out work as a freelancer for developing recipes. Whatever it is, take the first step this week, even if it's small.
Remember…
"Success is the sum of small efforts, repeated day in and day out."

Robert Collier
Traffic Breakdown
Below are some screenshots from Google Analytics. You can click on these screenshots to view a larger image.
Traffic Overview
Top Ten Traffic Sources
Browsers
Thoughts On Traffic
This month I included a screenshot of the different types of browsers that people are using when reading Pinch of Yum. See what's in the #1 spot? Safari (in-app).
What does that mean? It means that people are reading the blog from an iPhone, iPad, or iPod Touch. It's an important reminder to bloggers that the majority of their visitors are probably reading from a mobile device.
Food Blogger Pro Affiliate Program
The Food Blogger Pro affiliate program is one of our bigger updates from June, so I'll give you a little bit of the back story on the whole thing.
No matter where you are as a blogger chances are that you get people that ask you for advice on certain things. Sometimes people ask simple questions that can be answered in an email, while other times people ask more complicated questions that require more thorough answers. Lindsay and I have found that quite a few of the questions we were trying to answer via email were things that required a lot of explaining. They were questions like…
How do I setup my WordPress blog?
How do I get traffic to my blog?
How can I create an income?
This gave us the idea to create Food Blogger Pro as a place to point people when their questions required more than a simple answer. After launching the site on February 1st we received some great feedback from people that were using the videos and tutorials. We even noticed a few bloggers like Jad, Emily, Min, and Lori linking to Food Blogger Pro as a resource for their readers. We wanted to figure out a way to provide a benefit to the bloggers that linked to Food Blogger Pro, so in June we launched the Food Blogger Pro affiliate program. I'm really excited about it. Here's why:
The affiliate program is setup to allow other bloggers to essentially have their own little membership site. This is because the FBP affiliate program is a recurring payment program. This means that as long as the person you referred to FBP is a member then you'll get a percentage (20%) of the membership payment. We're really happy to be able to offer this to other bloggers and are really thankful for the bloggers that have already signed up to be a part of it.
Simplified Sales Page
This month I also made a small but important change to the Tasty Food Photography sales page by removing the footer.
Here's what the bottom of the page looked like before:
And here's what it looks like now:
Although it's a small change I think it'll have a big impact on the conversation rate, as the last thing on the page that people now see is the Add to Cart button. It's incredible the impact that such a seemingly small change can have on the way that people interact with a page.
If you have any pages on your blog that are selling a product I'd encourage you to simplify the page by removing the sidebar and footer. Be careful about removing the header navigation though, as this will negatively impact your page's SEO.
Thanks
Those are the updates we have from Pinch of Yum for the month of June, in addition to moving back to the country and trying to get settled back in without going crazy. Thanks as always for checking in on this thing we started two years ago called the Food Blog Money Making Experiment.
The post June Traffic and Income Report – $8,673.27 appeared first on Pinch of Yum.