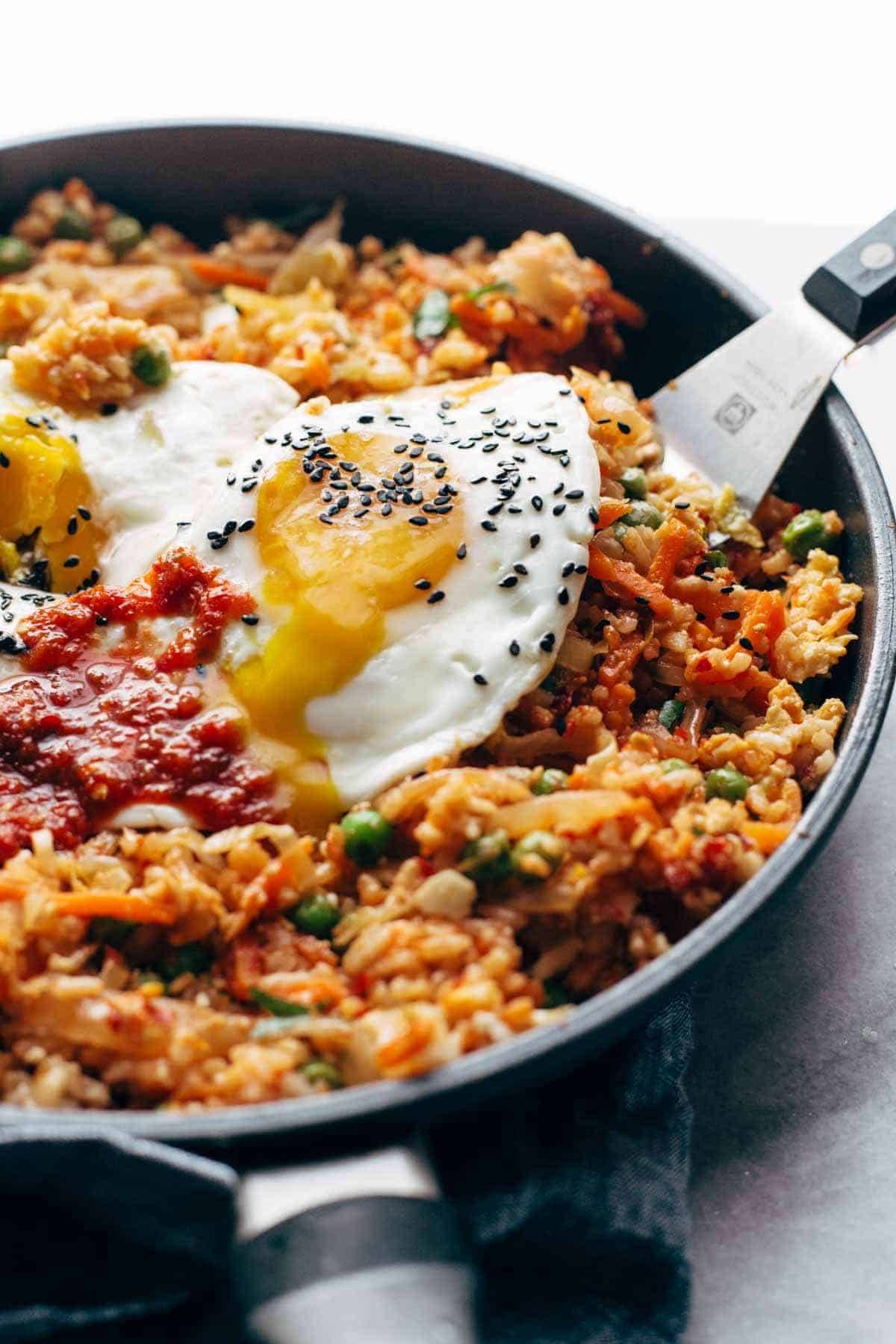 Kimchi Fried Rice FTW!
Featuring rice, or cauliflower rice, and frozen peas and carrots because easy, and fresh garlic and ginger because YUM, and soy sauce, and chili paste, and a forkful of kimchi, and finished with a runny yolk waterfall. For me this is a new kind of comfort food.
I first had kimchi fried rice when we were in Seoul a few years ago. I knew nothing about anything. I was a baby child. I didn't have any idea what kimchi was (likely referred to as "that red stuff"), but it didn't matter. I knew I loved my kimchi fried rice with a lacy fried egg on top. Fast forward a few years, to now, and I'm probably best put in the category of knows-just-enough-to-be-dangerous and eats-a-lot-of-kimchi-fried-rice which is what brings me to this blog post today where I show you how I make kimchi fried rice.
How To Make Our Kimchi Fried Rice (1 MIN):
FYI On The Kimchi:
Kimchi is salted and fermented cabbage or other vegetables. Sometimes it's spicy.
Kimchi is a staple of Korean food / cooking.
Kimchi can improve digestion.
I don't make my own kimchi (yet). I buy it. I really like some brands of kimchi, and I really have a hard time with others. My favorite brand is Spirit Creek Farm kimchi which I buy at Whole Foods. The vegetable are cut a little smaller, similar to the texture of sauerkraut, which helps me to love it a lot.
The ingredients for kimchi fried rice are really simple and MY ALL TIME FAVORITE THING is that, at any given time, I usually have everything I need to make this.
Oil, rice or cauliflower rice, frozen peas and carrots, garlic / ginger, soy sauce, chili paste, eggs, and of course, a jar of kimchi.
*in need of fried rice clean-up and manicure
If you're eating the kimchi fried rice, like, right now or in very close proximity to when you make it, then put a fried egg on top. A gloriously soft egg with a barely-crispy bottom and a runny yolk. Also: a drizzle of sesame oil and a dollop of chili paste or sriracha. YUM TO THE MAX. This is the way it was in Seoul.
However, if you're going meal-prep or make-ahead with this, I'd recommend just adding a few eggs into the rice and scrambling them in a little well in the center of the pan because, while admittedly less exciting than the yolk waterfall, scrambled eggs will re-heat much better than runny fried eggs. It's more like Chinese fried rice that way, but no problem. It tastes very amazing and will reheat really nicely for lunches all week.
Kimchi: yes/no? Anyone in the audience who is gonna inspire us all by telling us that they MAKE THEIR OWN KIMCHI? You guys would. I so knew that you would.
PS. Here's the link for those meal prep containers!
Print
Kimchi Fried Rice
---
Author:

Lindsay
Total Time:

15 minutes

Yield:

5-6 servings (about a cup each)
Description
Kimchi Fried Rice FTW! Cauliflower rice, frozen peas and carrots, fresh garlic and ginger, soy sauce, chili paste, a forkful of kimchi, and finished with a runny yolk waterfall. A new kind of comfort food.
---
a swish of oil

2

cloves garlic, minced
a spoonful of fresh crushed ginger

2

–

3

cups leftover cooked rice or cauliflower rice

2 cups

frozen peas and carrots

1 cup

kimchi (more or less to taste)

2 tablespoons

soy sauce (more to taste)

3

beaten eggs

1

–

2

tablespoons chili paste or sriracha for topping
sesame oil and/or sesame seeds for topping
---
Instructions
Aromatics: Heat the oil in a large skillet over medium high heat. Saute the garlic and ginger until fragrant.
Main Stuff: Add the rice, peas and carrots, kimchi, and soy sauce. Stir-fry for a few minutes or until everything is warmed and sizzling.
Eggs: Make a well in the center and add the eggs. Scramble the eggs in the center of the pan and then mix them throughout the rice.
Finishing: Serve with chili paste, sesame oil, sesame seeds, green onions, whatevs kinda thing you like.
Notes
An alternate way to do the eggs would be to fry them individually and top each serving with a fried egg! This is preferable, in my opinion, but doesn't always keep well for leftovers.
If you use cauliflower rice, add that just before the eggs. Cauliflower rice really only needs 2-3 minutes in the pan whereas everything else probably takes 5-8 minutes.
I normally just use olive oil. A neutral tasting oil would work, too. Sesame oil has a low smoke point so it usually isn't recommended as an oil for stir-fries (just for adding flavor at the end).
Prep Time:

5 minutes

Cook Time:

10 minutes

Category:

Dinner

Cuisine:

Asian-Inspired
Keywords: kimchi fried rice, kimchi recipe, fried rice recipe
Recipe Card powered by
---
One More Thing!
This recipe is part of our best healthy spring recipes page. Check it out!
The post Kimchi Fried Rice appeared first on Pinch of Yum.