June 6th! It's our anniversary. On a day like today, I am so thankful for the blessing of a leisurely morning enjoying lemon pancakes with my husband. Pure bliss.
Except we actually ate them on Saturday.
I was not about to get up early enough on a Monday morning to make lemon pancakes and blackberry syrup from scratch. Even on our anniversary. I think I'm still recovering from last Friday's Track and Field Day.
Confession. If I would have gotten up 15 minutes earlier, I would have had plenty of time to pull these together. But if there's one thing I love more than my husband and lemon pancakes, it's sleep. Every minute I can spend in my cozy bed is a dream come true.
Err, let's hope my dreams don't come true, because I've had some weird ones lately, including my debut with a Boyz II Men quartet, and a dangerous encounter with Free Willy.
Annnd back to reality.
Two things – besides my husband – have been really HOT lately.
Lemons (see today's post)

Honey
I picked up this honey at the Farmer's Market not too long ago, and honestly, I didn't love it right away.
But given some time, I've become obsessed with this single-source local honey that is totally crystallized. It's not a liquid at all – it's like sticky sugar, tightly packed into this little jar, bursting with real honey flavor. It can be added to anything, including blackberry syrup, and it melts like a dream.
And somehow we're back to the dreams.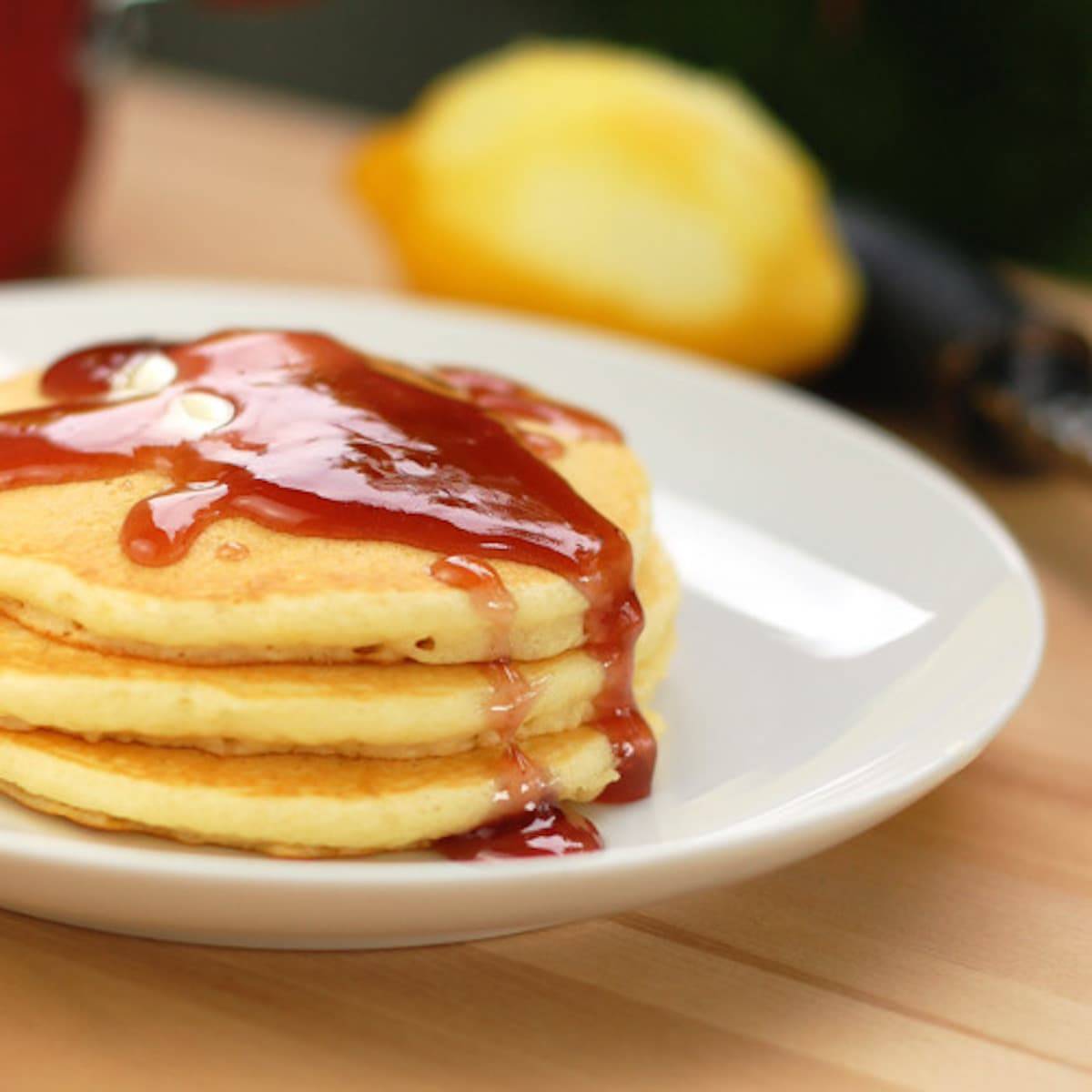 Print
Lemon Pancakes and Blackberry Syrup
---
Description
Amazing Lemon Pancakes that are light, fluffy, and easy to make topped with a blackberry syrup made from blackberry jam. Delicious for a weekend brunch!
---
Lemon Pancakes
1

egg

1

cup

flour

3 tablespoons

sugar
zest of

1

lemon

1 teaspoon

baking powder

1/2 teaspoon

baking soda

1/2 teaspoon

salt

1

cup

buttermilk

2 tablespoons

butter, melted and cooled slightly
Blackberry Syrup
1/4

cup

blackberry jam

3/4

cup

powdered sugar

1

tbs. honey

2

tbs. water
---
Instructions
Lemon Pancakes
In a small bowl, rub the lemon zest into the granulated sugar until fragrant. In a large bowl, whisk together the egg, buttermilk and butter. Add the flour, sugar, baking powder, baking soda and salt. Stir until just combined. The batter will be a bit lumpy…make sure not to overmix.
Heat a nonstick griddle pan over medium heat. Add 1/4 cup of batter to the pan and cook a few minutes on both sides, until just lightly golden brown. Place cooked pancakes on an oven proof plate and let rest in a 200 degree oven while you fry the rest of the pancakes. Makes about 6-8 pancakes.
Blackberry Syrup
Whisk all ingredients together and bring to a boil. Remove from heat and let stand for 5-10 minutes. Adjust consistency as needed by adding a few teaspoons of water. Whisk again until smooth and pour over pancakes!
Prep Time:

10 mins

Cook Time:

20 mins

Category:

Breakfast

Cuisine:

American
Keywords: pancake recipe, lemon pancakes, pancakes and syrup, blackberry syrup
Recipe Card powered by
Happy Anniversary, Borg, Bork, BeJork, Dork, Bjork, whatever your name is. You are the syrup to my pancakes. XOX.
The post Lemon Pancakes and Blackberry Syrup appeared first on Pinch of Yum.