Loaded Mediterranean Street Cart Fries.
What does that even meannnn?
Let's start by saying that this platter of street cart fries is taking notes from Greek salad and loaded nachos and late-night chili cheese fries and making it all come together in a happy and delicious moment for fry lovers everywhere.
To me, these specific street cart fries mean sweet potato fries (or regular! your choice, pal) topped with fresh summery romaine, marinated tomatoes and chickpeas, feta cheese, herbs to the nines, a quick thrown together tzatziki, and fried pita strips as the crown jewel on top, all coming together in one epic bowl-meets-boat-type meatless dinner situation. You could also add kalamata olives and/or pepperoncini, and you would be, oh I dunno, THE BEST PERSON EVER, and I would know that we are destined to be food BFFs.
How To Make Our Mediterranean Street Cart Fries (1 MIN):
I first caught the vision for these when I ate at my latest lunch obsession hot spot: Spitz. The number of times Jenna and I have ordered the wraps to be delivered to the studio for lunch is very incriminating and shall not be made public. So let's just say I have ordered this (street cart fries and all its variations) enough to know that I needed to at least TRY to make this happen at home.
First order of business was seeing how difficult it would be to make gyro-style meat at home, because YUM. That meat is so good.
Second order of business was realizing that making gyro-style meat at home was way too complicated for my regular girl self. So I settled on an equally delicious meatless version of my favorite salad/fries combo from Spitz called the Street Cart Fries. And yes, I live the kind of life where "Street Cart Fries" are fully accepted as a salad. Whatcha gon do bout it.
Third order of business was figuring out the most important ingredients I needed to recreate this wonder.
And they are, in order of importance:
Sweet Potato Fries. Worth noting that we also adore regular non-sweet-potato fries. This is u-pick moment.
Tzatziki. Necessary, because it's kind of the chili cheese sauce in our chili cheese fries analogy. Without it, there's no saucy thing on the fries to hold it all together. It's quick to whip up and it's delicious beyond all belief. HIGHLY RECOMMEND dipping some fried pitas in this stuff before you even touch the salad/fries creation.
Speaking of.
Fried Pita. Friends, this is not truly necessary in the way the tzatziki is necessary, and it does require a little extra time, so if you are tight for time, take a pass this time. But if you are not tight for time and you love OMG-type-food, then you need – I repeat – NEED – fried pita strips atop your fries. I do not lie about these important things.
And guess what? The rest is sort of a buffet of options.
Marinated tomatoes and chickpeas and feta cheese and pepperonicini and more herbs are kind of what I most recommend as the final layering touches, but it's your call. She is a blank-slate-meal kind of girl. You make it your very own street fries masterpiece, okay? I fully expect to be tagged in your amazing fry pictures on Insta.
French Fry / Salad / Nacho Boats? Absolutely. Yes. For the win. Love you guys.
Print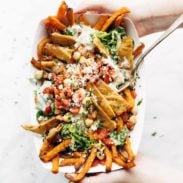 Loaded Mediterranean Street Fries
---
Author:

Pinch of Yum
Total Time:

30 minutes

Yield:

4 servings
Description
Loaded Mediterranean Street Cart Fries: sweet potato fries topped with fresh romaine, tzatziki, marinated tomatoes and chickpeas, feta cheese, and more. Meatless and mind-blowing, all in one.
---
Tzatziki
1 cup

plain full fat yogurt

half of a

zucchini, grated

1/2 cup

roughly chopped fresh parsley

1

clove garlic, minced
a few pinches of chopped fresh dill
salt and lemon juice to taste
Marinated Tomatoes and Chickpeas
1

can chickpeas, rinsed and drained

4

–

6

tomatoes, diced

2 tablespoons

olive oil

1

clove garlic, minced
fresh minced parsley to taste
salt to taste
lemon juice to taste
Other Ingredients:
1

bag sweet potato fries

1

head romaine lettuce, washed and roughy chopped
pita bread and oil for frying
Toppings (see notes)
---
Instructions
TZATZIKI: Combine the tzatziki ingredients together – taste and adjust until it hits the spot for you.
TOMATOES / CHICKPEAS: Toss the chickpeas and tomatoes together with the oil, garlic, lemon juice, and parsley to marinate.
SWEET POTATOES: Bake the sweet potato fries according to package directions. While the sweet potatoes are baking, chop the lettuce and fry the pitas.
PITAS: For the pitas, cut each one into strips and fry in a shallow layer of frying oil (such as vegetable oil) until golden brown and slightly crispy. Drain on paper towels and sprinkle with salt.
ASSEMBLY: Assemble the individual boats with layers of fries, tzatziki, marinated tomatoes and chickpeas, fried pita, romaine, feta cheese, and more. Mwah!
Notes
Highly recommend the addition of feta cheese, pepperoncini, olives, hot peppers, hot sauce, and/or anything else you love! Make this one all your own.
Prep Time:

10 mins

Cook Time:

20 mins

Category:

Appetizer

Cuisine:

Mediterranean-Inspired
Keywords: street fries, mediterranean street fries
Recipe Card powered by
---
One More Thing!
This recipe is part of our collection of easy appetizers. Check it out!
The post Loaded Mediterranean Street Cart Fries appeared first on Pinch of Yum.