March Traffic and Income Report – $17,118.92
Greetings! Guess who.
Yep! You're right. It's me Bjork. I'm the nerd in the virtual Pinch of Yum basement. I'm also Lindsay's husband. I'm also the star of the video from this post that Lindsay recently shared. #hiddentalent
I show up once a month to give an update on everything that's happening behind the scenes at Pinch of Yum. I share the blog's income, expenses, and traffic stats. I usually wrap up the post by sharing some tips or takeaways that we're learning as we grow the blog.
This month's report is going to be a little bit different though. For the first time ever I won't be sharing any tips.
You might be saying "What?!? No tips? But I love tips!"
To which I would reply with (adjusted emphasis and a slight pause): "…no tips, from me."
Kiersten from Oh My Veggies is going to be sharing some tips that she learned as she grew her blog's RPM from $1.55 to over $19 in less than two years! She recently wrote an eBook about it called How to Monetize Your Food Blog (FYI: the eBook links in this post are affiliate links).
I'd highly recommend the book. I read it. I loved it. I learned from it. I think it's worth every single penny that you'll pay for it.
More on that in a bit. First, the numbers…
Income
*We didn't have the totals for Swoop at the time of publishing this post, so we took last month's income and adjusted for traffic.
Total Income:: $24,428.53
Expenses
Total Expenses: $7,309.61
Net Profit: $17,118.92
P.S. If you're interested in learning more about some of the ways that you can monetize a food blog, we encourage you to download this free ebook, "16 Ways to Monetize Your Food Blog," from our sister site, Food Blogger Pro!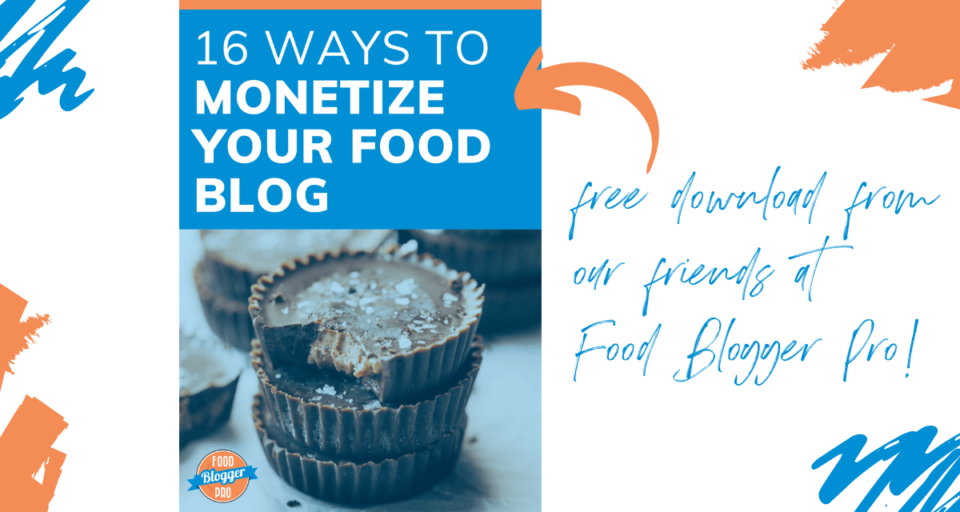 Thoughts On Income
Display Advertisers
In January's report, I shared 10 important mindsets for bloggers. One of those mindsets was "1% ∞" (one percent infinity). The idea with this mindset is that you are forever trying to improve, even if it's just a little bit. With blogging (or business or non-profit), you win by improving a little bit, day after day, forever.
Kiersten's monetization eBook was a good reminder to me that we need to apply the concept of 1% ∞ to our display advertising on Pinch of Yum. Display advertising turned into "set it and forget" type income for us, as opposed to what it should be, which is something that we continually tweak, track, and adjusting. Applying 1% ∞ to display advertising will results in drastic improvements (over time). So, we're starting the process of applying to other ad networks and we're being diligent about tracking and following along with the performance of these networks.
Rpm
RPM stands for page revenue per thousand impressions. Or, in other words, RPM shows you the average revenue you earn from every 1,000 page views on your blog.
If you want to learn more about RPM (and some other important advertising terms) then be sure to check out this post on Food Blogger Pro.
Traffic
Below are some screenshots from Google Analytics. You can click on these images to view a larger size.
Traffic Overview
Top Ten Traffic Sources
Mobile Vs. Desktop Traffic
Thoughts On Traffic
Mobile For The Win!
It's official. For the first time ever Pinch of Yum has received more traffic from mobile phones than from desktop computers. Want to see an interesting stat? Check this out:
Percentage of Visitors (to Pinch of Yum) Using a Desktop Computer
2011: 98.55%
2012: 68.57%
2013: 50.33%
2014: 37.87%
See a trend?
Part of the reason for the drastic change in those numbers is due to the fact that a lot of our traffic comes from Pinterest, and a lot of Pinterest users are using the mobile version of the app. I'd be interested to here if other bloggers have similar mobile percentages. Have you seen a similar trend away from visitors using a desktop computer?
Meet Kiersten
A little over a week ago I sat down at a coffee shop and read through Kiersten's book, How to Monetize Your Food Blog. I found myself highlighting, taking notes, and thinking "this would be perfect for the people that read the Pinch of Yum income reports."
I love how Kiersten is able to take the complicated concepts behind monetizing a blog and present it in an easy to read, value-packed eBook. The best part? She has solid proof that shows how her income has increased as she applied the advice to her own blog. Be sure to check out the graph where she shares her blog's page views and total ad revenue over time.
If you're interested, you can purchase the book here or click on the image below.
Without further ado, here's Kiersten from Oh My Veggies. Take it away Kiersten!
---
Hi there! I'm so excited that Bjork and Lindsay asked me to stop in today to share my story of how I took Oh My Veggies from a hobby to a business. I'm a big fan of Pinch of Yum–both the food (hello, creamy cauliflower sauce!) and the tips about blogging and photography. While my blog is my full-time job now, it's important to me that I monetize with integrity and in a way that's not annoying or pushy, and I think Bjork and Lindsay are a great example of this kind of monetization.
When I started blogging, making money from it wasn't on my radar at all. I hoped that I could get free samples of food in the mail (yeah, I admit it!), but that was about it. I didn't even know you could make money from blogging and even once I did realize it, I never really thought that I would. (I tend to doubt myself like that.) When I finally set out to monetize almost a year into blogging, my only goal was to cover the cost of hosting–which was $4.95 at the time. Clearly I dream big, right? When my first check arrived, it was for about $50, and I was elated. Not only did I have this awesome hobby that I loved, but I was making money from it!
As my traffic grew, my income started to go up with it. Soon I was making a few hundred dollars a month from my hobby and it became a reliable source of part-time income. And then I got laid off from my job and panic set in. I knew it would take me a while to find a new job (I have a degree in Library & Information Studies–no one's exactly knocking down my door to hire me!), so I decided to give full-time food blogging a try. I gave myself a 4-month deadline: if I wasn't making a full-time living from food blogging by December, I would start looking for a job and go back to blogging as a hobby.
And then I hustled! A friend of mine told me that I should set up backfill for BlogHer, so I did that. I began to do a lot of experimentation with ad networks–trying new ones, figuring out the best order to put them in, finding the right number of ads to put on my blog. I started using affiliate programs and began signing up for blogger networks for sponsored post opportunities. I concentrated on my content and figuring out what my readers were looking for–I stopped posting what I wanted to post and started taking a more reader-centric approach to blogging. I had the eye of the tiger. By the 4th month of my full-time blogging experiment, I was making a full-time income between my ads, affiliate programs, and sponsored posts. Victory!
Now, not only am I making a living from my blog, but I'm making enough that I've been able to expand Oh My Veggies and add four contributors. I also have an assistant, photographers that I work with, a graphic designer on retainer, and a recipe tester. It never stops being completely surreal to me that the blog I started on a whim has turned into a legit business.
Five Tips For Blogging Full-Time
I really have about eleventy-billion tips for blogging full-time. I'm full of tips! And opinions! Like a piñata of knowledge. Okay, maybe not a piñata. That's weird. But what I'm getting at is, I've learned a lot along the way. Here are five tips that have helped me the most.
1. Up Your Ad Game!
I feel so bummed whenever I hear a blogger say that they don't understand ads, so they don't bother optimizing them. Nooooo! Don't say that! When you don't optimize your ads, you are leaving money on the table, so it's important to take the time to do it. I didn't understand ads when I started either and you know what I did? I learned them. Having one ad network simply isn't enough. Most ad networks don't have ads 100% of the time and you need to have other networks lined up beneath your primary ad network so when that network doesn't have ads to display, it will default to your secondary network. And if you have a few networks lined up, even better! Most ad spots on my blog run 3-4 different ad networks. You can see in this chart from my ebook how my RPM increased as I optimized my ads.
Lining up ad networks like this is often referred to as setting up a waterfall. I talk about it a lot in my ebook and it's really the key to my blog's success. While I make income from other areas too (it's important to diversify!), ads are my bread-and-butter. And once you have your waterfall set up, it doesn't end there. I make sure each network is performing as it should and if it's not, I swap it out for another one. It might sound intimidating, but if I could teach myself to do it, there's no reason why you can't either. Don't psych yourself out before you even start.
2. If You Want Your Blog To Be a Business, Treat It Like One
Because you can't have it both ways! One mistake that I often see bloggers make is that when they want to take their blog full-time, they still treat their blog like it's a hobby.
When I was laid off, I set up an editorial calendar for myself and I have rarely strayed from it. I make it a point to respond to every question asked about a recipe and every reader email. I take the time to test all of my recipes a few times before posting them–even if something turns out perfect the first time. (Now that I have contributors writing for Oh My Veggies, my cousin helps with recipe testing too!) The fact that I make an income from my food blog doesn't make me a professional blogger–it's the fact that I put time into it and take a business-like approach to it that makes me a professional blogger.
I also invest a lot of my income back into Oh My Veggies. I used my first big check from BlogHer to pay for a professional blog design. The more money I make, the more I spend on my business–and it always pays off! Having a well-designed blog and good hosting will definitely help your blog's traffic, but even small investments can have a big pay off. If you struggle with photography, invest in lessons! If you're unfamiliar with basic HTML, go buy some books about it! Oh, and if you struggle with monetization? BUY MY BOOK! (That was totally shameless, huh?)
3. Don't Quit Your Day Job (Yet)
Okay, maybe you can quit your day job, but I wouldn't suggest doing that until you're making at least some income from your blog. I was lucky in that the decision was made for me because I was laid off, but I was already making a part-time income from blogging at that point. But I think it's a mistake to quit your job before you're making money–not just because you might not be able to pay your rent, but because I believe when you're under that kind of pressure to make things happen, it can lead you to make the wrong decisions for your blog since it forces you to think in the short-term, rather than the long-term. While you might make a lot of money doing 5 sponsored posts a week, it's going to drive away readers, which will make it difficult for you to get to the next level.
If you can, cut your work hours or find a part-time job as your blog revenue grows–this gives you an intermediate step between working full-time and quitting your job to blog full-time and lets you have the time you need to grow your blog without all that added pressure.
4. Content First, Monetization Second
My focus with Oh My Veggies is never, "How can I make money?" Instead, it's always, "How can I help my readers? What do they want to see?" Especially if you're monetizing through ads, you need to focus on creating useful content that people want to read and, even more importantly, share. (My golden rule of blogging is "Never post anything that you wouldn't read on someone else's blog.")
Part of this is coming up with a hook. There are a lot of blogs out there and you need to figure out what makes yours different. Why should people subscribe to your blog instead of someone else's? What are you offering that no one else does? With Oh My Veggies, I realized that simply being a vegetarian food blog wasn't enough, so I honed in on easy vegetarian meal ideas. While we still do the occasional dessert or snack, most of our posts are everyday dinner types of recipes. When people know what to expect from your blog, it will help you build a loyal readership.
5. Diversify, But Do It Your Way
Diversifying your income streams doesn't mean you have to do everything. It's probably best that you don't! Find a few things that you're good at and stick to doing those well. When I first started blogging full-time, other bloggers told me that it was impossible to be a professional blogger and not do sponsored posts (some people even equate professional blogging with doing marketing!), so I started doing them. And I didn't enjoy it at all! They are just not for me, so a few months ago, I decided not to do them anymore. Don't feel pressure to monetize in ways that aren't right for your blog or your personality.
There are very few overnight successes in the blogging world. I can't speak for anyone else, but Oh My Veggies has only been successful because I have put an obscene amount of time and effort into it, but I really, truly love what I do, so it's worth it to me. Food blogging is not an effortless way to make money from home–anyone who tells you that is either lying or they're not doing it right! But if you have a passion for it, know that you can make an income from your food blog. I am no different from any other food blogger, so if I was able to do it, you can too!
---
Bjork here again.
Can we all give a virtual round of applause for Kiersten? Solid, practical, and valuable advice. Good stuff!
Here's that link one more time if you'd like to purchase her eBook: How to Monetize Your Food Blog.
Because Of You
It's really true. It's because of you (yes, you!) that this thing we call Pinch of Yum can exist as it does today. Thanks so much for reading, tweeting, commenting or emailing. We love hearing from you!
We're using a portion of this month's income from Pinch of Yum to support a special project at the Children's Shelter of Cebu, an orphanage where Lindsay and I lived and worked for a year. The special project we're supporting this month is new carpet for the school.
The kids and staff at CSC take really good care of the buildings and grounds. That being said, the time has come to get new carpet in the school, so we're excited to use some of the income from Pinch of Yum to chip in and help them get a little bit closer to their fundraising goal. Thanks for helping to make this possible!
The post March Traffic and Income Report – $17,118.92 appeared first on Pinch of Yum.