MIGAS, friends. MI-GAAAAAAS.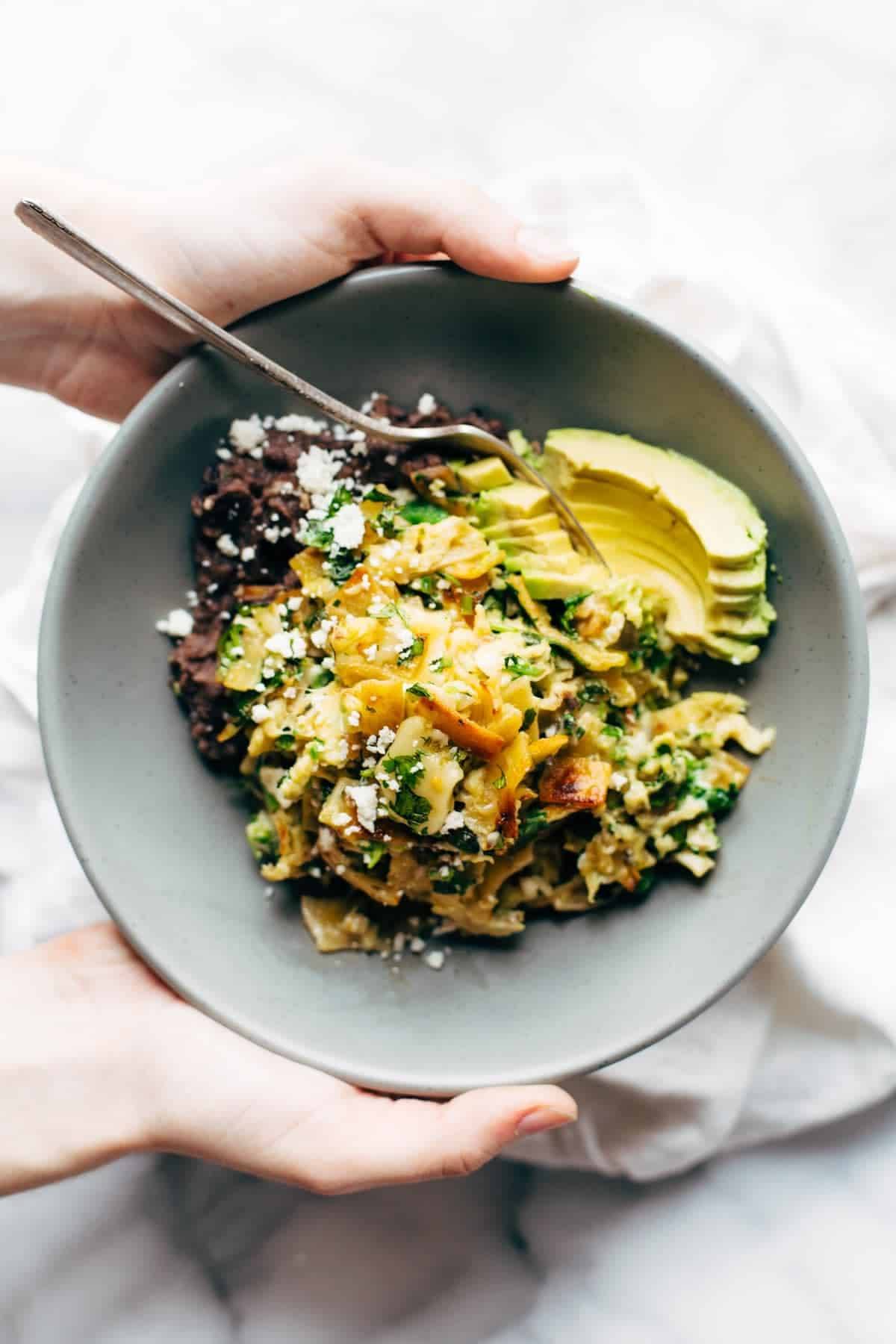 True meaning of life? I found it right in the middle of that bowl of crispy tortilla strips with sautéed garlic and jalapeño and slow-cooked eggs all snuggled in with a handful of melted cheese.
This is LIFE and LOVE to the highest degree. This is migas.
Migas is what I'm eating ALL DAY EVERY DAY and I know I usually get all drama on you about this stuff in terms of how much I'm really obsessed with a recipe or how many times I've made it, but truly – out of the last 6 meals in my life, 5 of them have been heaping bowls of this scrambled egg and crispy tortilla goodness known as migas.
In This Post: Everything To Know About Migas
How This Migas Recipe Came To Be
Here's the funny thing about migas – I've never had the real thing. I know I KNOW, fraud alert code red, but hang with me pleezzzz because I know, regardless of the authenticity factor, that these are SO superdelicious and worth making for your next breakfast (or brunch or lunch or dinner). Because migas: all day every day.
I didn't actually eat the real migas myself, but Bjork went to Austin with friends a few weeks ago which seems to be the Migas Mecca of the U.S. You know when you try to get friends who aren't that excited about food to talk about food with you and it starts to feel all CSI-obsessive-interrogation after a while? This is me talking to Bjork about Austin and migas. In a casual passing moment, he mentioned that migas tacos were his favorite meal from the trip and I completely pounced. There was a barrage of questions – what did they taste like? what was in them? meat or no meat? sauce or no sauce? potatoes?! really? what was their texture? why did you like them? – which was SUPER successful as you an imagine coming from someone who does not understand the lifelong obsession with food.
But it all worked out. I cross-referenced the few bits and pieces of information that I got with the recipes I found online, and then I just went for it.
Clueless? Yes.
Hungry and ready to forge my own migas way? Bigger yes.
Migas: Frequently Asked Questions
Can I use tortilla chips instead of frying my own tortillas?
Absolutely! Welcome to our favorite migas shortcut.
Could I add meat to this?
Yep! Would highly recommended browning up some chorizo to add to this deliciousness.
What's the difference between migas and chilaquiles?
Similar flavors and ingredients, different method! Chilaquiles consist of fried tortillas simmered in a sauce, which is more of a salsa.
Can I use flour tortillas instead of corn tortillas?
One reader gave flour tortillas a try and said it was successful! So we say go for it.
How could I make vegan migas?
Skip the cheese, use olive oil instead of butter, and make the eggs a tofu scramble instead. Or use our sofritas recipe in place of the eggs.
So What IS Migas?
Migas can mean something different wherever you find yourself. A quick trip around the world:
Spanish Migas: This can vary even within Spain, but typically makes use of leftover bread or tortas as a breakfast dish.
Portuguese Migas: Also usually made with leftover bread, whether a wheat bread or cornbread (!!!). In some parts of Portugal, migas can also be made with potatoes instead of bread.
Mexican Migas: Getting closer to this preparation, this variation of migas includes corn tortilla strips that are fried until almost crispy, and you add eggs to make a tortilla/egg mixture. Often, leftover hardened corn tortillas are used.
Tex-Mex Migas: Similar to Mexican Migas, but with other ingredients such as onions, peppers, fresh tomatoes, cheese, spices and condiments like salsa, and refried beans.
Being that these Migas were born from a trip to Austin, these fall into the Tex-Mex category.
Ingredients In Migas
We're firmly in the Tex-Mex category, so that means these migas consist of:
Corn tortillas
Jalapeño pepper
Garlic
Eggs
Cheese
Cilantro
Refried black beans
Alllllll the toppings – salsa, onion, avocado, gimmme all of it
The first time I made these migas was… ummm how should I say this… forgettable. The tortillas got completely mushy and I added mushrooms (SO SORRY) which made the whole thing very strange and we tried to put them in tacos and it just wasn't anything amazing.
But the second time around? BOMB.COM.
I followed Sunny Anderson's migas recipe trick where you actually fry your own tortillas first to make them super crispy and delicious (don't panic – this is like a 5 minute endeavor) and then you just keep layering things into the pan, which, in my migas life includes: garlic. jalapeño. eggs. cheese. cilantro.
You serve that glorious meal up with some refried black beans, avocado, more cheese, or – yes, maybe in a taco? – and I'm telling you: MEANING. OF. LIFE.
I'm making this again for brunch with friends on Saturday and I am already hungry for it.
Migas. All day every day.
How To Serve Migas
You've got two options here:
On their own: Typically, I eat these migas as a standalone breakfast dish on their own. You can make it for a crowd, let everyone add their own toppings, and just be very, very happy with the situation you've found yourself in.
As a taco: Remember how I said Bjork had migas TACOS? Yes. You can put all this goodness inside a corn tortilla and go to town.
Either way, you will become a very large proponent of all things migas.
Prefer To Watch Instead Of Read?
Print
The Best Migas
---
Description
Migas – eggs scrambled with crispy tortillas, garlic, jalapeño, and melted cheese served with black beans and avocado. Quick, easy, and SO DELICIOUS. Breakfast, lunch, dinner, or brunch!
---
1 1/2 tablespoons

butter

1 1/2 tablespoon

oil

5

–

6

small corn tortillas, cut into strips

1

jalapeno, minced

1

clove garlic, minced

5

eggs, beaten

1/2

cup

shredded Pepperjack or other cheese

1/2

cup

chopped cilantro
salt to taste
black beans, Cotija cheese, salt, pepper, avocado, tomato salsa for serving
---
Instructions
Heat the oil and butter in a large skillet over medium heat. Add the tortillas and fry, stirring frequently, until very browned and crispy (see picture).
Turn down the heat and let things cool down a little bit. Add the jalapeño and garlic. After a minute or two, add the eggs about 1/4 cup at a time, pushing the eggs around gently in the pan after each addition until all eggs have been added and all the eggs are almost all fully cooked but not quite. Season with salt.
Remove from heat (the eggs will finish cooking off the heat) and stir in the cheese and cilantro. Serve with all the usual suspects. Black beans, avocado, salsa, cheese, salt, pepper, or hot sauce.
Prep Time:

15 mins

Cook Time:

15 mins

Category:

Dinner

Cuisine:

Spanish
Keywords: migas, eggs with tortillas, spanish migas
Recipe Card powered by
---
Other Top-Rated Breakfast Recipes
---
One More Thing!
This recipe is part of our easy Mexican-inspired recipes page. Check it out!
The post The Best Migas appeared first on Pinch of Yum.