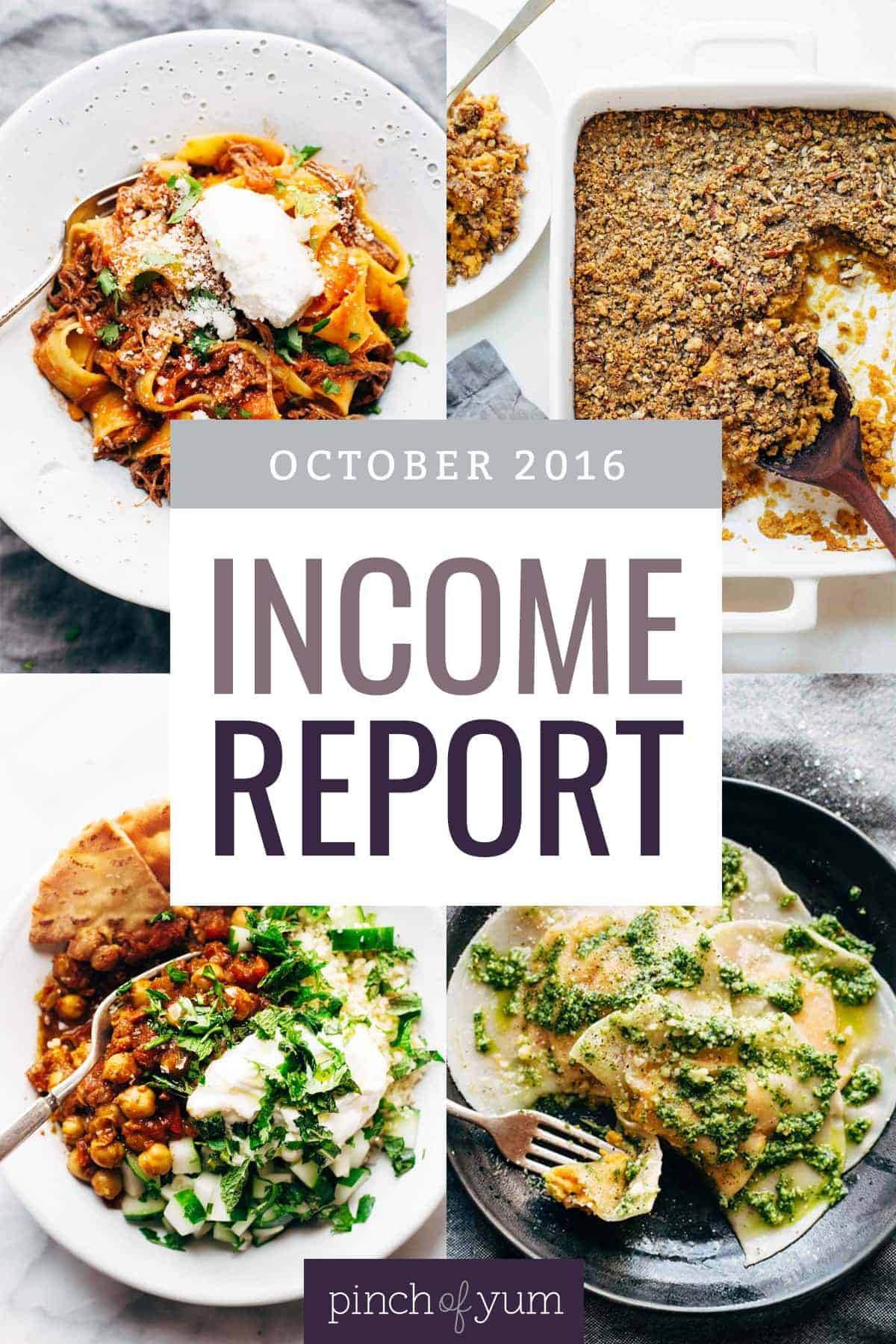 Hey there!
Bjork here checking in for the monthly traffic and income report on Pinch of Yum.
We'll look at three things in this report.
It's a fun time here at POY HQ, as we're in the middle of an enrollment period for Food Blogger Pro.
For those that aren't familiar, Food Blogger Pro is a membership site for people that want to learn how to start (or grow) a food related website.
Learn more about Food Blogger Pro <—
Our fall enrollment period wraps up tomorrow night at 10PM CST, so if you're interested in joining, now is the time to do it.
After I share the October numbers I'll jump into talking about five important tools you should be using to grow your blog. A few of them (#1 especially) are must have tools if you're wanting to build your blog or website into a business.
Let's take a look at the numbers for October…
Note: Some of the links below are affiliate links. All of the products listed below are products and services we've used before. If you have any questions about any of the income or expenses, you can leave a comment and we'll do our best to reply.
Income
Expenses
If you're interested in learning more about some of the ways that you can monetize a food blog, we encourage you to download this free ebook, "16 Ways to Monetize Your Food Blog," from our sister site, Food Blogger Pro!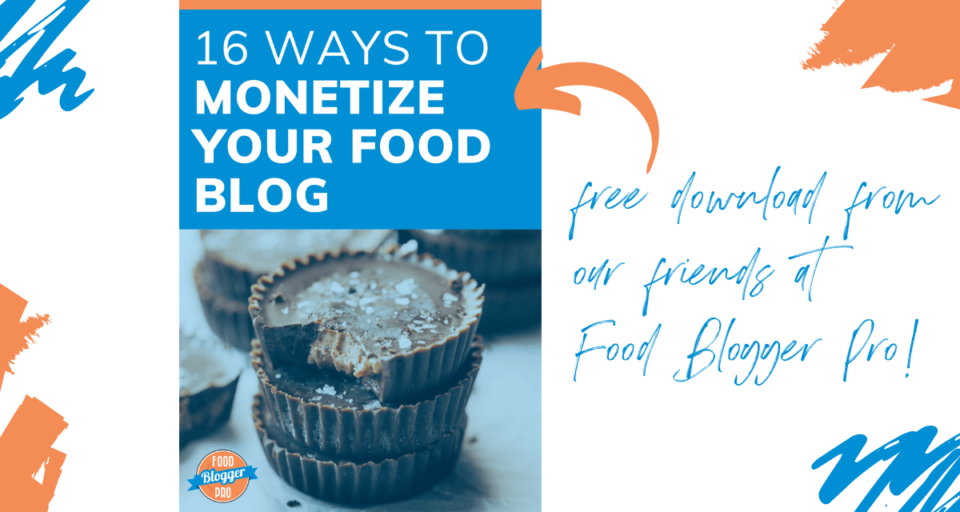 Traffic Totals
Below are some Google Analytics screenshots from the month of October 2016.
Traffic Overview
Top Ten Traffic Sources
Mobile vs. Desktop vs. Tablet
5 Important Tools For Blogging
As I mentioned in the intro, we're in the middle of an enrollment period for Food Blogger Pro.
What is Food Blogger Pro? Good question!
FBP is a training site for food bloggers that consists of over 300 video tutorials as well as a thriving community forum of bloggers from around the world. Lindsay and I (and other industry experts) walk you through the important tools, concepts, and skills that we've learned over the past 6+ years of building a blog.
We cover everything from shooting recipe videos (like the ones Lindsay has been sharing on her Instagram account), to setting up WordPress (the blogging platform we recommend), to advice on how to generate income from your blog.
Below I highlight just a few of the tools that we teach about in Food Blogger Pro.
1. Google Search Console
If you don't yet have Google Search Console set up, stop reading this post and go set it up!
Google Search Console is a free tool from Google that gives you tons of valuable insight into how your blog is performing in Google search results. It's important to understand these analytics, as traffic from search engines is a critically important part of building a successful blog.
GSC will send you an email if it notices that something related to search is wrong with your site. While it can be a bit unnerving to get a warning from Google, it's much better than the issue existing but never getting a warning about it in the first place (which would happen if you don't have GSC set up).
In last month's report on updating an old blog post, I used GSC to confirm that updating an old blog post resulted in that post showing up higher in Google.
It's a powerful tool. And it's free.
Need any more convincing?
2. Time Management
This, undoubtedly, is one of the biggest issues we run into as we work on building a blog.
Time.
More specifically, a lack thereof.
It's abundant yet elusive. Everyone has the same amount of time, so why do some people get so much done while others struggle to keep up with their work?
The people that are able to make massive forward progress are people that can manage their time well.
I'm not a great time manager by nature (is anyone?), so I've had to implement systems that automate the process of time management.
Implementing just a few small-time management changes has had a big impact on my productivity.
Small changes can really add up. Getting back just 30 minutes a day adds up to 15 hours a month. There's a lot of stuff you can do with 15 hours of time!
In the time management course on Food Blogger Pro, we cover lots of these small victories that you can implement. One of those small victories is called WasteNoTime.
WasteNoTime is an extension for Safari or Chrome that allows you to block certain websites. For me, that means Bleacher Report, CNN, Mashable, and StarTribune.
Those sites all fall under the don't-want-to-do-something-so-I-open-up-a-new-tab-and-check-the-news category of time-wasting.
WasteNoTime helps to remind me that I'm just using those sites as a distraction from doing work. True, I could just pull up another browser like Firefox and go to those sites, but that little bit of friction is enough to redirect me back to my work instead of going down the rabbit hole that I had previously been searching out.
I also have it set up to apply the block between time 8 AM–6 PM. In the non-work times, I have 30 minutes to use on these sites.
3. Yoast SEO
Yoast SEO is the plugin we use to help us fine-tune SEO related settings on Pinch of Yum posts.
SEO is both an art and a science. There are hundreds of factors that go into optimizing your site to show up high in search results.
Some of those factors are low hanging fruit, meaning they are things you can quickly and easily implement on your own.
Yoast SEO helps you fine-tune some of this low hanging SEO fruit, guiding you along in the process of picking a keyword and making sure you include it in the correct places throughout your post.
Here's an example of the fields that we entered in Yoast for a chicken gnocchi soup recipe and the accompanying search result for that keyword:
There are a handful of advanced settings that come along with Yoast which are worth looking into as well, but the post keyword is a good place to start.
4. VaultPress
Blogging without backups is like mountain biking without a helmet. You might be okay, but there's also a good chance that you'll eventually get hurt.
We've used our Pinch of Yum VaultPress backup multiple times over the past year.
VaultPress creates a backup of your WordPress blog and stores it for you. The most affordable plan costs $5/month and creates a daily snapshot of your blog. We have the $15/month plan ($165/year) that creates backups in real-time throughout the day.
When you're going through the setup process make sure to add an FTP connection in VaultPress so you can quickly and easily restore your site if (when?) something breaks.
5. G Suite (Previously Google Apps)
One of the easiest branding improvements you can make for your blog is to use a blog specific URL for your email. It's the difference between yourblogname@gmail.com and bjork@yourblogname.com. You want to be using the bjork@yourblogname.com address.
The best way to do this is to set up an account with Google's G Suite (previously called Google Apps).
We use G Suite for both Pinch of Yum and Food Blogger Pro. It allows us to create branded emails for all our team members (and ourselves) and have a central place to share calendars and documents.
This still applies to you if you don't have anyone on your team, as you still want that slick branded email.
G Suite starts at $5/month/user. If it's just you that means $5/month. If you add someone to your team that means $10/month.
Learn More @ Food Blogger Pro
Hopefully, you found some actionable items in this quick little list.
If you're wanting to dive deeper into building and growing your blog then be sure to check out Food Blogger Pro.
There's constant conversation happening on the community forum, and we're releasing new training courses every month. It's a happening place! We'd love to have you be a part of it.
As a reminder, enrollment closes out this Thursday at 10 PM CST.
See ya on the other side!
The post October Traffic and Income Report appeared first on Pinch of Yum.