This is the post where I make the big announcement:
I'm leaving my job as a teacher and I'm going to blog full time.
---
In my mind, this post was going to be a really nice reflection on my years as a teacher and a really boom-pow exciting segue into the next chapter of blogging. Yeehaw!
But as I'm sitting here, all I can really think is that I feel a little shaky and I have a nice big nervous knot in my stomach and what the heck am I doing.
There is joy and anticipation somewhere here, I know there is because I've felt it again and again and again over the last few months as this big life decision has settled into my brain. However, now as my fingers are finally moving across the keys to draft this post, I'm feeling a small, sharp heartbreak and tears are springing.
I know that this big change is just mine and you don't really need lots of mushy mush from my heart to yours, but I do. This is so, so, SO important to me and I feel this deep desire to be understood about why I've made this decision. If you care about those sorts of things… well then, I wrote this post for you and me.
 Why Are You Leaving a Job That You Love?
In this moment, looking at these sweet pictures that Bjork took of me in my classroom today, I feel like I don't really know why I would ever leave that. I love this job and I believe in it.
But in the moments when I did know (and they've happened many times over the past few years as I've felt more and more the pressure of the two jobs), my number one reason is that I need to work less and live more.
I don't mean work less like sit around and play on my phone, although it's no secret that Instagram can suck me in for hours. ALL THE FILTERS. No, I mean like regain some sense of balance in life and be done with working 15 hour days, 7 days a week. There are so many things I love and want to invest time into, but my constant over-working-ness over these last few years has kept me from really going deep with any of them, plus it has kept me feeling edgy and frazzled and rarely at peace. And I don't want to live like that.
I don't expect to leave teaching and *poof* have all this magic free time, but my hope and expectation is that Saturdays and Sundays will become actual rest days, that I can have an occasional quiet moment in the morning, and that can find time to eat dinner before 9pm.
This decision has ZERO to do with not loving my job, my students, our community, the families, and my coworkers – this place has always been my dream school. The decision has everything to do with a much-needed personal time and energy shift.
What Are You Going To Do?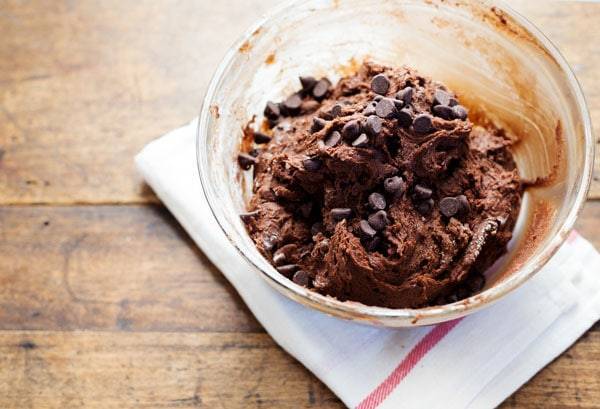 I've literally had these conversations with people:
So what are you doing next year? I'm going to work on my blog full time. Oh, that's so great! So what are you going to do?
And so instead of telling them that they just asked the same question twice, I just show them the cookie dough picture. Like, duh.
Blogging is such a mystery "career" that people don't really understand what the day-to-day tasks really look like.  So here's what I anticipate I'll be filling my days with, starting on June 12th when school is all done:
Part One: Blog
making new recipes
taking photos like whoa (more than three seconds for a photo! joy!)
writing posts
social media management
comments and email –> the two things that are perpetually on my to-do list, which is such a gift because I LUV connecting with you!
Part Two: New Projects
creating new products
learning more about photography
print cookbook? mixed feelings, but there are conversations happening.
speaking at conferences – a few things lined up already! wheee.
teaching and attending workshops – another few things lined up already! wheee-hoo.
dabbling in podcast things
meeting other bloggers – f-i-n-a-l-l-y something I'll be able to do more easily
experimenting with recipe videos
Aaaand I'm going to go ahead and cut myself off there because I could go on forever. Bottom line – there is no shortage of work! The best news of this whole thing is that I'm so pumped to start workin on this stuffs!
What Are You Most Excited About?
This opportunity is so incredible. Once in a lifetime rare and incredible. I am most excited that both Bjork and I will now have the time freedom and location independence to set our own schedules and work from anywhere.
For example, this summer we'll go with my family to the cabin for two weeks. Normally we have to come back after a few days for our "real jobs", but this time we can stay up there for the full two weeks and occasionally check in on the blog or get things done as needed. Or for another example, we can go back to the Philippines for an extended visit in the middle of February and not have to try to schedule that around when I have days off from school. Or for example, I can start my day a little earlier and end a little later so that I can have a long lunch date with my mom.
This is pure gold to me. Pure. Gold.
What Are You Most Sad To Leave?
No question about it: my students.
I'm not going to say too much about this or I'll ugly cry, and in a little while I'm going to a friend's house to watch the premiere of the Bachelorette and I can't have that puffy eye thing going on for that.
But seriously. These 9 and 10 year olds are the light of my life. They also haunt my nightmares from time to time, especially early on in the school year. There have been moments where I looked at the clock and prayed to God that I would physically and emotionally survive the next hour and fifty minutes as students were… well, you don't even want to know what they were doing. But when we're at that beautiful point in the school year when everyone feels comfortable with each other and mutual trust and respect are so well-established, things feel good. We just go well together. And I don't want to leave them.
They'll be fine. I'm not worried about them. There are so many good teachers in this world who care deeply about their students, especially at my school. This is about me, really. Selfishly, I just don't want to give up those relationships. We go through a lot together, us teachers and students, and my heart is sad to leave that.
What About Bjork?
Bjork has been working at a "real job" doing tech work for a nonprofit 2 days/week this year, but starting in June he will join me in going full time with the blog. He'll still be doing some work here and there for the nonprofit that he's working for now, but most of his days will be spent with me working on Pinch of Yum and Food Blogger Pro and other similar ventures from right here in our home.
Um, yeah. THAT.
Now taking advice.
Onwards and Upwards
Yesterday I noticed one of my students carefully reading something inside the front cover of one of the books in my classroom library. I came closer and saw this message that would have otherwise been stuffed somewhere deep in my library and forgotten:
My heart twisted and pinched. Change is hard.
But in life, we move onwards and upwards. I reminded myself that teachers take many shapes and forms other than the ones found in elementary school classrooms, and it is my hope that I am just moving from one teacher role to my next teacher role whatever form that might be.
As I think I've made plenty clear through all my textamaniac blubbering, there is no shortage of raw sadness as I prepare to step away from what has always been a defining part of my identity. But the decision has been made, and, for this season of our lives, it is the right one.
Right there with the sadness is a complete exhilaration to get to continue to build on something I love with 110% effort. And PS. what is even going on. I started Pinch of Yum during my first year of teaching, on a whim one night while sitting around wearing sweats and a hoodie firmly planted on a hand-me-down couch. And now it's my real job.
Life is a ride.
It's coming to a close, but I'm so grateful for the experiences I've had through this chapter.
Happy, happy heart.
---
If you want to read part one of the story from last year, when I was in a different place and I made the decision to continue teaching, you can find that here.
Also exciting: Jess and I have a little talky talk about the decision to go full time + our experiences in the Philippines + more on The Lively Show podcast today! Jess does SUCH a great job with this inspiring podcast and it was an honor to be a part of it!
You guys? Thank you for listening to my story. I mean it. Like, big time. Thank you.
The post On Full Time Blogging: The End of a Chapter appeared first on Pinch of Yum.