Summertime Fried Chicken Sandwiches with Tangy Slaw
SUPER YUMMY fried chicken sandwiches loaded with Swiss cheese, bacon, pickles, slaw, and honey dijonnaise.
chicken breasts, brioche buns, Swiss cheese, shredded cabbage, pickles, mayonnaise, bacon
The Ultimate Wild Rice Burgers
These are THE ULTIMATE wild rice burgers – perfect vegetarian burger option any time of year!
wild rice, mushrooms, panko breadcrumbs, mayonnaise, cumin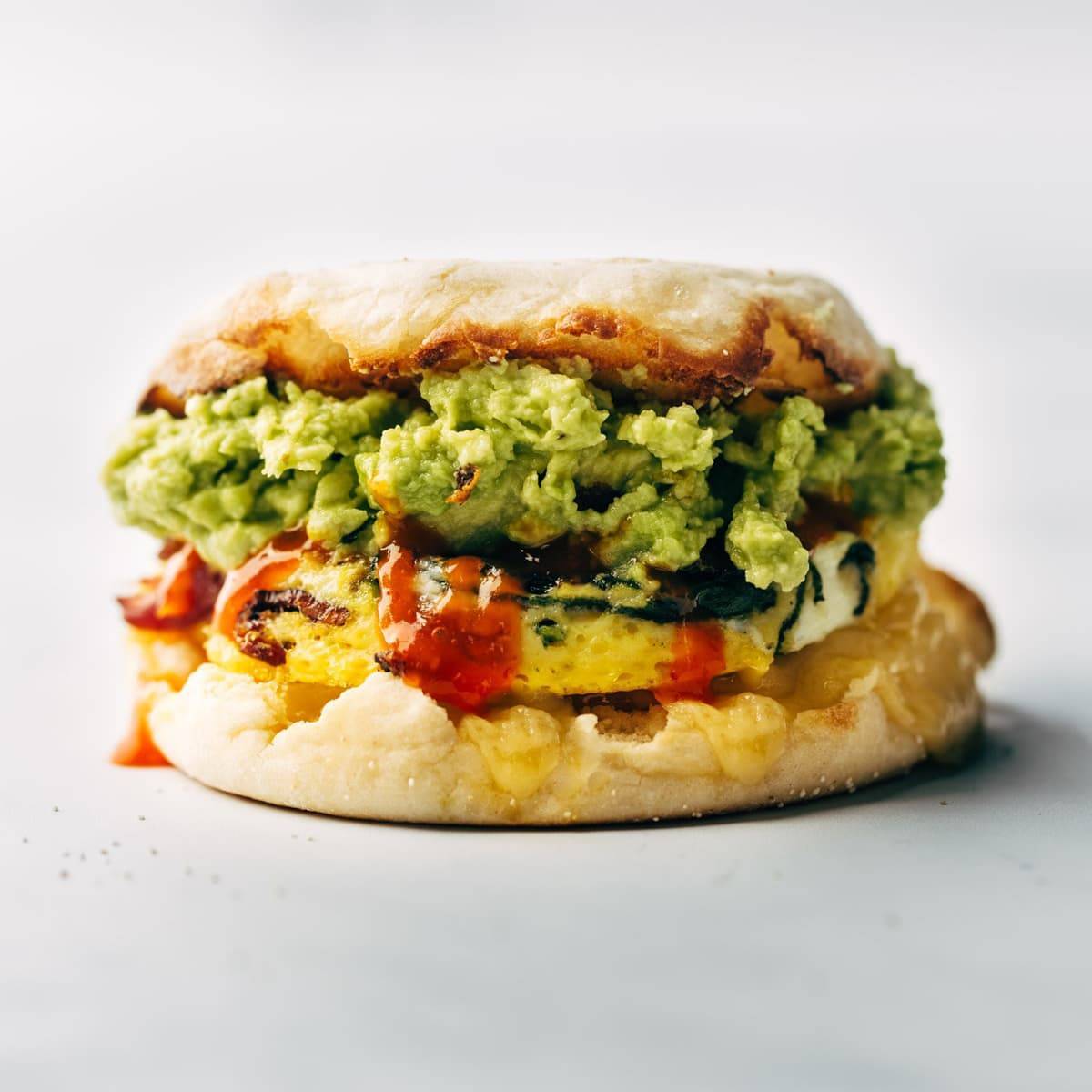 Meal Prep Breakfast Sandwiches
Breakfast Sandwiches – meal prep style! Bake up your eggs on a sheet pan with bacon and spinach, tuck them into english muffin with some cheese, and stash them in the freezer for the week.
eggs, English muffins, spinach, bacon
Spicy Falafel and Roasted Veggie Naan-Wich
Five ingredient falafel, roasted veggies, and avocado sauce stuffed between pillowy garlic naan.
falafel, carrots, cauliflower, sun dried tomatoes, garlic naan, cumin
Everything Greek Pork Pitas
Peppery pork with tzatziki, parsley, sun-dried tomato, feta, and lemon juice. Works in the Instant Pot!
pork shoulder, garlic, onion, pita bread, tzatziki, lettuce, tomatoes
Vegan Crunchwrap Supreme
This vegan crunchwrap is INSANE! You can stuff this bad boy with whatever you like – I made it with sofritas tofu and cashew queso. SO GOOD! Favorite vegan recipe to date.
tofu, chipotle peppers, roasted vegetables, avocado, black beans, tortillas
Spicy Cauliflower Burgers
Spicy Cauliflower Burgers with avocado sauce, cilantro lime slaw, and chipotle mayo! Meatless, filling, and delicious!
cauliflower, quinoa, Pepperjack cheese, chipotle mayo, red cabbage, buns
Instant Pot Italian Beef Sandwiches
Tender shredded beef, crusty buttered bread, melted provolone, salty tangy giardiniera, and some broth to dunk it all in. Just a few minutes to prep and totally hands-off to make!
beef chuck roast, dried basil, dried oregano, beef broth, giardiniera, hoagie rolls
Juicy Lucy
A delicious hamburger stuffed with molten, bubbly, waterfalling cheese, all piled on a buttery toasted bun with all the fixings. The BEST.
ground beef, American cheese, brioche buns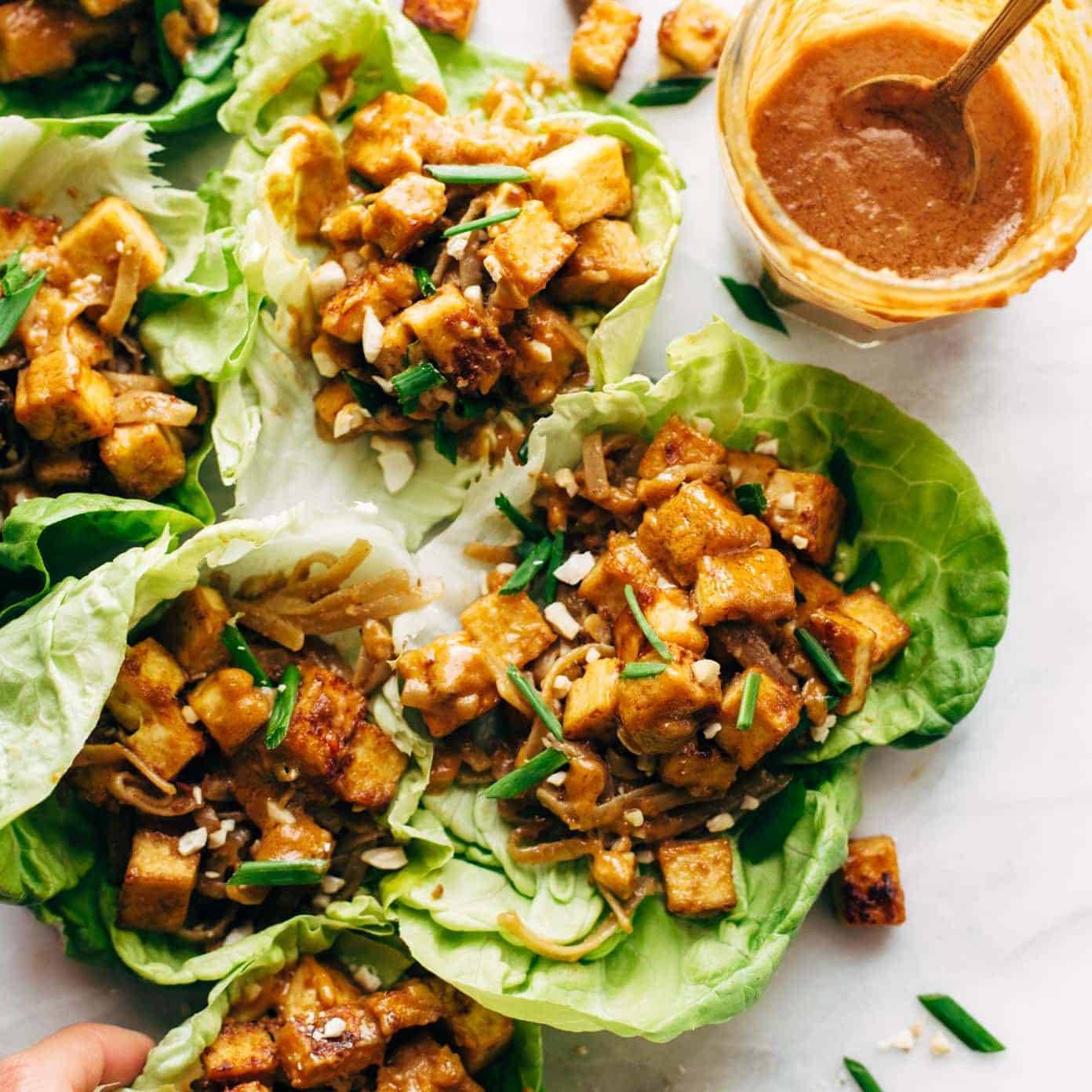 Firecracker Vegan Lettuce Wraps
HELLO YUM. Firecracker Lettuce Wraps that are happily vegan – with crispy tofu bits, saucy brown rice noodles, and a creamy sesame sauce.
lettuce leaves, tofu, brown rice noodles, peanut butter, chili paste, ginger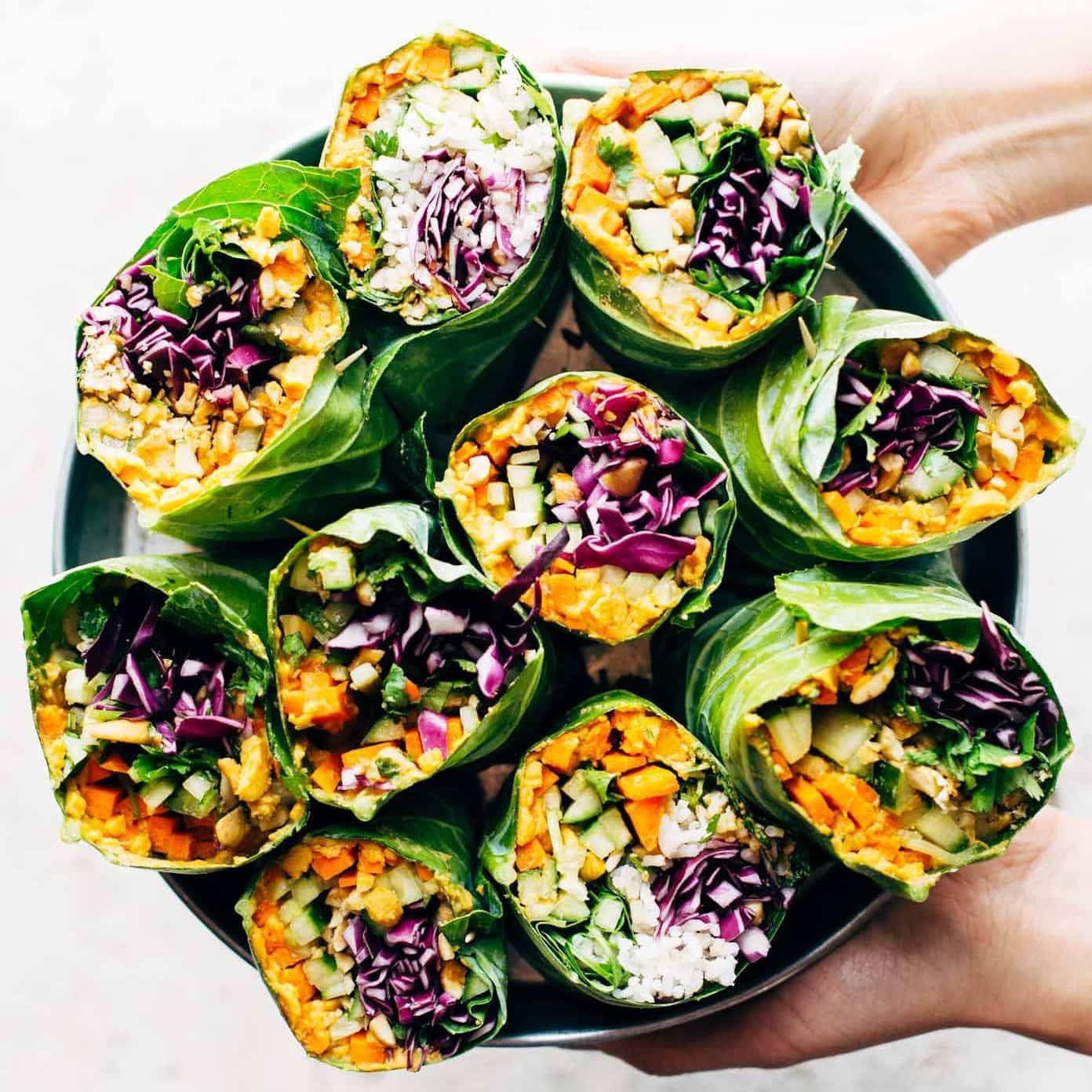 Detox Rainbow Roll-Ups with Peanut Sauce
Detox Rainbow Roll-Ups – with curry hummus and veggies in a collard leaf, dunked in peanut sauce! Most beautiful healthy desk lunch.
carrots, cucumbers, red cabbage, curry hummus, collard greens, peanut butter, soy sauce
Loaded Caprese Grilled Cheese
This Caprese Grilled Cheese is loaded with basil pesto, a thick and chunky garlic butter tomato sauce, and fresh mozzarella cheese, all on grilled sourdough bread. The perfect taste of summer.
mozzarella cheese, sourdough bread, butter, pesto, tomatoes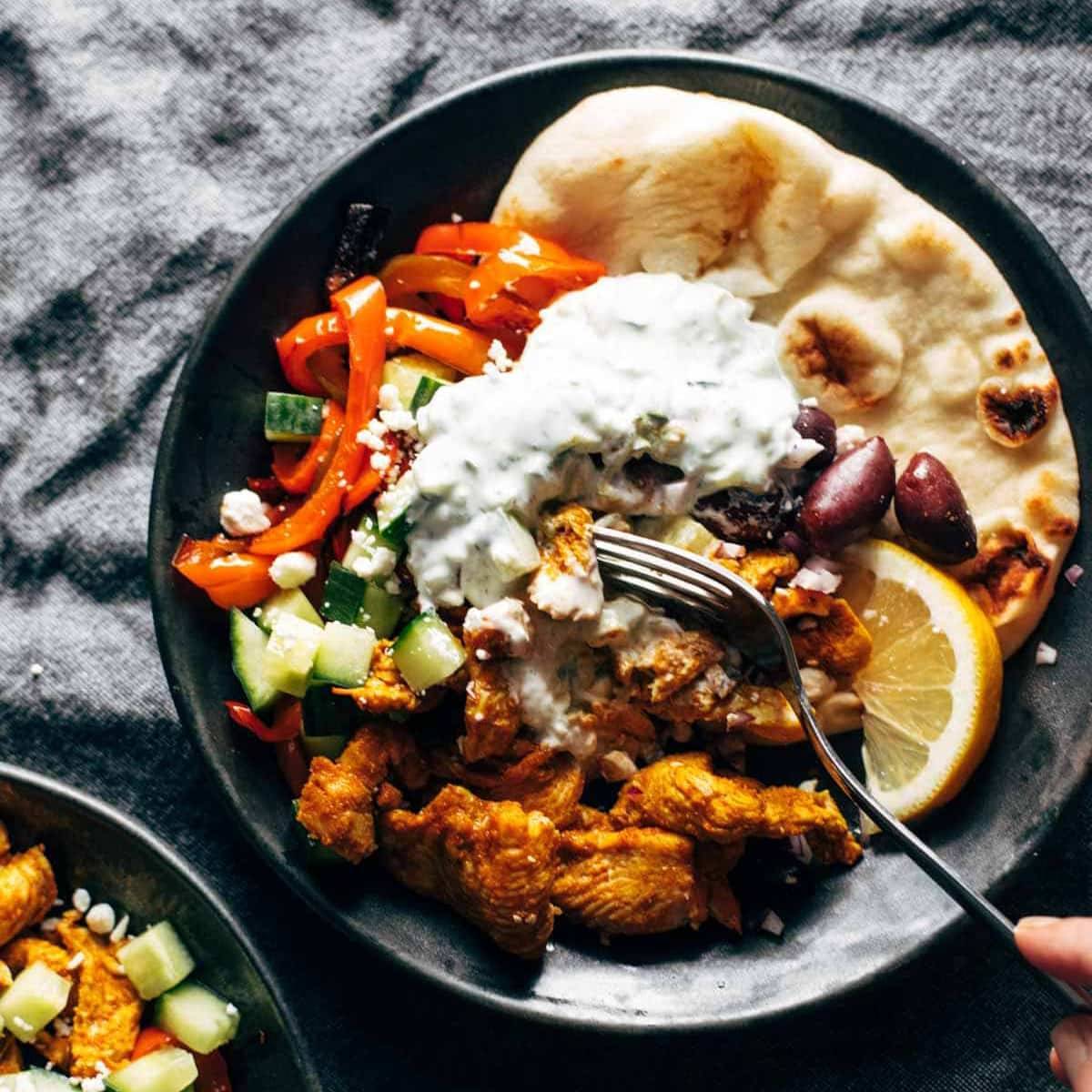 Sheet Pan Chicken Pitas with Tzatziki
Sheet Pan Chicken Pitas that are salty-briney-crunchy in all the right ways! Marinated chicken, roasted peppers, fresh cucumber, kalamata olives, feta cheese, and an easy homemade tzatziki.
chicken breasts, bell peppers, cucumbers, red onions, kalamata olives, feta cheese, Greek yogurt, flatbread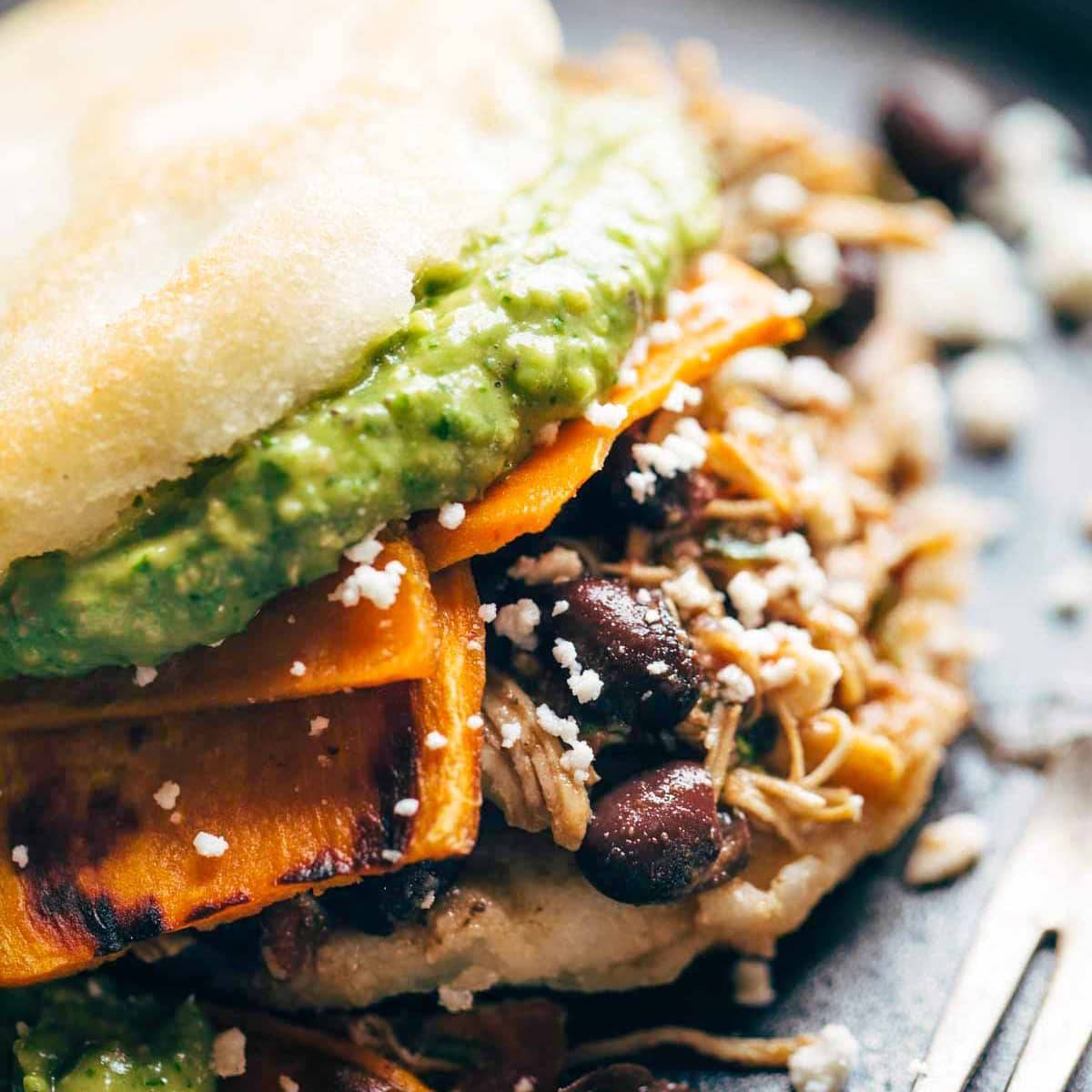 Arepas with Carnitas and Sweet Potato
Fried cornmeal pockets stuffed with all the fillings you could ever want, like carnitas, spicy chicken, sweet potatoes, black beans, sauces, and more. THESE ARE SO GOOD!
cornmeal, carnitas, black beans, sweet potatoes, Cotija cheese, red onions
One More Thing!
Looking for even more sammie ideas? Check out a list of all of our sandwich recipes!
The post Our 14 Best Sandwiches, Burgers, and Wraps appeared first on Pinch of Yum.