Our 16 Best Healthy-ish Recipes
Homemade Cauliflower Gnocchi
Three-Ingredient Homemade Cauliflower Gnocchi that is pillowy, crispy, and pairs perfectly with just about any sauce you've got. Easy, healthy-ish, and seriously delicious!
cauliflower florets, flour, salt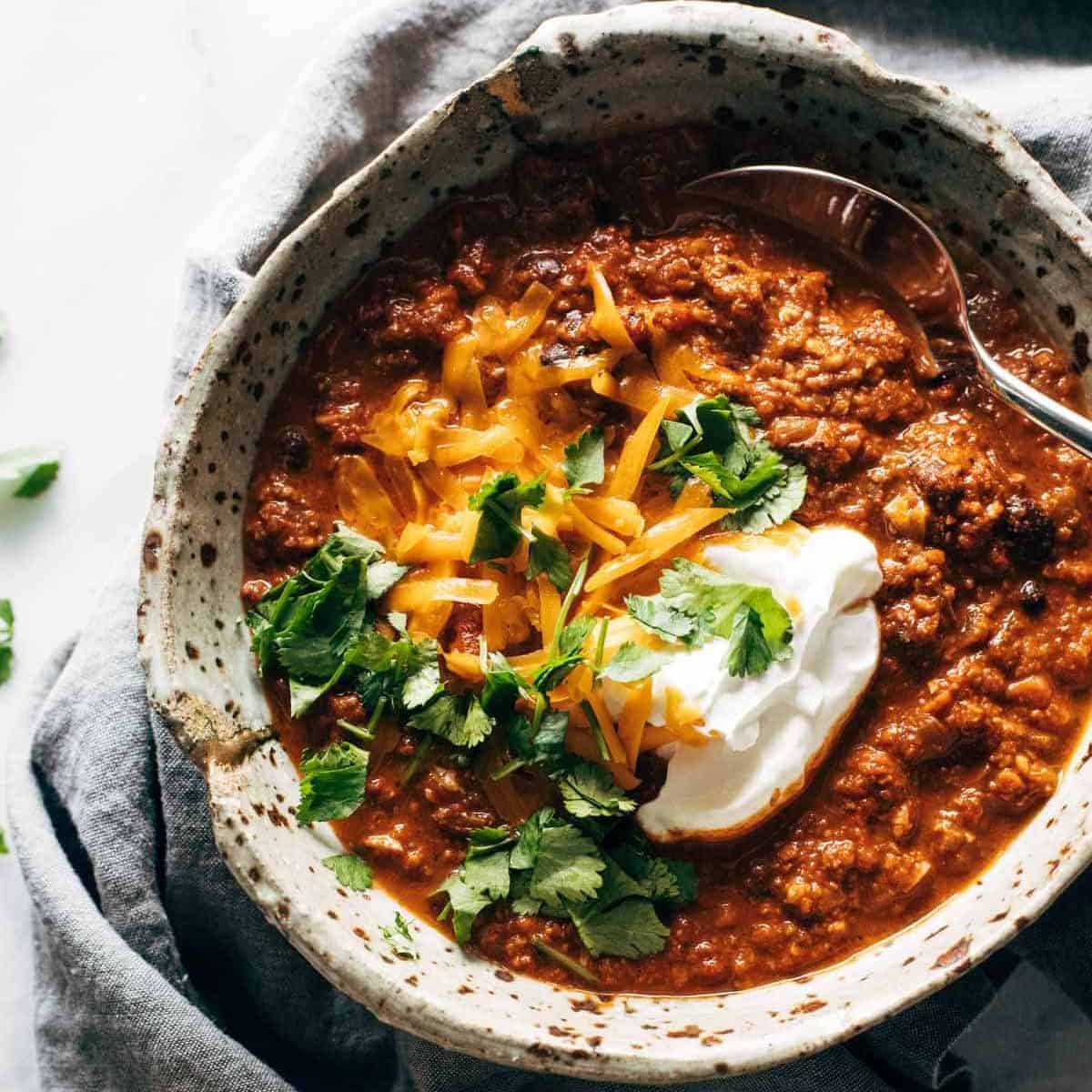 Vegetarian Chili
Vegetarian Chili that's "meaty" and satisfying – without the meat! A hearty mixture of walnuts, mushrooms, and carrots as your base, with big flavors of onion, garlic, green chiles and spices. SO GOOD.
walnuts, mushrooms, carrots, diced tomatoes, smoked paprika, garlic, chili powder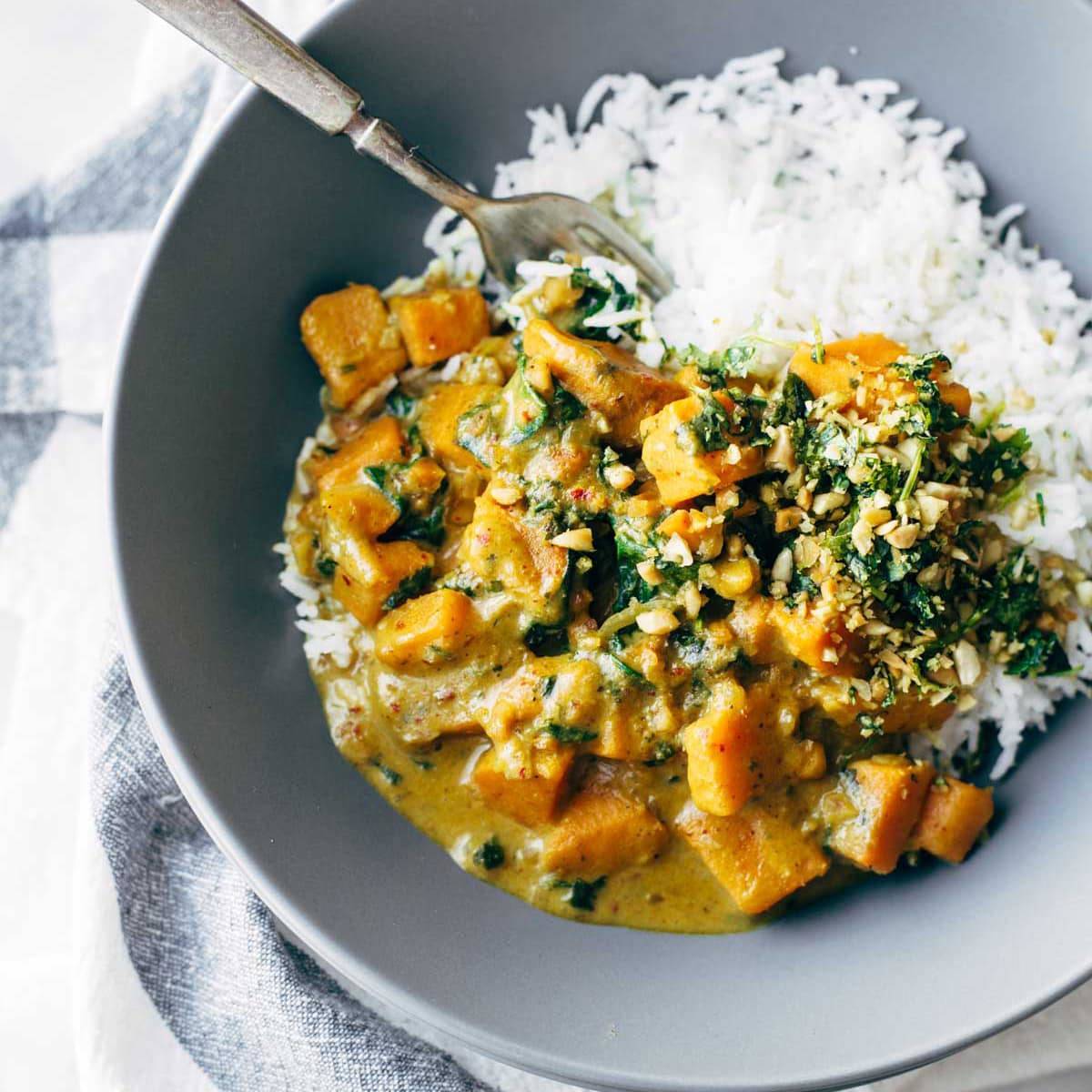 Creamy Thai Sweet Potato Curry
Creamy Thai Sweet Potato Curry – packed with nutrition! Our favorite easy, healthy, winter comfort food recipe.
sweet potatoes, spinach, curry paste, coconut milk, peanuts, cilantro
Easy Veggie Enchiladas
Saucy, cheesy, filling, cozy, and packed with any roasted veggies you want. Super versatile and easy to make!
broccoli, sweet potatoes, red bell pepper, black beans, corn tortillas, enchilada sauce
Farmers' Market Pasta with Walnut Pesto
Vegan, summer veggie-loaded pasta with roasted garlic, olive oil, lemon juice, and a big dollop of herby walnut pesto. THE BEST.
pasta, seasonal veggies, walnuts, basil, lemon, garlic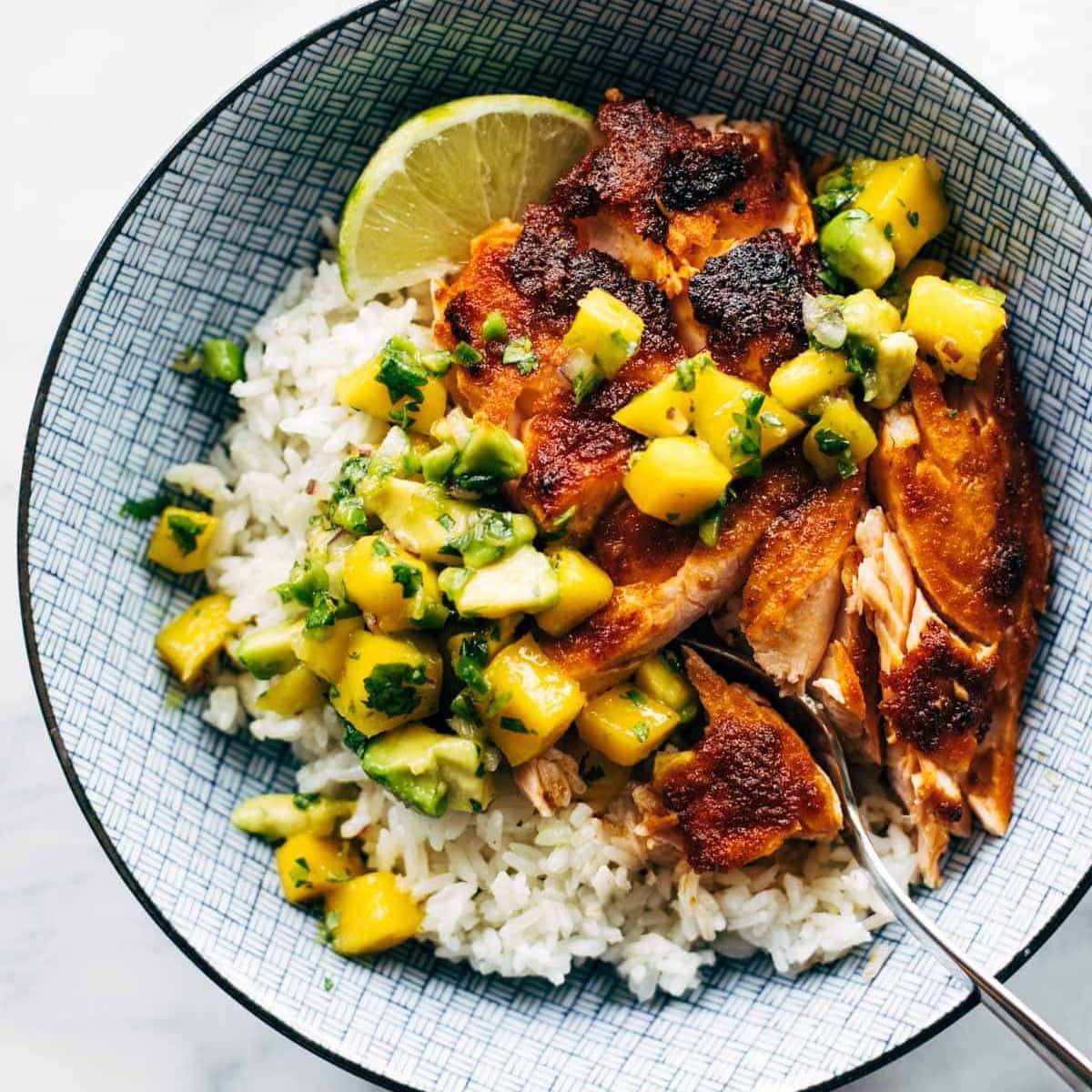 BBQ Salmon Bowls with Mango Avocado Salsa
BBQ Salmon Bowls with Mango Avocado Salsa! An easy and impressive dinner with yummy smoky-sweet flavor and a zip of zesty homemade salsa to take it over the top. The BEST weeknight dinner.
salmon, brown sugar, smoked paprika, mangoes, avocado, jalapeño, lime
5 Ingredient Spicy Pork
A fancy-feeling dinner recipe that actually comes together in snap. Serve it in bowls, stir-fry it with some veggies, or add it to burritos!
pork tenderloin, soy sauce, hot chili paste, ginger, brown sugar
Simple Mushroom Penne with Walnut Pesto
AMAZING mushroom penne made with easy ingredients like Parmesan cheese, whole wheat penne, mushrooms, garlic, and butter. 
penne pasta, butter, mushrooms, Parmesan cheese, basil
15-Minute Egg Roll In a Bowl
Ground pork browned with garlic and ginger, sautéed carrots and cabbage cooked down in some soy sauce and chili paste, a nice little heap of hot rice.
ground pork, shredded cabbage, carrots, ginger, Chinese five-spice
Instant Pot Coconut Tandoori-Inspired Chicken
Coconut Tandoori-Inspired Chicken made with rich spices and creamy coconut milk. EXTREMELY EASY and so, so yummy.
chicken thighs, spices, honey, coconut milk
Roasted Cauliflower Burrito Bowls
Nothing fancy to see here – just a healthy, delicious, vegan burrito bowl combo featuring spicy roasted cauliflower, pico de gallo, creamy refried black beans, rice, corn, avocado, and a good lime drench.
cauliflower, black beans, tomatoes, corn, onion, avocado, cilantro
Cookie Dough Energy Bites
These nutritious little energy bites taste a whole lot like cookie dough! This recipe was adapted from the Minimalist Kitchen cookbook.
oats, peanut butter, chia seeds, honey, vanilla, chocolate chips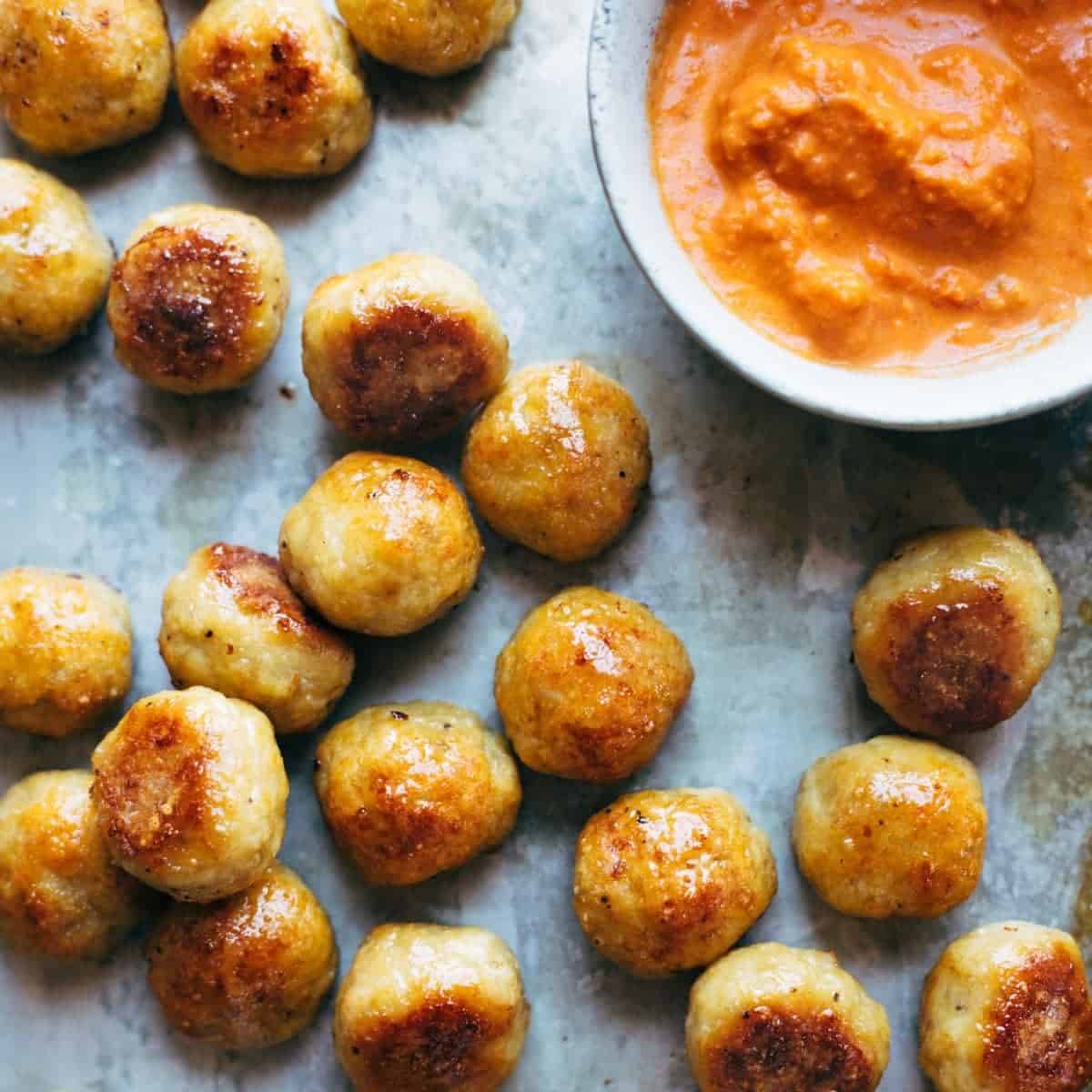 Best Anytime Baked Chicken Meatballs
These Baked Chicken Meatballs are the BEST! The perfect addition to any meal or to eat right on their own. Bonus: they're meal-prep friendly to stock up throughout the week!
ground chicken, breadcrumbs, Parmesan cheese, garlic powder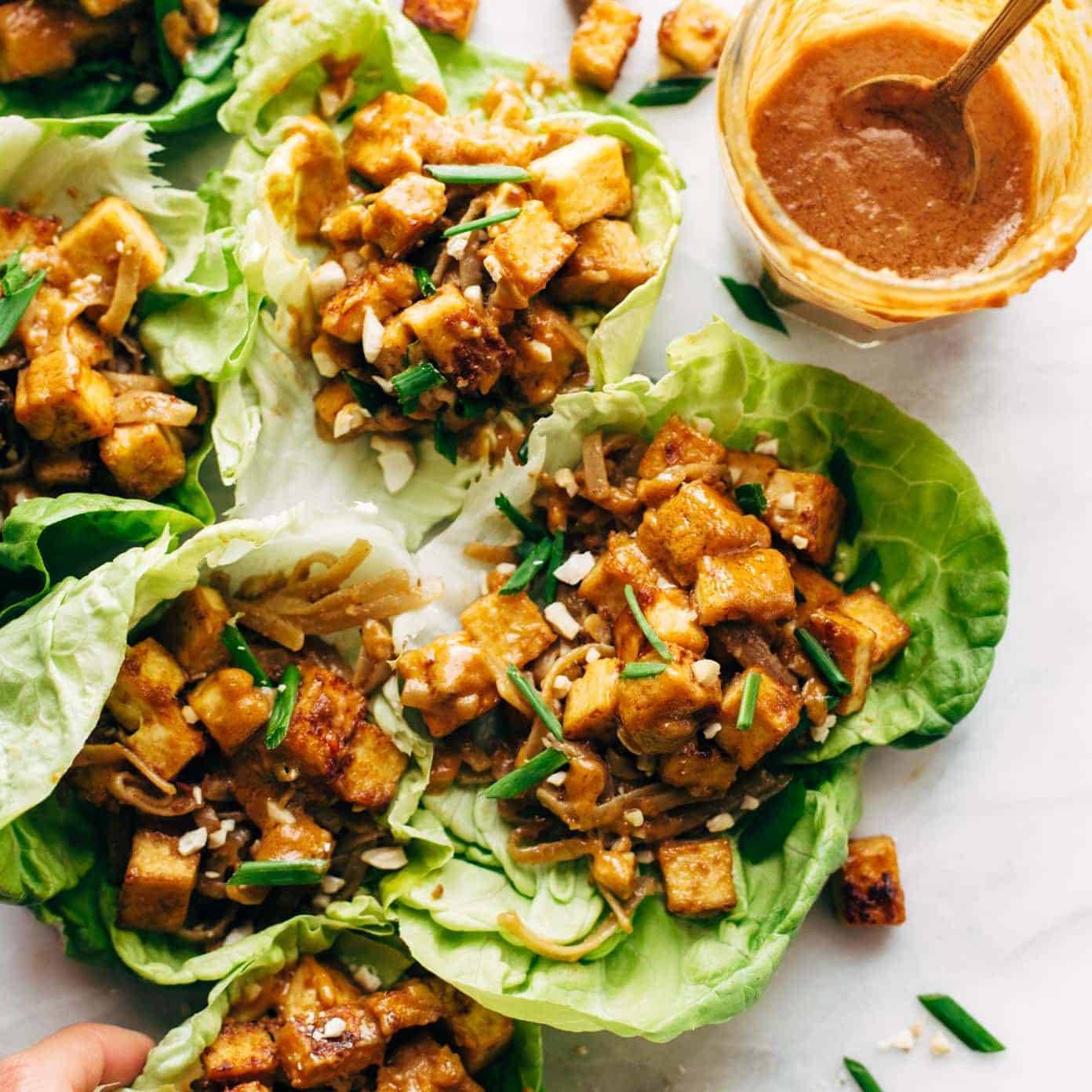 Firecracker Vegan Lettuce Wraps
HELLO YUM. Firecracker Lettuce Wraps that are happily vegan – with crispy tofu bits, saucy brown rice noodles, and a creamy sesame sauce.
lettuce leaves, tofu, brown rice noodles, peanut butter, chili paste, ginger
Red Pepper Cashew Pasta with Roasted Cauliflower
Red Pepper Cashew Pasta with Roasted Cauliflower. ♡ TOO GOOD TO EVEN BE TRUE. This sauce is a three-ingredient game-changer!
cauliflower, cashews, roasted red peppers, whole wheat pasta
Back Pocket Stir Fry with Noodles
Back Pocket Stir Fry with Noodles – simplicity wins. Brown rice noodles with tofu and all kinds of colorful veggies for a quick and easy dinner!
brown rice noodles, tofu, veggies, chili paste, garlic
One More Thing!
Looking for even more wholesome yum? Check out a list of all of our healthy recipes!
The post Our 16 Best Healthy-ish Recipes appeared first on Pinch of Yum.