Our Complete List of Holiday Series Recipes
Everybody's Favorite Corn Casserole
Bursty bites of cream-style corn and sweet corn plus garlic, bacon, and cheese throughout – so you know it's really, really good!
corn, cream-style corn, bacon, sour cream, cheddar cheese, cornmeal
Chicken Pot Pie with Biscuits
Sautéed shallots and thyme, a splash of white wine, creamy chicken, peas, and carrots all baked under a homemade biscuit topping.
chicken, carrots, celery, onion, butter, peas, thyme
Green Bean Casserole
A Thanksgiving classic! Fresh blanched beans in a silky, rich sauce speckled with gruyere and shallots – plus crispy onions on top to boot!
green beans, butter, shallot, gruyere cheese, soy sauce, fried onions
Pumpkin Shortcakes with Cinnamon Apples and Maple Whipped Cream Cheese
Warm and gooey cinnamon brown sugar apples piled between fluffy pumpkin biscuits that YOU made. Pile on the creamy twists of whipped maple cream cheese and yes, this is exactly the over-the-top brunch/dessert/snack you need.
pumpkin, heavy cream, apples, cinnamon, cream cheese, pumpkin pie spice, butter, maple syrup
Caramelized Onion Dip
A total crowd pleaser! Serve with chips, pita or bagel crisps, or on sandwiches and burgers. YUM.
onions, butter, white wine, sour cream, Worcestershire sauce
The Very Best Chocolate Cookies
Thick, soft-centered, and crispy-edged. All your basic cookie ingredients here plus dark cocoa powder and ground cardamom to make things extra festive!
dark cocoa powder, butter, eggs, vanilla extract, sugar, cardamom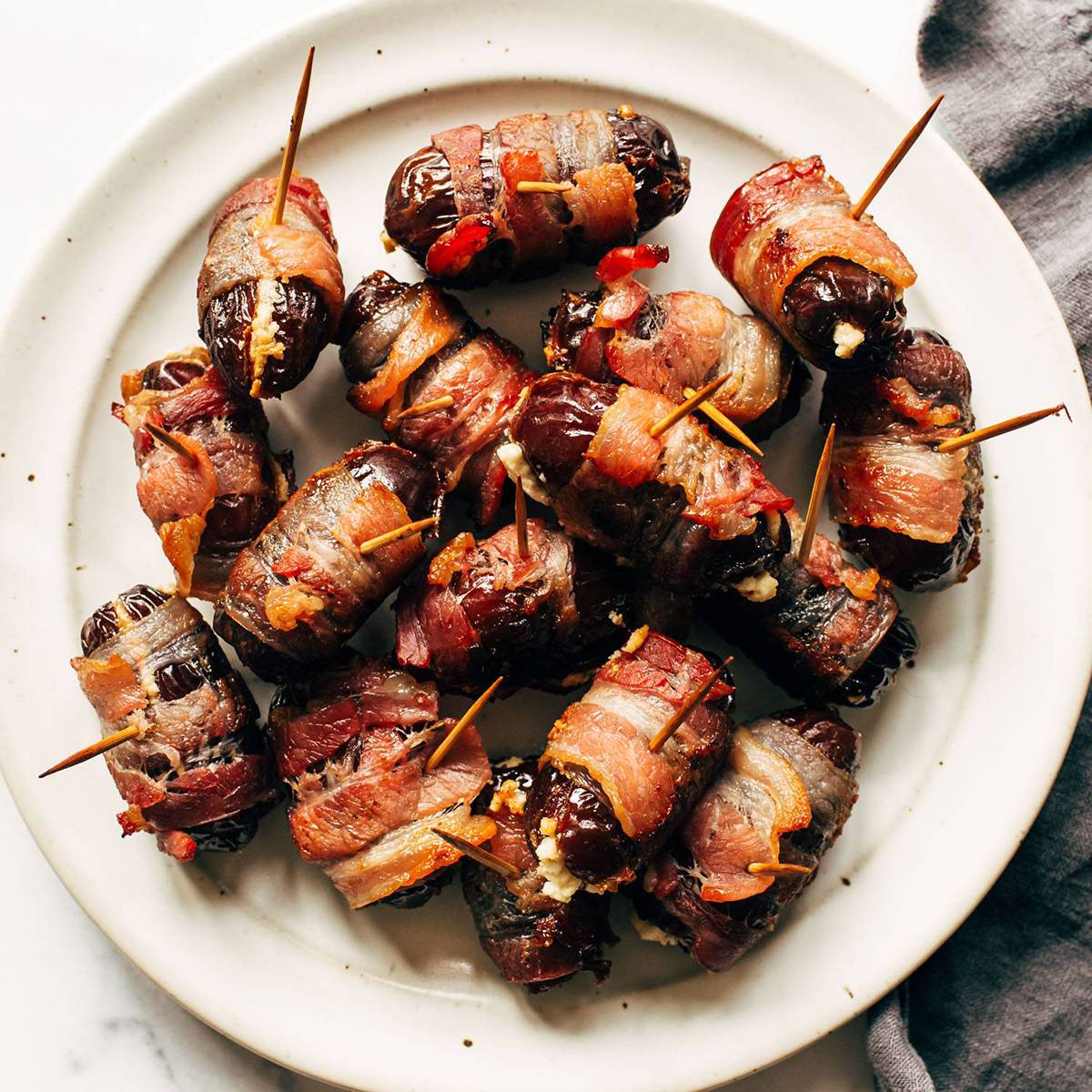 Bacon-Wrapped Dates with Goat Cheese
A simple 3-ingredient appetizer that will blow you away! Enjoy with a crowd of friends!
Bacon, dates, goat cheese
Cinnamon Rolls
Made with pillowy brioche dough and cinnamon sugar tucked into every nook and cranny. This makes a BIG batch of dough that you can divide and save for later…or make extra all for yourself!
flour, butter, sugar, brown sugar, vanilla extract, cream cheese, powdered sugar
The Best Swedish Meatballs
Meatballs that are perfectly tender and spiced, served with creamy, savory, tangy gravy. Comfort food at its best!
ground beef, ground pork, garlic, white bread, heavy cream, Worcestershire sauce, brown sugar, nutmeg
Soft Gingerbread Cookies with Maple Glaze
Soft, pillowy gingerbread with sunken centers and slightly crisped edges, plus little nooks and crannies packed with ginger spice and molasses. These are SO GOOD!
flour, sugar, ginger, molasses, maple syrup, confectioners' sugar
Roasted Carrots with Honey and Garlic Yogurt Sauce
These beauties need to be on your table! Deeply roasted rainbow carrots, swizzles of tangy garlicky yogurt sauce, a golden drizzle of honey, and festive pistachio crunches on top.
rainbow carrots, Greek yogurt, pistachios, honey, spices
The Merry Mocktail
Everyone needs a good fancy fun mocktail in their life – especially during the holidays. Herby, zingy rosemary-infused simple syrup, sweet tart pomegranate juice, bubbly fizz, and fresh lime squeezes. Holiday magic!
rosemary simple syrup, pomegranate juice, club soda, lime juice
Christmas Feta
Smooth and creamy whipped feta topped with orange zest, pomegranate seeds, candied nuts, and fresh thyme. It's basically a delicious ornament in a bowl!
feta cheese, cream cheese, honey, pomegranate seeds, candied nuts, fresh thyme, orange zest
The post Our Complete List of Holiday Series Recipes appeared first on Pinch of Yum.