Our Favorite Vegetarian Bloggers and Books From Veggie-Loving Cooks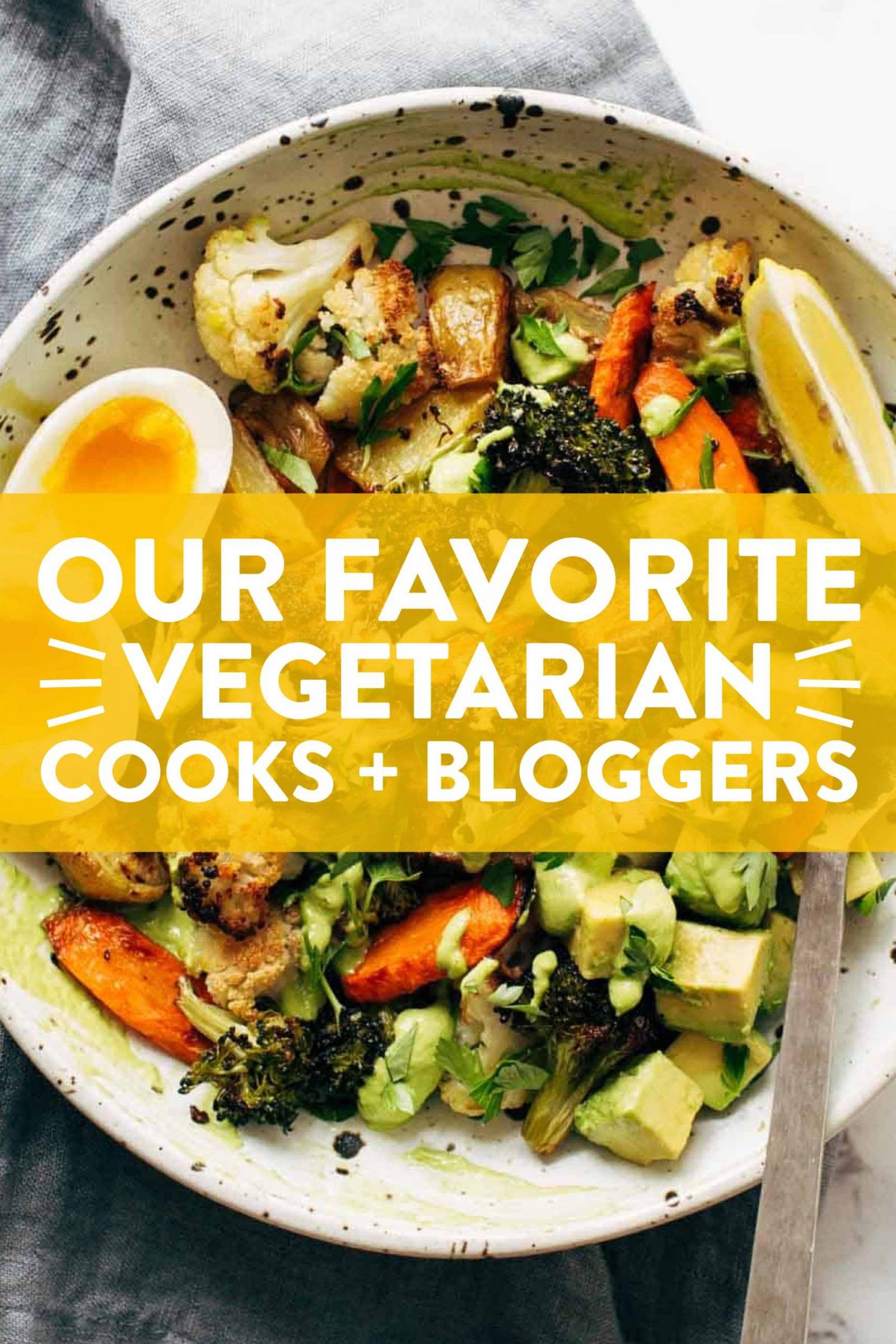 We love sharing vegetarian deliciousness, but there's even more plant-powered yum all around the internet from some of our favorite friends, new and old.
And not just the internet, but COOKBOOKS. Remember cookbooks? There's truly nothing more refreshing than cooking from a physical book instead of your phone.
If you don't know where to start, we've got you covered with some of our favorite bloggers (plus their cookbooks!) and their veggie-packed meals we love.
Just a quick heads up: some of the links below are affiliate links, which means that if you purchase through them, we'll receive a small percentage of the sale.
Our Favorite Plant-Loving Bloggers To Follow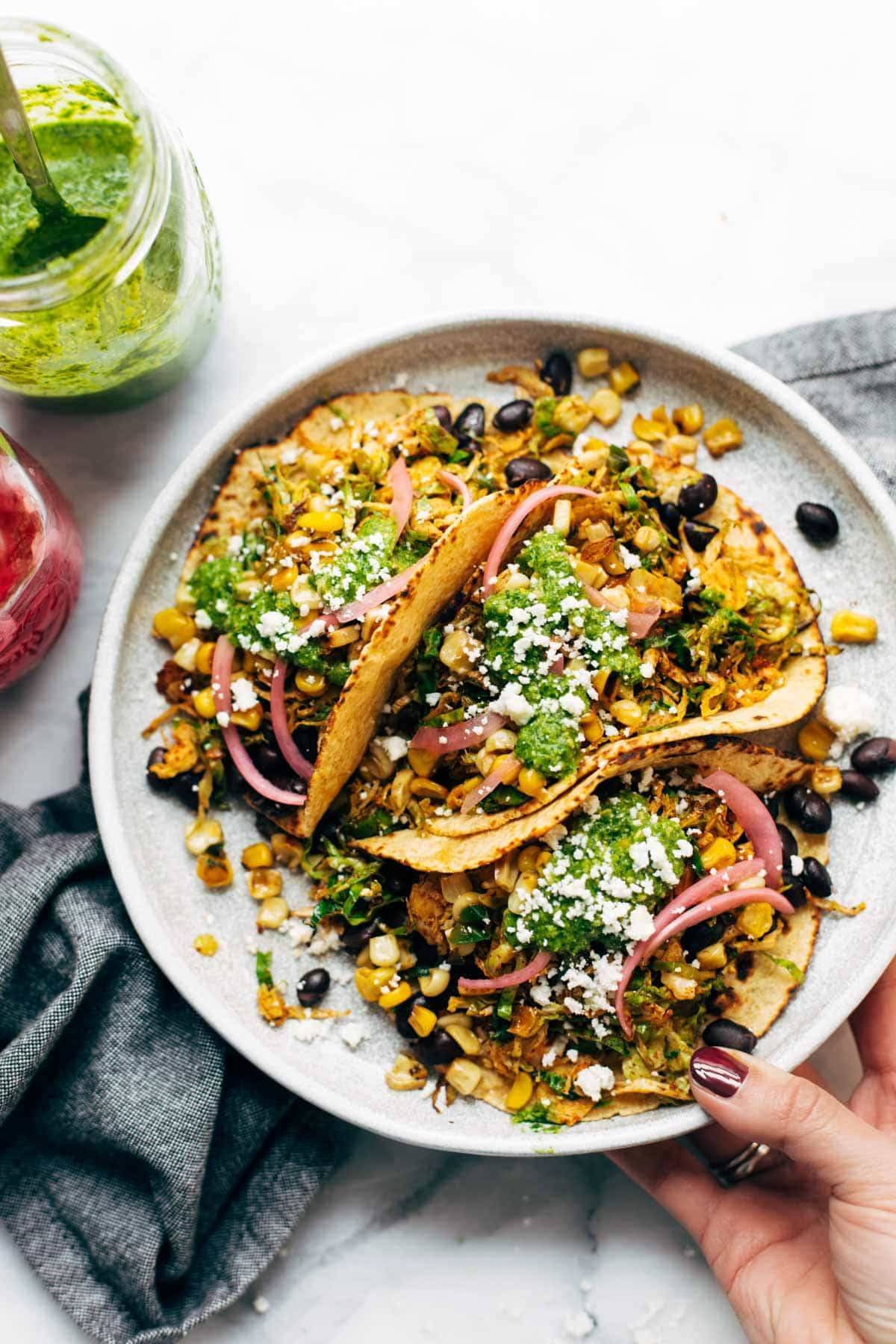 Jenné is a plant-based blogger, author, and creator of the best sweet potato tacos around.
We love Jeanine's easy black bean burgers on repeat all summer long. We repeat. ALL SUMMER LONG.
Laura is a whiz at using seasonal vegetables in a fun, fresh, and approachable way.
We can't help but have fun in the kitchen when we're making Gaz's recipes – just so, so playful and creative.
Is it okay to eat Ania's vegan peanut butter brownies for breakfast? Asking for ourselves, not a friend.
Oh my oh my oh my! Anguel and Bri are just everything the world needs when it comes to really good, everyday vegetarian eating.
Here us out. Jessica's vegan cream cheese frosting…on seriously anything. SO GOOD.
We don't know what we're swooning over more – Kate's Thai red curry with vegetables or all the pictures of her pup, Cookie.
Our Favorite Vegetarian and Vegan Cookbooks To Always Have On Hand
So many bright, zippy, fun flavors from Chef Chloe – even our Brussels Sprouts Tacos (pictured above) were inspired by this cookbook.
Meera makes eating modern Indian meals just so, so vibrant and flavorful. One of our favorites!
Isa's fresh, easy-to-prepare meals make us feel fancy with such unfussy recipes. Our type of eating!
Rachel is a pro at showing how to put together simple, plant-based yum inspired by her Caribbean and West African roots. So, so delicious!
Yotam and Ixta level up your average vegetarian meal to be a WOWEE I NEED type of situation and we're here for it.
We wayyy underestimated the power of the magical bean until Joe's book came into our lives. Hi hello, paella made with chickpeas.
Deliciously Ella Quick & Easy: Plant-based Deliciousness
Ella is a queen at bringing together big, healthy flavors without all the time in the kitchen. Looking at you, jackfruit curry!
Nadira reminds us that sometimes eating plant-based looks like enjoying Cajun Corn Chowder and sometimes it means diving into Peaches and Cream French Toast. YES YES YES!
---
Three cheers for feel-good food!
The post Our Favorite Vegetarian Bloggers and Books From Veggie-Loving Cooks appeared first on Pinch of Yum.