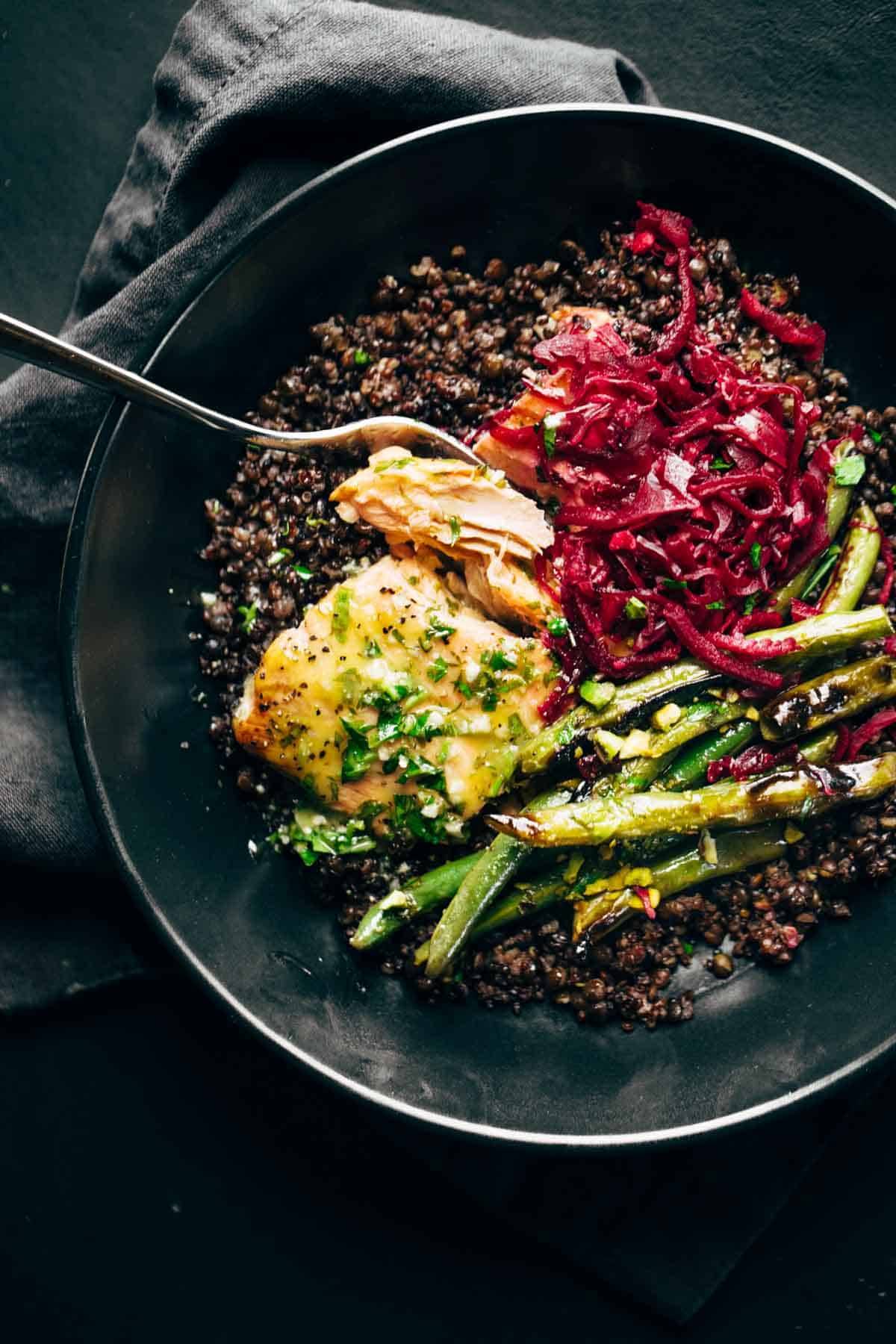 Guys! It's perfect baked salmon!
with black lentils because they're adorably little and richly colored and delicious, and then lemon herb sauce because it's spring and I can't stop with the lemon herb everything. gahhhh I love this meal!
You know when you're sitting down at night to read a book that you've REALLY been wanting to read, like, it's been on your book list for forever and a day, and you settle in for some good reading at 10pm and you fall asleep before getting to the end of the page?
That is my reading life. Especially when it comes to nonfiction, memoirs, self help, and that whole boring crew. Not to brag or anything but my binge reading game is actually pretty strong  – think Hunger Games, Gone Girl, and other mind candy books. However, for those non-fiction books on my want-to-be-a-smart-person reading list? Let's just say the average finish time for these books should be recorded in years. YEARS. Like if this thing happens before 2020, I'm doing alright.
Enter my latest obsession not related to food but I do have a connection here –> audio books. You guys. I'm listening to those want-to-be-a-smart-person books on my way to the studio every day. 20 minutes there and 20 minutes home is 40 minutes which means I have basically become a READING MACHINE. I can get through a book in about a week. WHAT! This is amazing.
Currently reading: The Body Book by Cameron Diaz.
I'm not even exaggerating when I say that the inspiration for this super simple, super healthy, perfect baked salmon one-pot meal was literally just listening to Cameron Diaz talk to me about the health benefits of lentils on my way to work.
I parked the car at the grocery store, walked up into Whole Foods (God bless Whole Foods – I'm a new-ish grocery shopper there now that we're located close to one and it is absolutely everything I stereotyped it to be and more), and bee-lined for the salmon and lentils.
All that to say – this delicious meal brought to you by an AUDIO BOOK! Also I'm 75 at heart.
Perfect baked salmon + lentils + quinoa all cooked together in one big pan? This recipe is a little outside my normal food brain space, but, besides a few takeout sushi runs (#hadto), it's been my sole sustaining food for the last two weeks.
Here's why it's perfect.
It's a meal all in one pan. Perfect baked salmon, yes. But also lentils, rice, quinoa, vegetables, whatever you want, really, all up in the same pan with the salmon. It's very one-and-done in terms of preparation.
ONE DISH to wash. Hello. ONE. DISH.
Sauce or seasoning? very changeable depending on what strikes your fancy in the moment. But you're probably having an epically long moment with lemon herb sauces too, right?
It requires zero hands-on time. We're not sautéing or whisking or even really chopping anything here. Just poppin in the oven and that's it.
I would consider this a minimalist approach to dinner because, in very basic terms, you put everything in a pan and bake it. No extra steps. No extra dishes to wash. And now you're done, and you've got perfectly baked salmon with tons of flavor and a pan full of other nutritious deliciousness and all of it together makes a mish-mash rainbow meal that you will want to keep eating again and again.
If we can break the rules for a second here, you might even find yourself wanting to eat this for breakfast the next morning. Maybe adding an egg in the spirit of creating something between THIS and a healing bowl.
Er, wait, I don't know. Did we cross a line there?
Just… start with dinner, okay?
Start with dinner.
Perfect Baked Salmon 101:
If you want to go the black lentils route (do it! do it! do it!) you can order them online here.
I am having a weird obsession with sauerkraut right now, especially purple sauerkraut. My current fave is a brand called Spirit Creek Farm and I bought it at Whole Foods, but you can also grab it online (HERE) because this is a strangely wonderful world.
Here's The Body Book which inspired this recipe.
Print
Perfect Baked Salmon with Lentils and Lemon Herb Sauce
---
Description
Perfect Baked Salmon with Lentils, Quinoa, and Lemon Herb Sauce – super healthy, high protein, bakes all in one big easy dish. This stuff is SO DELICIOUS!
---
1 cup

black lentils

1 cup

red quinoa

4 cups

chicken or vegetable broth

12 ounces

salmon

2

–

3

cups green beans or other vegetables
purple sauerkraut if you're into the weird food zone like I am
Lemon Herb Sauce:
1/2 cup

olive oil

1/4 cup

lemon juice

1

clove garlic
generous pinch of salt (to taste)
quick squeeze of honey or agave (to taste)
chopped parsley (optional)
---
Instructions
LENTILS AND QUINOA: Preheat the oven to 450 degrees. Rinse the lentils and the quinoa. Place in a large oven safe skillet or casserole with the broth. Bake for 45-50 minutes or until almost fully cooked. Remove and fluff with a fork.
SAUCE: Make the lemon dressing by blending all ingredients in a food processor or just shaking up in a jar. Set about half of the dressing aside.
SALMON: When the lentils and quinoa are done, place the salmon and any other vegetables you want on top of the lentils (skin side down) and drizzle or brush with half of the lemon dressing. Bake for another 10 minutes. Broil for the last 2 minutes. Depending on how thick the salmon is, if it still needs time, just turn off the oven and let it sit in there for a few minutes to finish.
SERVE: When the salmon is fully cooked, serve with reserved sauce and purple sauerkraut if you like that kind of crazy.
Notes
Some vegetables will cook just fine in 10 minutes in a hot oven, but others won't. If you're using something that's going to require more time like sweet potatoes, I would suggest par-boiling them before sending them to the oven. Veggies that work great – green beans, asparagus, kale, brussels sprouts, cauliflower, mushrooms, peas… etc.
I'm okay with less, but you may want more salmon per serving – for a full 3 ounces per serving, go for a total of 15-20 ounces vs. 12 ounces as written.
Prep Time:

15 mins

Cook Time:

1 hour

Category:

Dinner

Cuisine:

American
Keywords: baked salmon recipe, lentils, lemon herb sauce
Recipe Card powered by
Last plug – you must download a book-listening app and give the audio book world a try (try Audible – they give you your first book free) and then you also must leave me comments telling me what other books you love. I am now devouring books at a rate that my little mind can't even handle and I'm running out of book recs.
Note: this post contains affiliate links for products we recommend.
---
One More Thing!
This recipe is part of our best healthy winter recipes page. Check it out!
The post Perfect Baked Salmon with Lentils and Lemon Herb Sauce appeared first on Pinch of Yum.