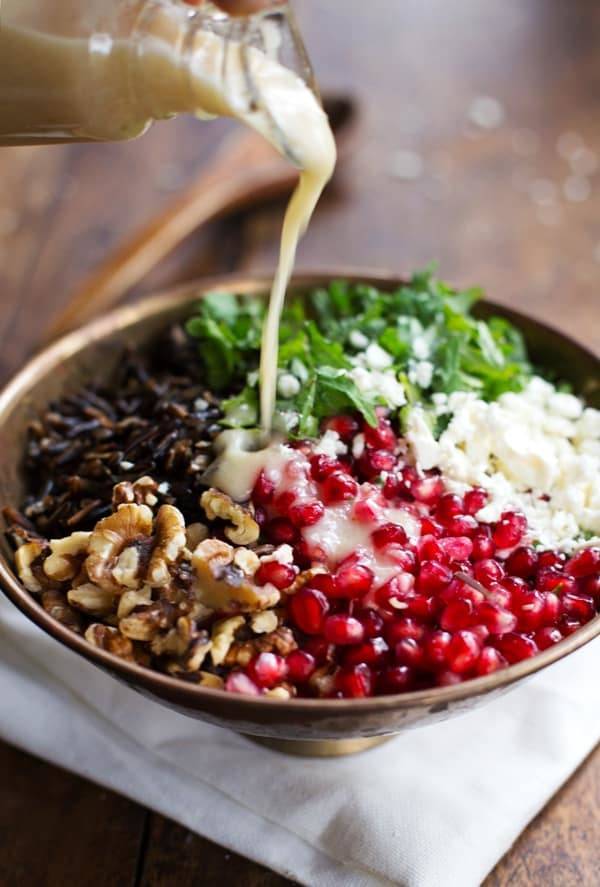 Oh my good gravy.
I mean, no gravy. Just pretty Thanksgiving salad. I mean, salad that tastes like gravy. I mean, no, wait, ummm…
Can't.
Think.
This wild rice salad blows me away.The flavors and colors make me want to cry happy tears. Kind of like the ones that almost came out of my eyes at lunch when I saw this salad awaiting me at the bottom of my lunch bag. It was a beacon of hope and I am 99.3487% sure that angels sang.
If those ruby pomegranate seeds don't get to you, then you might not be real. The juicy little bursts of bright red are my bestest favoritist produce of winter. Why I haven't used them more often in recent memory probably has something to do with The Sacrifice of the White Shirt, but all that aside, these little pups are just adorable and juicy-perfect.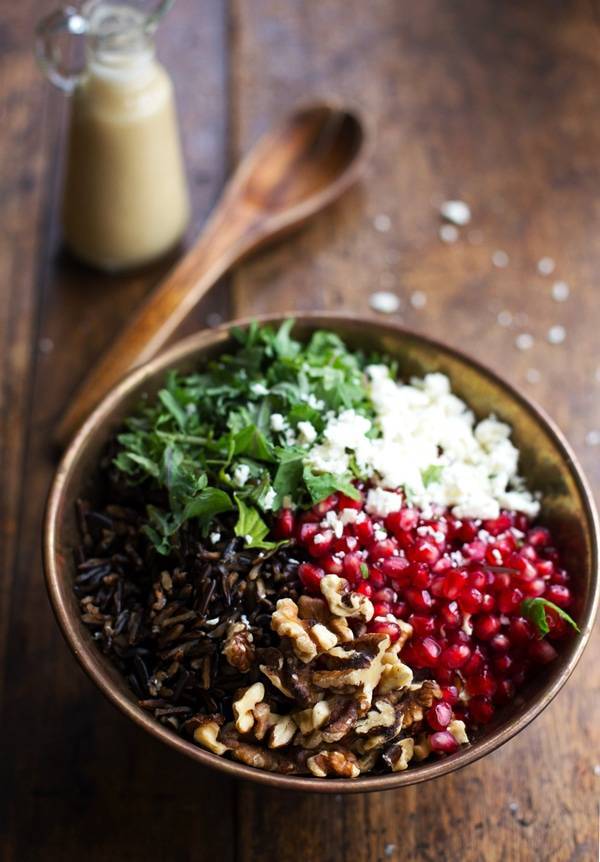 Now, kale. I know we normal people all have mixed feelings. But baby kale is where it's at. If you can do spinach, then baby kale is just one half step up on the weirdo-healthy-person food ladder. You're like: Lindsay, my family won't like kale. I PROMISE, almost promise, that they will. Chop it up real small and you get the benefit of the supernutrition and the eye-popping freshness of green without the overwhelming chomp factor. Say yes. Now. In three, two, one, YES.
A few more food thoughts –> The toasted walnuts add crunch. The feta adds feta. And the homemade dressing? It's just a slight spin off of the homemade dressing from the brussels sprouts salad and it is D-licious.
Use onion or shallot, saute to reduce the bite (or not, if you're a flavor bite kinda person) and drizzle to your heart's content.
Let me tell you the beautiful truth: I made this in less than 20 minutes.
And great recipes that are simple + healthy + gorgeous in < 20 minutes = my perfect life.
This is real math, and better yet, real food.
I see this at my Thanksgiving table this year. And every day from now till then and forevermore amen.
Print
Pomegranate, Kale, and Wild Rice Salad with Walnuts and Feta
---
Author:

Pinch of Yum
Total Time:

45 minutes

Yield:

4, as a side
Description
Pomegranate, Kale, and Wild Rice Salad, with walnuts and Feta cheese and a simple homemade dressing. So healthy, so good!
---
For the salad
1 cup

pomegranate seeds

2 cups

chopped baby kale

2 cups

cooked wild rice (you can use leftover rice or buy precooked)

1/4 cup

toasted walnuts

1/4 cup

feta cheese (omit for vegans)
For the dressing
1/2 cup

minced onion or shallot

2 tablespoons

olive oil

2 tablespoons

water

2 tablespoons

honey (sub agave for vegans)

1/2 tablespoon

apple cider vinegar

1/2 teaspoon

salt

1

squeeze lemon or orange juice
---
Instructions
Prep the salad ingredients (chop, rinse, toast, etc). Chill the ingredients in the fridge while you're making the dressing if you want a cold salad.
Mince the shallot or onion and saute in 1/2 tablespoons olive oil to reduce the bite. When soft and fragrant, remove from heat and transfer to a food processor. (If you want a stronger flavor for your dressing, skip the sauteing altogether. The shallot in particular works well for this.)
Pulse the onions or shallot with the remaining olive oil, water, honey, apple cider vinegar, salt, and orange juice until smooth and creamy. Taste and adjust. Add additional olive oil or water to keep the mixture moving through the food processor.
Toss the salad ingredients together with the dressing just before serving. I prefer to serve this at room temperature or chilled slightly.
Prep Time:

30 mins

Cook Time:

15 mins

Category:

Lunch

Cuisine:

American
Keywords: thanksgiving salad, healthy salad, kale salad, wild rice salad
Recipe Card powered by
The post Pomegranate, Kale, and Wild Rice Salad with Walnuts and Feta appeared first on Pinch of Yum.