It's the best Monday in all the Mondays! Er, what? Monday and best in the same sentence? I know, but I have my reasons. Let's just pause for a second and add these crockpot stuffed peppers into the picture of your day.
These Quinoa Black Bean Crockpot Stuffed Peppers topped with cilantro, Pepperjack cheese, sour cream, and avocado are making Monday dinners everywhere just a little more wonderful.
They're meatless.
The prep – if you can even call it prep – is incredibly easy, like any good crockpot meal should be. No chopping, no pre-cooking, nada.
You can top them with all your favorite things in the worrrrrld, which makes them ultra pretty for something that's coming from a crockpot.
The nutrition factor here is right on! Protein, fiber, and veggies, oh my. If you want to get extra-healthy, just omit or reduce the cheese – we'll all cry a few tears for you, but you just go ahead and do what you want to do, friend.
How To Make Our Crockpot Stuffed Peppers (1 MIN):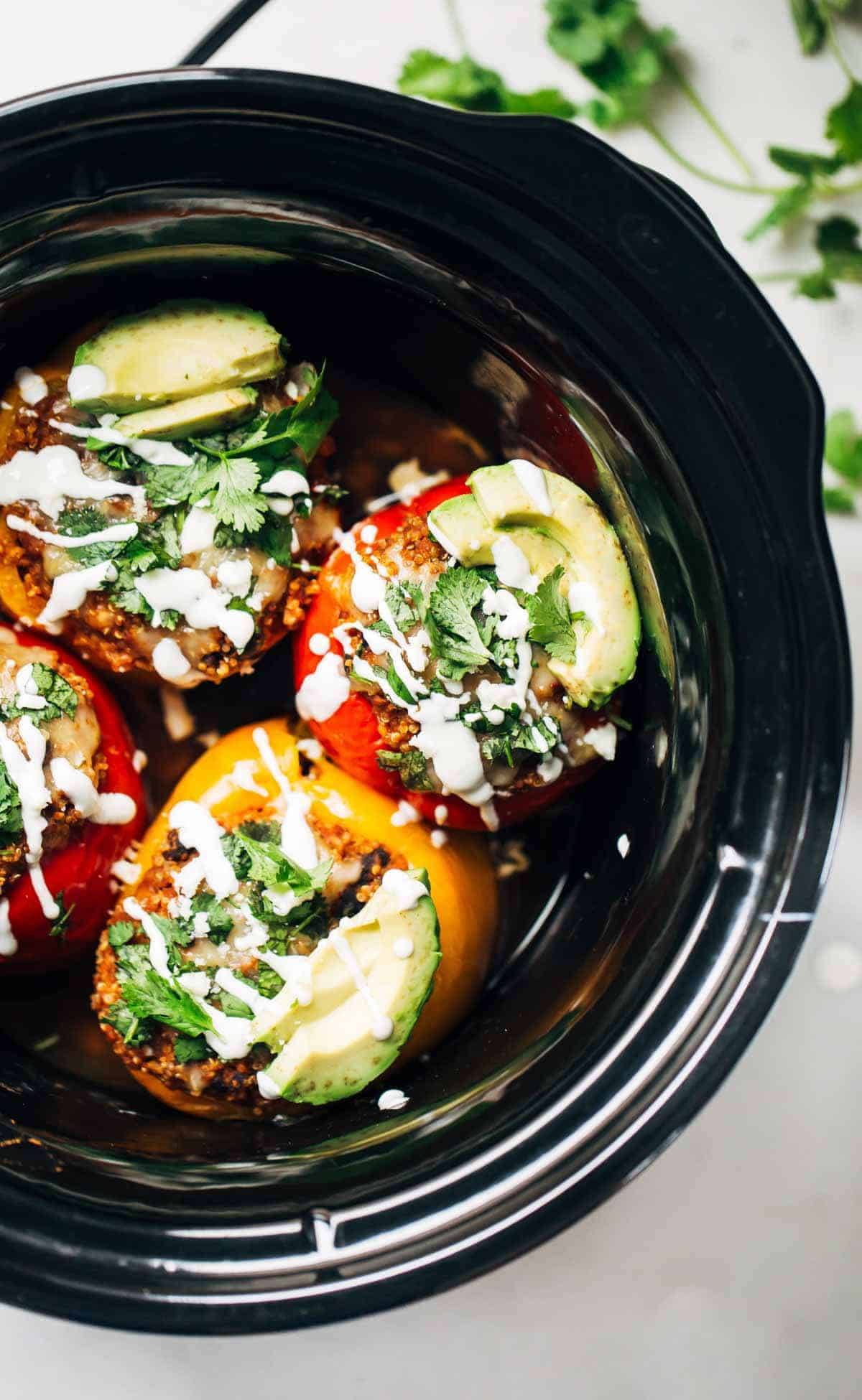 A few other things that are making me happy on this Quinoa Black Bean Crockpot Stuffed Peppers Monday –>
The Minnesota Twins! Well, not so much the Twins, like, actually playing baseball, but more like me going to the Twins home opener at Target field this afternoon to a) sit in the perfect, golden spring sun, and b) sample all the best food in the baseball park lands. Seriously, Target field knows what kind of food the Minnesotans love and they deliver.
The food choice is always a huge decision for me when we go to games. There are so many good options that you can get complete analysis paralysis, and worst case scenario – you make a sloppy, poorly planned food order that you regret two bites in. UGH. The pain.
I am debating right now between a golden brown, melty cheese Cuban sandwich with pickles // crispy deep fried walleye and chips // Kramarczuk's polish sausage with sauerkraut (that kraut! it's definitely at least 10% weird, but I don't even care because oh, that wonderful acidic tang) // Minnesota crispy belly bacon w/ jalapeno jelly & vinegar slaw. No, serious. This is Minnesota Twins ballpark food. #proud
Minnesota friends – anyone else going to the opener today? Also: I would not be mad if you gave me all your best food recommendations for Target field. TEAMWORK.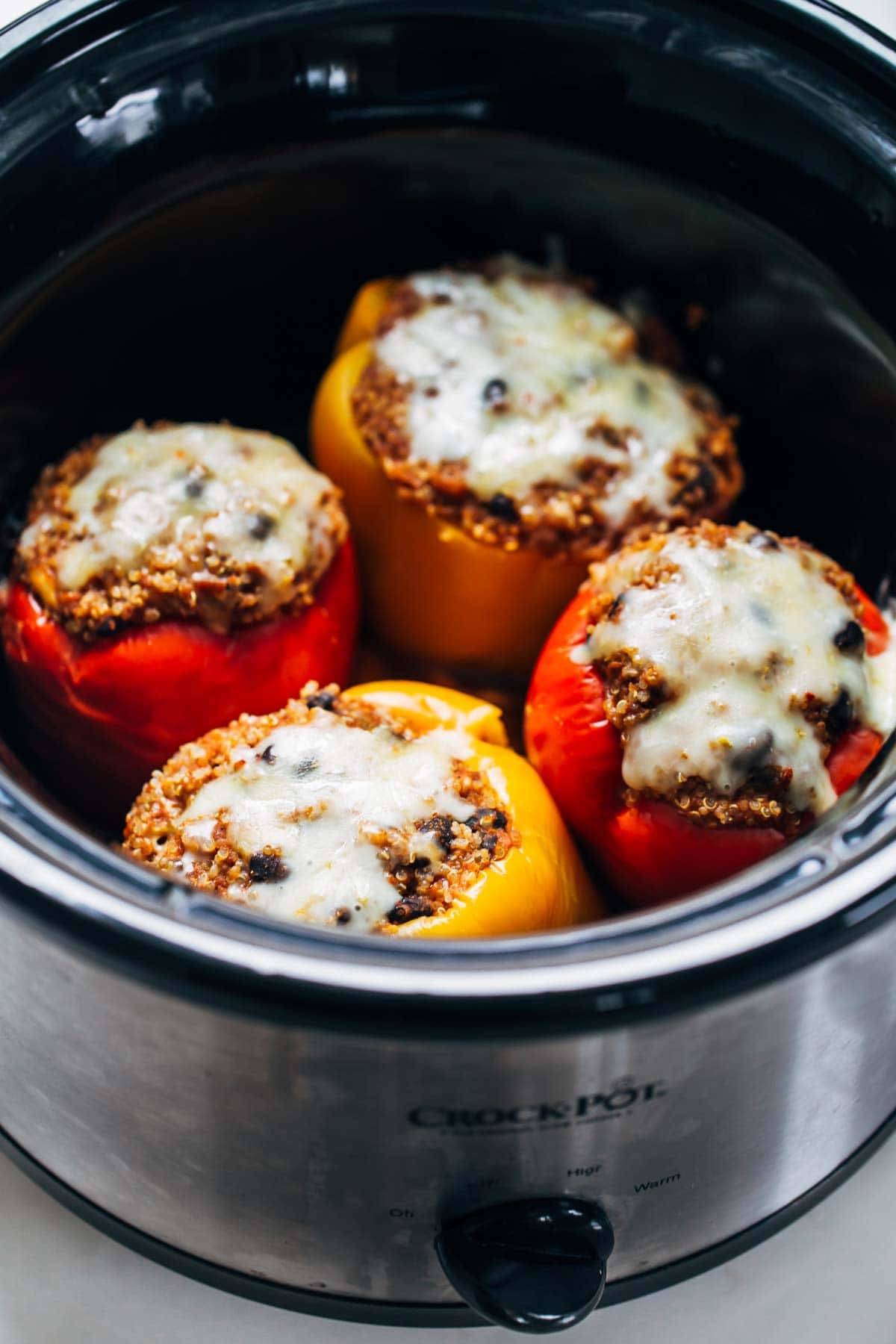 Final thing that's making me happy on this sunny Monday: our Sage girl.
We visited three dog parks over the weekend (okay, I just literally cringed – we are SO overboard as dog parents) and Sage's favorite part was sitting on the bench and doing The Lean for kisses and hugs. She's an outdoorsy one, that Sage. My girl and I also already had a few lovey snuggles this morning to bring in the week. Do they have a name for this disease? Can't stop won't stop.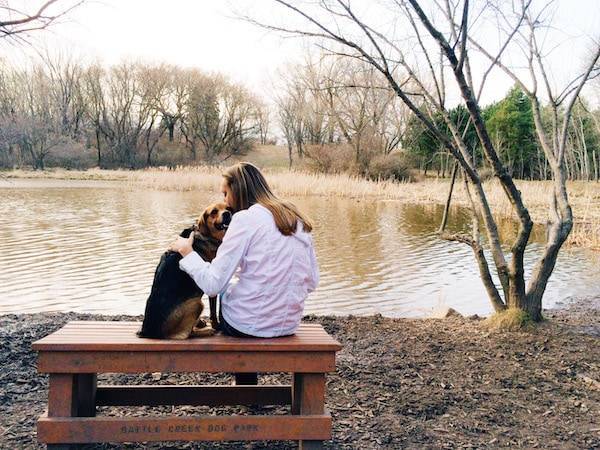 Your comments, emails, pictures, welcome notes, and encouraging tips in response to The Sage Post were just so fantastically uplifting. My heart melts. I HAVE read them, but I haven't had time to respond – cause, like, hello? three dog parks in one weekend? we've been obnoxiously dog-busy – but I will get to them in the next day or two.
If you want to see more of Sage on Instagram, please find @sages_advice – it's an account that Bjork made for Sage Pictures and Sage Wisdom. Bjork has never ever wanted anything to do with Insta until now – to say I'm smitten with these two and the fact that they are now on Instagram would be a majorly major understatement.
Okay, crockpot though! The quinoa black bean crockpot stuffed peppers! I hardly even talked about them because LIFE, but they are delicious and I think you'll love how easy they are.
The peppers are stuffed with a combination of quinoa, black beans, Pepperjack cheese, enchilada sauce, and spices – all easy pantry ingredients that can be whipped together in a flash. Then you top them with everything <— that's an order. You must do it, good people of the world. They make the perfect lunches for the week and they are an excuse to incorporate chips and guac into your meals. Which is always always always a good thing.
So bring it on, Monday! I feel good about this one.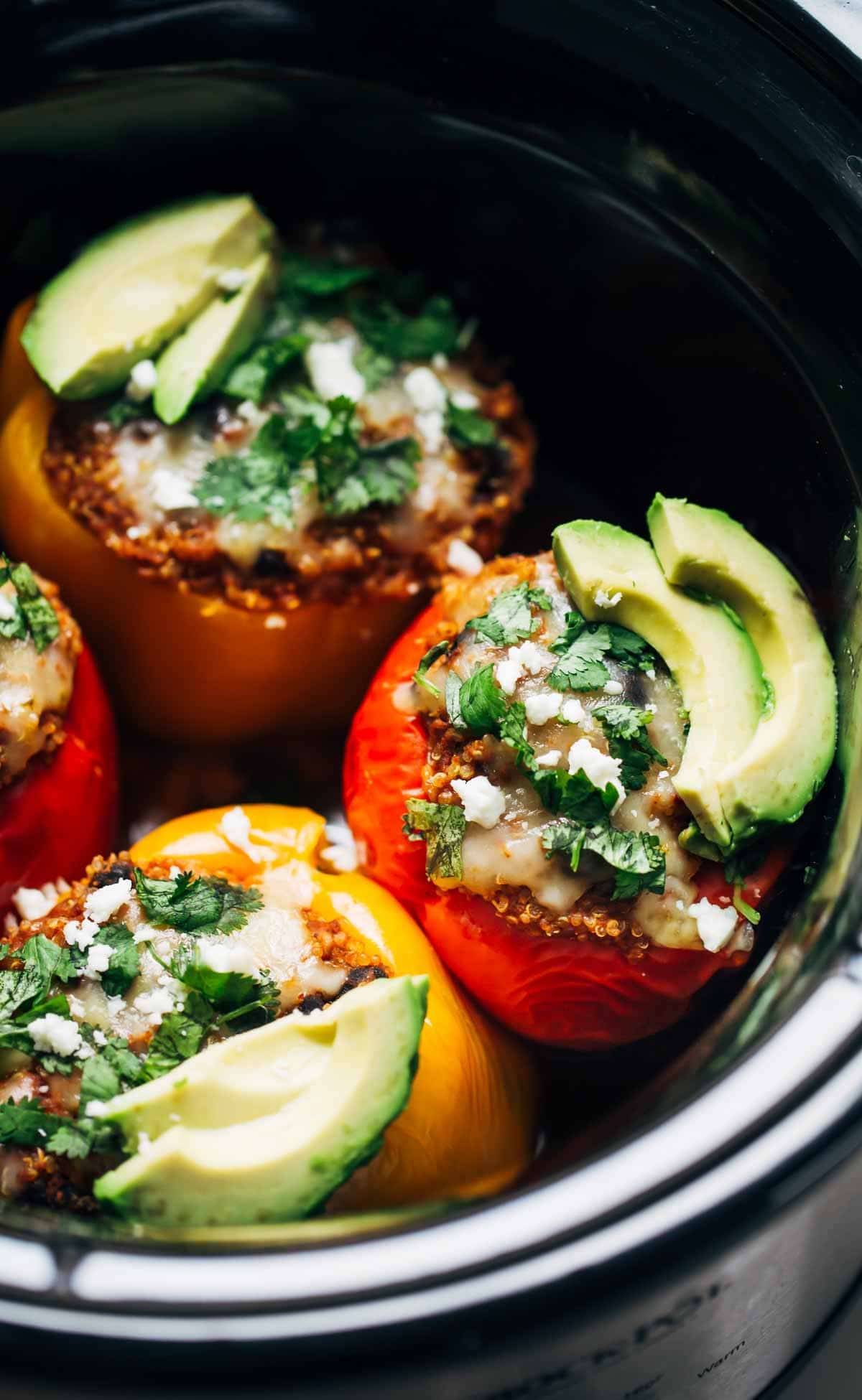 Print
Quinoa Black Bean Crockpot Stuffed Peppers
---
Author:

Pinch of Yum
Total Time:

4 hours 10 minutes

Yield:

6 peppers
Description
These Quinoa Black Bean Crockpot Stuffed Peppers can be made with or without meat – all with simple pantry ingredients! Minimal prep, awesome taste.
---
6

bell peppers

1 cup

uncooked quinoa, rinsed

1

14 ounce can black beans, rinsed and drained

1

14 ounce can refried beans

1 1/2 cups

red enchilada sauce

1 teaspoon

cumin

1 teaspoon

chili powder

1 teaspoon

onion powder

1/2 teaspoon

garlic salt

1 1/2 cups

shredded Pepperjack cheese
toppings! cilantro, avocado, sour cream, etc.
---
Instructions
Cut the tops off of the peppers and scrape out the ribs and seeds.
In a large bowl, combine the quinoa, beans, enchilada sauce, spices, and 1 cup of the cheese. Fill each pepper with the quinoa mixture.
Pour 1/2 cup water into the bottom of a crockpot. Place the peppers in the crockpot so they're sitting in the water. Cover and cook on low for 6 hours or high for 3 hours. Remove lid, distribute remaining cheese over the tops of the peppers, and cover again for a few minutes to melt the cheese.
Serve topped with anything you like! These are also great with chips and guacamole, believe it or not.
Notes
My crockpot only fit four of the peppers so I had to bake the other two in the oven – I just put some water in the bottom of the pan, covered with foil, and baked for about 45 minutes at 400 degrees.
You can also keep the leftover filling for a day or two in the fridge.
I also made a variation of these with spicy ground sausage (I left out the refried beans and added a pound of uncooked sausage), and they were equally great! Bjork liked those ones better, being the meat guy in the family.
Freezer Meal Version
Mix filling:
1 cup uncooked quinoa, rinsed
1 14-ounce can black beans, drained
1 14-ounce can refried beans
1 1/2 cups red enchilada sauce
1 tablespoon taco seasoning
1 1/2 cups shredded cheese
Stuff into and freeze: 6-8 large hollowed out fresh bell peppers
Bake from frozen: 400 degrees for 75 minutes (cover while baking)
Final Step: Finish by melting extra cheese on top. Serve with guac, sour cream, cilantro, hot sauce, etc.
Check out our full freezer meal posts with all recipes and instructions here!
Prep Time:

10 mins

Cook Time:

4 hours

Category:

Dinner

Cuisine:

Mexican-Inspired
Keywords: quinoa stuffed bell peppers, stuffed bell peppers, crockpot stuffed peppers
Recipe Card powered by
View freezer meal version of this recipe here.
You might also like our full freezer meals post.

---
One More Thing!
This recipe is part of our collection of best healthy vegetarian recipes. Check it out!
The post Quinoa Black Bean Crockpot Stuffed Peppers appeared first on Pinch of Yum.