One thing I love: this honey mustard dressing, which I am still licking off my fingers as I type this. Rude. Sorry.
Quick question: how do we feel about fruit in salad?
Red grapes, blueberries, that kinda thing? I feel reeeeeal good about it. Like, a whole bunch of juicy fresh yum just landed right in the middle of my salad. Also noteworthy in this salad is the golden brown chicken. It was simple and delicious and you know I love a good meatless main, but this spice-loaded, juicy and golden brown chicken in little bite-sized salad pieces makes me happy (and full). Add in some crunchy almonds, creamy tangy feta, and the gang's all there. Almost.
All Hail The Almond Honey Mustard Dressing
As if I need to even tell you, the crown jewel of this salad is the dressing. It's like regular honey mustard but a little more rustic-feeling, if that can be a thing for honey mustard (lol), because of that almost-smooth texture that a quality almond butter adds to the whole thing. The thickness of the almond butter gives it an ultra creamy texture, plus it has the perfect sweetness of a homemade honey mustard. It was just superdelicious.
So, better question: how do we feel about lunches and it's-still-light-out dinners that are easygoing and colorful and very delicious?
Enjoy The Rainbow
For my big bowl here, I used grapes and blueberries, but you just go ahead and make use of whatever remnants of fruit are hanging out in your fruit bowl or the back of your refrigerator. Oranges? Strawberries? Pomegranate? No one is going to be mad about any of that.
There is a little bit of lettuce in the bowl to make it, well, you know, A SALAD, but it's not a sad salad lettuce situation. It's more for a little bite of tender-crisp greenery and dare I say I even found myself enjoying those bites of delicate crispness as much as the rest of it. Look at me go, mom.
The color, the crunch, the texture, the wholesomeness of all of it together is a straight drive into warmer weather, lighter days, and all-around nicer feelings.
Eat the rainbow and be glad.
More Hearty Salad Recipes
Watch How To Make This Recipe
Common Questions About Our Rainbow Chicken Salad
I have a nut allergy. What substitutions can I make?
First off, sad! We're so sorry to hear this. But the good news is this salad is super delicious when substituting sunflower seeds for the almonds and using sunflower seed butter in place of the almond butter.
How can I make this vegetarian?
Some crispy pan-fried tofu would be great in this in place of the chicken.
Print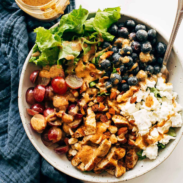 Rainbow Chicken Salad with Almond Honey Mustard Dressing
---
Description
This Rainbow Chicken Salad is topped with tender chicken, plump grapes and berries, crisp lettuce, tangy feta cheese, crunchy almonds, and the real star – almond honey mustard dressing! Perfect for lunch or dinner!
---
For the Salad
2 teaspoons

olive oil

8

ounces

boneless, skinless chicken breasts (mine were cut into smaller, thinner pieces which made the sautéing a bit easier)

1/2 teaspoon

salt

1/2 teaspoon

pepper

1 teaspoon

chili powder

2

cups

grapes, halved

1

cup

fresh blueberries

3

cups

curly lettuce, chopped

1/2

cup

feta cheese

1/2

cup

almonds, chopped or crushed
For the Dressing
3 tablespoons

almond butter

1 tablespoon

olive oil

2 tablespoons

freshly squeezed orange juice

3 tablespoons

water

1 tablespoon

stoneground mustard

1/2 tablespoon

raw honey

1/4 teaspoon

salt, more to taste

1/2 teaspoon

garlic
---
Heat the oil in a large skillet over medium high heat. Sprinkle the chicken with the salt, pepper, and chili powder. Saute in the oil for a few minutes, flipping the chicken now and then to cook through and get a nice golden color on both sides. When the chicken is cooked, remove from heat and set aside.

Cut and prep all the vegetables and fruits. When the chicken is cool enough to handle, cut into bite sized pieces. Place the salad ingredients in a large bowl – you can either arrange the bowl by ingredient, like pictured, or toss everything together. Refrigerate to chill.

For the dressing, puree all the dressing ingredients in a food processor until smooth. Taste and adjust to your preferences. Pour dressing over salad and serve.

Equipment
The equipment section may contain affiliate links to products we know and love.
Notes
After snapping these photos, I threw some crumbled crispy onions on top for a little extra crunch and flavor. Bjork just about died of happiness.
Prep Time:

30 mins

Cook Time:

15 mins

Category:

Dinner

Method:

Saute

Cuisine:

American
Keywords: rainbow chicken salad, chicken salad, almond honey mustard dressing, honey mustard dressing
Recipe Card powered by
One More Thing!
This recipe is part of our collection of sweet honey recipes. Check it out!
The post Rainbow Chicken Salad with Almond Honey Mustard Dressing appeared first on Pinch of Yum.