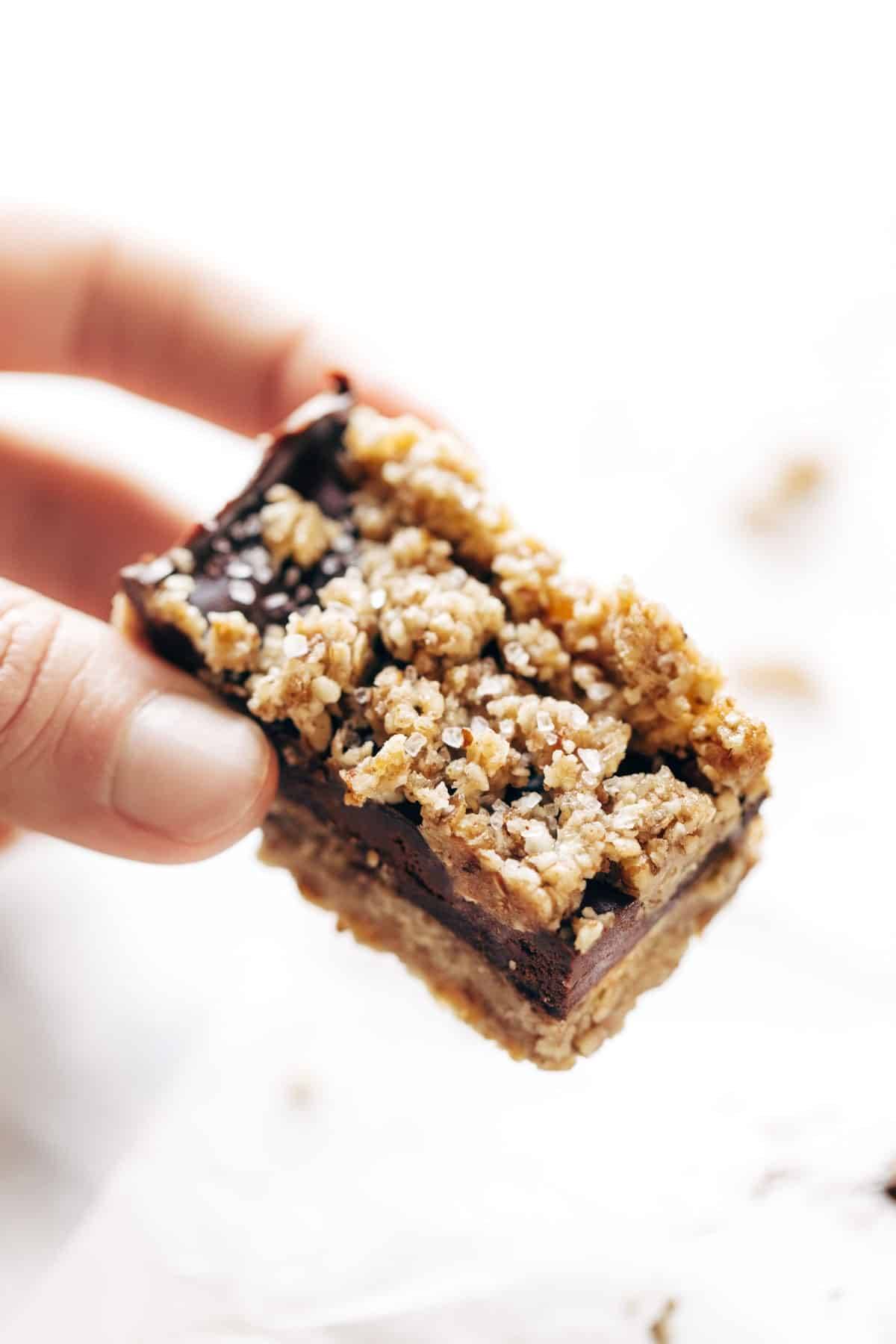 Just gonna warn you, I'm a hot happy mess today.
Hot as in it's actually hot here. Needs-air-conditioning type weather. This is a strange and wonderful feeling that I have missed for the last 364 days and I am fully prepared to enjoy every hot Minnesota second of it.
Happy as in pep in my step cause it's a sunny Monday and summer is rocking my world. This weekend was all about outdoor time and life is good and imma bouta celebrate the sun with RAW CHOCOLATE SNACK BARS. Can't even hold me down. It might get obnoxious.
Mess as in covered with chocolate sauce and raw oat-pecan-date crumble from these bars. Literal chocolate sauce explosion on my face. Which I guess is fitting, since it just brings us back to happy?
Every time it's summer here in Minnesota and I start to come alive a little bit (a lot) after many months of, to put it lightly, completely depressing weather, I ask myself: WHY DO I LIVE HERE.
There are places all around the world that have Minnesota-summer-like weather every single day and hour and minute of the year. What is the deal with our obsession with Minnesota. Why are we even here? But then every time I think about things like a non-white Christmas, my heart feels sad. And also… um… no, that's probably it. I officially live here solely for white Christmases.
HOW TO MAKE OUR SALTED CHOCOLATE SNACK BARS (50 Sec):
Okay, and friends and family and not being loners. I guess there's that, too. Sometimes Bjork and I talk – just for fun, mom! don't panic – about moving somewhere warm. I mean, we have total location independence with our jobs (s/o to the internet) so tell me: where should we be headed? California? Arizona? Too crowded and earthquakey? Too much hot desert wasteland? I would be lying if I said I hadn't thought about the move to either of these paradise places.
I just have this vision of a warm weather dwelling, all-around better version of myself. I could look out my window at palm trees and drink tropical smoothies and stuff. I'm not talking about HOT warm weather. Our year in the HOT warm Philippines was a beautiful, rich, so-glad-we-did-it experience. Also generally not my best year as a person in life. I basically wilted the minute we got off the plane and did not recover until we landed back in the US. So is Arizona too hot then? Would California kill me? From a distance, both are looking pretty palm-tree-heavy, warm-weather-loving amazing.
Hey you guys, do you love reading a food blog where we mostly talk about the weather?
Let's regroup.
This can tie together, I think, because whether you live in lovely warm Minnesota and are currently experiencing THE BEST WARM WEATHER OF YOUR LIFE or you live in the smothering heat of the Philippines or the outdoor sauna that is the entire state of Florida, these no-bake raw chocolate snack bars are for you.
They are RAW(mazing) and no-bake and cold and naturally sweet and extremely simple and just everything good, tucked away in your freezer waiting for you at a moment's hungry notice. They remind me of these epic bars my mom used to make growing up = Chocolate Revel Bars? anyone? = but with a little modern wannabe-hipster flair.
To start us off: oats, pecans, dates, coconut oil, and sea salt are going to make you a lovely glow-worthy crust.
Then: coconut oil, maple syrup (or whatever other natural liquid sweetener you like such as honey or agave or brown rice syrup FANSAY), and cocoa powder are going to make your chocolate layer which shall remind you of a chocolate frosting but more simple and more clean and more likely to end up all over your face.
And then finally, we add a little crumble on top and refrigerate or freeze, and LUCKY US!
We are #blessed with these raw chocolate snack bars for all the happy summer times.
If anyone else is contemplating a move, I'll just say this: winters can be just a tiny bit of a thing, but Minnesota in the summer – around a lake, with a dog AND with friends obviously meant to say that first, and eating good food such as World Street Kitchen's bangkok burritos and homemade Sebastian Joe's ice cream – it is possibly the best thing a person could ever experience in a lifetime.
Plus we could be neighbors and then I'd bring you a pan of these chocolate snack bars when you moved in.
Or else you could convince me to move to your all-year-long warm place. Really guys, I'm up for either.
Print
Raw Salted Chocolate Snack Bars
---
Description
Salted Chocolate Snack Bars with simple clean ingredients: pecans, oats, dates, cocoa powder, coconut oil, and maple syrup. SO GOOD!
---
Crust:
1 1/2 cups

pecan halves

1 1/2 cups

rolled oats

8

whole medjool dates, pitted

1/2 cup

coconut oil, melted
a pinch of coarse sea salt
Chocolate Filling Layer:
1/2 cup

cocoa powder

1/4 cup

coconut oil, melted

1/4 cup

liquid sweetener – agave, maple syrup, or honey (more or less to taste)
---
Instructions
Crust: Pulse all ingredients for the crust in a food processor until a sticky dough mixture forms. Set aside about 3/4 cup crust mixture. Press the remaining crust mixture into a 9×5 loaf pan lined with parchment paper.
Chocolate: Whisk the chocolate filling ingredients in a small mixing bowl until smooth. Pour over crust.
Topping: Sprinkle remaining crust on top and press gently to get it to stay put in the chocolate mixture. Sprinkle with extra sea salt if you're obsessed with sea salt not that I know a-ny-thing about that.
Chill: Place the whole thing in the freezer and chill for 2 hours. Cut into bars and serve!
Prep Time:

20 mins

Cook Time:

5 mins

Category:

Dessert

Cuisine:

American
Keywords: chocolate snack bar, chocolate dessert bar, healthy chocolate snack bar
Recipe Card powered by
Note: This post contains affiliate links.
---
One More Thing!
This recipe is part of our collection of best healthy snacks. Check it out!
The post Raw Salted Chocolate Snack Bars appeared first on Pinch of Yum.