Simple ingredients, extremely versatile, and so addicting – that's this Red Thai Curry Sauce.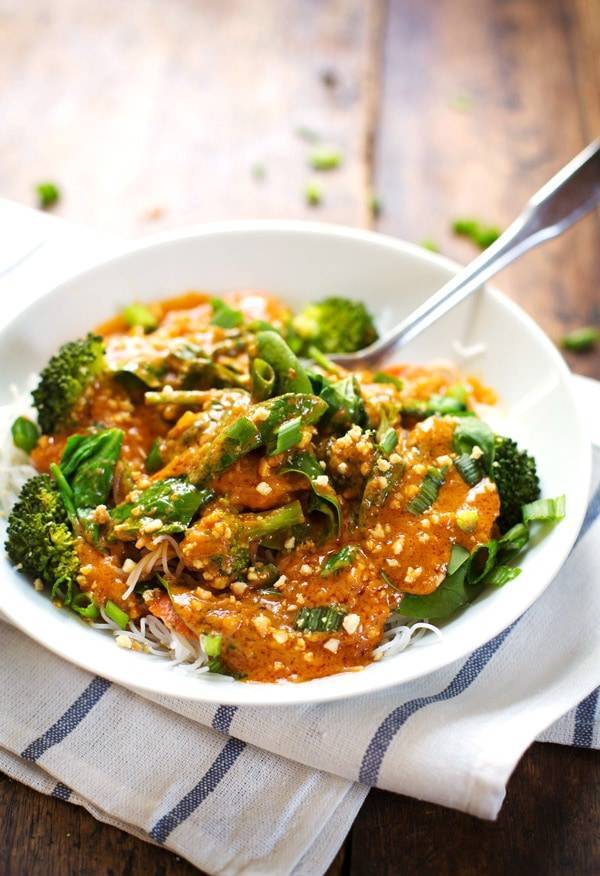 Alternate titles for this post:
I Am Dying of Happiness.
The Sauce To End All Sauces.
Just Try To Control Yourself.
Curry In A Hurry.
How To Crave Vegetables 24/7.
Deliciously Spicy Stuff. But Not Spicy-spicy. But Spicy.
Flavor Explozzzion.
Coconut For Life.
Lime, ILuvYouSoMuch.
Curry Paste Makes the World Go Round.
Thai Curry Versatility.
And that pretty much sums up my feelings for this sauce in ten bullet points.
Do you remember when I talked about going to ShopHouse in Washington, D.C.? And how great it was that we could build our own Southeast Asian bowls full of crispy freshness and bold flavors and incredible sauces? Is it too obvious that I am kind of trying to be them with the build your own bowl concept and a delicious curry sauce?
Only difference being that I am setting up my Southeast Asian bowl extravaganza in my tiny Minnesota kitchen, where I reach my fingertips for the window longingly dreaming of the sun, and notice that oh yes, indeed, the windows now have a full layer of frost on the in-side-of-the-house. And I almost was about to say that I was craving the heat of the Philippines, but then I started getting flashbacks (or hot flashes? hot flashbacks?) reminding me of the feeling of a slow, painful death by tropical sun. Some of you are like: GIMME NOW. And some of you have experienced the too-hot tropical phenomenon and you're like: FROST IS NICE.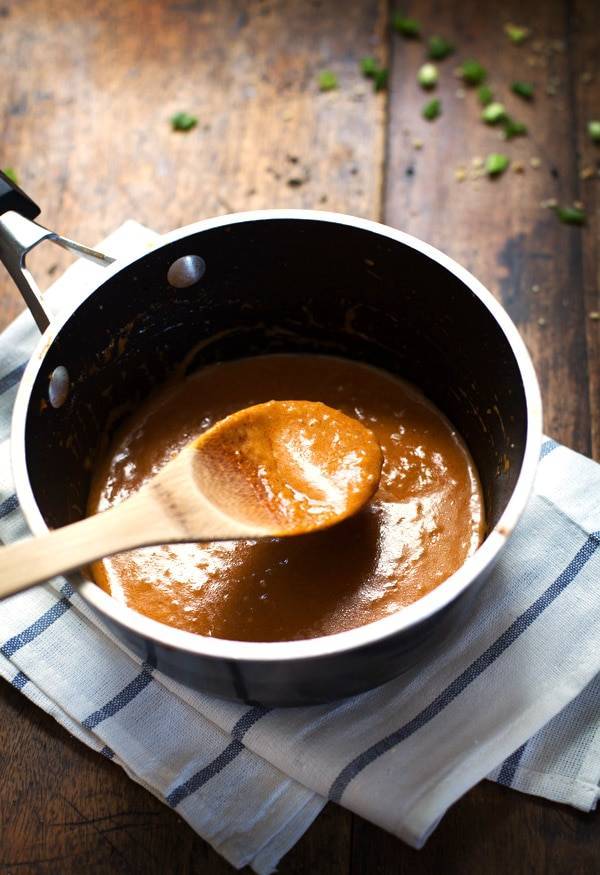 So this sauce.
This mind-blowing sauce was inspired by a recent take-out adventure to one of my favorite Thai restaurants in St. Paul –> called Pad Thai, located on Grand Avenue, for the next time you feel like visiting SiberiaMinnesota. They have this dish called Pra Ram Long Song that I first met and fell in love with when I was in college. Whiiich is starting to become one of those things you mention and it seems like it was two minutes ago, but then you realize it was more like a LONG time ago. What is going on. But ever since college, it has become one of those dishes where I can't NOT order it. Even though I want to branch out and try something new which I know in my head will also be delicious, I cannot pull myself away from this mesmerizing dish. I think it might be magical food hypnosis spell or something.
After completely demolishing a container of this sauce with steamed veggies and that perfect Thai restaurant Jasmine rice, at home, in my pajamas (I LOVE U TAKE-OUT), I attacked Google for the recipe. I found a few helpful websites and watched a few YouTubes. <– favorite way to waste time, er, um, learn.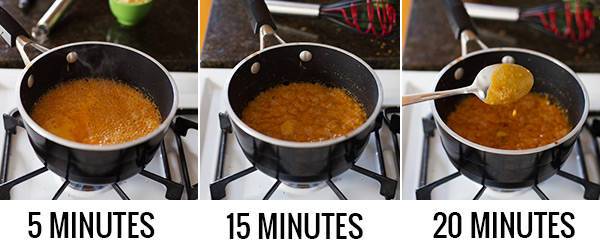 After all that and a few of my own attempts, I have created this Thai Curry Sauce that is making me so happy on so many levels. It is literally the best-tasting and most simple Thai recipe that I've ever made. And bonus: you can put it on anything. Chicken, rice, vegetables, noodles, soups, stir frys, and I am going to go there: salads.
By adjusting the consistency of the sauce (see the little timing guide? bottom line: just simmer until it's perfect for you) it can become a creamy curry sauce, a marinade, a soup base, a stir fry sauce, or even a dressing.
I now have this recipe memorized. Until death do us part.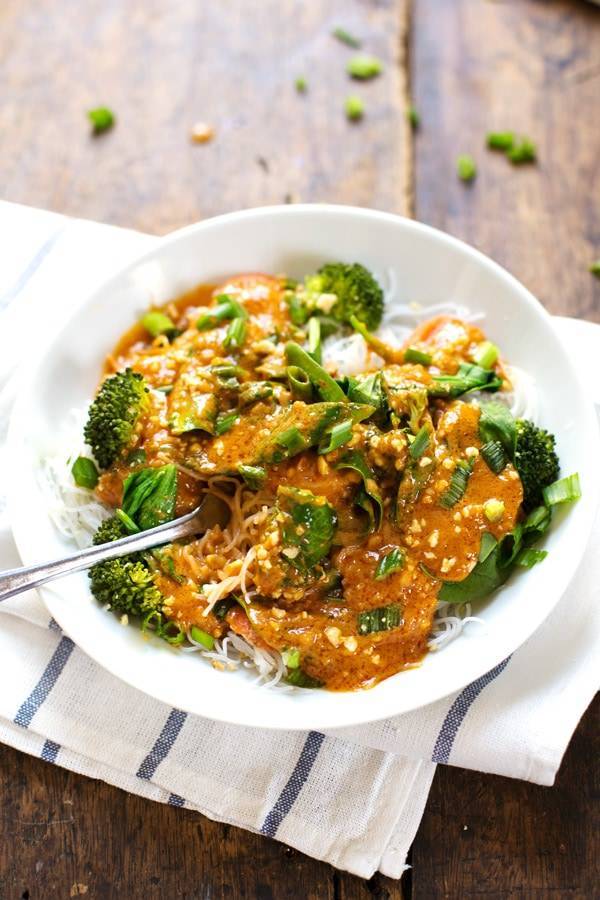 Print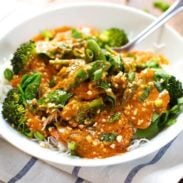 Red Thai Curry Sauce
---
Description
This simple Thai Curry Sauce is extremely versatile. Serve it with rice, noodles, meat, veggies, or as a base for soups, marinades, and more.
---
1

can light coconut milk

2 tablespoons

peanut butter

2 tablespoons

red curry paste

1 ½ tablespoons

fish sauce (see notes)

2 tablespoons

lime juice

3 tablespoons

brown sugar

1 teaspoon

minced garlic

⅓ cup

crushed peanuts
up to

½ cup

water or broth
extra crushed peanuts and scallions for topping
---
Instructions
Pour the coconut milk into a small saucepan over high heat. When the coconut milk reaches a gentle simmer, add the peanut butter, curry paste, fish sauce, lime juice, brown sugar, and garlic. Whisk and keep on high heat for 15 minutes or until the sauce has reduced and thickened.
Add the peanuts and simmer for another 5-10 minutes. When the sauce coats the back of a spoon, add small amounts of broth or water and whisk to adjust consistency depending on how you will use it and how thick you want it. If the sauce separates, just whisk vigorously to smooth it out again.
Serve over rice, noodles, chicken, fish, vegetables, or any other way that sounds good to you! Top with crushed peanuts and scallions.
Notes
More time simmering = thicker, creamier, more flavorful sauce. If you want a thinner sauce, I would simmer for less time and plan to add a bit of additional liquid. I've noticed that when I add the crushed peanuts, the consistency really thickens quite a bit, so you could omit the peanut butter and/or peanuts to also adjust to your desired consistency.
Last note: I know the fish sauce might take some convincing, but it is fairly easy to find at any grocery store and REALLY WORTH IT. Don't worry – it does not make the sauce taste like fish; it just makes it saltier and adds lots of deep flavor. Don't leave it out!
Except if you are vegetarian or vegan, then you can try swapping in soy sauce, miso, and/or hoison for the fish sauce.
Prep Time:

5 mins

Cook Time:

30 mins

Category:

Sauce

Cuisine:

Thai
Keywords: red thai curry sauce, thai curry sauce, red curry sauce
Recipe Card powered by
PS. School canceled again today in this frozen desert land. Which reminds me… frozen dessert? Gotta go.
The post Red Thai Curry Sauce appeared first on Pinch of Yum.