Forget the game; I'll be neck-deep in the mini crockpot.
Except true thing –> we actually don't really watch the Superbowl. Not that we're anti or anything, and we love to go to Superbowl parties (not saying, just saying), but we just don't have a TV. Kinda need one of those for the Superbowl. One time we tried to stream a live football game from the interwebs and somehow we ended up with a very scrachy, blippy, fuzzy NFL game with the audio all in Spanish.
We also had a similar problem for the Olympics last summer. Or whenever that was. We were in the Philippines and all we wanted in the whole world was to watch Michael Phelps dominate some gripping swimming relay races. (I was a swimmer in high school by the way, which makes swimming the third and final sport that I like to watch, coming in right behind figure skating and gymnastics. That girl? I am her.)
But you know what happens in the Philippines? You get locked out. There is no online viewing for certain countries. Seriously. One time we thought we got it working so we made popcorn, got drinks, and cranked the AC up only to get about three seconds of precious viewing time before the scramble-freeze screen. It was 200x more dramatic than it should have been. If only this artichoke dip had been around then.
But the Superbowl. I honestly didn't even know when the Superbowl was until I googled it five seconds ago. And as I type this I feel like this same exact post happens every year when I tell you, "But I didn't even know the Superbowl was coming up." Annoying.
Sorry, guys. We don't change much.
Except we do eat crab now as we shovel this dip into our mouths as often as possible. That's a new thing.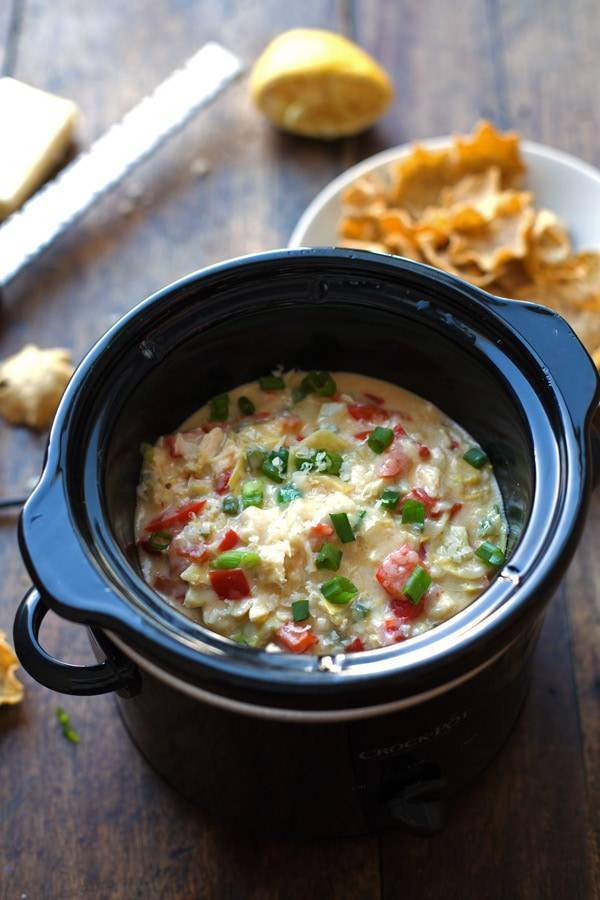 This dip was not meant to be skinny but it somehow ended up coming out at about 75 calories per serving, so CELEBRATE GOOD TIMES. This is skinny.
It has lots of vegetables like artichokes, red peppers, and jalapeño peppers, so I guess it makes sense that it's a little bit on the healthier side. Plus I swapped the heavy cream for 2% milk. And plus, I added extra cheese. So that… just… works. There's a little bit of lemon juice, a creamy base made from scratch – no Velveeta sort of thing going on here, not that I wouldn't love that in its own sort of way, but with crab? let's move on. There's a little bit of spice (J to the alapeño) and just the most luscious, silky texture.
The thing about crab is it tastes less fishy and more delicately delicious, so you definitely do not need to be a seafood fanatic to dive your chip right into this little pool of yummy.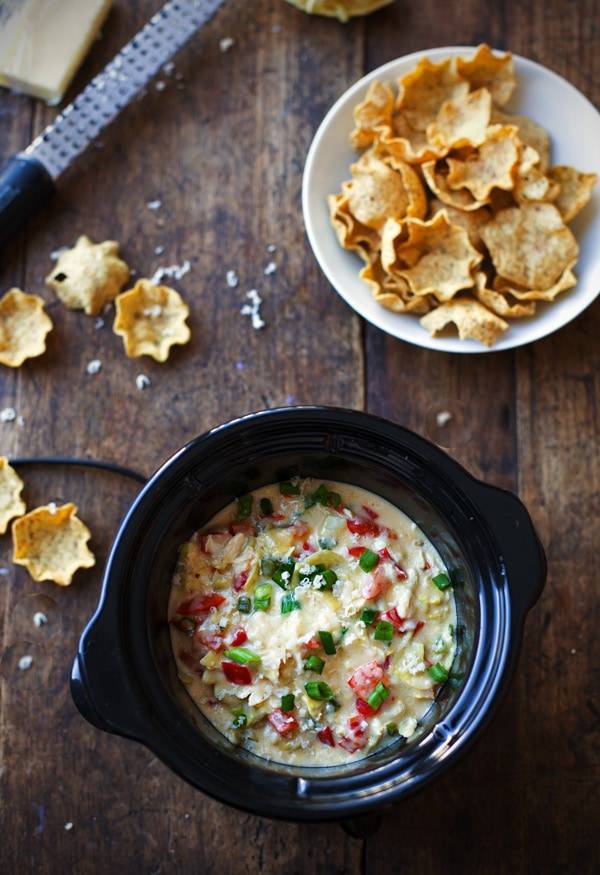 Last fun thing that might make you want to make this dip even more:
Our new neighbors actually introduced us to this dip when they invited us over for a Welcome to the Neighborhood Party. Their hospitality was so unbelievably sweet. It just blows my mind that these people are all not just neighbors but truly friends, and that they live on this adorable block in the most charming houses, and they want to wine and dine with us: the scrappy new neighbors from the fixer-upper down the street.
So I met my neighbors and ate my weight in Crab and Artichoke dip all in one night. If I can stop thinking about this dip in the next 48 hours it will be a miracle. Dorothy, look what you've started now.
Print
Skinny Crab and Artichoke Dip with Jalapeño
---
Description
This Skinny Crab and Artichoke Dip has less than 100 calories per serving and is loaded with creamy, delicious flavor. Perfect appetizer!
---
1

jalapeno

1

red bell pepper

14 ounces

canned or jarred artichoke hearts

8 ounces

canned jumbo lump crab meat

2 tablespoons

salted butter

2 tablespoons

flour

1 1/4 cups

2% milk

1/2 teaspoon

salt

1/4 cup

shredded cheese (I used a combination of Parmesan and Gruyere)

3

scallions, sliced

1 tablespoon

fresh lemon juice
chips for dipping, extra cheese for topping
---
Instructions
Remove the ribs and seeds from the jalapeno and the red bell pepper. In a large nonstick skillet over medium high heat, saute the peppers with a tiny bit of oil. You can also roast them without oil, stirring every few minutes to get a nicely browned exterior. When they are soft, set them aside.
While the peppers are cooking, drain and chop the artichoke hearts. Drain the crab. Set aside.
In the pan from step one, melt the butter. Add the flour and whisk until a thick paste forms. Let the mixture bubble for a minute or two. Slowly pour in the milk; whisk to incorporate. Keep the sauce over low heat – it should begin to thicken slightly. Add the salt, cheese, peppers, artichokes, crab, scallions, and lemon juice. Stir gently to combine. Add more liquid if needed.
Transfer to a small crockpot or serving dish. Sprinkle with a little extra cheese and replace the crockpot cover so it melts just before party time (or broil if you're using a regular serving dish). Serve on crackers or with dippin' chips.
Notes
Canned crab and artichokes work just fine for this recipe, but you don't have to use canned if you have access to fresh. Lucky you!
Prep Time:

10 mins

Cook Time:

30 mins

Category:

Dip

Cuisine:

American
Keywords: skinny crab dip, artichoke dip, crap and artichoke dip
Recipe Card powered by
The post Skinny Crab and Artichoke Dip with Jalapeño appeared first on Pinch of Yum.