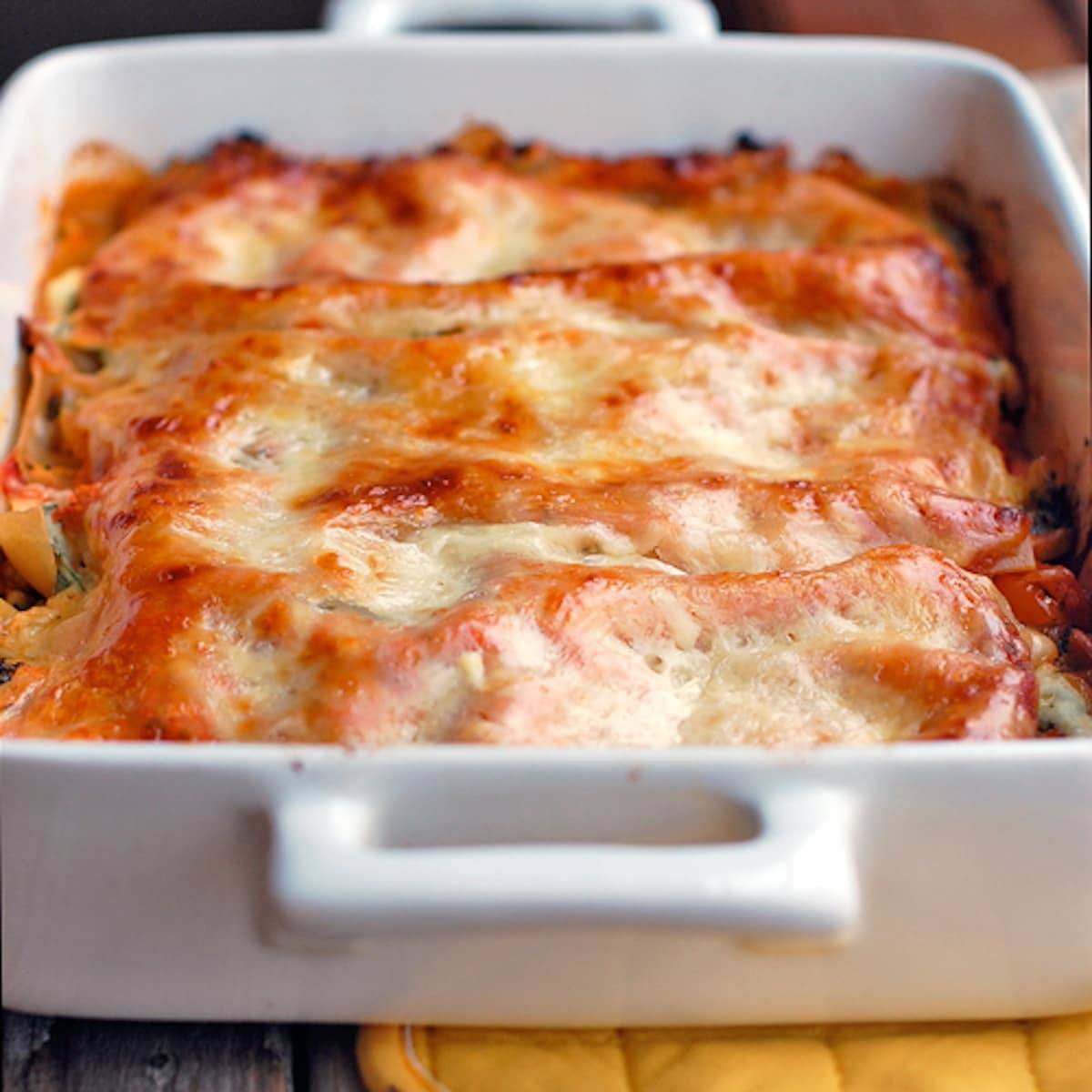 Alright, so maybe that melted cheese bomb on top doesn't look so skinny.
I seem to have a certain skill for presenting you with food that is healthy….
but not really.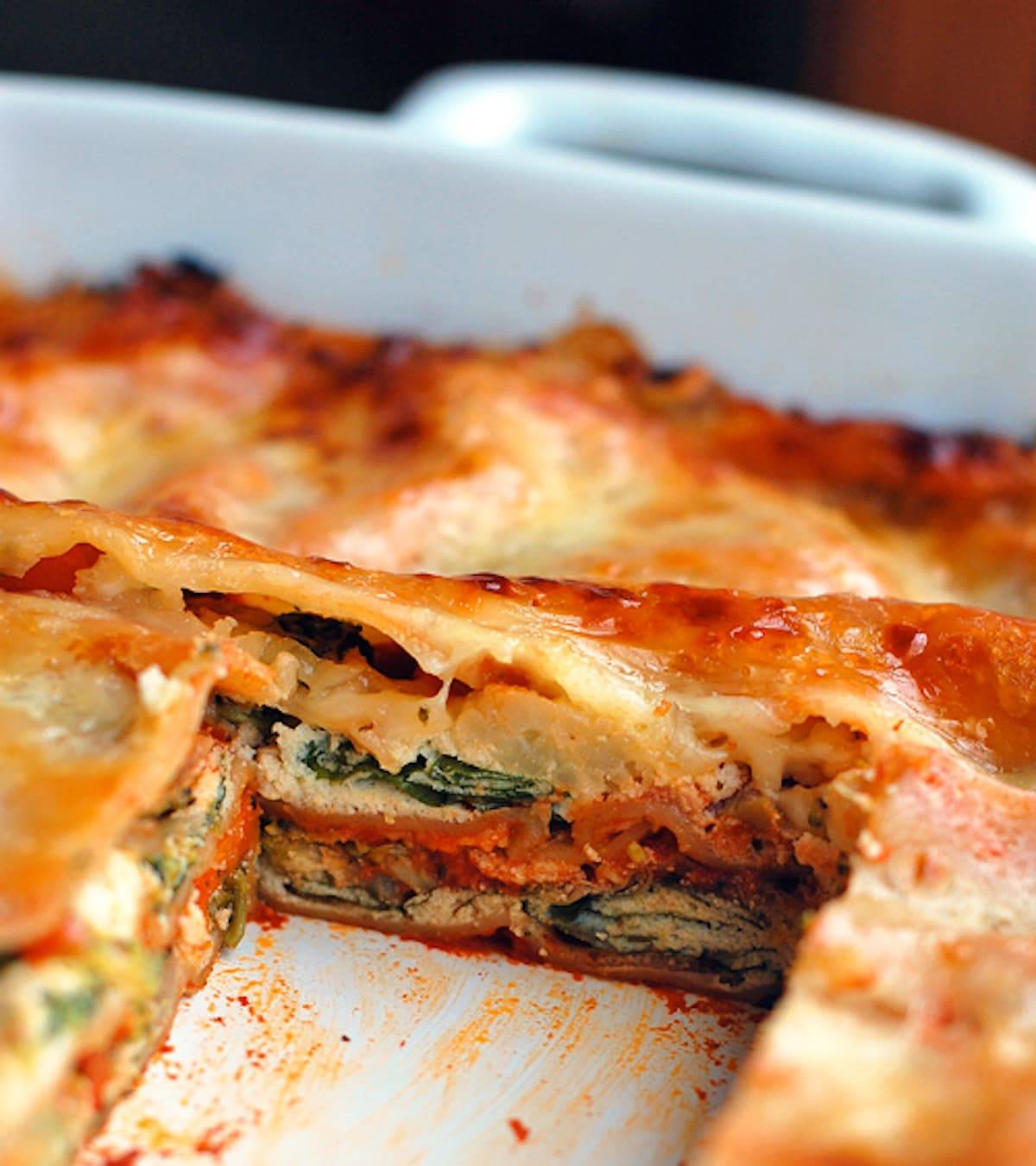 Here's the thing, though: this veggie lasagna actually is healthy.  Skinny, even.
Three cups of chopped vegetables and one cup of fresh spinach have sneaked – snuck? – their way into this pan of cheesy goodness.  And I say cheesy because I like to give the illusion that it's super cheesy, but here's the other thing – for better or worse, it's not excessively cheesy.  One cup of cheese?  Puhlease.  I could top my own individual bowl of pasta with one cup of cheese.
There are a few reasons why I need this lasagna to be skinny.
This dessert.  It's really good for breakfast sometimes.  And by sometimes, I mean all the time.
Mexican restaurants with unlimited chips and salsa.  My weakness.
A tiny habit of playing hooky from the gym.
A reappearance of #2.  There are lots of friends in town, ok?
Handfuls of Starburst mysteriously disappearing from my classroom prize box.  And I don't even like Starburst.
My desired lasagna portion size: 3 pieces.
Make this lasagna for at least one, if not all six, of those reasons.  It gets bonus points for being loaded with yummy sauteed veggies and creamy ricotta cheese and baked under a blanket of melted mozzarella.  Plus, the servings are as big as my hand.  And my hands are apparently huge.  Repeat: the servings are huge.
And if nothing else, who doesn't love a cheese blanket?  Honestly.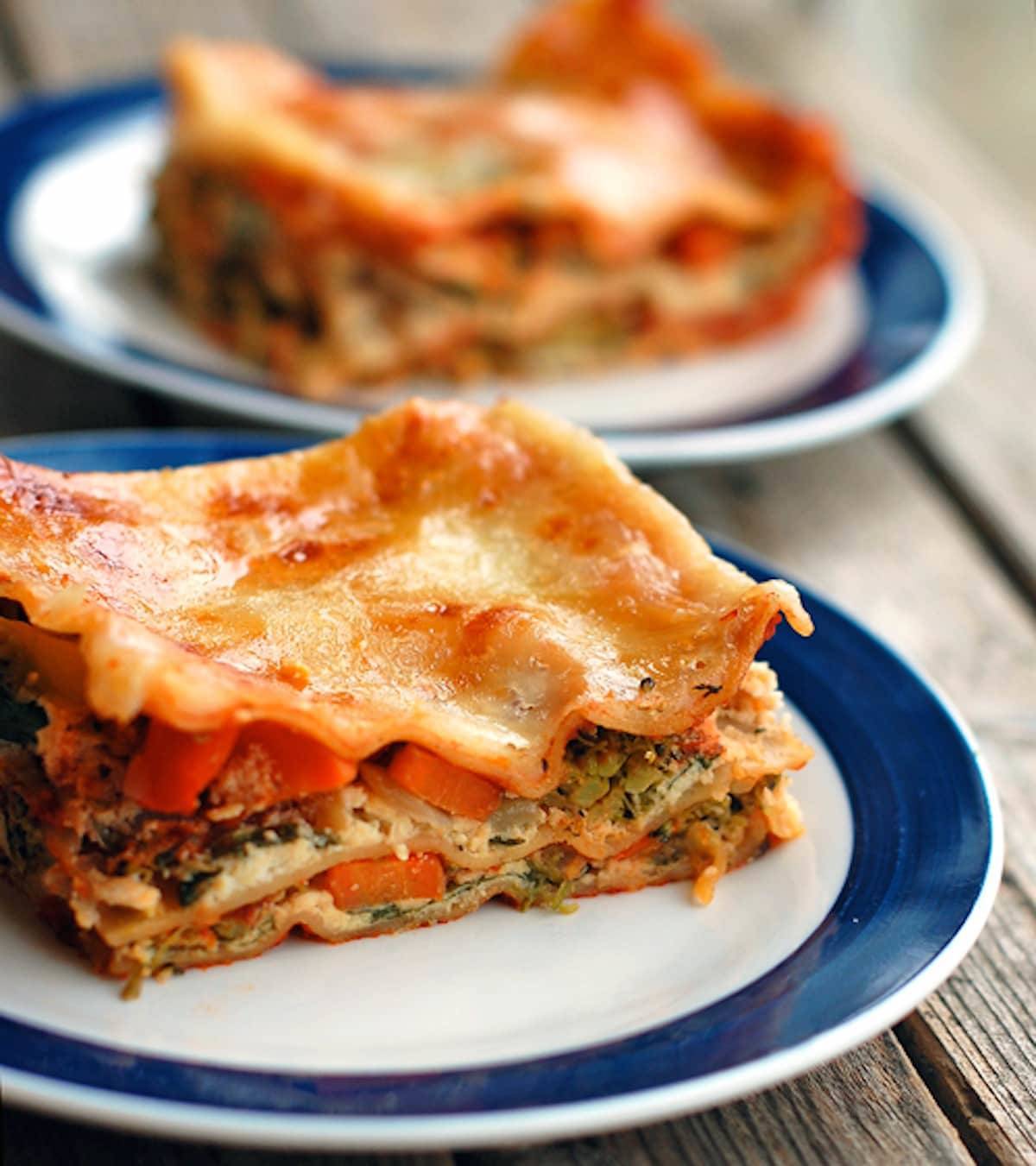 Print
Skinny Veggie Lasagna
---
Description
This skinny veggie lasagna has 200 calories per slice and is full of chopped broccoli, carrots, cauliflower, spinach, ricotta cheese, and tomato sauce.
---
3 cups

chopped veggies of your choice

1/2

chopped onion

2 tablespoons

minced garlic

1 tablespoon

olive oil

1 cup

low fat ricotta cheese

1

egg

2 cups

fresh spinach

2 cups

tomato sauce

12

uncooked oven-ready whole grain lasagna noodles

1 cup

mozzarella cheese, shredded
---
Instructions
Chop the veggies. Saute the onion and garlic in the oil over medium high heat. Add veggies and saute until tender. Set aside.
Whisk egg into ricotta cheese and stir in fresh spinach.
Pour a little sauce in the bottom of a greased 9×13 pan. Top with 4 lasagna noodles,1/2 cup ricotta mixture, 1/2 of the veggies, and 3/4 cup sauce. Repeat; top entire pan with noodles, remaining sauce, and mozzarella cheese.
Cover and bake for 40 minutes at 375 degrees. Remove foil and bake for 10 minutes more or until cheese is bubbly.
Notes
For my veggies, I used broccoli, cauliflower, carrots, and red peppers.
Check the lasagna at 30 minutes and add 1/4 cup vegetable stock if the lasagna looks too dry.
Prep Time:

10 mins

Cook Time:

50 mins

Category:

Dinner

Cuisine:

Italian
Keywords: lasagna recipe, veggie lasagna, vegetarian lasagna, healthy lasagna
Recipe Card powered by
If I turn into a green vegetable over the next 9 days, it's because I'm eating this pan of veggie lasagna all on my lonesome.  All 9 servings.
Because Bjork is eating the meat lasagna.   The one I made from the leftover meat sauce in the freezer.  #cleanout #badwife
And I'm apparently going through a phase with hashtags.   Thanks for sticking with me.
The post Skinny Veggie Lasagna appeared first on Pinch of Yum.