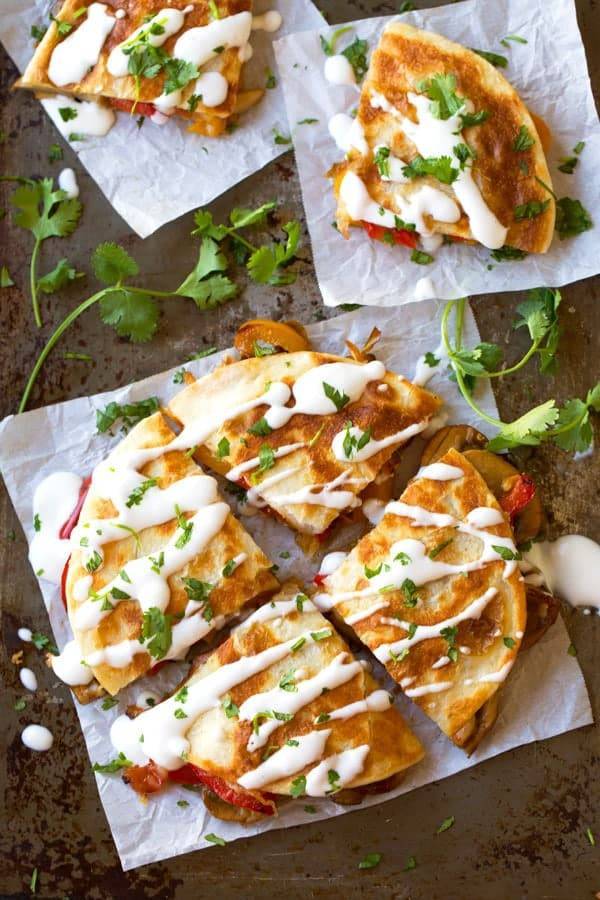 It's like this: I Tex-Mex.
I've always loved Mexican food (read: an excuse to douse food in salsa) and my food senses will always steer me in the direction of a Mexican restaurant when it's that glorious time to do my favorite thing of all time which is called Go Out to Eat. Chips and salsa, enchiladas, chilaquiles, tostadas, and carnitas – more more more.
On the Mexican food spectrum, I can't say my tastes are super refined or sophisticated. I food-thrive at both the totally authentic level and the overly Texified level. The freshest, spiciest Mexican food will, without a doubt, make my heart soar, but there is just something so wonderful about a predictably cheesy, golden brown quesadilla that makes me go WHEEEEE! Slash takes me back to 2005 and the snack bar in my college dorm building. Ruh roh.
Is there is anything authentically Mexican food-esquely about a very simple cheesy quesadilla? Better question: does it matter?
Quesa to the dilla.
Bjork and I have this weird lunch thing going on now that we work from home. Both of us. All day, together. WORKING FROM HOME. *head spins*
Bjork works in his little space in "the studio", which could also be considered our completely unfinished and totally ant-infested basement. I work upstairs, in the aesthetically nice, bug-free, comfortable main floor of our home, because food blogger needs a kitchen, and husband needs wife to be on a different floor of the house. Something about overly excessive sharing of Buzzfeed Animal listicles and not being able to get any "real work" done. So at lunch time we reconvene to eat lunch together and share a few listicles with each other before parting ways back to our different levels of the house.
Le sigh. How romantical.
Or more like q-u-e-s-a-d-i-l-l-a romantical.
True romance for us right now is when you make smoked gouda mushroom quesadillas for two, and then you sit at the table together, and top the quesadillas with every topping imaginable and maybe inwardly critique the other's topping choices but don't say anything out loud, cause you're romantic , and then you choose not to talk in order to allow the space, time, and attention needed for devouring the plate full of sauteed veggies blanketed with a layer of smoky melted cheese all packaged up in a golden brown tortilla crust. Self-sacrifice, guys.
Sauteed mushrooms + peppers + smoked gouda + tortilla + toppings to the universe and back = true love.
Print
Smoked Gouda Mushroom Quesadillas
---
Author:

Pinch of Yum
Total Time:

35 minutes

Yield:

5 quesadillas
Description
These Smoked Gouda Mushroom Quesadillas are deeeelicious! Creamy and melty, golden and crunchy, perfect for a quick vegetarian lunch.
---
1

yellow onion

2

bell peppers (I used red and yellow)

1 tablespoon

olive oil

4 tablespoons

butter, divided

16 ounces

fresh sliced white mushrooms

1 1/4 cup

shredded cheese (obvi, smoked gouda is my fave)

10

flour tortillas
sour cream and cilantro and anything else for topping
---
Instructions
Prep the peppers: Slice the onion and peppers into thin strips. Heat the olive oil in a large nonstick skillet over medium high heat; add the onions and saute for 3-5 minutes or until soft. Add the peppers and saute for 5 minutes until soft and roasty-looking on the outside. Transfer to a bowl.
Prep the mushrooms: Wipe the skillet with a paper towel and return to the stove. Add 1 1/2 tablespoons butter and melt over medium low heat. Add the mushrooms and saute for 5-8 minutes or until golden brown. Toss in the bowl with the peppers and onions.
Assemble and cook: Wipe the skillet with a paper towel (again) and return to the stove. For each quesadilla, melt 1/2 tablespoon butter in the skillet and layer these ingredients directly in the pan: 1 tortilla, 2 tablespoons cheese, 1/3 cup pepper mushroom mixture, 2 tablespoons cheese, 1 tortilla. By the time you've layered them, the bottom will probably be getting a little golden brown. Press the quesadilla together with the back of a spatula to help it stick and carefully flip it over in the skillet. I usually hold my hand on the top tortilla as I flip it to keep the filling from falling out. Let the quesadilla brown for another 2-3 minutes on the other side, just enough to turn golden brown and melt the cheese. Remove and cut into wedges (and repeat for the other quesadillas). Top with sour cream, cilantro or anything else you like!
Prep Time:

15 mins

Cook Time:

20 mins

Category:

Lunch

Cuisine:

Mexican
Keywords: quesadillas, vegetarian recipe, mushrooms, mushroom quesadillas
Recipe Card powered by
The post Smoked Gouda Mushroom Quesadillas appeared first on Pinch of Yum.