Yeah, I went there. Chicken Meal Prep. With Rice and Beans. And Cilantro Sauce. I don't even recognize this organized version of myself.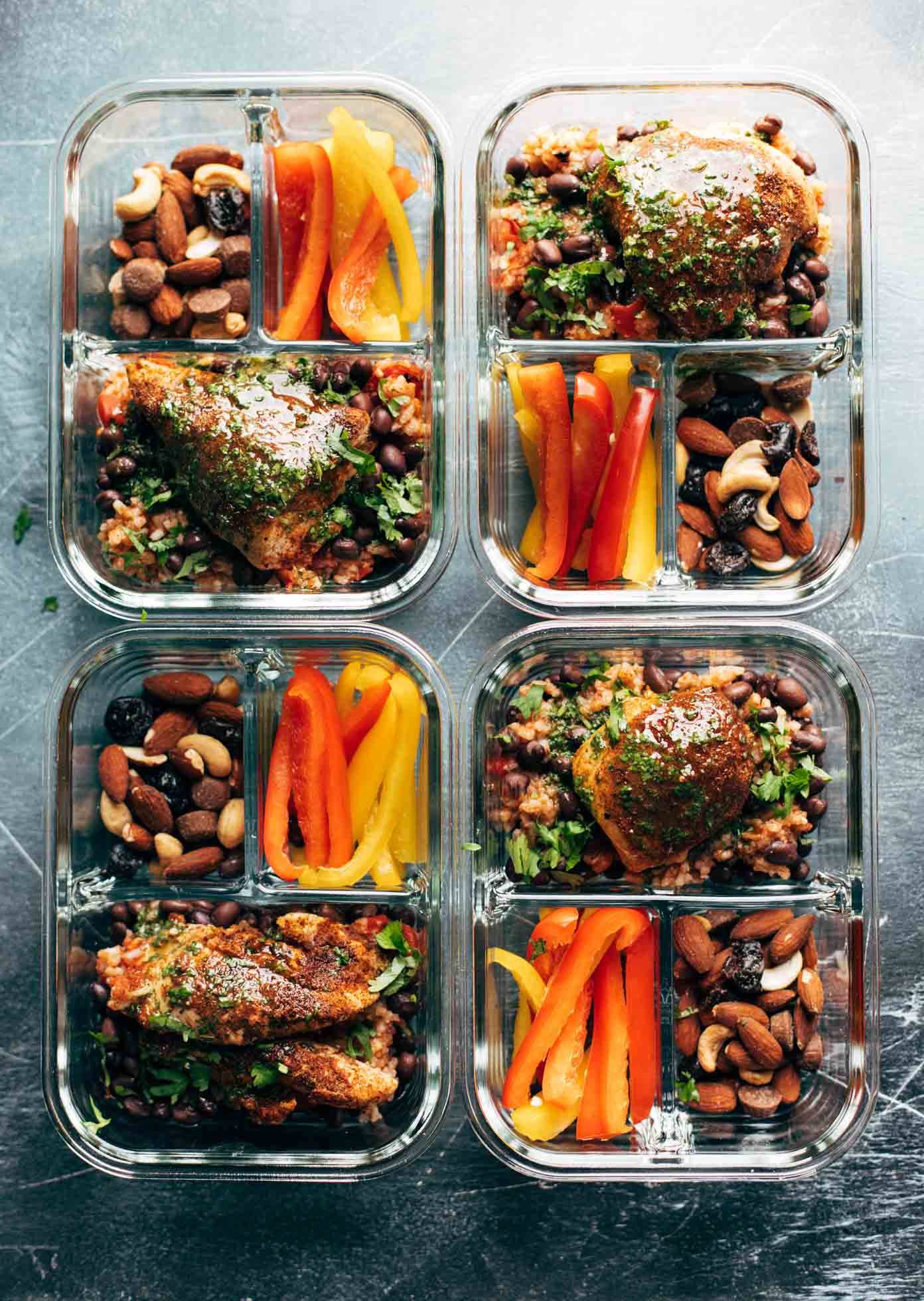 It's December, friends. Talk to me about this:
How do you enjoy all your favorite stuff (cinnamon rolls, eggnog, Christmas cookies) without going into full-blown rabid holiday eating mode for 31 straight days?
I think I know the answer. My answer, anyways.
Meal prep. As in making food ahead of time and portioning it out so you are GAME ON for healthy breakfasts, lunches, and/or dinners.
And yes, I'm learning this a little late in the game. "Meal prep" as a concept has been around for a long time and I've never jumped on that train until now. Something about December this year has me thoroughly enjoying becoming a more organized, well-prepared version of myself. Because those cookies. Those cookies are GOOD. (Which reminds me – if you like to bake, my friend Sally has a December Cookie Palooza that is so adorable and I am addicted to her cookie videos and let's be addicted to them together. Maybe this year I will get energized and actually bake some. Maybe you'll bake some, too. Youdabest, Sal.)
And now, for a chicken drizzle.
How To Make Our Chicken Meal Prep (1 MIN):
The thing I always find around the holidays is that while cookies and treats are on everyone's mind (myself included), what I *really* end up most wanting and needing is some yummy regular food to balance me out. I'm talking about something fresh, or nutritious, with some a good spicy kick to it every now and then, and maybe a little salty and a bite of crunch here and there.
Something that says to my body: Here. Take a breather. Rest up. Pack in the nutrients. Get ready for that party tonight. Where there will be cookies. Which you will enjoy.
Holiday season is a lot of things, but mostly isn't it just an exercise in balance?
Okay, it probably doesn't come as a surprise that I find it really helpful to use an Instant Pot for this recipe and/or meal prep in general. Here's why: you can go HANDS FREE and actually clean out your fridge for the week or get your dishes done while the food cooks itself in a matter of minutes. I don't think the Instant Pot is right for everything or everyone, but I DO think it's really right for things like this.
As always, if you don't have an Instant Pot, that is no biggie. You can do this on the stovetop or in the crockpot. Directions for both are in the recipe below.
Final note: the meal prep containers? (affiliate link) Are they not the cutest things you've ever seen?
They are also GLASS which is amazing because one thing that always gets me feeling a little weird is microwaving all those plastic food storage containers. Bjork and I made the switch to all glass food storage at home about a year ago, and I am so happy we did. These little divided glass ones are my favorite new addition to our food storage collection at home. They are not necessary for meal prep, but they definitely make it more fun, organized, and aesthetically pleasing. 🤓
Print
Spicy Chicken Meal Prep with Rice and Beans
---
Author:

Lindsay
Total Time:

20 minutes

Yield:

4
Description
Spicy Chicken Meal Prep with rice and beans + a yummy cilantro sauce = healthy meal prep to last you all week! Meal planning that is healthy, delicious, AND beautiful!
---
For the Chicken Meal Prep:
1 cup

long grain white rice (quinoa also works – see notes)

1 cup

water

14 ounces

of fresh salsa (undrained canned tomatoes also work)

1/2 teaspoon

salt

1 teaspoon

oil
about

1

lb. chicken breasts, cut into

4

–

6

smallish pieces
lots of spices like cumin, chili powder, garlic powder, and cayenne (taco seasoning also works)
For Adding In Later:
1

14-ounce can black beans, rinsed and drained
a handful of chopped fresh cilantro
---
Instructions
Cook: Place the rice, water, tomatoes, salt, and oil in the pot. Stir to combine. Place the chicken pieces on top and sprinkle generously with your favorite spices and some salt. Turn the instant pot on high pressure for 7-8 minutes. When done, use the quick release valve for the steam.
Mix: Remove the chicken. Mix the black beans (and maybe a little sunshine sauce) in with the rice.
Meal Prep Yourself: Divide the rice and beans amongst 4-6 meal prep containers. Top each with a piece of chicken. Sprinkle with cilantro and drizzle with a spoonful of sauce.
Equipment
The equipment section may contain affiliate links to products we know and love.
Notes
What if I don't have an Instant Pot? On a stovetop, just cook the rice according to package directions, then add the tomatoes and beans. Sprinkle the chicken with spices and sauté in a separate frying pan until cooked through. I tried this in a crockpot but it didn't work super well. The rice got really mushy and about half of it was still uncooked. So I wouldn't advise using the crockpot!
Vegan version and other substitutions: Quinoa works! Tofu works! I did a quinoa-tofu version of this using 1 cup quinoa instead of rice, and 1 package tofu instead of chicken. Cooked in Instant Pot for 5 minutes – it was great! If you use quinoa and chicken together, I recommend cutting your chicken a little smaller so that it fully cooks in 5 minutes,.
What to serve it with: My two sides were sliced bell pepper and a yummy dessert-like trail mix.
How to reheat it: When we make these, we take out the peppers and the trail mix to munch on while it heats in the microwave.
What about avocado? Yes. Very good idea to have an avocado handy for when you're planning to eat this. I would't prep it with avocado though – it will brown too quickly.
How long does it last? This chicken, rice, and beans meal prep will last for about 4 days in the fridge. I have not tried freezing this.
Nutrition: Nutrition information includes everything but the Sunshine Sauce. You can find that nutrition here.
Prep Time:

10 mins

Cook Time:

10 mins

Category:

Dinner

Cuisine:

Mexican-Inspired
Keywords: spicy chicken, rice and beans, meal prep chicken
Recipe Card powered by
---
One More Thing!
This recipe is part of our best healthy meal prep recipes page. Check it out!
The post Spicy Chicken Meal Prep with Rice and Beans appeared first on Pinch of Yum.