Friends, a NAAN-WICH just showed up.
And by naan-wich, I mean this pillowy sandwich packed with homemade falafel (5 ingredients!), roasted veggies, and epic homemade sauce. The naan-wich is here.
And so is 10 inches of snow! OH MY GOSH I love it.
Minnesotans know – living here in the winter means you that for the days leading up to the winter season, you always wonder which day will be the one when you'll wake up to The First Snow Morning. Is it going to be miserably icy cold? Are we excited about this? Did it stop being fun yet? You pull back the curtains and – surprise! – your whole world is laced with glittery white. You open your front door and seriously, guys, this might be my favorite ever – the world on The First Snow Morning is just so completely gentle and quiet. The streets and sidewalks haven't been plowed yet which means the snow absorbs all the noise which means us quiet-lovers are all about the whole thing. Cars, footsteps, animals… all of the usual neighborhood noises are perfectly muted by that soft layer of white sugar snow.
So, answer: it hasn't stopped being fun yet.
And it's even more fun when your sweatered-slippered-blanketed self sits inside on the couch with candles burning and Christmas music playing while EATING A NAAN-WICH stuffed with spicy falafel, roasted cauliflower and carrots, sun dried tomatoes, and magic green sauce.
I mean, seriously tho. A NAAN-WICH.
All 'bout The Naan-Wich
This naan-wich situation is just an evolution of the Ultimate Winter Bliss Bowls and also an answer to the question –> What else can I make that will continue to allow me to eat that spicy homemade falafel for as long as possible?
It is written as a recipe because this is, after all, a RECIPE-type blog, but it's more of a generic formula for greatness.
Garlic Naan (you could make your own if you're a hero. I am not a hero in this regard.)
Homemade Falafel
Roasted Veggies of any variety
Sun Dried Tomato Spread (or something else for a stickier, heavier texture – hummus, maybe?)
Sauce of any variety (as if you would skip the Magic Green Sauce. AS IF.)
Pack it all in and call it lunch for the rest of December.
Also – you would not be mad at yourself if you decided to roll them up (like you would with a burrito), keep in the fridge, and then just grab them for on-the-go workday lunches. Maybe don't add the Magic Green Sauce till after you pop it in the microwave to warm up for lunch – MGSauce does its best flavor work when it's cold – but everything else is just sort of getting smushed up into deliciousness in that naan-wich so no worries on packing it all together a day or two in advance.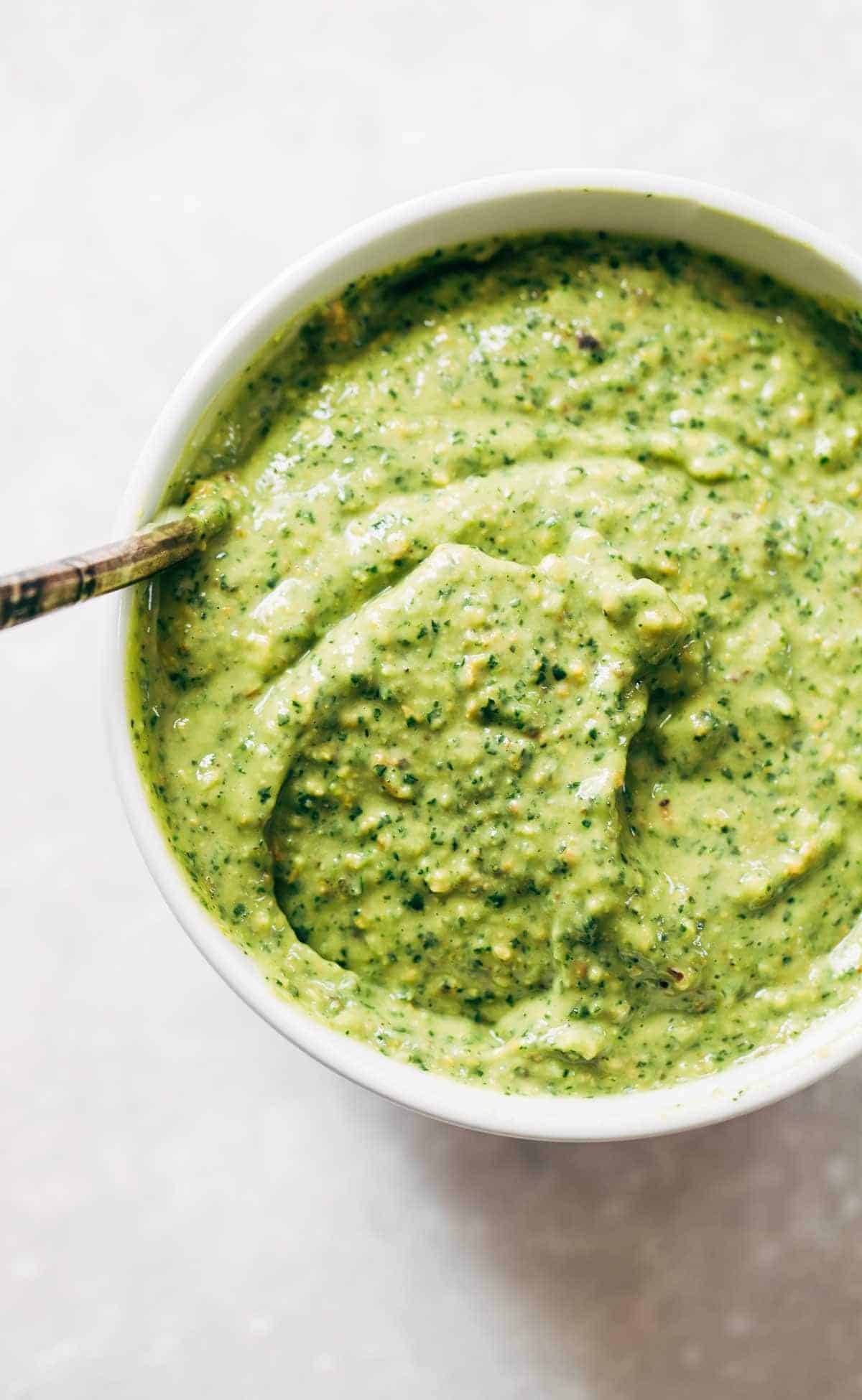 So many things to do today – take Sage out for her first real playtime in the snow (this weekend at the dog park she half-heartedly ran after a ball for about 5 seconds – PROGRESS), take pictures of Sage in the snow, and snuggle with Sage on the couch while listening to Christmas music and scoping out the Cyber Monday deals like the true shopping introvert that I am.
Er, no, Bjork, waaait – I meant working. I'll be working. Promise.
Work of the stuffing-my-face-with-spicy-falafel-naan-wiches variety.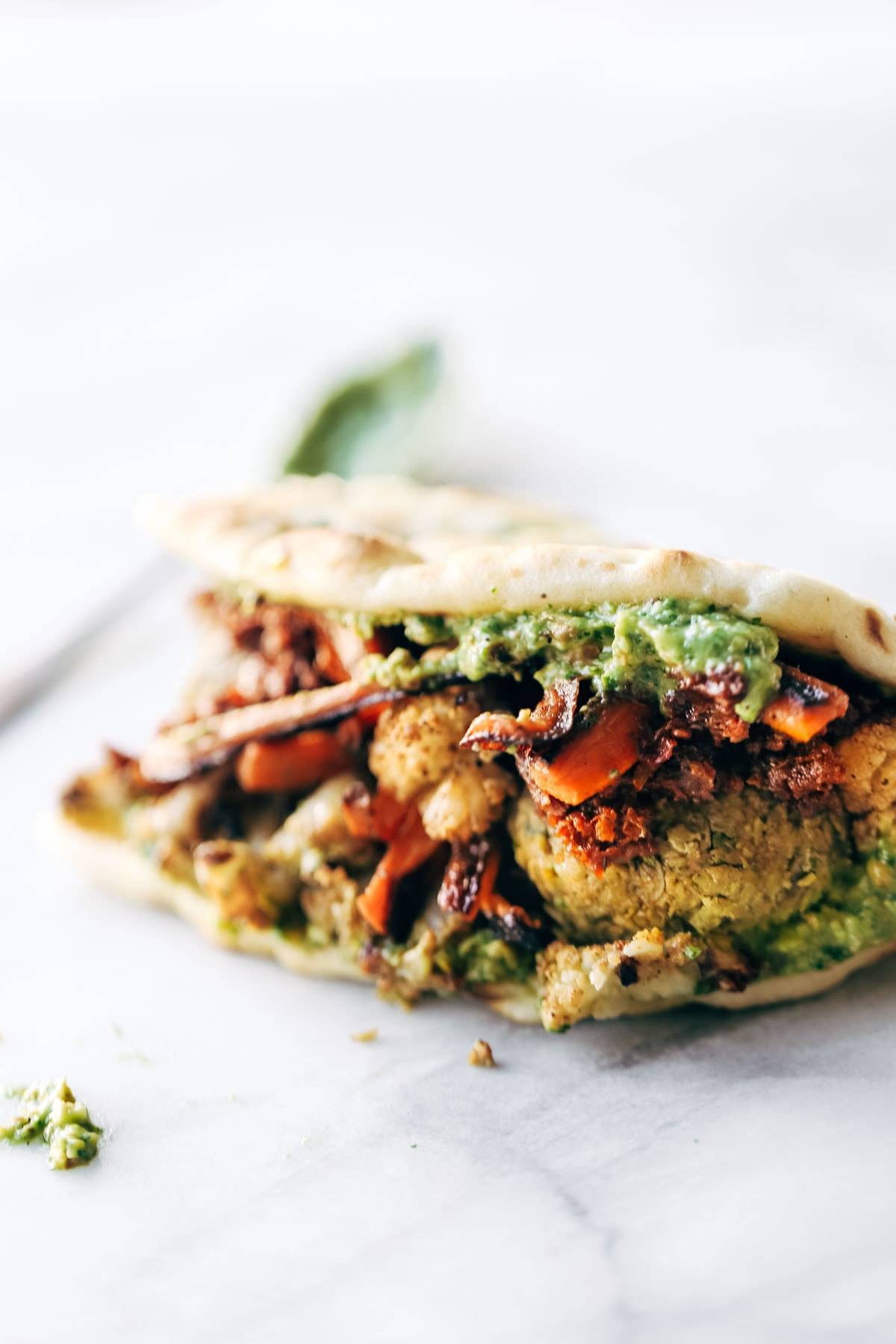 Print
Spicy Falafel and Roasted Veggie Naan-wich
---
Description
Naan-wich: 5 ingredient falafel, roasted veggies, and avocado sauce stuffed between pillowy garlic naan. Best sandwich recipe I've ever made.
---
For the Roasted Veggies
5

–

7

carrots

1

head cauliflower

2 tablespoons

olive oil

4 teaspoons

cumin
For the Naan-wiches
1

12-ounce jar of sun dried tomatoes, packed in oil

3

big pieces of garlic naan, torn in half (I use store-bought and I'm very okay with it)

10

–

12

pieces of easy 5 ingredient baked falafel

one

batch of Magic Green Sauce
a handful of cilantro leaves
---
Instructions
Make Ahead: Prepare the falafel and the Magic Green Sauce. It shouldn't take more than 30 minutes for both. They can be made a day in advance and kept in the fridge, too.
Roasted Veggies: Preheat the oven to 400 degrees. Peel the carrots and cut into thin strips and place on a roasting pan. Chop the cauliflower into small florets and place on a separate roasting pan. Drizzle each pan with oil and sprinkle each pan with cumin and salt + pepper to taste. Toss around on the pan to combine. Bake for 30 minutes, stirring occasionally. To get more browning, bake for an additional 10-15 minutes. When the veggies are done, remove from oven and set aside to cool.
Sun Dried Tomato Spread: Drain off most of the excess oil from the sun dried tomatoes and pulse through a food processor for a chunky, spread-able texture.
Assembly: Warm up the naan so it's nice and soft. Spread with Magic Green Sauce and layer with roasted carrots, cauliflower, sun dried tomato spread, falafel, and cilantro leaves.
Notes
My falafels were a little bit round and chubby, so I just gently pressed them into more of a veggie burger shape and that helped with sandwich assembly.
Prep Time:

15 mins

Cook Time:

30 mins

Category:

Dinner

Cuisine:

Mediterranean
Keywords: falafel sandwich, roasted veggie sandwich, naan sandwich
Recipe Card powered by
I like to use Stonefire Garlic Naan which I buy at Target!
---
If you want to see snaps of the white sugar snow wonderland that I am currently living in and how many naan-wiches I'm actually eating, you can find me (and Sage) on Snapchat! Search for pinchofyum.
---
PS. I used my food processor for this recipe – and I love it so much that I wrote this post showing off 12 Magical Ways To Use A Food Processor! I loooove that thing.
---
One More Thing!
This recipe is part of our best sandwiches, burgers, and wraps page. Check it out!
The post Spicy Falafel and Roasted Veggie Naan-wich appeared first on Pinch of Yum.