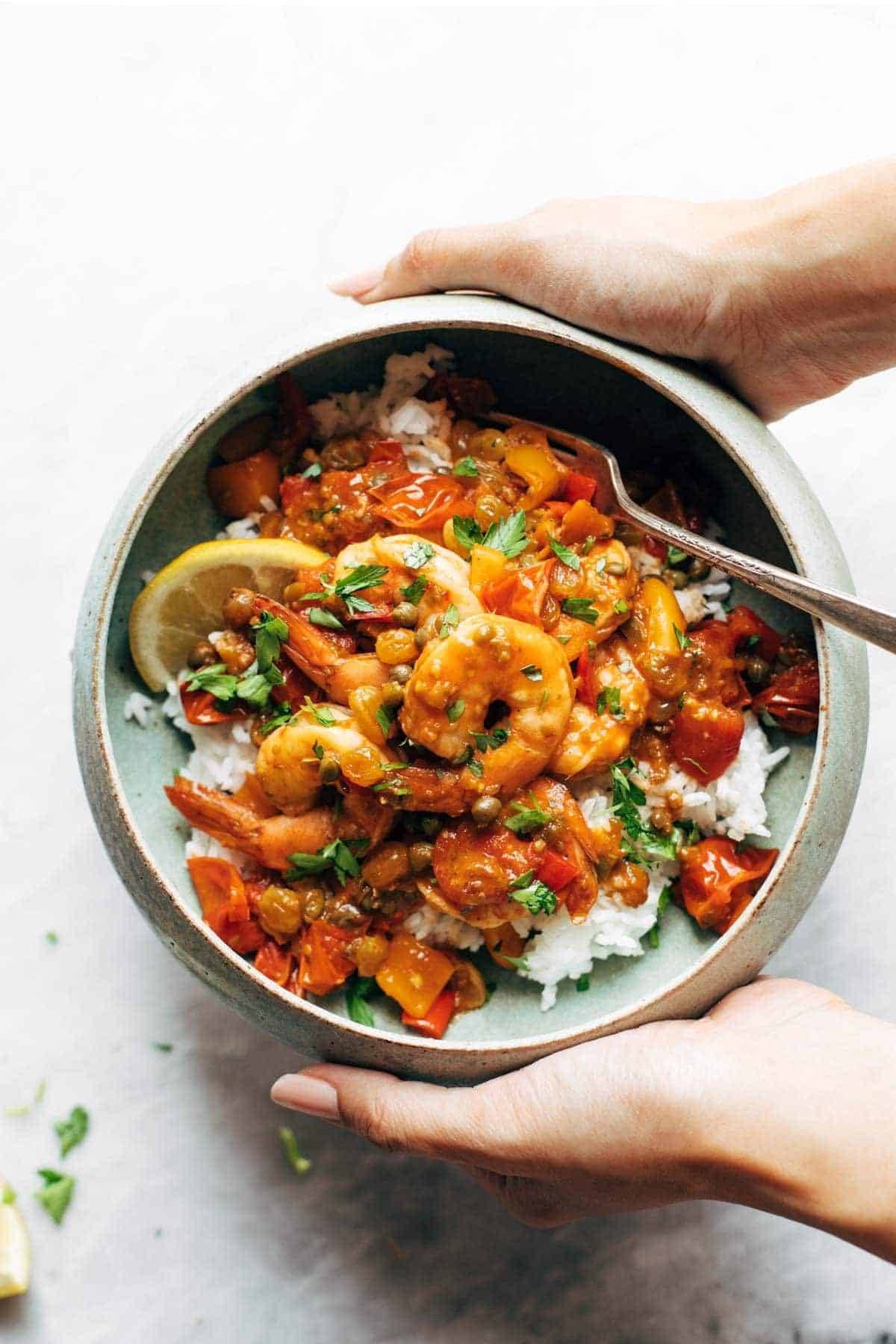 You guys, Shrimp Veracruz is so good, and it's also so strange, and also so good. Did I say that? Just MEGA DELICIOUS.
And so this is where I test your allegiance to Pinch of Yum. Trust?
It's hard for me to articulate why I love this seemingly bizarre-o combination so much. But I think it has something about the therapeutic nature of sauteing lots of peppers and tomatoes and garlic, the sizzle of the red wine in the hot pan, the briny bursts of capers (my favorite) followed by sweet bites of golden raisins, plus just enough heat from the pickled jalapeños to playfully bite back. Also: since the shrimp just get gently cooked – almost kinda poached – on top of the whole sauce, they maintain a super delicate and sweet flavor that is just… YUM.
Heaped over rice, hot out of the skillet? DONE. Game over.
I learned of Shrimp Veracruz by way of a Blue Apron meal, and I have just been hot on the trail of this ingredient combination ever since. The internet tells me that Shrimp Veracruz normally has green olives and normally doesn't have golden raisins. But dang, those bites with the plumped up golden raisins are not something I'm willing to sacrifice at this point in my life.
Here are the noteworthy players in the Shrimp Veracruz game:
Shrimp
Tomatoes
Peppers
Garlic
Red wine
Oregano
And just when you thought life was normal, this happens:
Capers (!!!)
Pickled jalapenos (!!!)
Golden raisins (!!!)
Let's walk this out. First, you saute your tomatoes and peppers and garlic and stuff.
WITH RED WINE DUH.
Then, once you have a bubbling skillet, you add your shrimp on top and just let them cook ever so gently.
When they're done, stir them in and squeeze lemon over the entire thing because you're an adult and you know how to love yourself.
Plate up some steaming rice and scoop your shrimp and sauce mixture over the top.
Lemon wedge – check.
Parsley sprinkles because you fancy – check.
Spicy, briny, bold flavors bringing you to a whole new world – CHECK CHECK CHECKCHECKCHECK.
As you know, I don't ACTUALLY know what I'm talking about when it comes to Shrimp Veracruz, so for more authentic Shrimp Veracruz recipes, check out this recipe from Gabriela Cámara and this video from Paul Sanchez.
Print
Spicy Shrimp Veracruz
---
Author:

Lindsay
Total Time:

45 minutes

Yield:

3-4 servings
Description
Shrimp Veracruz – my new favorite recipe!! Juicy shrimp in a pepper / tomato spicy, briny sauce served over rice. Oh my gosh, THIS IS SO GOOD.
---
2 tablespoons

olive oil

8

–

10

sweet mini peppers, chopped

1 pint

cherry tomatoes, halved

2

cloves garlic, minced

2 tablespoons

pickled jalapeños, minced

2 tablespoons

capers

1/4 cup

golden raisins

1 teaspoon

dried oregano

1/2 teaspoon

salt

2 tablespoons

red wine

1 cup

water (see notes)

1

pound uncooked shrimp (see notes)
rice for serving
lemon or lime (optional)
---
Instructions
PEPPERS: Heat the olive oil in a large skillet over medium high heat. Saute peppers for 5-10 minutes until they're nice and soft.
TOMATOES AND STUFF: Turn the heat down to medium (to avoid burning the garlic). Add the tomatoes, garlic, jalapeños, capers, raisins, oregano, and salt. Saute for 5-10 minutes until it's all fragrant and yummy and the tomatoes have released some of their juices.
SAUCE HAPPENING: Add the wine – sizzzzzzle. Add the water, a little at a time, and simmer for another 5-ish minutes until it's moderately saucy.
SHRIMP: Place the shrimp on top of the sauce. Sprinkle with more salt / pepper. Cook on one side for 4-5 minutes. Flip and cook on the other side for 1-2 minutes.
DONE! Serve the saucy, briny, moderately spicy goods over hot steaming rice. Squeeze a lemon or lime over the top to be totally extra.
Notes
I recommend using a very wide skillet so you can fit all your shrimp in a beautiful single layer on top! If you can't fit them, you can also just stir them into the sauce and let them cook for a few minutes that way.
I like to add the water a little bit at a time, so I start with about 1/2 cup, and then add 1/4 cup as it simmers down. You can play with the texture of the sauce by adding liquid – wine, lemon juice, water, etc. But you can't take OUT liquid, so just add carefully.
Prep Time:

15 minutes

Cook Time:

30 minutes

Category:

Dinner

Cuisine:

Mexican
Keywords: shrimp veracruz, spicy shrimp veracruz
Recipe Card powered by
---
One More Thing!
This recipe is part of our collection of easy shrimp recipes. Check it out!
The post Spicy Shrimp Veracruz appeared first on Pinch of Yum.