Ow owwwwwww! She looks good!
This might be my bigger summer surprise recipe yet: the fact that tofu, crumbled and pressed together with lemongrass, sriracha, mint, cilantro, and basil, and browned up into a delicious, flavor-bomb burger served on a toasted brioche bun with spicy mayo and some delicately sliced fresh veggies can, in fact, be ONE OF MY FAVORITE BURGERS that I've ever made.
And that's saying a lot because I love a lot of burgers (wild rice burgers! cauliflower burgers! salmon burgers!).
But specifically in this case, when I say burger I actually mean VEGAN burger, because remember that the base of this beast is a block of humble tofu. I know. I'm as shocked as you are.
Prefer To Watch Instead Of Read?
Some things to know about a tofu burger, in case this is a new concept for you like it was for me.
I like to cook them using a stovetop and oven combo.
They will get gorgeously browned and crispy on the outside via stovetop.
They will firm up a bit via oven.
The insides are softer than a regular burger – especially if your tofu still has a lot of water in it. So DRAIN THAT TOFU! And drain it well.
If you find yourself in a position where you're like, you know what, I don't have time to drain my tofu and I'm just going to go with it? I feel you. You'll still get a totally delicious burger but it will just be texturally a bit softer.
Add whatever you do or don't like to this beautiful canvas – I added peppers (roasted 'em with the burgers in the oven) and fresh cucumbers and carrots and herbs, because the flavor profile here is Vietnamese-inspired. Heavy on the sriracha, herbs, lemongrass.
But you do you! Whatever suits your fancy will be just fine. This is a time for you to build your own tofu burger masterpiece.
This recipe is inspired by the Vietnamese-Style Tofu Burger recipe in the Plants Only Kitchen cookbook by Gaz Oakley. People often send us their cookbooks but this is one that I bought myself, and it is one of my favorite cookbooks *ever*! So fun, playful, and creative. If you like vegan food, Gaz is an excellent follow on Instagram and the cookbook is well worth the purchase. This version of the tofu burgers uses easier-for-me-to-find ingredient swaps and has a slightly shorter ingredient list.
Common Questions About These Tofu Burgers
What's the texture like?
In general, these burgers are softer than a regular burger, especially on the insides. Step 1 in the recipe is important so the burgers don't get overly mushy. That being said, they will taste great even if you don't have time for it – I have made versions where I just open the package and squeeze as much water as I can out, and honestly I've loved every bite. Just know that the burger texture will be slightly heavier and wetter if you skip that first step.
Can I make this gluten-free?
For a gluten free version, use a gluten free flour – Gaz actually recommends buckwheat flour in his cookbook.
How spicy are these burgers?
I felt like with 1 tablespoon of sriracha in the whole thing, it was still pretty mild and worked okay for our toddler. Once you get into the 2 or 3 tablespoons of sriracha zone, it's going to be more of a medium / + level spice.
Print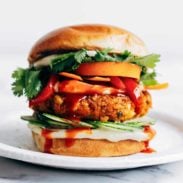 Spicy Tofu Burgers
---
Author:

Lindsay
Total Time:

55 minutes

Yield:

4
Description
Spicy Tofu Burgers! YES. Crumbled tofu pressed together with lemongrass, sriracha, and fresh herbs, all browned up into a delicious flavor-bomb burger.
---
Burgers
1

block extra firm tofu

2 tablespoons

tomato paste

1

–

2

tablespoons sriracha (for medium or hot, add more sriracha)

2 tablespoons

fresh mint, chopped

2 tablespoons

fresh basil, chopped

1/4

cup

fresh cilantro, chopped

1

shallot, very finely minced

1 tablespoon

lemongrass paste

5 tablespoons

all purpose flour

1 teaspoon

salt
Burger Toppings:
buns (toasted, please)
sriracha
mayo
carrots
cucumbers
bell peppers
more herbs
---
Press the water out of your tofu using a tofu press or just laying a heavy pan on top of it for 20-30 minutes.

Mash the tofu using your hands or a spoon until it's crumbly. Mix in the remaining burger ingredients. Form into 4 patties. 

Preheat the oven to 350 degrees. Fry the burgers in a skillet with a little bit of olive oil first to get the outsides nice and browned. Then transfer to the oven and bake for 20-or-so minutes, until the burgers are firm to the touch on the outside. (You can throw some peppers or onions in the pan with the burgers if you want to cook them up at the same time.)

Serve on toasted buns with sriracha, mayo, and fresh veggies and herbs (bonus points if you make quick pickled veggies because YUMMM).

Equipment
The equipment section may contain affiliate links to products we know and love.
Prep Time:

35 minutes

Cook Time:

20 minutes

Category:

Dinner

Cuisine:

American
Keywords: spicy tofu burger, tofu burger, vegan burger
Recipe Card powered by
The post Spicy Tofu Burgers appeared first on Pinch of Yum.