Call me crazy, but I've never been big on fruit for breakfast.  When given the choice, I always prefer chocolate, maple, or cinnamon breakfast flavors over fruity things.  Unless it's Fruity Pebbles.
But today I had real fruit for breakfast, and I love love loved it.  Maybe because it was wrapped up in a soft, golden crepe type thing…
And it had fresh strawberry sauce and cream on top.
(Does it still count for cream if it was just flavored coffee creamer?  I'll go ahead and say yes.)
In typical Lindsay fashion, the idea for these did not come until I started making what I thought would be Swedish Pancakes.
In a moment of divine inspiration, I had a flashback to 9th grade, when I was on a trip to Ukraine with my church.  In my flashback, I was sitting at the kitchen table of the sweet family who hosted my mom and me.  We were enjoying some of the most delicious homemade cheese and fruit filled crepes, and I have the distinct memory of wondering: is it rude to eat this many?
I took this flashback as a sign that I should attempt to make these little creations, and after googling "filled crepes from Russia", I came up with their name.  Blintzes, or as our host family called them, Blinchkes!
…Upon writing this, I am realizing that Blinchkes (pronounced BLEEN-ch-kees) sounds a little too similar to bikinis.  Which is reminding me that my Spring Break trip is coming.  Which is ultimately reminding me that I probably shouldn't be eating so many strawberry Blintzes…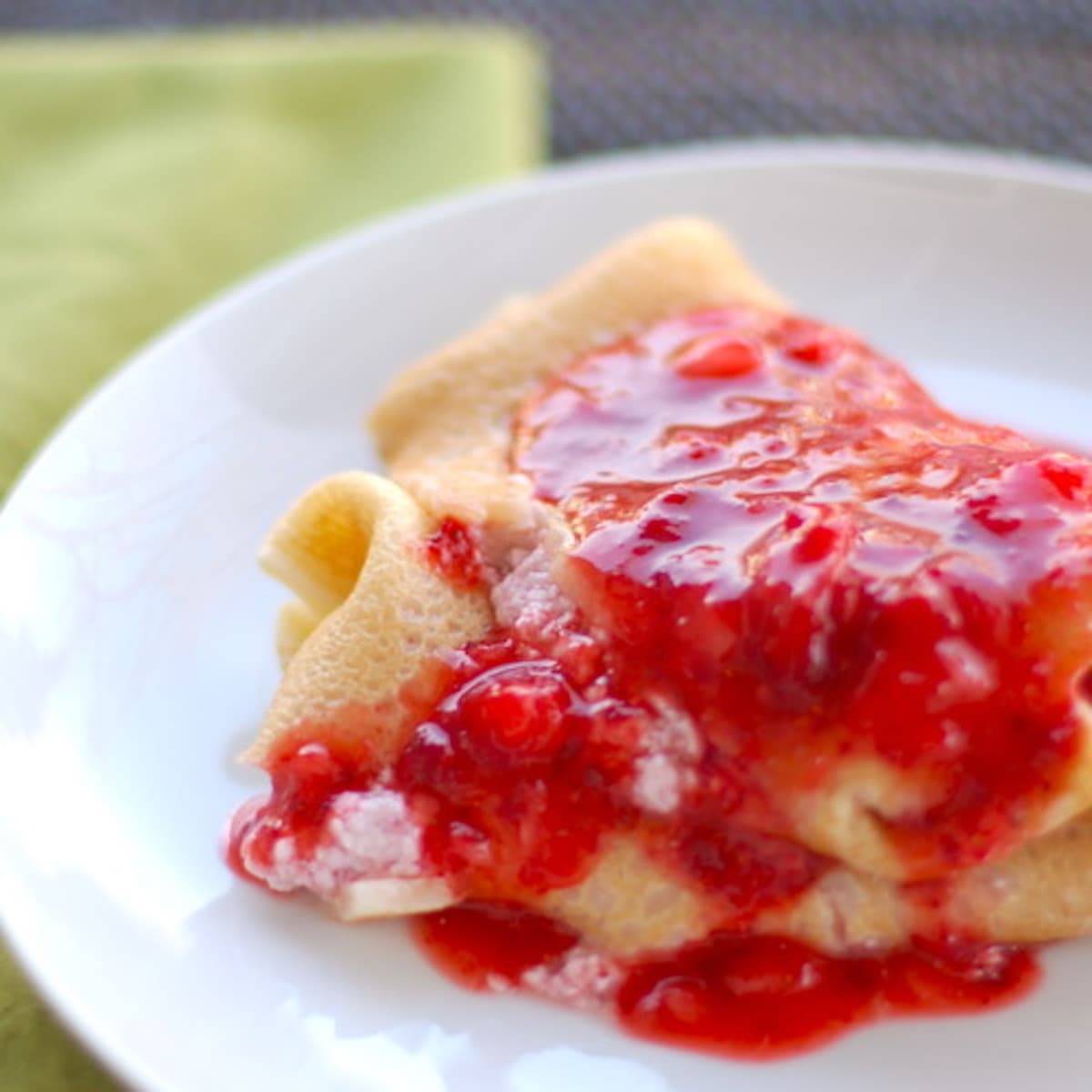 Print
Strawberry Blinchke Crepes
---
Description
These strawberry blintzes are just like crepes stuffed with creamy ricotta cheese and fresh sweet strawberries. A perfectly simple strawberry breakfast.
---
Crepes or Swedish Pancakes – 4 medium/large
Ricotta cheese, about 1 cup
Frozen or fresh strawberries, about 1 heaping cup
Strawberry jam
Cream
---
Instructions
Make the crepes.
In a food processor, blend half of the strawberries with the ricotta cheese. Add a little sugar or strawberry jam to sweeten (to your desired tastes).
Fill the crepes with 2 mini scoops of the ricotta cream mixture, and fold them over on the tops and sides. Place them in a greased baking dish, seam side down. Bake at 400 degrees for about 15 minutes.
In the food processor, blend the rest of the strawberries with a little sugar or strawberry jam to make a strawberry sauce.
Plate the blinchikes and top with a spoonful of strawberry sauce. Add a drizzle of cream!
Notes
As usual, I used a few standby items. For one, I did not make crepes from scratch. I had a box of Swedish pancake mix. It worked fine. Also, I used cottage cheese instead of ricotta. It worked fine, but I think the texture of ricotta would have been better. And lastly… french vanilla coffee creamer was used instead of cream. But hey, it came out tasting delicious!
Prep Time:

15 mins

Cook Time:

30 mins

Category:

Breakfast

Cuisine:

French
Keywords: strawberry crepes, strawberry blintzes, strawberries and ricotta cheese
Recipe Card powered by
What's your favorite topping for pancakes or crepes?
And if there's anyone out there who has ever had real blinchikes, fill me in on how to make these more authentic!
The post Strawberry Blintzes (Crepes) appeared first on Pinch of Yum.