Super clean broccoli salad CAN BE A REAL THING. No mayo, no bacon, and no missing flavor because this baby is packed with crunchy-creamy plant goodness! Featuring purple cabbage, broccoli, raisins, almonds, green onions, and a creamy vegan almond-miso-orange dressing.
Guys. It's me and super clean broccoli salad here, and we are at your summertime service.
Crunchy, healthy, saucy, delicious things ahead.
Before we embrace the healthiness of this updated *super clean* broccoli salad, let's give a little love to the good old fashioned broccoli salad.
Yes, BROCCOLI SALAD. This is the food of my upbringing. I'm talking about the variety of broccoli salad that is thick with a sweet mayo-based dressing and loaded with plenty of bacon and sunflower seeds and raisins – the one that is so retro and amazing in the way that only a mayo-and-bacon-based salad can be. And in summer? I mean, basically any pot-luck, graduation party, or picnic-esque functions in my beloved small town Minnesota? You know there's gonnabe broccoli salad out there in the wild, and you know we're all gonnabe lovin it.
HOW TO MAKE OUR CLEAN BROCCOLI SALAD (50 SEC):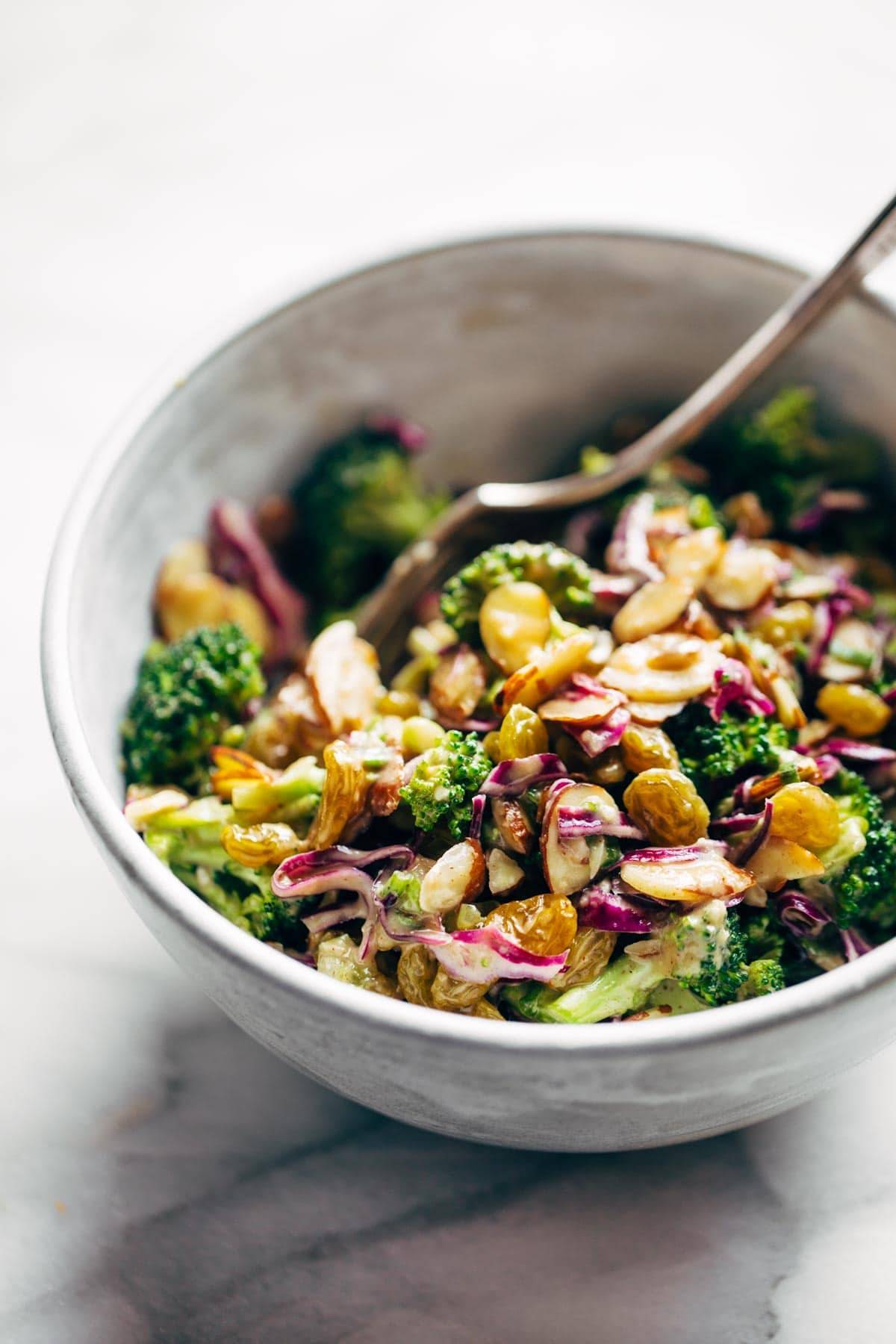 My heart has nothing but love for the original broccoli salad. I'm not looking to replace it.
And to be honest, I'm not even expecting to win over the broccoli-salad-makers of small town Minnesota who kept my mayo salad quota full for most of my childhood. That's okay. I won't feel bad. There's room for old and new at our table.
This can be its own thing, really, can't it?
It's a modern twist on the classic old school broccoli salad and it's super healthy and plant based and colorful and, I mean, I might be a tiny bit biased, but it's also REALLY DELICIOUS to the point where you are willing to look past the embarrassment of pulling it out of the fridge for a midnight snack in order to taste the creamy, cold, salty-sweet crunch of the broccoli, raisins, and almond orange dressing.
It's the kind of food that gets me most excited in all the world. ♡ Healthy meets color, texture, flavor, and ease of preparation. Diving in NOW.
The sauce starts with almond butter and miso to give it a heavy, creamy-like texture and weight that will cling to the broccoli and get all up in between those little crunchy ingredients. Then we work that sauce with shallots, canola oil, and Simply Orange Low Acid.
A few reasons we're loving Simply Orange in general and for this recipe specifically.
This golden nectar of the gods is not sweetened. Just like it sounds – SIMPLY ORANGE.
It's not from concentrate. It's not frozen.
Our specific variety of the day – Simply Orange Low Acid – packs less of a bite and keeps things smooth and easy when either drinking it (ugh how good is a morning glass of real orange juice  // I LOVE IT) or when using it in a recipe where you don't want things to be overly punchy. Case in point – our super clean broccoli salad of the moment.
So here goes. Throw the gang into the food processor and we're off.
Super creamy, salty, delicious sauce that is mild and smooth in flavor – check.
Pour over super healthy ingredients like broccoli, almonds, cabbage, and raisins – check.
Toss together and find yourself at midnight eating the leftovers cold straight out of the fridge – CHECK.
Clean broccoli salad, I love you I love you I love you so much for summer.

Print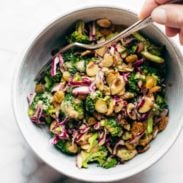 Super Clean Broccoli Salad with Creamy Almond Dressing
---
Description
CLEAN Broccoli Salad – non-mayo-based vegan goodness! with purple cabbage, raisins, almonds, green onions, and almond butter dressing.
---
For the Salad:
2

heads broccoli, cut into small florets

2 cups

chopped purple cabbage

1/2 cup

golden raisins

1/2 cup

slivered almonds

1/2 cup

chopped green onions
For the Miso Orange Dressing
2/3 cup

Simply Orange Low Acid

2 tablespoons

miso

2 tablespoons

almond butter

1

shallot

2 tablespoons

canola oil
---
Instructions
Toss all the salad ingredients together in a bowl.
Pulse the dressing ingredients in a food processor until smooth. Pour over the salad ingredients and toss to combine.
Serve immediately! Add more orange juice to add more moisture as needed.
Notes
Miso Substitute: We've subbed in soy sauce for the miso and it works great!
We've made this several times and we liked it with a handful of cooked quinoa thrown in for good measure as well as a little bit of crumbled bacon as a throwback to the original broccoli salad.
If you like salads with a lot of dressing, be sure to double up on the dressing for this one.
Also, if you don't have access to miso, you could just use almond butter in place of the miso but be sure to compensate with additional salt to taste.
Prep Time:

10 mins

Cook Time:

5 mins

Category:

Lunch

Cuisine:

American
Keywords: healthy broccoli salad, vegan broccoli salad, broccoli salad recipe
Recipe Card powered by
Thank you to Simply Orange for partnering with us for this post! For more Simply Orange recipes, be sure to follow them on Facebook.
---
One More Thing!
This recipe is part of our best healthy summer salads page. Check it out!
The post Super Clean Broccoli Salad with Creamy Almond Dressing appeared first on Pinch of Yum.