Shout out to our friends at DeLallo for cooking up the incredible sauce and whole wheat oven ready noodles that MAKE this lasagna – and for sponsoring this post!
Ohhhk yuhssssss.
It's just, like, way too obvious, but my love for this is out of control.
The feelings I have for this Super Easy One Pot Lasagna recipe — also known as Pot o' Saucy Noodles with Cheese-Melted Goodness — are SO VERY BIG. And I'm pretty sure that I'm not even annoying with how much I love it right now. Me? Annoying with a love for food? uhh hello? never.
Two bites into his massive bowl of lasagna leftovers (it's a food blogger's life for us), I think Bjork just about died with old-school lasagna happiness. Look, honey! It's got good, stringy blobs of cheese! It's not packed with obscure veggies! THERE'S MEAT!
I mean, we (ehhmm, I) love froofroo lasagna, but this is not the day for my next food blogger ingredient-bomb lasagna with 800 types of roasted vegetables and five super expensive cheeses.
No no, friends.
This is SUPER EASY ONE POT LASAGNA. And that's just all there is to it.
How To Make Our One Pot Lasagna (1 MIN 10 SEC):
There's most definitely a lasagna story with this recipe.
The story starts with me thinking of good ideas for a recipe and getting excited about lasagna rolls // buying ingredients to make lasagna rolls // feeling really super BLEH about boiling noodles, and making filling, and ROLLING SAUCE INTO NOODLES while trying to not make an epic mess.
Cute, but lemme think for two seconds: no.
The lasagna story continues with me feeling a lot better about ditching my putsy lasagna roll idea and just going straight for the goods by dumping my formerly lasagna roll ingredients (bolognese! noodles! cheese!) into a large pot, and baking it all till bubbly and perfect, and eating huge messy pieces straight out of the pot with a wooden spoon.
Except I never did that everrrr.
Ahem.
The story ends with me realizing I secretly love this type of messy, saucy lasagna // secretly feeling nervous to share the pasta-cheese mess on the internet // but knowing that people love good food, and THIS IS GOOD FOOD, and so the world needs this lasagna-mess-ness to exist.
The story also includes a SnapChat recipe video and Sage's approval.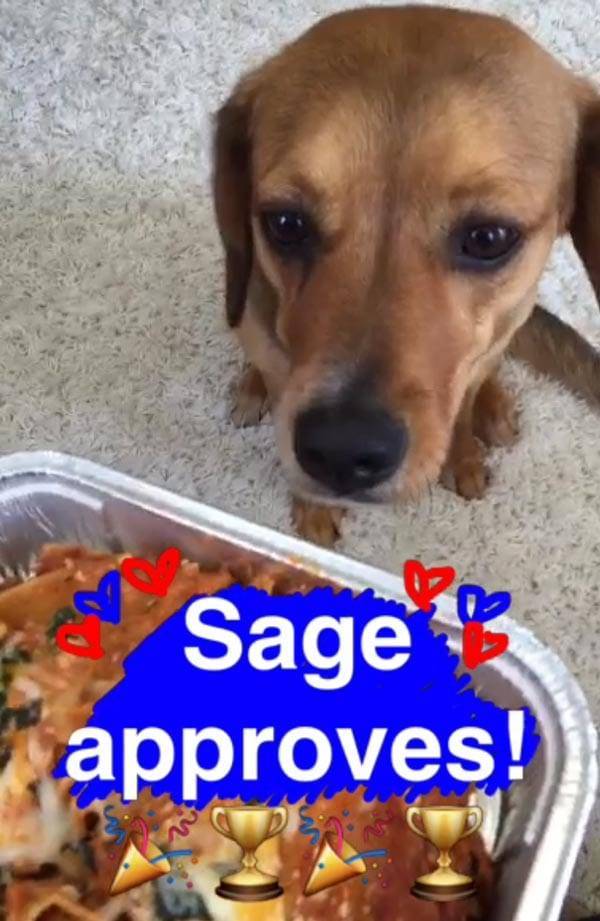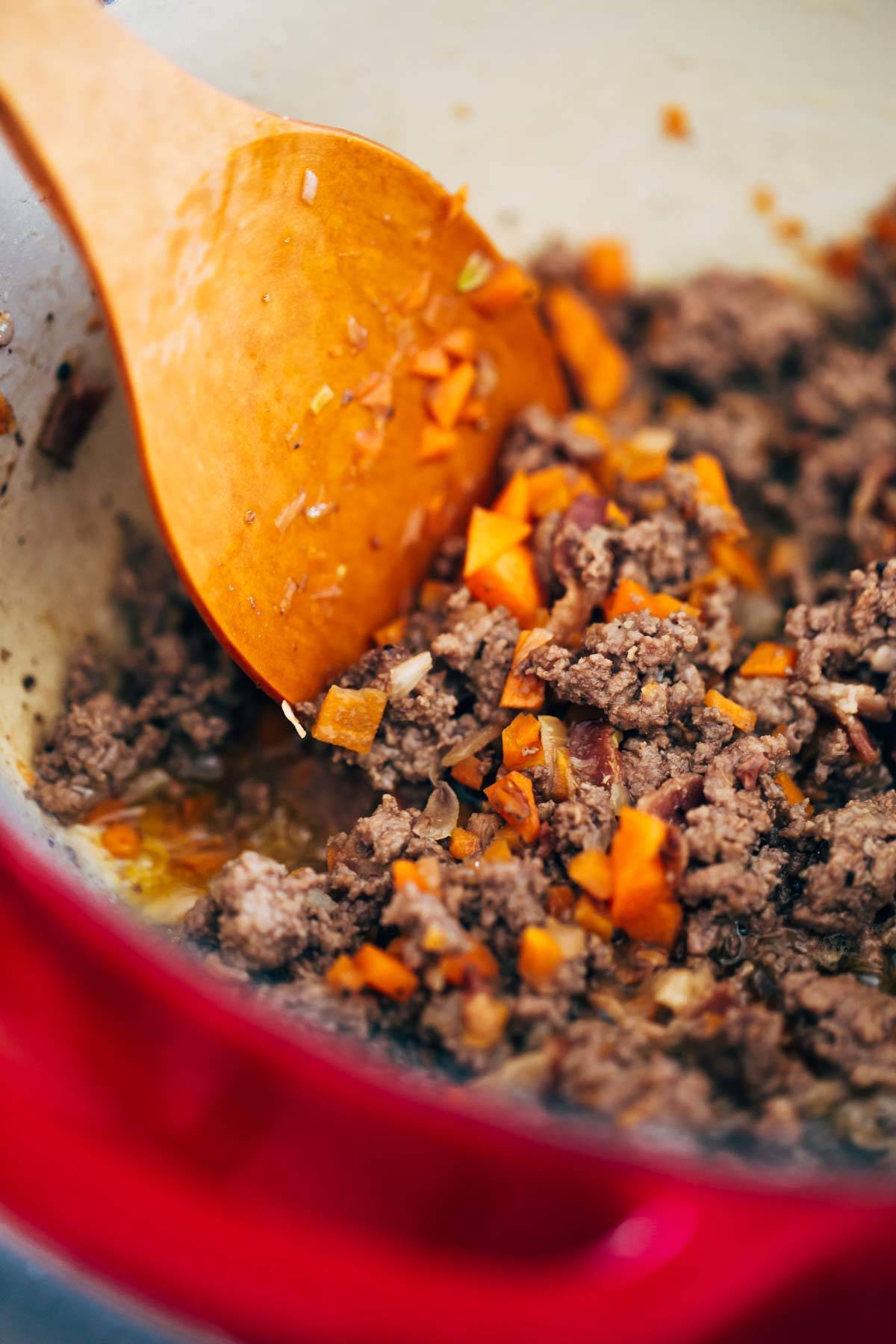 Moral of the story: laziness is a virtue that leads to one pot lasagnas? Yes. That's totally it.
Second moral of the story: if you love yourself, and you love good food, you should always keep a few jars of DeLallo Pomodoro Fresco tomato sauce on hand.
I am recommending the DeLallo Pomodoro Fresco sauces in this recipe because a) dem sauces taste really, really good, like, I don't even really want to make my own sauce because they're that good, b) they're ready to use! no work! repeat: no work. and c) there are just 7 normal, simple ingredients in them which is becoming more and more important to me these days.
This is the ingredient list from the Tomato Basil sauce —
Italian Plum Tomatoes
Extra Virgin Olive Oil
Crushed Tomatoes
Onions
Carrots
Basil
Salt
Beautiful. Bonus: I spy no added sugar.
As a person who is trying trying trying to be more aware of what they eat and avoid the super processed stuff and also acknowledge REAL LIFE IS REAL, having such a high quality store bought tomato sauce on hand is a must for me.
Because –> this awaits. ♡ Say no more.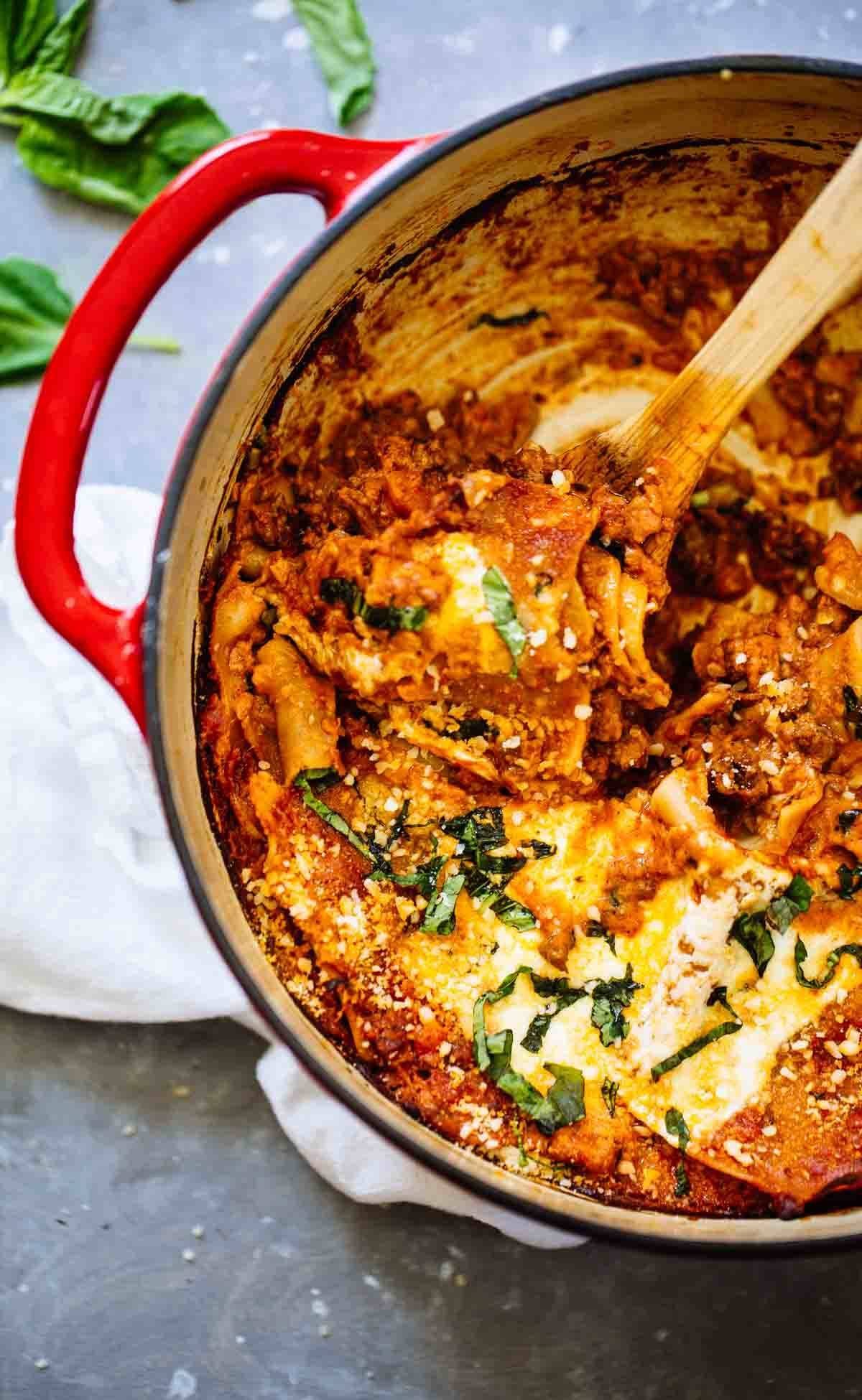 Print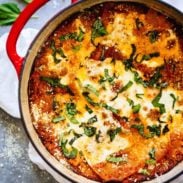 Super Easy One Pot Lasagna
---
Description
This Super Easy One Pot Lasagna uses simple ingredients and can be made all in one pot! With ground beef, tomato sauce, and fresh Mozzarella cheese.
---
6

–

8

slices bacon, cut into small pieces

3

shallots, minced

3

carrots, minced

1

lb

. ground beef
a good sprinkling of salt and pepper
1

25

ounce

jar DeLallo Pomodoro Fresco Tomato Basil sauce

1/2

cup

dry red wine (optional – can replace with broth or water)

4

ounces

cream cheese

6

–

8

ounces

fresh mozzarella
fresh basil and Parmesan cheese for topping
---
Instructions
Preheat the oven to 350 degrees Fahrenheit. In a large ovenproof skillet, brown the bacon until crispy. Add the shallots and carrot; saute for 5 minutes or until soft and fragrant. Add the ground beef with salt and pepper and brown until no longer pink. Drain off all the excess grease.
Add the tomato sauce and wine to the meat in the skillet. Simmer for 10 minutes over medium low heat. Stir in the cream cheese until melted.
Break each of the lasagna noodles into 3 or 4 pieces. Stir them into the meat mixture so they are completely covered in sauce, and arrange them so that they are all laying flat in the pan.
Tuck a few slices of fresh mozzarella underneath and between the noodles, and place the remaining slices of fresh mozzarella on top. Bake for 25 minutes. If you want to brown the cheese, turn the heat up to 425 for an additional 10 minutes.
Let stand for 5-10 minutes and top with fresh basil and Parmesan cheese.
Prep Time:

15 mins

Cook Time:

1 hour

Category:

Dinner

Cuisine:

Italian
Keywords: one pot lasagna, lasagna recipe, easy lasagna recipe
Recipe Card powered by
Thank you again to DeLallo for sponsoring this post!
---
One More Thing!
This recipe is part of our easy Italian-inspired recipes page. Check it out!
The post Super Easy One Pot Lasagna appeared first on Pinch of Yum.