Good Morning. I have a dilemma with pancakes: I love to eat them.
What's better, or worse, is that I love to eat them in stacks of four, glazed with melted butter and swimming in maple syrup.
And 1,000 calories later, I'm feeling really good in a bad kind of way.
Because of my extreme love for pancakes, especially the extra sweet and high-calorie variety (think chocolate chip and peanut butter), I recently went through a brief pancake withdrawal. I stopped making pancakes because there was a high likelihood/certainty that I would eat myself into a pancake coma.
And we all know what happens when you go into a pancake coma. Or at least I do.
But as you can see, times have changed. I have a new pancake strategy that allows me to enjoy pancakes, and still have room for lunch and dinner. And my skinny jeans.
The very sneaky trick: smother my pancake with (a reasonable amount of) cottage cheese and fresh berries. A drizzle of honey makes it officially the best way to enjoy pancakes without all the calories. And I don't feel like I cheated myself by only eating one.
Ok, maybe I had two. But I feel no shame!
On the other hand, let's be honest: I was raised on chocolate chip pancakes, butter, and syrup (thanks, mom) and I will always hold that near and dear to my heart. So if you find me with a plateful of pancakes – butter, syrup and all – cut me some slack. It's my heritage.
Oh yeah. In case you didn't notice, these sweet zucchini pancakes have vegetables in them, so that cancels out all butter. Obvs.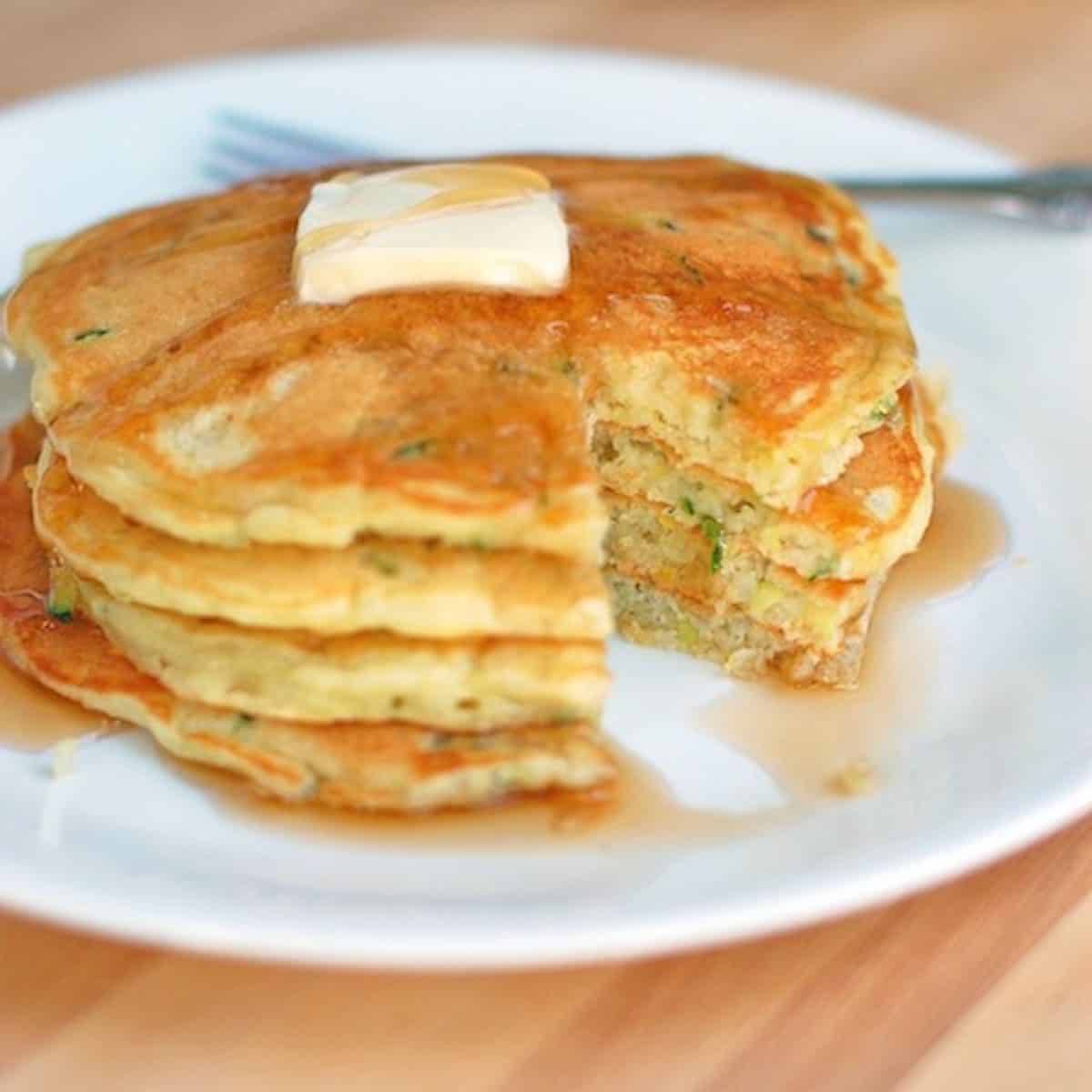 Per The Request Of Some Comments, I Have Removed This Recipe In Order To Direct You To The Updated (and Much Improved) Zucchini Pancakes Recipe!
Click Here For The New Zucchini Pancakes Recipe Post.
Light, sweet, perfectly golden… I love these almost as much as the lemon pancakes.
How do you top your pancakes?
Syrup? Berries? Peanut Butter? …Hot Fudge Sauce? All are welcome.
The post Sweet Zucchini Pancakes appeared first on Pinch of Yum.