I am 120% sure that this is what my food dreams are made of. –>
Like most recipes in my life, this one starts and ends with the sauce. That velvety rich, fragrant, warming Thai yellow curry sauce with hints of coconut sweetness, flecks of green cilantro, delicate little strings of fresh ginger, punchy turmeric-yellow color, and a decent kick of Thai chile heat. It's just barely thick enough to be like a creamy curry gravy but still saucy enough to make its way in and around every grain of rice. Perrrrfection.
So just give me a second to catch my breath.
Now, the actual curry, right? Think about that glorious Thai yellow curry sauce blanketing comforting-ly soft bites of Yukon gold potatoes, thinly sliced and sautéed shallots, and tender chunks of slow-simmered beef. And wait wait wait though. It's all piled over a bowl of fluffy, fragrant, steaming Jasmine rice. Food dreams complete.
I would just like to point out that somehow, when I was distracted by the Thai yellow curry sauce, chunks of beef (as in b-e-e-f, like red meat, like the stuff I never hardly ever cook or eat) snuck into my food dreams. What in the what?
Superweird, but no time to question it. MORE CURRY NOW // MORE CURRY NOW // MORE CURRY NOW.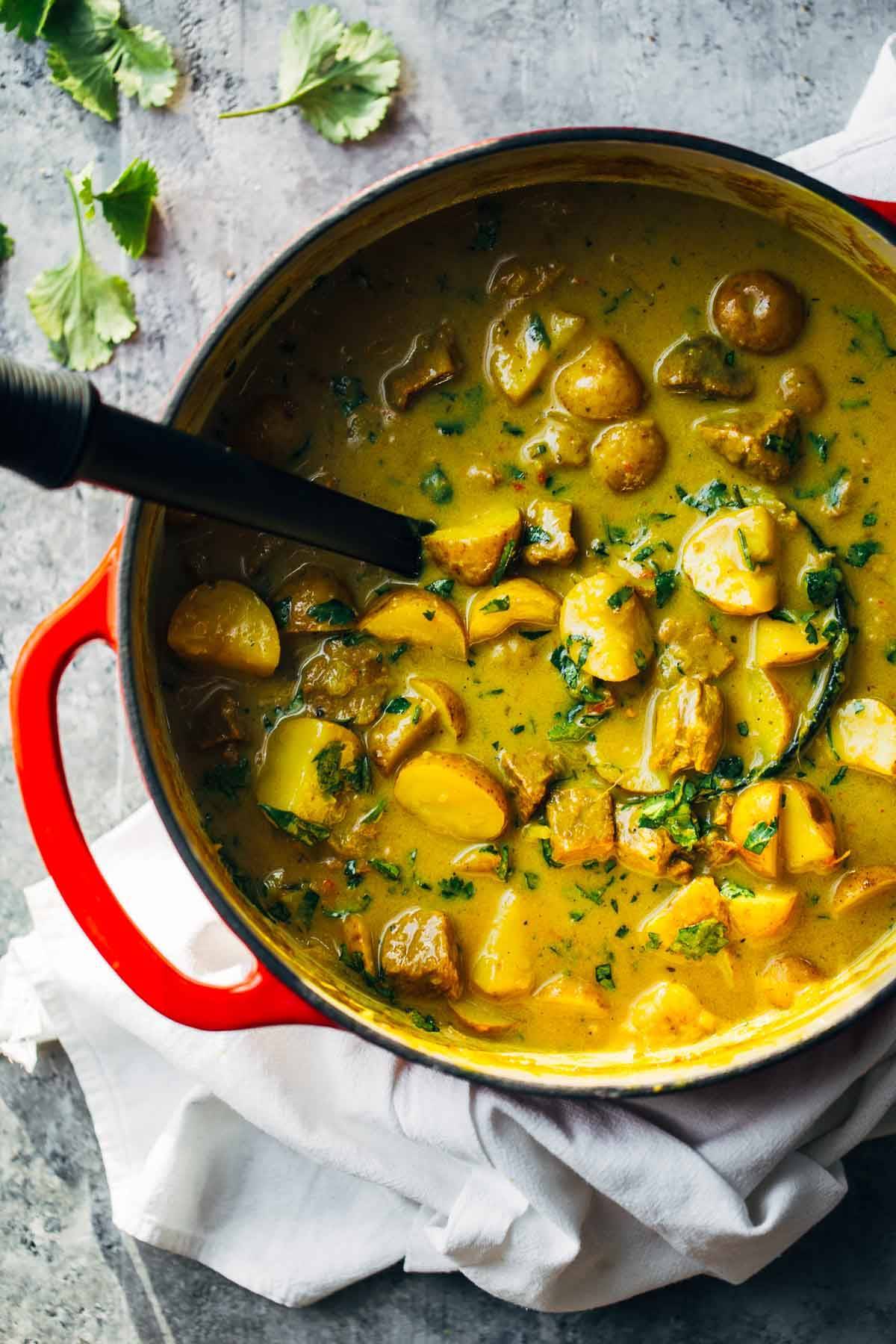 I'll just start by saying I don't normally cook recipes that involve a special trip to a special grocery store or require more than 20 minutes of prep. You know that about me.
But I made this recipe for a special occasion last week: my newly started dinner club with friends! And here's the thing about this Thai yellow curry recipe: it's 100% from scratch.
Meaning:
you will literally make the curry paste from scratch. like, pulse it all together in your very own food processor or blender.
many readers will now leave this blog.
those of you who don't will now check off the box for "make curry from scratch" from your foodie bucket list. *cheers and applause*
even if it doesn't turn out like you were expecting, making a curry from scratch makes you feel like THE MOST AWESOME cook. because you are.
you will be giving yourself the gift of homemade yellow curry paste for at least two more recipes, because as written, you will end up with extra curry paste for later. this might actually be my favorite thing about the recipe.
you might have guessed, and you'd be right – this recipe requires a trip to an Asian grocery store. unless you're the person whose mainstream grocery store sells shrimp paste and galangal, in which case you are a very lucky duck.
you don't need to be a really fancy cook to make this – it's really straightforward and at times it's even hands-off. you will just need TIME. like, a few hours. save it for a Saturday or divide up each of the steps over a day or two.
And now, a close up shot of the curry paste because I'm a food blogger.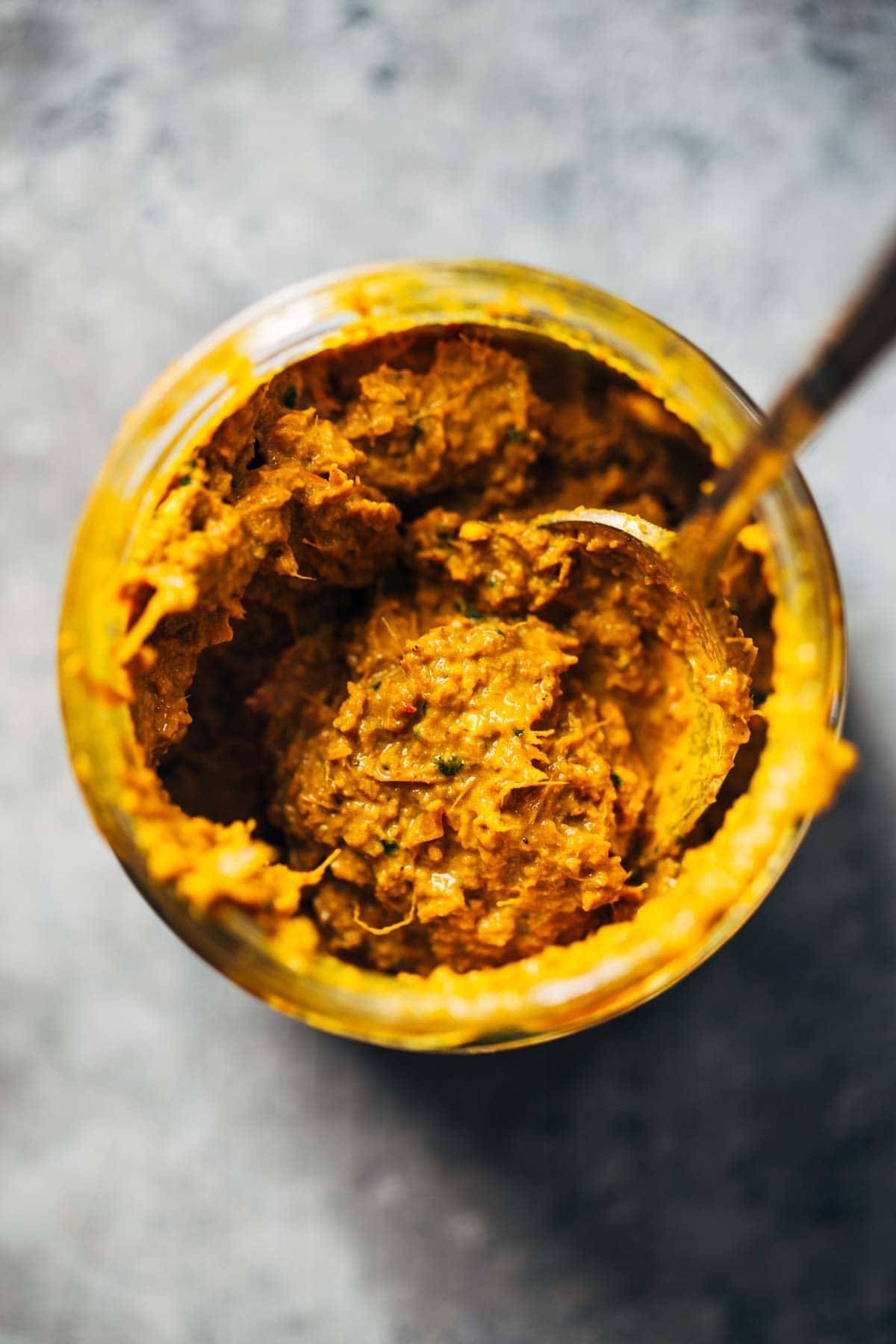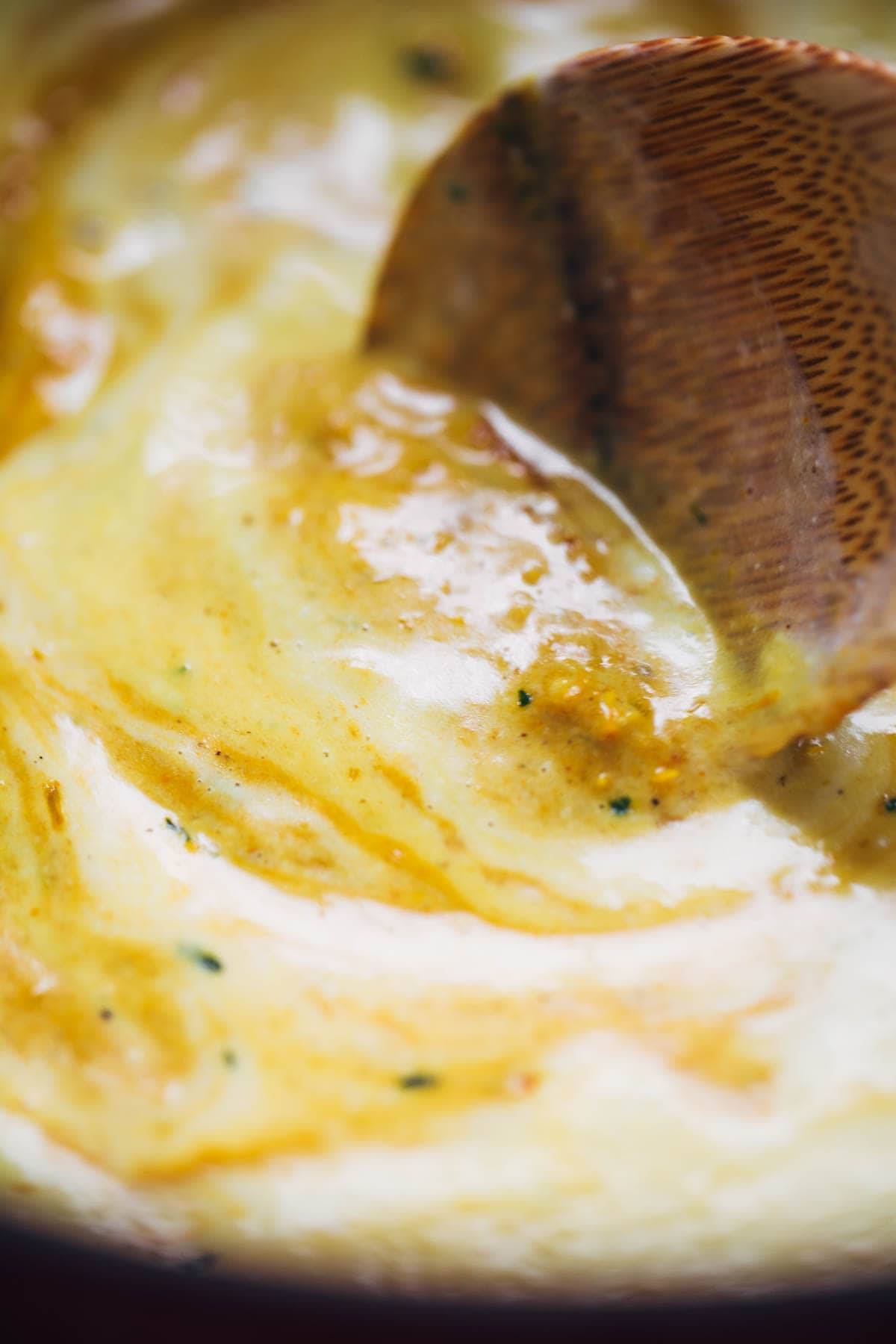 Exhibit A: the photo above shows what one hour of cooking time looks like. Coconut milk, beef, pan, one hour, go.
I actually made and photographed another whole recipe during the time that my beef was just simmering away and getting all wonderful in that buttery coconut milk.
And all the multi-taskers rejoiced!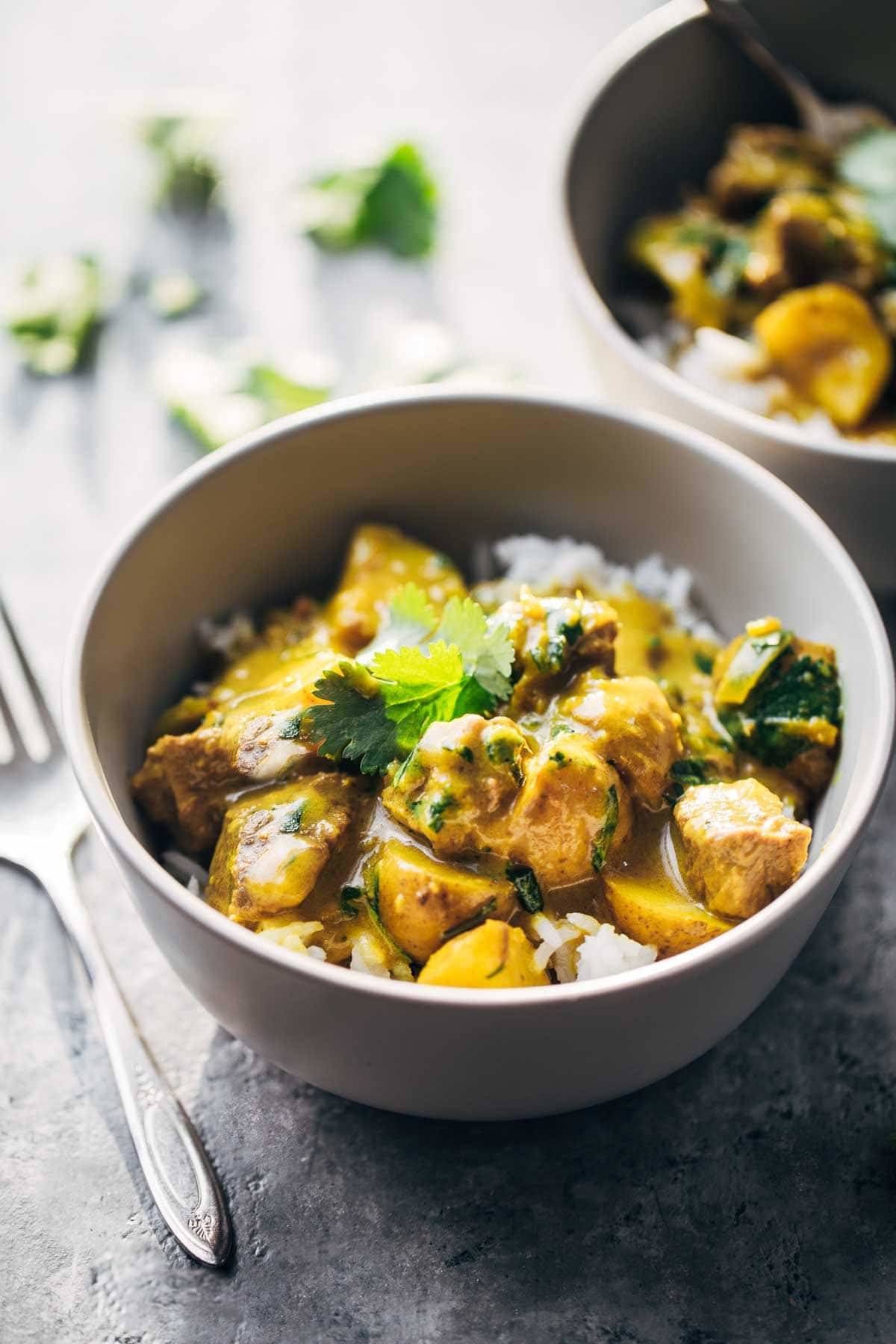 You guys, I can't even tell you how much fun I had making this for my friends, but really, just making it for me.
Most of my life revolves around food that is quick and easy and I'm always always always looking for shortcuts or ways to save time. So to have a time when I said – hey, look, I'm going to dedicate five hundred days to this just because I love cooking new things and because this is a life experience and because curry somehow runs in my Minnesota veins – was unusually therapeutic for me.
Truthfully? I don't expect most readers to ever make this. It's not practical. I totally get that and I almost felt like maybe I shouldn't post the recipe because it's such a beast.
BUT. If you love curry. If you love cooking. If you love watching something be created from nothing. And if you can find a few hours here and there over the course of a few days to get this all put together, you and I should probably talk.
And by talk, I mean eat heaping bowls of made-from-scratch Thai yellow curry together. ♡
I wish the best of the best of the curry worlds upon you, sweet readers! Go forth and enjoy this treasure of a recipe.
Print
Thai Yellow Curry with Beef and Potatoes
---
Total Time:

2 hours 50 minutes

Yield:

8
Description
Thai Yellow Curry with Beef and Potatoes – made from scratch! Perfect creamy comfort food with huge flavor and a kick of spice.
---
For the yellow curry paste
2

shallots

1

head garlic

1

3-inch piece galangal, peeled and thinly sliced*

1

3-inch piece ginger, peeled and thinly sliced

1 teaspoon

roasted ground coriander

20

dried red Thai chiles softened in hot water

2 tablespoons

turmeric

2 tablespoons

curry powder

2 tablespoons

fresh cilantro

1 tablespoon

shrimp paste*

1 1/2 tablespoons

salt

1 tablespoon

lemongrass paste
For the curry
2

lbs. beef chuck, trimmed and cut into cubes

3

–

4

cups light coconut milk

4 cups

water, divided

2 cups

coconut cream (canned)*

24 ounces

Yukon gold potatoes, cut into bite-sized pieces

1

shallot, thinly sliced

2 tablespoons

brown sugar

1 tablespoon

fish sauce

1/2 cup

minced cilantro
---
Instructions
CURRY PASTE (one hour): Heat a cast-iron pan over medium high heat. Wrap the garlic and shallots in foil (with their paper on) and place on the skillet for 25 minutes, flipping once half way through. Remove from heat and cool, and roughly chop. Set aside. Layer the ginger and galangal in a single layer and wrap with foil. Place in the skillet and heat for about 10 minutes flipping once halfway through. Place garlic, shallots, ginger, galangal, and all other ingredients for the curry paste in a blender or food processor. Pulse until mostly smooth. Use water from the chiles to help the mixture run through the blender as needed. This will make a little more than 2 cups – set 3/4 cup aside for this recipe and freeze or refrigerate the rest for later.
BEEF (one hour): Heat the light coconut milk in a deep pot. Add the beef and simmer for 45 minutes. Add 1 cup water and simmer another 15-20 minutes. Set aside; do not drain.
CURRY (one hour): Heat the coconut cream in a deep pot until bubbling and starting to thicken a bit. Add about 3/4 cup curry paste and simmer for 5 minutes. Add the potatoes, shallots, beef, and 1/2 cup of the reserved coconut milk from step two. Stir in 3 cups water. Simmer for 30-45 minutes until potatoes are tender. Add the sugar, fish sauce, cilantro. Serve over jasmine rice.
Notes
*These ingredients will probably require a trip to an Asian grocery store. It's worth it if you want to do it right! I would suggest buying 2-3x what you need in case you want to make it again.
As written, I would rate this as mild++.
As written, the recipe is exactly how I made it for my friends. But it felt a little greasy, so when I made it the second time I opted for coconut milk instead of coconut cream. The results were really good other than that it was very very very spicy. I would consider it medium+ if not straight up hot. So if you're going to sub coconut milk for coconut cream, reduce the amount of curry paste to 1/2 cup or less (you can always add more later if you want).
Prep Time:

20 mins

Cook Time:

2 hour 30 mins

Category:

Dinner

Cuisine:

Thai
Keywords: thai beef curry, beef curry with potatoes, yellow curry paste
Recipe Card powered by
PS. I'm anticipating questions about using store bought yellow curry paste, because I wondered the same thing myself. Honestly, I don't remember the last time (if ever) that I've used store bought yellow curry paste so it's really hard to me to say if that could be used in this recipe with similar results. I think it could? but I make no promises. Please leave a comment if you try it with the store bought paste so others know how to best adjust the recipe.
The post Thai Yellow Curry with Beef and Potatoes appeared first on Pinch of Yum.