---
Truly though, it is the best. Creamy, cheesy-like without cheese, velvety and rich, and just all-around delicious. Kind of like a soup that gives you a hug for lunch, when it is, in fact, A SALAD in disguise!
No? Too awkward?
In addition to this Vegan Broccoli Cheese Soup being creamy and velvety and absolutely gorgeous in texture, it is super nutritious, hence the detox title. Just pause to think of the rainbow of veggies in here: sauteed onions, celery, carrots, potato, and broccoli simmered with a little bit of vegetable broth and almondmilk, pureed to smooth cheesy-like perfection. That is my kind of salad. Soup. Whatever.
Those olive oil pan fried croutons don't hurt the cause, either. I mean, if your detox doesn't include fried bread, who are you really?
Watch How To Make Our Vegan Broccoli Cheese Soup (1 Min):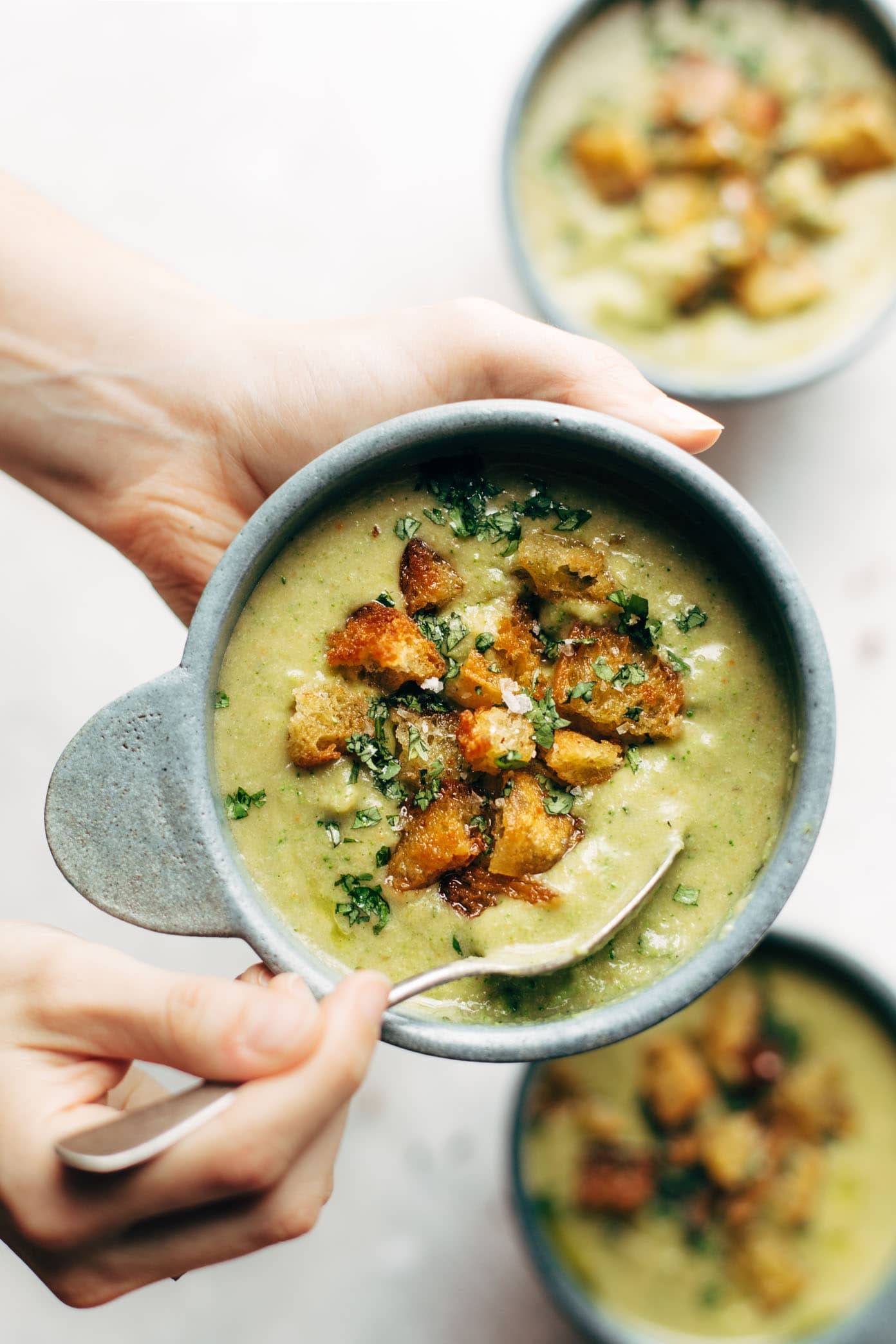 Detox-ing isn't really a verb in my life, but I *do* try to do some clean-eating resets after particularly fun food weekends. Wink wink.
Bjork and I try to generally eat healthy, real foods and not totally overdo it – say, 5 out of 7 days of the week? Which, when I write it out, doesn't seem like it should be that hard, but it translates to needing food prepped and ready to go which is something that, as a food blogger, I'm strangely not very good at. I'd like to say it's just because I'm very busy working so hard that I don't have time to plan and prep for our "normal" healthy food, but I think there's also that weird phenomenon of I-do-this-for-work-so-I-want-to-go-out-for-dinner kind of thing going on. Pizza tonight? Oh, wait – what about sushi? Crunchy rolls? Please? The point I'm making here: a) I have classy taste in sushi. and b) meal prep can be a challenge for me.
You know what's really great, though? It's soup season. ALMOST. We're sitting right on the edge of it. And soup season, for me, is doable. I can make soup once a week – I enjoy it, actually – and that translates beautifully to "meal prep" for the week because soups are transportable, reheatable, and can easily be made healthy – with good ingredients, spices, whole foods, and lots of vegetables.
You know that feeling when it's 10am and you have been at work for one hour and you remember that in two hours you get to eat lunch AND YOUR LUNCH IS BOSS?
That is this soup.
In addition to broccoli as the star, obvi, we've got a whole lotta Almond Breeze keeping this creamy and smooth for us while also staying dairy free. I am not dairy free, but when I do a healthy eating reset, or my own version of a detox, I like to press pause on dairy for a few days.
Enter: creamy, unsweetened, original nutty almondmilk.
It's perfect in non-dairy savory dishes like this red pepper pasta and this summer corn chowder that is still the object of my dreams.
A word about a newish ingredient we have on the loose in this soup: nutritional yeast. Have you heard of it?
It's a deactivated yeast that is sold at health food stores. It looks like flakes. Borderline like fish food. Wait! Mom, don't hang up.
It is yellow in color and it's known for having a cheesy, creamy, nutty flavor to it, which makes it the perfect complement to our already-nutty Almond Breeze and also gives us a boost of cheese flavor without needing dairy-cheese. It's got lots of vitamins and stuff (google) and it is YUM CITY but if you can't find it, not a big deal. I made this soup at home the other night without nutritional yeast and it was still creamy and luscious and cheesy in the best non-cheesy possible way.
Hey you over there, wearing the cozy sweater even though it's slightly too warm for that in August – yes, you! I made this one for you. Let's embrace the soup season!
And this soup in return will love you back with all its veggie, nutritious, almost-cheesy goodness. ️
Print
The Best Vegan Broccoli Cheese Soup
---
Author:

Lindsay
Total Time:

30 minutes

Yield:

5 servings (2-ish cups each)
Description
This creamy, "cheesy", vegan broccoli cheese soup has silky smooth texture and classic broccoli cheese flavor with exactly zero ingredients out of a can. Real food meets comfort food.
---
1/4 cup

olive oil

2

cloves garlic, minced

1/2

an onion, chopped

1

–

2

stalks celery, chopped

4

–

5

large carrots, chopped

1

large potato, peeled and chopped

2

–

3

cups broccoli florets, in large pieces for easy removal

2

–

3

cups vegetable broth

1/4 cup

nutritional yeast – optional, see notes

1 1/2

–

2

teaspoons sea salt
croutons – see notes
---
Instructions
Make Soup Base: Heat the olive oil over medium high heat. Add the mirepoix, garlic, and potatoes. Saute until softened, about 10 minutes.
Add Broccoli: Add broccoli, vegetable broth, and almond milk. Simmer until bubbly and broccoli is bright green, about 5 minutes.
Blend Blend Blend: Using tongs, pull out most of the broccoli pieces and set aside. Blend the soup, sans broccoli, to a suuuper creamy, cheesy-looking consistency, and then add the broccoli and just pulse a few times to mix it in. This will likely need to be done in batches. Return to pot; stir in nutritional yeast and salt. Taste and adjust and serve!
Notes
HERE'S HOW TO MAKE THE MOST AMAZING CROUTONS: Heat 1/4 cup olive oil (more as needed) in a skillet over medium high heat. Add a clove of smashed garlic and let it hang out (WITHOUT browning) for a few minutes. Remove garlic. Add cubed bread (about 6 thick slices cut into chunks) and toss around in the pan until golden brown and chewy/crispy. Drain on paper towels. Season with salt.
FYI, I've also casually thrown a spoonful of pesto in there for good measure – it was Level 900 Awesome. Just saying.
If the blended soup looks too thick for you, just add an additional 1/2 cup or so of liquid.
Nutritional yeast is not necessary for texture, but it adds a yummy, salty, cheesy flavor and some extra vitamins, too.
Nutrition doesn't include croutons.
Prep Time:

15 minutes

Cook Time:

15 minutes

Category:

Dinner

Cuisine:

American
Keywords: broccoli cheese soup, healthy broccoli cheese soup, vegan broccoli cheese soup
Recipe Card powered by
Thank you to Almond Breeze for sponsoring this post!
---
One More Thing!
This recipe is part of our collection of best healthy soups. Check it out!
The post The Best Vegan Broccoli Cheese Soup appeared first on Pinch of Yum.