Ohhhhhh crockpot lentil soup. The love of my winter life.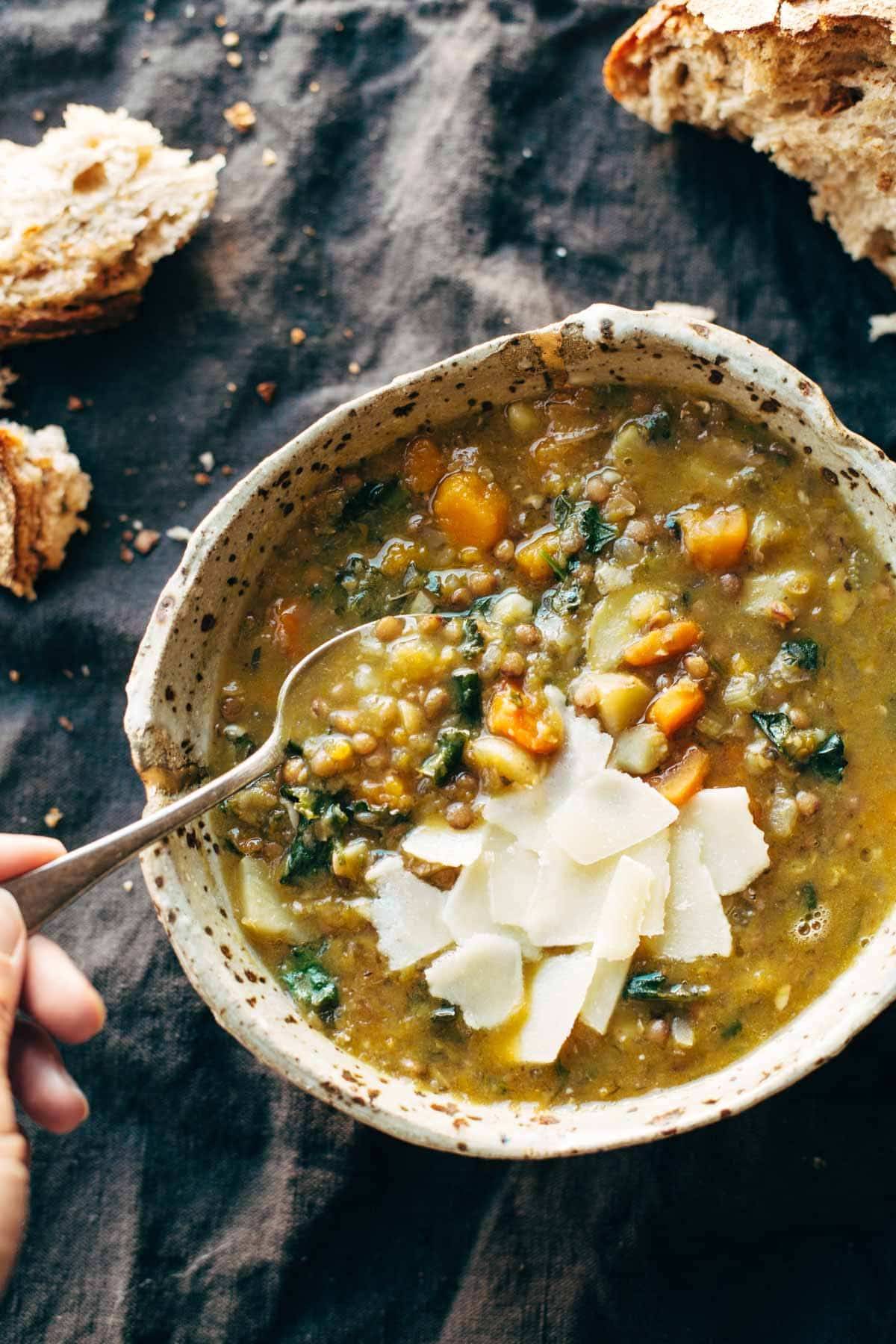 I see you, hungry reader whose life is crazy right now, who has a hard time finding the time to cook even though you love food, who opens the fridge to grab a quick lunch to take to work in the morning rush only to find NOTHING that seems good enough, who values the big bowl of comfort food pasta above all else, who is not asking for much other than GOOD FOOD that is made for REAL LIFE.
I see you. I know you think I'm not watching because I'm on the other side of this computer-ma-jig, but I'm watching (um, in a not-creepy and not-literal way – just felt like I should clarify. pls don't leave.).
So since I see you and understand you because I am just like you in these feelings, today I honor you (us?) with this super cozy, big-time nutritious, easy to prepare soup.
This is called Detox Crockpot Lentil Soup, which means nothing scientifically as you'll notice that my bowl of DETOX soup is topped with a few thick chunks of Parmesan cheese and served with that addicting crusty-warm bread. Right, about that. We did sneak a few good foods into this soup (kale, onions, garlic, carrots, and olive oil) and anyways, in my book, the best kinds of healthy foods are the ones that ACTUALLY TASTE GOOD.
And while this soup tastes good without the extras, it tastes BETTER with them. Cue the bread and cheese.
In This Post: Everything You Need To Make This Soup
Prefer To Watch Instead Of Read?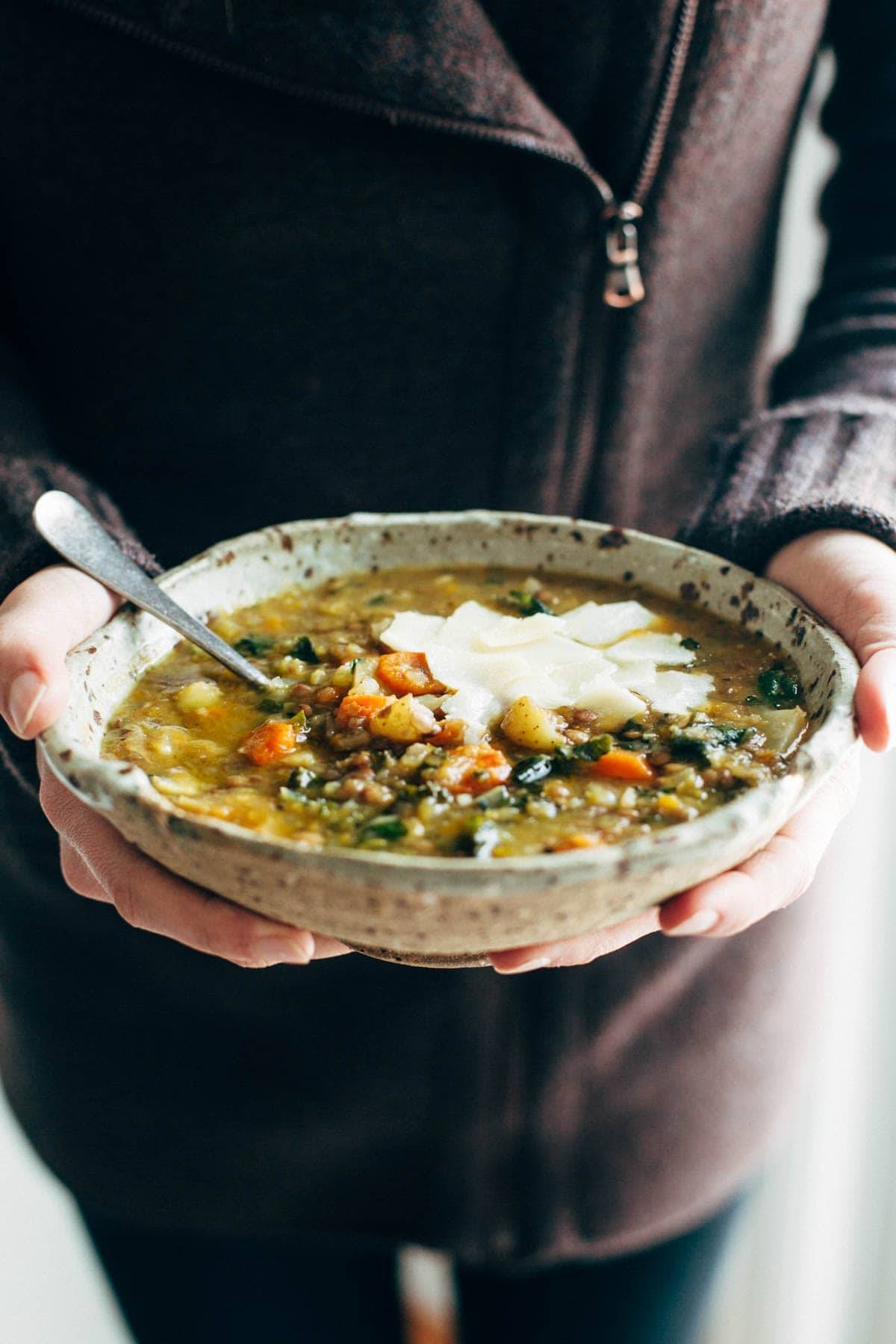 Ingredients For Lentil Soup
This soup is jam-packed with so many wholesome, feel-good ingredients. Let's count them up, shall we?
butternut squash
carrots, celery, and onion (or mirepoix)
potatoes
green lentils and yellow split peas (you can use more green lentils if you can't find split peas)
garlic
broth
herbs de provence
kale and fresh parsley
a swish of olive oil and red wine vinegar at the end
How To Make This Lentil Soup Recipe
As is my goal with most recipes I make for Pinch of Yum, this crockpot lentil soup was made for real life. Because it's literally for my real life.
We're starting with a solid base: onions, garlic, carrots, celery, spices, salt, and broth.
Then we're getting awesome by adding butternut squash, which partially melts into a creamy textured miracle, lentils (always lentils), and yellow split peas because WOW color.
After all your feel-good vegetables simmer up into the best house smells and then we do the magic thing that takes it over the top: puree a portion of the soup with that olive oil to form a silky emulsion that then gets added back into the soup. YES PLZ 4EVR.
I ended mine with a splash of sherry and red wine vinegar because I'm currently having a moment with tangy foods.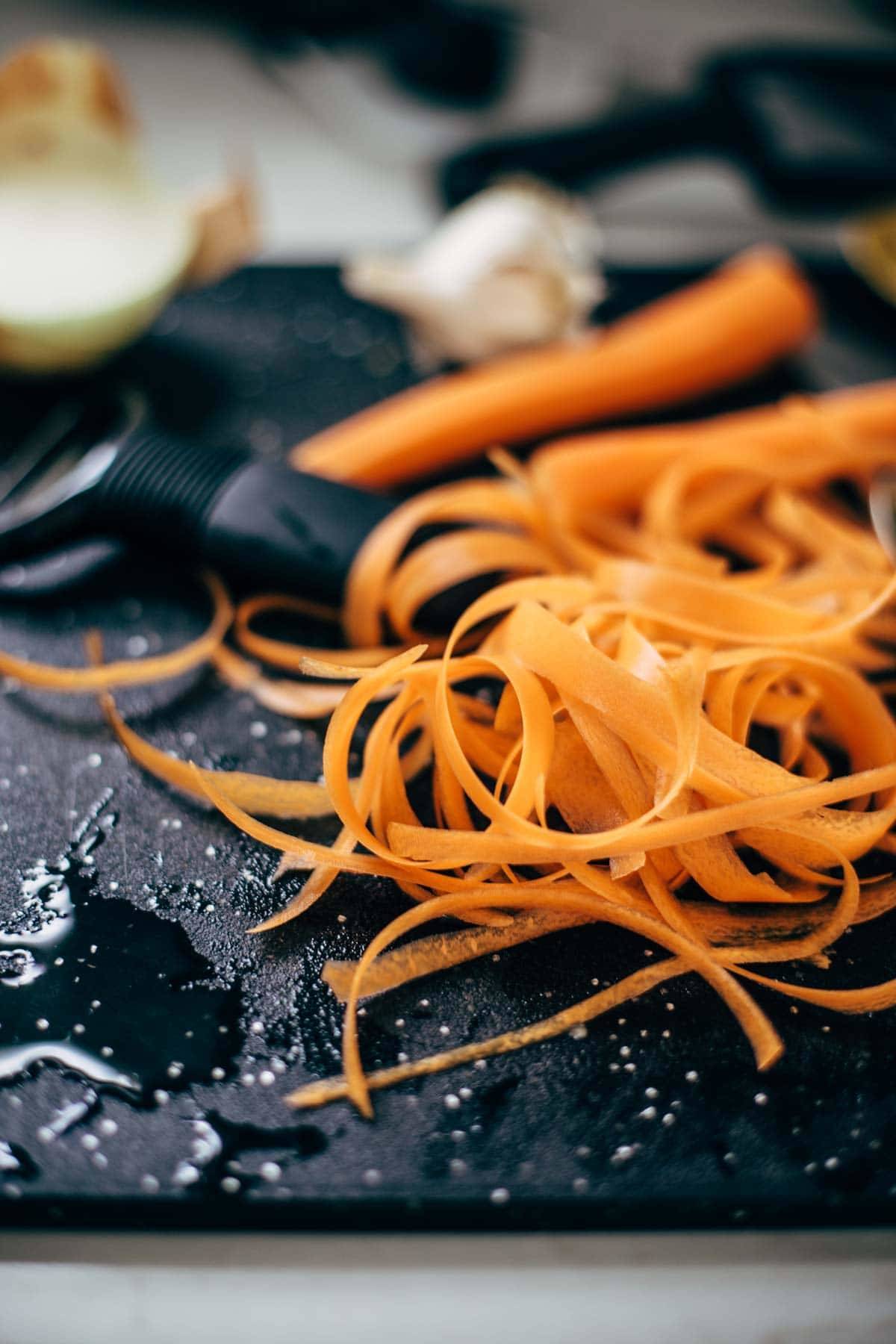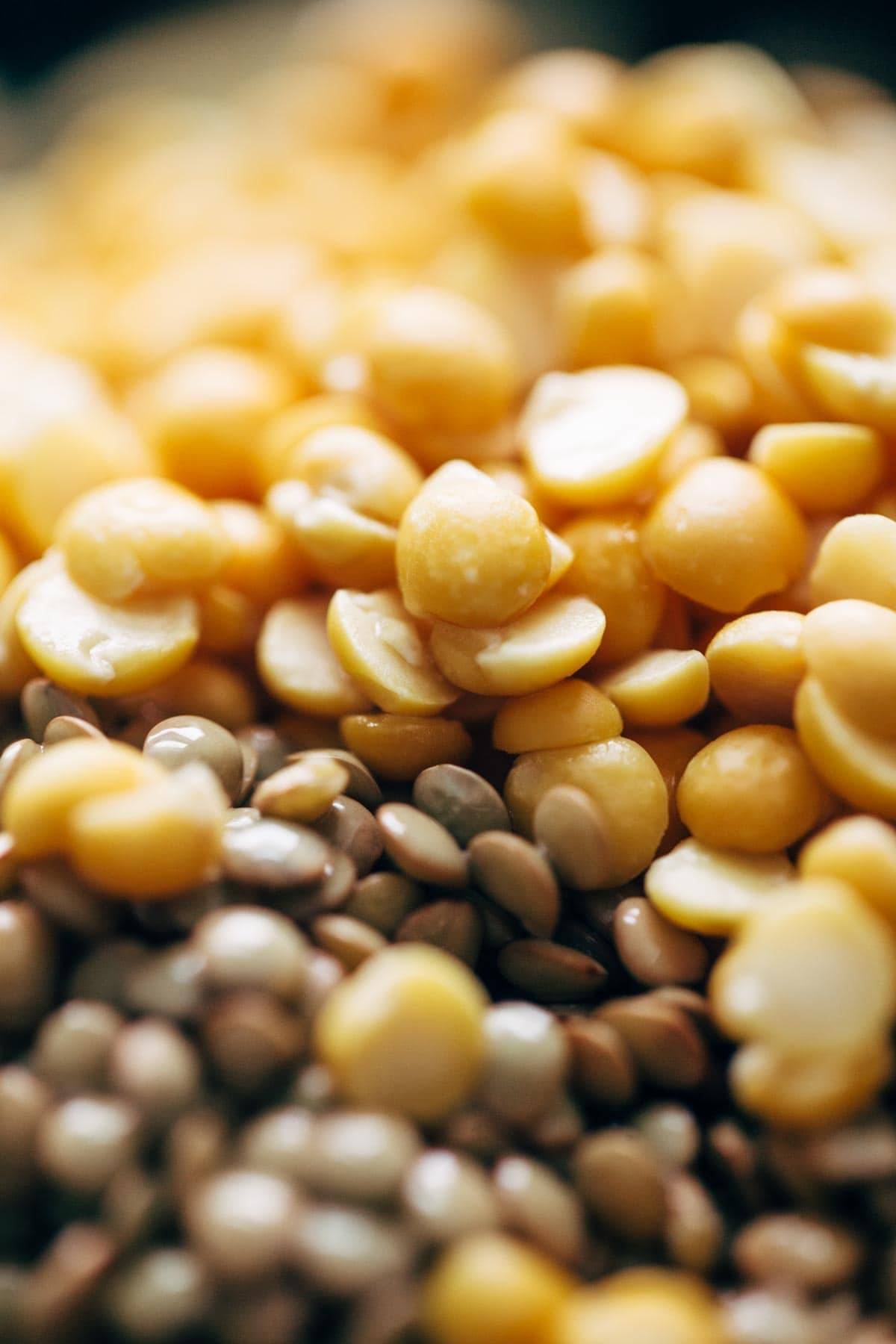 What To Serve with Lentil Soup
There's a lot going on in this soup, but if you want to round it out for a whole meal, I'd recommend a few extras: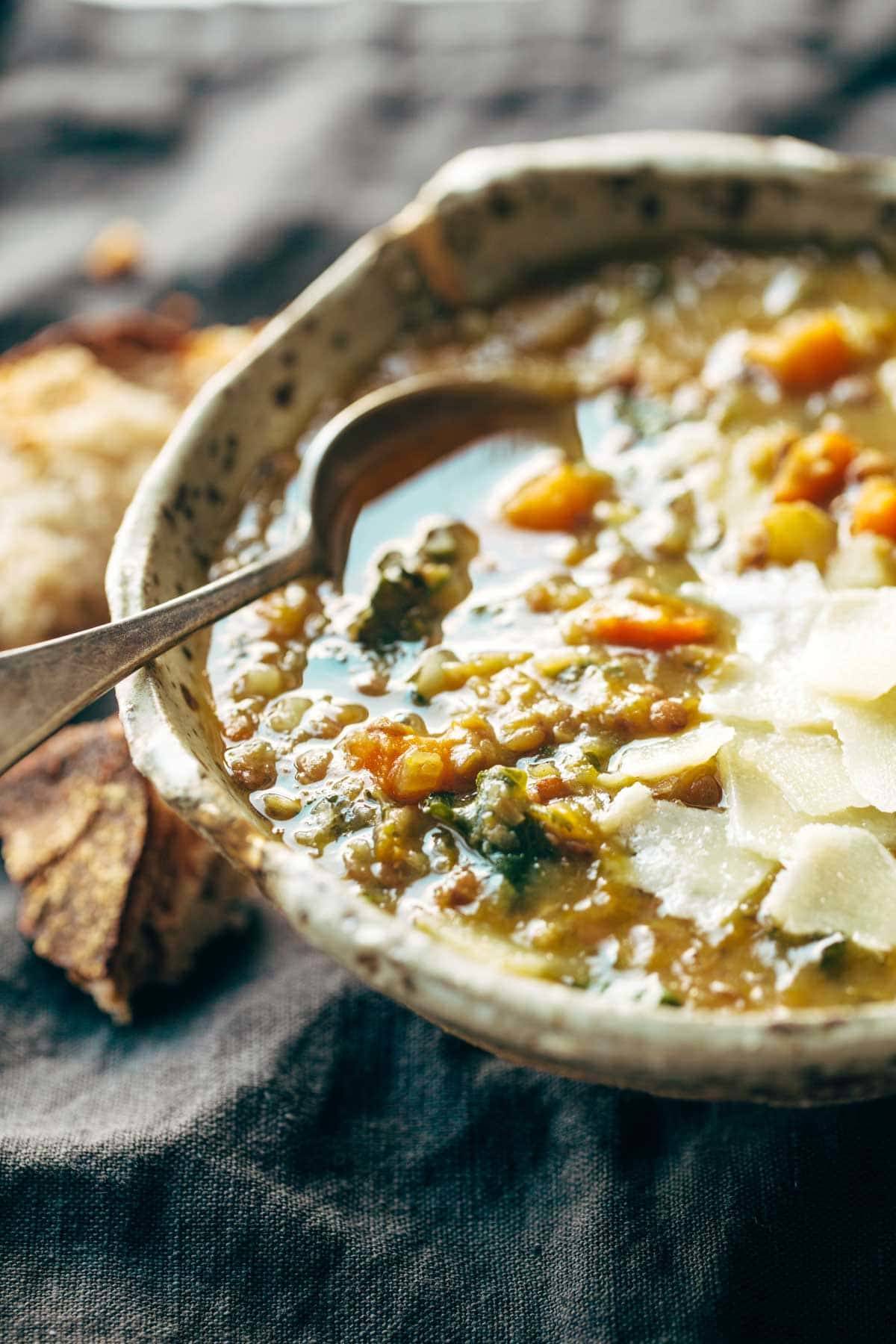 That's it. That's the soup. SO EASY. It requires a bit of front-end chopping to prep the veggies, but I'd guess it took me 30-45 minutes to cut everything up and get it in the crockpot, and in return I was gifted with 8 soup servings of this nutritious + cozy wonderfood. NOT A BAD DEAL.
Cheers to you and your people enjoying many glowing bowls of crockpot lentil soup for all the days to come.
Lentil Soup: Frequently Asked Questions
What type of lentils should I use in this soup?
We'd recommend brown or green lentils. Red lentils are u0022splitu0022 which means they'll soften a lot faster.
Can you make this soup in the Instant Pot?
Yes! Place the first group of ingredients below in the Instant Pot and cook on the soup setting for 30 minutes with a quick release at the end. Follow the same blending instructions and then add kale and parsley.
My lentils are still hard! How do I fix this?
Let the soup cook a little longer on the high setting to soften them up! If using the Instant Pot, you could re-pressurize to cook for another 5 minutes, or turn on the sauté mode until they soften.
How big of a crockpot or Instant Pot do I need to use?
This makes a lot of soup! We'd recommend at least a 6-qt. for both.
Can you freeze this lentil soup?
Yes! You could freeze leftovers to keep in the freezer for three months, or make it a freezer meal by following the instructions in the recipe card notes or by checking out this post.
Print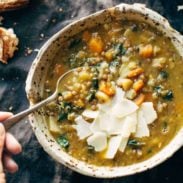 The Best Detox Crockpot Lentil Soup
---
Author:

Pinch of Yum
Total Time:

6 hours 30 minutes

Yield:

8 servings
Description
Detox Crockpot Lentil Soup – a clean and simple soup made with onions, garlic, carrots, olive oil, squash, and LENTILS! Super healthy and easy to make.
---
For the crockpot:
2 cups

butternut squash (peeled and cubed)

2 cups

carrots (peeled and sliced)

2 cups

potatoes (chopped)

2 cups

celery (chopped)

1 cup

green lentils

3/4 cup

yellow split peas (or just use more lentils)

1

onion (chopped)

5

cloves garlic (minced)

8

–

10

cups vegetable or chicken broth

2 teaspoons

herbs de provence

1 teaspoon

salt (more to taste)
Add at the end:
2

–

3

cups kale (stems removed, chopped)

1 cup

parsley (chopped)

1/2 cup

olive oil – rosemary olive oil or other herb infused oil is delicious
a swish of sherry, red wine vinegar, or lemon juice to add a nice tangy bite
---
Place all ingredients in the crockpot. Cover and cook on high for 5-6 hours or low for 7-8 hours.

Place about 4 cups of soup in a blender with the olive oil. Pulse gently until semi-smooth and creamy-looking (the oil will form a creamy emulsion with the soup). Add back to the pot and stir to combine. Stir in the kale and parsley. Turn the heat off and just let everything chill out for a bit before serving. The taste gets better with time and so does the texture, IMO!

Season to taste (add the sherry, vinegar, and/or lemon juice at this point) and to really go next level, serve with crusty wheat bread and a little Parmesan cheese. It's called Detox Balance.

Equipment
The equipment section may contain affiliate links to products we know and love.
Notes
Instant Pot Instructions: Place same first group of ingredients in the Instant Pot using only 6-7 cups of broth instead and cook on the soup setting for 30 mins with a quick release. Follow the same blending instructions and then add kale and parsley.
Freezer Meal Version
Freeze together:
2 cups chopped butternut squash, fresh or frozen
2 cups mirepoix, fresh or frozen
1-2 cups chopped potatoes, fresh or frozen
1 cup uncooked brown lentils
3 cloves garlic, minced
1 teaspoon herbes de Provence (or other spices you like)
1/2 teaspoon salt (more to taste)
4-5 cups vegetable or chicken broth
Instant Pot Instructions: From frozen, 

15 minutes on high pressure + 10 minutes natural release.

Slow Cooker Instructions: From frozen, 6 hours on high.
Final Step: Blend a little of the soup with 1/4 cup olive oil, return to pot, and stir in 1-2 cups chopped kale. Finish with some lemon juice or red wine vinegar. 
Prep Time:

30 mins

Cook Time:

6 hours

Category:

Dinner

Method:

Slow Cooker

Cuisine:

American
Keywords: lentil soup, crockpot soup, slow cooker soup, vegetarian soup, vegan soup
Recipe Card powered by

More Delicious Crockpot Soup Recipes:
---
Time To Show You Off!
Tag @pinchofyum on Instagram for a chance to be featured
---
One More Thing!
This recipe is part of our collection of best healthy soups. Check it out!
The post The Best Detox Crockpot Lentil Soup appeared first on Pinch of Yum.