Bliss Bowls! ♡
What a trendy + delicious + healthy little bliss bowls situation we've got going on, and just in time for these icy-cold winter days when you need that plant power more than ever but all you want to eat ever is turkey with gravy and mashed potatoes and every morsel of stuffing ever made. Topped with more gravy. Or no – just me?
This bliss bowl combo is the answer to the question WHAT DO I EAT IN WINTER TO STAY HEALTHY while NOT eating a cold and crunchy leafy salad. I do love a good cold and crunchy leafy salad, and I know you do, too. But friends. Have you been to Minnesota lately? It is a tundra. Maybe even The Tundra. Also beautiful, clean, generally quiet, full of Disney animals, and an almost perfect place to live (repeats mantra to self x 100). But there is a dark side to those truths, and the dark side is that I'm sitting in our studio right now sending all my positive energies to the little old heater in hopes that I will only have to wear my jacket in here for half the day. Plzzz.
Warm bliss bowl > cold salad.
And anyway, eaters gotta eat. Just look at that heaping-bowl-o-yum: bliss bowls were made for the real eaters of the world.
WE LOVE YOU BLISS BOHHHWWWL!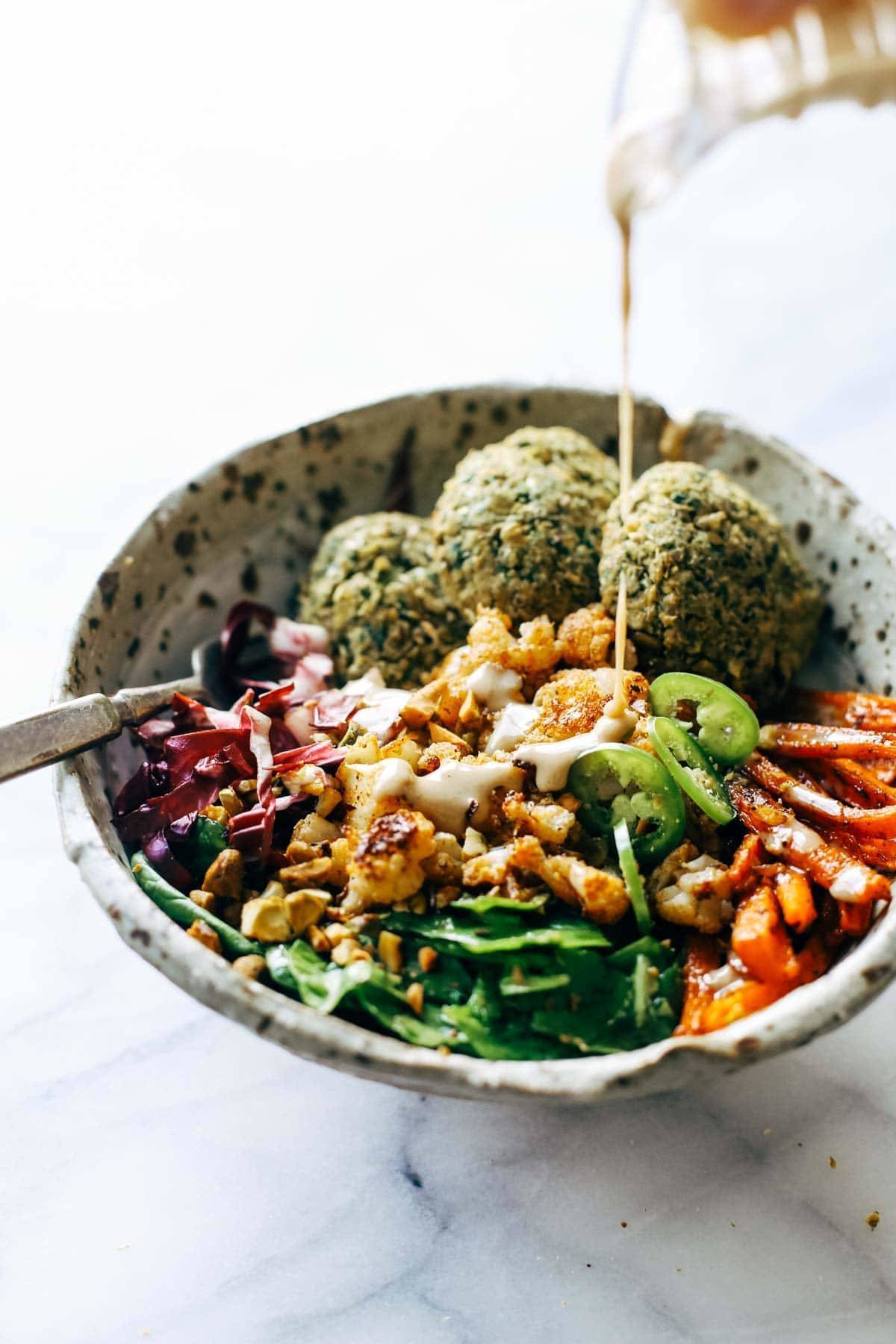 *true story* – I guess I should have done this sooner, but literally right at this moment I just jumped over to Google to look up what bliss bowls are, technically, you know, like formally and officially.
The only reason I called this a bliss bowl in the first place is because I follow a bunch of super-creative fitspo-food people on Instagram and they always post pictures of these beautiful things they call bliss bowls. But now that I'm looking it up, I'm realizing that maybe this isn't as widespread a food phenomenon as I thought? And possibly it's named after an item at a restaurant that I've never even been to? Too late now. I've been calling it a bliss bowl for the last 800 meals and it's just too pretty to go back now, so bring on the bliss bowl rainbow.
This ultimate bliss bowl "recipe" is not really much of a recipe.
It's more of a formula: falafel, greens, roasted veggies, spicy peppers and nuts and tahini / olive oil / lemon juice / honey for topping. <- I mean, that's seriously it. That's everything.
You should probably use an exact recipe for the falafel, because that's a little trickier to get just right. But the whole idea behind bliss bowls as I define them is to just pack in a bunch of pretty and flavorful and multi-textured and colorful plant-based foods into a dish and eat it all together in its combined wonderfulness. This recipe-formula is so flexible, so adaptable to whatever veggies you like or have on hand, and so AMAZING for make-ahead lunches.
Not to spoil any future blog post surprises or anything, but I've also been just taking everything in the bliss bowls and stuffing them into naan or pita bread (but mostly naan, because warm, pillowy garlic naan is for sure the meaning of life) and obsessing over some of the most epic lunch sandwiches that have ever come out of my kitchen.
It would NOT be a bad idea to double the roasted veggies here. Prep everything up, get it stored in separate containers in the fridge, and at lunchtime just toss it all together.
It would also not be a bad idea to eat these every day between all those holiday meals. Power-house-nutritious, filling, colorful and so absolutely yummy. THIS IS HOW WE DO WINTER.
Go team B.B.!
Print
The Ultimate Winter Bliss Bowls
---
Author:

Pinch of Yum
Total Time:

1 hour 15 minutes

Yield:

4 bliss bowls
Description
Keep your glow all winter! Easy homemade falafel, roasted veggies, and flavorful sauce all in one big bliss bowl! vegetarian / vegan / gluten free recipe.
---
For the Roasted Veggies
5

–

7

carrots

1

head cauliflower

2 tablespoons

olive oil

4 teaspoons

cumin
salt and pepper to taste
For the Bliss Bowls
8

–

10

pieces of Simple 5 Ingredient Baked Falafel

2

–

3

cups spinach

1

–

2

cups chopped red cabbage

1

jalapeño, cut into slices

1/4 cup

crushed pistachios
tahini, lemon juice, honey, and/or olive oil for drizzling
---
Instructions
Falafel: Make this falafel so you have it all ready to go! It takes about 30 minutes.
Roasted Veggies: Preheat the oven to 400 degrees. Peel the carrots and cut into thin strips and place on a roasting pan (a jelly roll pan works well because then the veggies don't slide off). Chop the cauliflower into small florets and place on a separate roasting pan. Drizzle each pan with oil and sprinkle each pan with cumin, salt, and pepper. Toss around on the pan to combine. Bake for 20-30 minutes – stir occasionally, but not too often otherwise you'll disrupt the browning process. To get more browning, bake for an additional 10-15 minutes. When the veggies are done, remove from oven and set aside to cool.
Bliss Bowl Assembly: Assemble spinach, red cabbage, falafel, carrots, and roasted cauliflower in the bowls. Top with jalapeño and pistachios. Drizzle with tahini, lemon juice, honey, olive oil, and salt and pepper as needed.
Notes
Nutrition information is for THE BASE of the bowl (the fresh veggies, the roasted veggies, and the nuts), without falafel, and without dressing. The falafel post includes its own nutrition label so you can tally up the total as needed.
Generally speaking, the amounts will vary greatly with this recipe because a lot depends on how much and what you use for toppings.
Prep Time:

15 mins

Cook Time:

1 hour

Category:

Dinner

Cuisine:

Mediterranean
Keywords: falafel bowl recipe, roasted vegetable bowl recipe, bliss bowls
Recipe Card powered by
The post The Ultimate Winter Bliss Bowls appeared first on Pinch of Yum.