Traffic and Income Report – April 2016
Hiya!
Bjork here checking in for Pinch of Yum's monthly traffic and income report. As some of you might know, we've been doing these reports for quite a while now. Almost five years! We published our first one way back in September of 2011.
These reports started as an experiment to see if it was possible to build a food blog into a business. After a few years of hard work, we found that it was.
We continue to publish these reports as (1) a way to stay accountable to growing and improving and (2) a way to encourage others to work diligently and consistently on "their thing" (whatever that might be).
One of the things we noticed as we talked publicly about building Pinch of Yum was that there were lots of other people with similar goals and aspirations – people that wanted to build a blog (or online business or e-commerce site or social media following or non-profit) in the food industry.
But there wasn't really a place for people interested in this foodie corner of the internet to connect and learn from each other.
That's why in 2013 we started Food Blogger Pro: a site dedicated to this crazy lil' niche of food and recipe content creators. What started as an idea that Lindsay and I had over coffee has turned into a thriving community of over 2,000 people spanning 61 counties and 1,773 cities around the world. We're honored and humbled to be part of such an awesome community.
While this map doesn't provide a pinpoint for every member, it helps to give an idea of the reach that this incredible community has.
It might sound silly, but as the world fragments and divides in some ways I find it inspiring to see that in other ways it's actually coming closer together. From India to Qatar to Canada to the United States to New Zealand to Israel to Guernsey (we see you Guernsey!) people on Food Blogger Pro are gathering together to learn and support each other as we work on bettering our craft as creators.
So, no matter where you call home if you're interested in starting (or growing) a food-related website we'd love for you to join Food Blogger Pro. We're currently in a public enrollment session, which we do twice a year, but today (Thursday, June 2nd) is the last day to enroll.
Click here to sign up for Food Blogger Pro. <–
Enrollment closes tonight at 11:59 pm CST.
If you'd like to learn more about FBP you can read Lindsay's post here.
Let's jump into the numbers for April.
Income
Note: Some of the links below are affiliate links. All of the products listed below are products and services we've used before. If you have any questions about any of the income or expenses you can leave a comment and we'll do our best to reply.
AdThrive – $22,464.41
Sponsored Posts/Speaking – $7,666.00
Tasty Food Photography Workshops – $5,445.00
Bluehost – $4,140 –> this income comes from a page where we show people how to start a food blog in three easy steps.
Gourmet Ads – $3,165.43
Amazon Associates – $3,070.53
Tasty Food Photography – $3,013.10
Swoop – $2,678.16
Yellow Hammer Media – $2,080.92
Federated Media – $1,727.96
sovrn – $880.09
Genesis Theme – $573.74
How to Monetize Your Food Blog eBook – $485.00
Go Sugar Free Course – $199.50
Elegant Themes – $69.50
AWeber – $20.40
ActiveCampaign – $6.41
Expenses
If you're interested in learning more about some of the ways that you can monetize a food blog, we encourage you to download this free ebook, "16 Ways to Monetize Your Food Blog," from our sister site, Food Blogger Pro!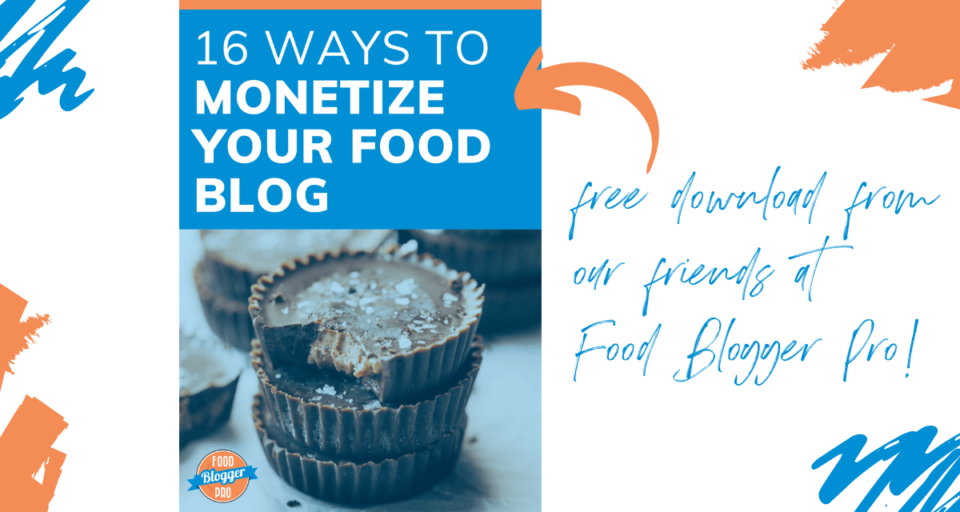 Traffic Totals
Below are some Google Analytics screenshots from the month of April 2016.
Traffic Overview
Top Ten Traffic Sources
Mobile vs. Desktop vs. Tablet
Snapchat
Lindsay has been spending more and more time recently using Snapchat (you can follower her @pinchofyum). There's a bit of a learning curve but the advantage with Snapchat is that it's a platform that allows for lots of experimentation. It's one of the nice things about creating content that disappears – you don't have to worry as much about mistakes!
It's not always easy to figure out where to focus your time as a content creator. There's social media, there's email, there's content for your blog… I could go on and on. The point is that your time is limited and things to do aren't, so you have to pick and choose what you're focusing on.
Related: If you haven't yet listened to my interview with Jay Papasan, co-author of The ONE Thing, I'd really encourage you to check it out.
As you're making that decision for what to focus on, I'd encourage you to think about how you can leverage your time by thinking about what people are paying attention to. For instance, if you give a speech in an abandoned alley, you won't have much of an impact. If you give a speech to a stadium full of people, you'll have a big impact.
Snapchat is a stadium right now. It's a place where people are spending time and attention. See for yourself – when you're waiting in line what are people doing with their phones? My guess is that they're on Snapchat, Instagram, Facebook, and (if they're under 14) Musically.
This doesn't mean that you give up creating content for your blog and building an email list. Far from it. That should be the first place you focus your time. This just means to think critically about the time that is dedicated to social media and spend it creating content on platforms where people are paying attention.
Recipe Video
We're continuing our slow and steady move towards creating recipe videos. The reason for video is two-fold:
It's becoming common for brands to request a video when doing sponsored content.
It helps to make a post "sticky" and keep people around longer.
In the past, Lindsay and I have done the videos on our own. Sometimes I would help by shooting the video (with a DSLR) and then editing, but a few times Lindsay would just shoot and edit the video on her iPhone. This chocolate chip cookies video is an example of an iPhone only video and this report talks about the process Lindsay used to shoot and edit the video.
It's a lot of work, but there's also a big upside, as the video space isn't as crowded as the general food and recipe space.
Between POY and FBP, we're no longer at the point where we can sustain creating the videos on our own, so we've started the process of building a little video team (three cheers for Steph and Alana).
Keep an eye out for more videos in future POY posts!
Cloudflare
As POY has grown over the years, so have our server bills. We've been working with Daniel to try and find ways to optimize our server and hosting setup, starting first with cutting down on the cost of our image CDN. The first step we're taking is setting up Cloudflare to sit in front of Cloudfront. This will help mitigate the Cloudfront costs. We're using the $20 professional Cloudflare plan.
I know that's a lot of "clouds," but the basic idea is that Cloudflare is a set cost per month (we're on the $20 plan) while Cloudfront (an Amazon service) is a sliding scale depending on usage. The big question is if the $20 plan with Cloudflare will perform as well as the sliding scale with Cloudfront.
Keep an eye on our Amazon S3 and Cloudfront costs in the months to come to see if the experiment works. So far the results look good.
Here's a screenshot that shows the cost savings after we turned on Cloudflare for serving POY's images.
As always, we'll be sure to keep you updated along the way!
Because Of You
It's because of you that this thing we call Pinch of Yum can exist as it does today. Thank you so much for making these recipes, leaving comments with your love and feedback, and sharing this food around the table with your families and friends.
Every month we use a portion of the income from the blog to support a special project at The Children's Shelter of Cebu. We view it as a donation from the POY community, not just Lindsay and me.
This month we're supporting CSC by donating to their meal fund. Every child at CSC gets three solid meals a day. All 90+ of them! That's a lot of hungry mouths to feed.
The post Traffic and Income Report – April 2016 appeared first on Pinch of Yum.